What Our Editors Used and Loved in July 2023
A super-lightweight running shirt, socks that last forever, and shorts that stay put - these are just a few of the things our editors loved most this month.
Heading out the door? Read this article on the new Outside+ app available now on iOS devices for members! Download the app.
Every month our staff tries out lots of triathlon and triathlon-adjacent things. Yes, we test new gear, but we also have old favorites and secret things we're loving right now. That's why each month we share our favorite tri-related things.
Maloja Gordesm 1/2 Shirt
$110, malojaclothing.com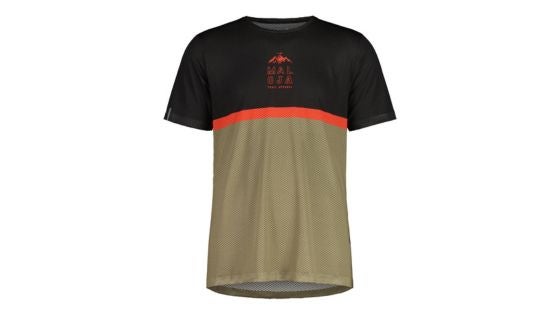 Ok, I know this is a $110 running shirt, but I consider myself a bit of a running shirt connoisseur, and of all the shirts I've ever worn, this one is on another level. Yeah, it seems a little much to gush over something so simple, but bear with me: First, I sweat. Like a lot. And as the temperatures have been pretty sassy down here in Southern California lately, sweat becomes a problem for me, especially as my runs get longer. More sweat means more dampness; more dampness means more chafing. Pretty much every time.
So in my mind, an investment in a great, super-super lightweight running shirt is not only an investment in my top half, but also in my lower half. A great shirt makes good shorts even better. A great shirt means less sweat in my shorts; less sweat in my shorts means…well, you get it.
Second, I'm a big fan of the mid-run shirt swap. I could write a whole 10,000-word manifesto on this practice, but as a heavy sweater (see above), wringing out one shirt, tying it to my hydration pack to flap (and dry) like a superman cape behind me, then putting on a fresh one is game changing. Longer run? Do it again. The Gordesm 1/2 (name notwithstanding) is also one of the easiest shirts to wring out and dries faster as a flapping cape than anything else I have.
So even if you're not a clinically heavy sweater or like to wear your sweaty shirts like a superhero, I still think the money is well worth it.
– Chris Foster, Editor-In-Chief
Pearl Izumi Sun Sleeves
$35, pearlizumi.com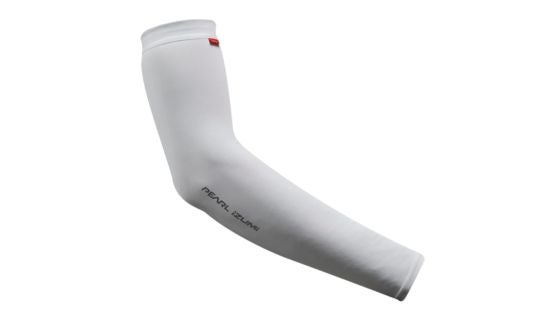 Not to be one of those people who states the obvious, but it's been hot outside in Arizona. Really hot. And though I have the best of intentions for getting my workouts in before the sun comes up, I'm also guilty of hitting the snooze button most mornings. What I'm saying is that I needed some serious sun protection this month.
The combo of sunscreen and heavy sweating makes my skin feel hot and suffocated, so I've started using these thin, lightweight sleeves on my rides and runs instead of lathering SPF onto my arms. Not only do the sleeves come with UPF50+ sun protection, but they wick sweat away from the body to cool me off quickly. They're soft and non-chafing, and really do seem to be one-size-fits-all (my beefy-armed husband, who steals my sleeves for his own workouts, can confirm).
The sleeves come in black and white, and I opted for white – all the better to reflect the relentless Arizona sun, though the product does get really dirty, really fast. But so far this summer, they've stood up to more than 50 trips through the washing machine and haven't lost their stretch or shape. It's the best 35 bucks I've spent this summer, hands (arms?) down.
– Susan Lacke, Senior Editor
Darn Tough 1466 Hiker Socks
$25, darntough.com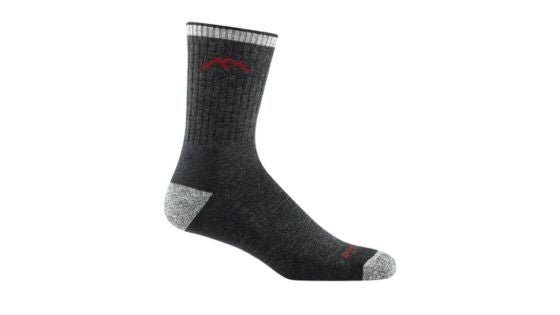 Once upon a time, I found myself living in one of the many small, sleepy, Washington Irving-ish New England towns that dot the northeastern part of the country. Ringed on all sides by the Green Mountains, it felt hidden away. A lost world, where things moved a little slower and the rivers flowed a little clearer and work was done just a little more earnestly. I was yet to learn it, but I was settling into the same small hideaway village where Darn Tough socks are knitted to this day. I also learned, as so eloquently put in the New England vernacular, that: if it ain't Darn Tough, it ain't tough enough.
In any walk of life, wanting a sock to be tough, cushioned, and breathable is a Venn diagram that doesn't always line up. Darn Tough guarantees theirs will – for life. The high-quality craftsmanship sunk into their socks makes it damn near impossible to trash them, but I encourage you to try.
I've taken Darn Tough socks from New England to the West Coast and beyond, and I've never once lost the thrill of their fit, performance, and most importantly, their durability. Their flagship "1466 Hiker" has been my steadfast companion for more than a few miles of roads and trails, and I have no plans to wear another kind of sock. The extra padding makes other socks feel like saran wrap, they never slip, never bunch up, and can handle any conditions effortlessly thanks to their Merino wool construction. If the hiking style strikes you as a little bulky, the running collection from Darn Tough features the same durability with less bulk; the lifestyle collection features more stylish choices.
Better yet: After recent historic flooding left much of Vermont underwater, Darn Tough quietly donated 100% of their sales to flood recovery efforts in the state for a limited time—just one of their fundraising plans for added relief, extending a hand to their neighbors during one of the more difficult times in recent state history.
A brand that produces top-tier, long-lasting products, stays connected to its roots, and prioritizes lifting up those who have fallen, is a brand that has my business.
– Tyler Neville, Social Media Manager
Lululemon Nulux Road to Trail High-Rise Shorts
$98, lululemon.com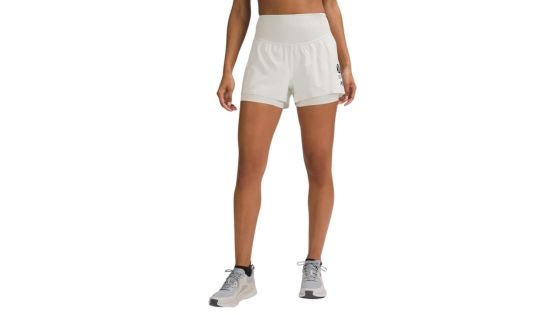 I never used to be a running shorts gal. In fact, I solely wore above-the-knee biker shorts made with spandex. Short always rode up and chaffed my thighs – not a good formula for a successful run. But I finally tried out these Lululemon shorts (On sale these days from $98 to $59) and fell in love. 
They have built-in spandex underneath that prevent chafing, and stay put on my legs no matter how fast I run. They're also high-waisted, which I personally love. Did I mention they come in pink?!
– Mallory Arnold, Outside Associate Editor