What Our Editors Used and Loved in April 2023
A jogging stroller, a foldable helmet, and...a plastic rain poncho? These are just a few of our editors' favorite things this month.
Heading out the door? Read this article on the new Outside+ app available now on iOS devices for members! Download the app.
Every month our staff tries out lots of triathlon and triathlon-adjacent things. Yes, we test new gear, but we also have old favorites and secret things we're loving right now. That's why each month we share our favorite tri-related things.
Bob Alterrain Jogging Stroller
$650, bobgear.com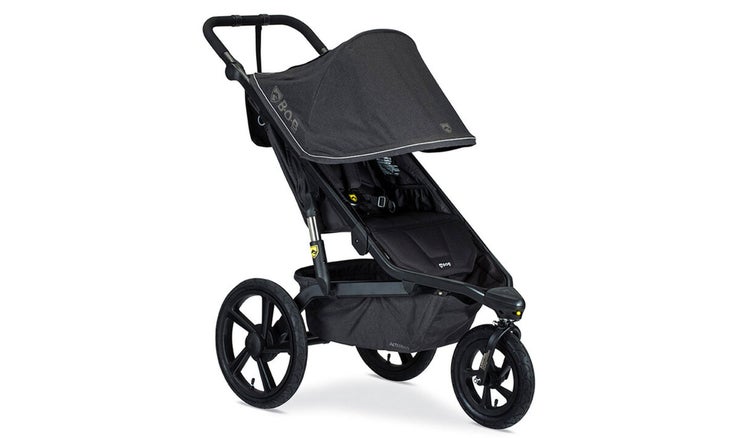 Yep, it finally happened. I made it to 40 without ever having to push a kiddo on two wheels, but the time has finally come for this jet-off-to-wherever-whenever editor/wanderer to have a little triathlete of his own. No, I haven't yet graduated to competing in the baby jogger division of an insane 50-mile trail race (if that's a thing, but it probably is); I'm still in the "jog in small loops around my house so when the little one freaks out, I'm not miles away carrying a sweat-soaked baby like a vagrant stealing a child" phase.
So you might think that I don't really have a good impression of the off-roading capabilities that this suspension-carrying baby jogger has, but the area I live in is maintained by the notoriously negligent City of Los Angeles and many of the "roads" and sidewalks I run on more closely resemble a bombed out section of Beirut or technical singletrack than a paved thoroughfare. Pair that with a hair-trigger sensitive six-month-old who only recently became calm enough to handle a 15-minute car ride, and I need every advantage I can get.
I can't even fathom a baby jogger with fewer features, and though the price is pretty exorbitant, it's worth every penny.
-Chris Foster, Editor-in-Chief
Fend Foldable Bike Helmet
$120, fend.io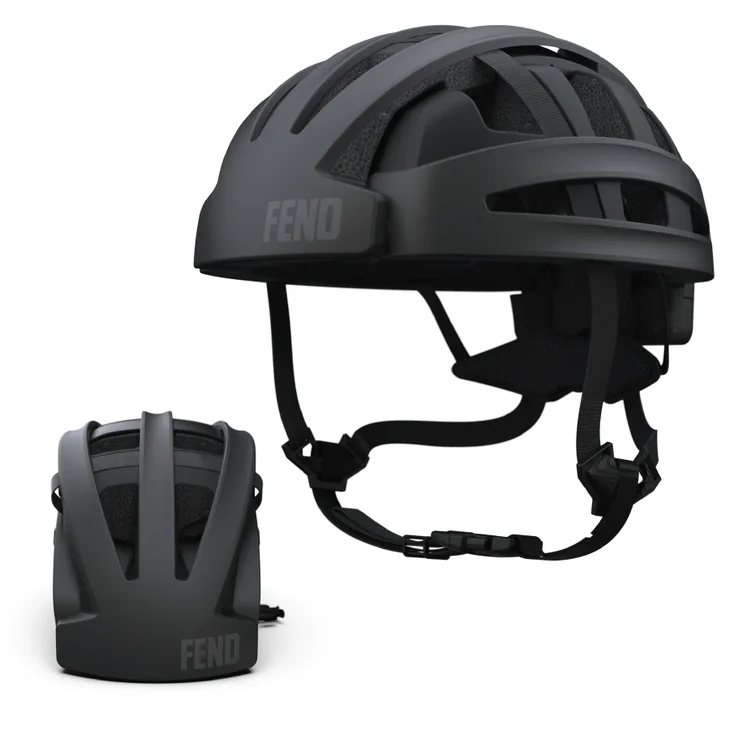 Trust me, I had the exact same reaction as you when I first saw this contraption: A foldable bike helmet? Surely, that can't be safe. But foldable bike helmets are a thing with bike commuters Europe, where I've been living this month. And after seeing a few friends roll up to coffee dates with these origami-style bike helmets, I had to investigate more. As it turns out, these helmets are legit. Not only do they undergo the same rigorous testing as traditional helmets, they actually exceed US CPSC and European EN1078 safety standards. I borrowed one for a week while tooling around Dublin on a commuter bike, and ended up being mighty impressed. The helmet folds down to 50 percent of its size, making it easy to stash in a backpack or set aside on the table at the coffee shop without being in the way. It's also light enough and comfortable enough for short jaunts around town. I definitely won't be replacing my usual brain bucket for long rides on my tri bike, but for commuting, I'm all about this foldable wonder.
-Susan Lacke, Senior Editor
Generic Disposable Rain Poncho
$10, amazon.com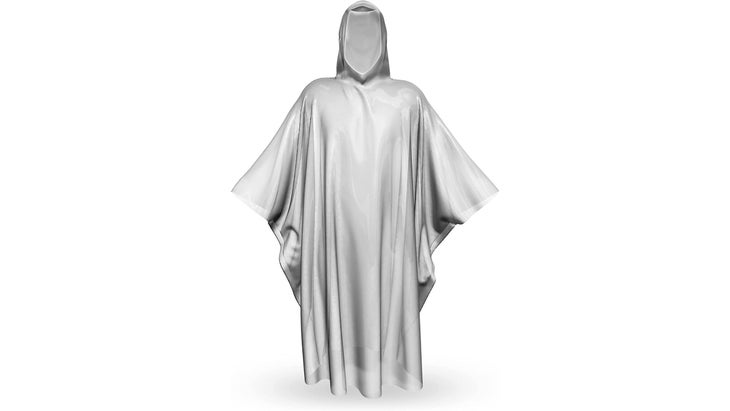 It's not fancy, it's not aesthetic, but it often proves to be a vital piece of apparel in an endurance athlete's armory – and it sure does the job. This weekend, for a very particular reason, I've been reminded of the importance of the poncho.
As everyone knows it's spring marathon season, and the packdown piece of plastic can be a vital aid to keep athletes dry and muscles warm(er) as they are penned up before these big city races. But the team I was working with on Sunday had an even more critical use for it.
Pushing Sam Perkins – a 41-year-old triathlete living with ALS who is reliant on a ventilator at all times – around the London Marathon course, a puncture and then buckled wheel at Mile 14 left Sam and the pushers by the roadside, body temperatures dropping dangerously as both the rain and tears teemed down.
As we made some quick decisions to get Sam to the finish line and successfully complete his marathon quest, those ponchos punched way above their weight.
–Tim Heming, Contributor
Saucony Endorphin Elite
$274, runningwarehouse.com
The Endorphin Elite is Saucony's new carbon race shoe that bounced onto the market earlier this year. Like the Nike, ASICS and Adidas carbon styles, the Endorphin Elite is built for speed and racing fast.
The lore is that carbon-plated shoes are for faster-paced runners, but – from this middle-packer – there are still benefits for regular-paced triathletes looking for a race-day shoe. I've taken on a half- and full-marathon wearing the Elites and ran solid PRs in both. Was it the shoes? Was it my preparation? In honesty, it was probably a good marriage of both.
The Elites are a relatively stiff shoe and the step-in feel did make me wonder how they would run after mile 18 of a marathon. However, on race day, the resulting bounce-assist helped maintain running form over a longer distance and delayed leg fatigue. There were a couple of hot spots on my forefoot, but easy to ignore and no resulting blisters. I'll happily take that minor discomfort for a PR any day.
-Melanie Mitchell, Brand Director, Outside Inc.