Is it Time to Rethink the Rules on Sleeves?
Record-breaking, high-tech materials from the '00s are still having a ripple effect on rules that could cause disqualification and even harassment for some athletes.
Heading out the door? Read this article on the new Outside+ app available now on iOS devices for members! Download the app.
One of the biggest appeals of triathlon is that it is a sport where people of all backgrounds come together to compete. But that doesn't mean the race-day experience is the same for everyone. Over the years, athletes who have opted to wear race clothing other than the typical sleeveless or short-sleeved tri suit – whether for reasons of modesty or for sun protection – have encountered disqualification, pushback, and even harassment while competing.
Khadijah Diggs, a Muslim triathlete who races in hijab (covered by a headscarf and with only hands and face visible), had no idea when she started racing that her clothing could be controversial . All she knew is that she had to get creative with her race-day gear—be it adding long sleeves to her tri kit or even wearing a t-shirt under a swimsuit. But as she figured out a way to compete while still maintaining the modesty standards of her religion, her methods would sometimes get her disqualified under rules that stated long sleeves were not permitted in the swim leg of a triathlon due to what was described as a "competitive advantage."
When she did find ways to race within the rules by getting her swimwear pre-approved under "religious exemption" clauses, she faced hostility from other athletes. At a race in Augusta in the fall of 2022, a man grabbed her arm and told her wetsuits weren't permitted. Diggs was not wearing a wetsuit, however – only a long-sleeved swimsuit and leggings, which was pre-approved by the race director.
"Anybody who chose to wear a wetsuit was going to have to start in the back because their race results could not qualify for anything," Diggs recalls the man saying. While his words didn't surprise her – she had encountered this confusion over her swimsuit's sleeves before – the action of being grabbed and the tightness of his grip did. "The announcer, Dave Ragsdale, actually had to tell him to let go of my arm," Diggs says.
Lou Burgese, a New Jersey-based race director, says that any race sanctioned by USA Triathlon must follow their rulebook. Though Section 4.1 of the USAT rules state that long sleeves and lower-leg coverings are prohibited in non-wetsuit swims, it also makes exemptions for religious or medical reasons. However, Burgese also says,"If the race is not USAT-sanctioned, then it is up to the race director or any other governing body's rules."
World Triathlon and Ironman also have similar rules about sleeves on the swim. But misunderstandings about who can (and can't) wear sleeves have made it challenging, confusing, and frustrating for athletes who wish to wear clothing that covers their skin.
More than just modesty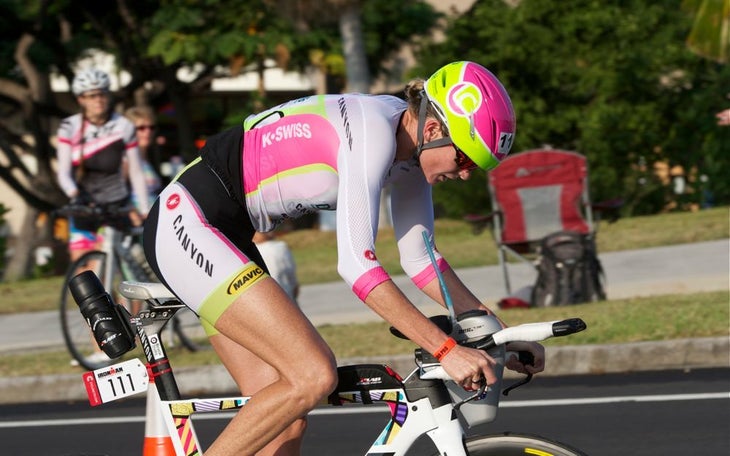 Sleeves weren't always a feature of triathlon kits. In fact, for most of the sport's history, the prevailing logic when it came to dressing was "less is more." Covering the body with clothing was thought to create drag and cause overheating.
For professional triathlete Leanda Cave, the lack of skin coverage due to triathlon clothing design was a major factor in her February 2013 diagnosis of squamous cell carcinoma skin cancer. The condition, a direct result of sun exposure, meant clothing choice was no longer an afterthought – it was critical for protecting herself and preventing a recurrence.
RELATED: This 5-Minute Routine Will Save Your Skin
Early on, she avoided sun exposure by racing shorter distances, which required less time in the sun. Upon switching to longer distances, she had no choice but to face the sun.
"Essentially, excessive sun exposure was unavoidable if I wanted to get in the training volume necessary to be competitive in long-distance racing," Cave says. "This is when I started wearing sun protective clothing during training and eventually in racing."
Cave modified her race day gear to include sleeves. One of her sportswear sponsors was encouraging when she requested sleeves and longer tri shorts, though another didn't quite understand why she would sacrifice performance by overheating and wearing more clothing. Like Diggs, Cave says she found it challenging to find a legal option that would protect her skin during non-wetsuit swims.
"There were no rules preventing me from wearing sleeves on the bike and for the run, but they were not permitted for the swim," she explains. Rather than push back, she slathered on sunscreen as her protection, hoping it would be enough to protect her from a recurrence of skin cancer.
Though Cave was an early adopter of sleeves, today's modern technologies have created fabrics that are moisture-wicking, heat-regulating, and aerodynamic. It's the last property that is particularly important to triathletes, who are looking for every advantage to slice through air resistance on the bike. Today, tri kits are offered in both sleeveless versions and with elbow-length sleeves.
But as triathlon clothing evolved from the racing Speedos of the '80s to today's optimized tri kits, one rule has more or less remained the same: In the swim portion of a non-wetsuit triathlon, clothing cannot not extend past the shoulders or knees. If an athlete wants to wear long sleeves, leggings or even compression sleeves on their arms or calves during the bike or run, they must put those on after exiting the non-wetsuit swim.
But going sans covering on the swim isn't an option for athletes like Diggs. Instead, every time she would race, she faced the risk of disqualification. When that happened, she'd have to petition the head official to get her results posted. Athletes would also refuse to get on the podium with her at races, accusing her of having some advantage because she was fully covered on the swim. The only way she's had peace before racing is when she knows wetsuits are approved.
"That has been my reality," says Diggs.
The scoop on sleeves
The controversy around full-body swimsuits arose after 25 records were broken at the 2008 Olympics. Twenty three of 25 swimmers were wearing Speedo's LZR Racer full-body suits. These sleeveless suits with full-leg coverage and polyurethane panels were a design collaboration between Speedo and NASA, and were promised to reduce drag in the water. The technology – and resulting success of athletes wearing them – caused an uproar, which led to the suits being banned by the Fédération Internationale de Natation (FINA), which is the governing body over aquatic sports. Speedo later changed the suits to comply with FINA's rules.
In a wetsuit-legal swim during a triathlon, all clothing is covered and almost everyone opts to wear a neoprene suit; thus any competitive advantage from clothing underneath is negated. But when a non-wetsuit swim takes place (such as at the Ironman World Championship in Kona, where water temperatures routinely exceed the wetsuit-legal temperature of 78.1 degrees F), fabric on the arms and legs is assumed to be an unfair hydrodynamic advantage over those with exposed skin, much like the Speedo full-body suit.
But does fabric on the arms or legs give swimmers that much of an upper hand? A 2012 study found that while there was a slight advantage given for sprints of 50 or 100 meters, the controversial full-body suits likely had a negative impact on performance for longer swim races, as the material used in the suit caused fatigue over time. Even studies on wetsuits have found that sleeveless versions are faster than their sleeved counterparts, as material over the shoulder can be restrictive and modify both stroke rate and length. This evidence, coupled with the need to be more inclusive of the ever-growing diversity of athletes in triathlon, has led to calls to re-think the rules on triathlon clothing.
A new design for tri suits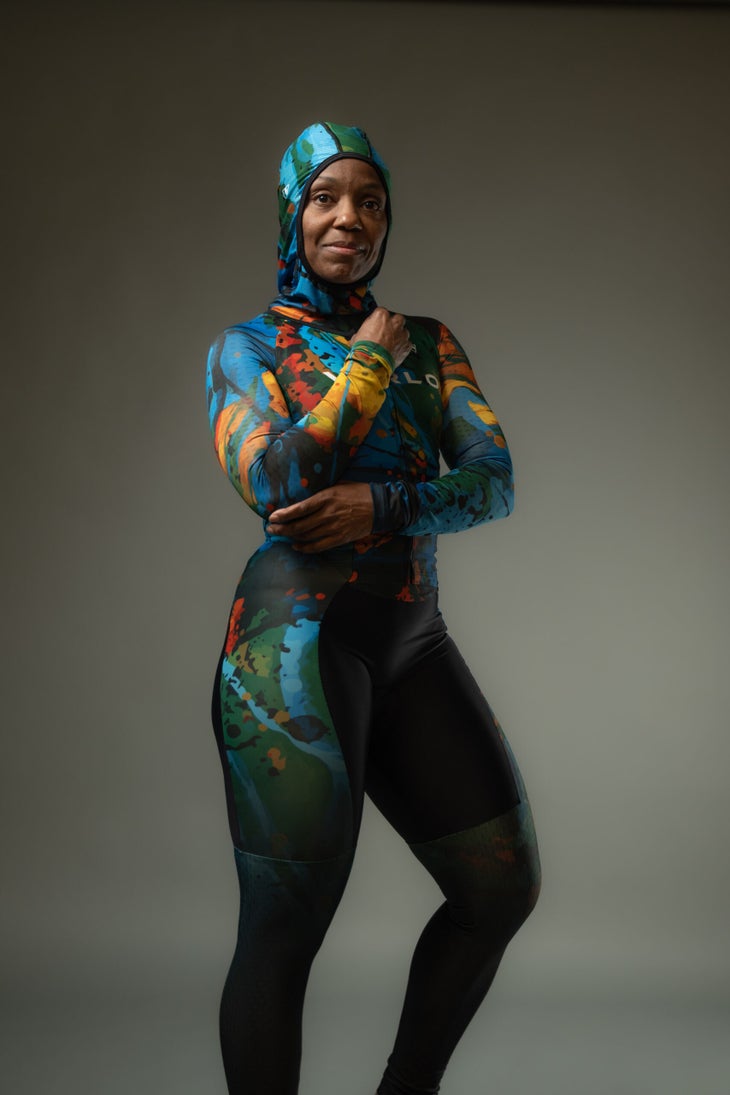 Early on in her career, Diggs may have been the only hijabi racing, but that is steadily changing. This year, U.S.-based company Varlo Sports was the first to create a tri suit outfitted with a hijab, and Diggs will be racing in one.
The Muslim community is taking notice. "I'm seeing more Muslim women coming up to race, and I get a lot of messages from Muslim women doing their first triathlons," Diggs says. She's excited about the changes ahead, and attributes the influx of interest to the changing rules as well as newly available apparel.
As a trailblazer in the sport, she feels a responsibility to make things easier for athletes who follow in her footsteps. Diggs has been working with USA Triathlon, World Triathlon, and Ironman on rule changes to make it easier for athletes who wish to race while covered. She's especially interested in changing the processes that put the onus on the participant to seek special permission for dressing modestly.
"Especially the section that says [in Ironman's competition rules] that athletes should contact the applicable event email for approval. What exactly are we seeking approval for?" Diggs asks. She calls this extra step a logistical barrier that prevents many Muslim women from racing.
So far, World Triathlon and USA Triathlon agree. As of 2023, athletes are allowed to have the body totally covered in the swim (with the exception of hands and feet), so long as the uniform material is approved by FINA. They do not need pre-approval from the race director. Diggs says she's had "good conversations" with Ironman about updating their rules to be more inclusive, too.
Diggs has two Ironman races planned for this year. At one, she'll be joined by two other hijabi triathletes. She hopes in future races, she'll be joined by more.
RELATED: Khadijah Diggs Is Empowering Other Muslim and Hijabi Women Through Triathlon