Triathlete's Guide to Going Green
We've compiled a collection of ecologically focused products and organizations with practical environmentally friendly tips, all united by the common thread of multisport. Go get your green on!
Heading out the door? Read this article on the new Outside+ app available now on iOS devices for members! Download the app.

We've compiled a collection of ecologically focused products and organizations with practical environmentally friendly tips, all united by the common thread of multisport. Go get your green on!
Written by: Holly Bennett
Bike Green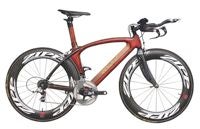 Buy the ultimate green bike: a Renovo Hardwood Bicycle is made with a custom, lightweight, hollow frame crafted from woods and bamboo. The company's TT bike even made its way down the Queen K Highway during the 2010 Ironman World Championship. Renovobikes.com
Get your carbon frames from Trek, which recently instituted an innovative carbon recycling program, reclaiming carbon scraps and warranty frames. Plus, the company already uses entirely renewable electric power, advocates efficient shipping methods and offers employee incentives for carpooling and bike commuting. Trek.com
Donate your used tubes to Seattle-based Alchemy Goods, which will convert them—along with other inner tubes, vinyl advertising banners and used seatbelt webbing from junkyards—into various über-hip items including backpacks and messenger bags. Alchemygoods.com
Wear Green
Train or relax in apparel from companies such as Greenlayer, which uses all recycled and/or sustainable materials; Atayne, which turns plastic bottles and fabric scraps into cycling, running, hiking and yoga gear; or Endurance Conspiracy, a lifestyle apparel project founded by members of the DeBoom family (including former pro triathlete Tony and two-time Ironman World Champion Tim). Greenlayersports.com, Atayne.com, Enduranceconspiracy.com
Use an earth-friendly detergent for all your dirty duds such as GrabGreen's non-toxic, biodegradable formula. Also: Conserve energy—and extend the life of your gear—by washing with cold water and line-drying. Grabgreenhome.com
Run Green
Run in eco-friendly sneakers like Brooks' Green Silence ($100) with its biodegradable midsole, water-based adhesives, soy-based inks and 75 percent post-consumer recycled materials. Newton Running also sports a number of environmentally friendly shoe and packaging attributes, such as 100 percent recycled yarn laces and webbing material, the elimination of hang-tags and 100 percent post-consumer recycled shoeboxes. Brooksrunning.com, Newtonrunning.com
Donate your old shoes to Soles4Souls, an organization that provides new and used footwear to people in need. Soles4souls.org
Hold valuables in an Armpocket ($26.95–$34.95), a sweat-proof holder made with recycled water bottles and natural bamboo rayon. Armpocket.com
Fuel Green
Go bulk with energy gel (both Hammer Nutrition and Carb Boom! offer 24–26-serving bottles) and carry it in reusable flasks from either FuelBelt or Nathan Sports. Fuelbelt.com, Nathansports.com
Caffeinate with Coffees of Hawaii, a company that uses locally grown beans processed on the Hawaiian islands. Owner Albert Boyce is an avid Ironman competitor—you'll meet him in Kona if your pre-race swim practice includes a stop at his floating espresso bar boat. The company hopes to harvest its first certified organic crop in 2012. Coffeesofhawaii.com
Chow down on Clif Bar & Company products knowing that they come from an enviro-posh headquarters in Emeryville, Calif. The Clif offices utilize solar technology, repurposed materials—from reclaimed wood to worn blue jeans—and predominantly natural light. Clifbar.com
Pick up discarded energy bar and gel wrappers on your rides and runs.
Race Green
Opt for paperless options whenever possible for race registrations and travel documents.
Purchase carbon offsets to minimize the impact of race travel. Terrapass guides you through the process and calculates your personal carbon footprint. Terrapass.com
Sign up for races subscribing to a green philosophy. Athletes for a Fit Planet helps race organizers produce environmentally responsible events. This includes the use of bulk water coolers on course, reusable finish line bottles and goodie bags, paperless race communications, creating athlete carpool programs and much more. The Council for Responsible Sport (also known as ReSport) partners with Fit Planet's pledge program to offer graded certification levels to athletic events based on their implementation of green standards. The Freshwater Trust Portland Triathlon and New York's WoolSports Musselman Triathlon are exemplary members. Afitplanet.com, Resport.org
Finally try an Xterra race! The Xterra Eco Team engages off-road triathletes in pre- or post-race work parties to preserve the natural environment in host communities. This athlete-initiated program organizes ecological restoration work parties, trail cleanup campaigns and gear recycling programs. Xterraplanet.com
When you're done reading, recycle your Triathlete magazine! Or try our digital or iPad edition.
Green Team
The UC San Diego Triathlon Team is on a mission to be the world's first sustainable triathlon team. They're committed to becoming carbon-neutral and working with environmentally responsible sponsors. They've hosted two sustainable races and have worked with the UCSD School of Engineering to design and prototype energy-generating training equipment.