We Test and Review the New Suunto Vertical With Monster Battery Life
The Finnish brand throws its hat into the "adventure watch" ring with the Suunto Vertical—a smartwatch that boasts a huge 60 days of battery life and dual-band GPS.
---
Basics
The Suunto Vertical is an outdoor "adventure"-focused watch with an emphasis on battery life, GPS accuracy, offline capabilities, and simplicity. For triathletes, the Vertical has literally everything a multisport athlete could need in a very pretty, aesthetically-pleasing package—though maybe less customization than they're used to.
---
Pros
60 days smartwatch, 60hrs. GPS battery life (up to 1yr./500hrs. in battery save/solar mode)
Fantastic GPS accuracy
Great form factor
Downloadable, offline maps
Full assortment of open-water/pool swim, advanced cycling, running (with built-in power), and multisport/triathlon modes
Cons
Low on customization
No onboard music storage
Slow processor for basic touchscreen
Data display and sport modes are limiting
---
---
Heading out the door? Read this article on the new Outside+ app available now on iOS devices for members! Download the app.
So in 2023, if you're a smartwatch brand, you need to have an "Adventure Model." Coros kind of started this trend with their mini adventure watch, the Vertix, back in 2019 (though of course Garmin has always had the Fenix line), and then went Full Adventure a few years later with the Vertix 2. "The Adventure Model" is typified by a burly-looking bevel, heaps of battery life, great mapping (usually offline), top-of-the-line GPS and, in most cases, an orange wristband. In addition to the Vertix 2, there's the Garmin Enduro line (and the Fenix 7 line), and of course the new Apple Watch Ultra. Now Suunto throws its hat into the ring with the Vertical—big battery, offline mapping, great GPS, beastly bevel, and even a colorway with an orange band to boot.
RELATED: How to Choose the Best Smartwatch for Triathletes
Section divider
Suunto Vertical Review: The Basics
Joining a crowded party aside, the Suunto Vertical boasts a big 60-day smartwatch/60-hour GPS battery (up to 1yr./500hrs. in battery save mode with solar version), dual-band GPS, onboard offline mapping with free downloads, a 1-4-inch color touchscreen, on-wrist running with power, and music control (but no onboard, offline music). For $630 you get the stainless steel version that hits the 60days/60hrs battery mark, while the titanium version is $840 and has solar with more battery (tested). It's also manufactured with 100% renewable energy and boasts a fully carbon-compensated footprint, which is worth noting.
The Vertical uses a pretty basic, non-AMOLED color touchscreen that helps with mapping and some data analysis. Activity-wise it has an insane library of sport modes and the ability to create custom sport modes with all of the data fields you might want to use. That said, there's not a ton of customization in daily use or in activites/sport modes (more on that later).
For triathletes, there's literally nothing missing here—excellent open-water swimming (the dual-band GPS helps), pool swimming, advanced cycling metrics, and running with built-in power and some advanced running metrics. The Vertical also has multisport mode, a way to change sports mid-activity, and of course a triathlon mode. The structured workouts that you can build out in the Suunto mobile app are also ideal for triathletes using the Vertical for interval training or fartleks or anything that requires set times and recovery.
Section divider
Suunto Vertical Review: The Good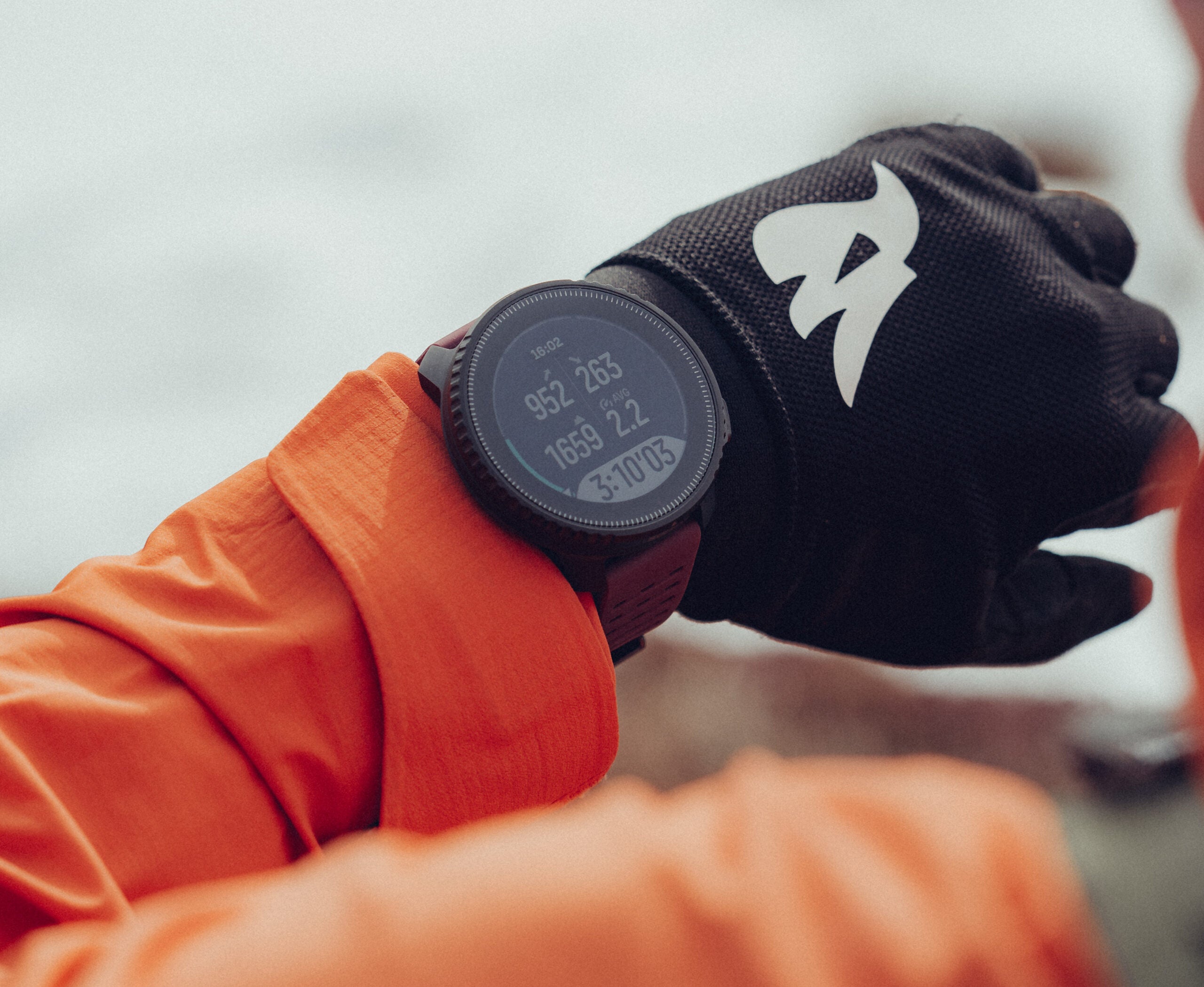 It goes without saying that the 60-day smartwatch/60-hour GPS baseline is pretty tough to beat. Even the Garmin Enduro 2 doesn't quite get there, and the Vertical claims to extend that range up to a year with the solar/Ti version that's $840. Compare that to the staggering $1,000 price tag on the Enduro 2, and it's a no-brainer if battery is your priority. That said, the Vertix 2 is right there with 60 days/140 hours and about the same price tag ($700). Elsewhere, the onboard mapping is excellent, and the ability to turn on or off the touchscreen for activities or just for mapping is super valuable. If your smartwatch has maps and it doesn't have a touchscreen to help navigate them, you're probably going to never use those maps.
RELATED: How a Military Science Tool Morphed Into Endurance Sport's Most Important Tech
We also loved the fact that Suunto has on-wrist running with power, and (more importantly) a host of data screen options to help you make use of power—average power, interval average power, lap average power, and 3-,10-, and 30-second averages. Some smartwatch brands are giving us running power right now, but not a lot of useful ways to display it while you're training.
And though this doesn't have a lot to do with the functionality of the watch, the Vertical is a watch you want to wear: It passes the all-important "gym-to-boardroom" style test with flying colors, actually challenging the Apple Watch Ultra for form factor. That's a high bar.
Finally, we can safely say with our testing that the GPS on the Vertical is finally up to snuff with other high-end smartwatches. This has been a long complaint among the ultrarunning community, and though we didn't get a chance to clock any 50-mile runs in the backcountry, runs in deep canyons stood up apples-to-apples/right-wrist, left-wrist against watches with well-known excellent GPS pedigree. Accuracy aside, the Vertical was consistent—which sometimes is the best you can hope for if you're not doing government land surveys with your smartwatch on your long run.
Section divider
Suunto Vertical Review: The OK
First, we'll talk about some of the hardware issues we found on the Vertical before touching on a few software/user interface quirks that are a little more emblematic of the Suunto platform than the Vertical itself. While the GPS is great (finally, as this is shockingly Suunto's first dual-band GPS) and the offline maps are very good as well (another first for Suunto, surprisingly), we found the touchscreen to be a bit more laggy than you'd expect for $600-800. Assuming this is due to a lower-power (and accordingly slower) processor, it doesn't cause any real-time issues that we saw while training, but it makes the daily-use experience a little frustrating. The only other watch with a similar problem that we've tested is the Polar M/V/Grit line. Even Garmin's Forerunner 965 with a beautiful AMOLED screen moved quicker than the Vertical's far more basic display.
Another issue we found on the hardware side was the magnetic charger fits quite loosely on the watch and needs to be positioned pretty specifically to get a charge. Not a big deal if you've got a dedicated, flat space to charge this watch every two months, but we had more than a few moments where the charger came loose and didn't fill up as expected. Also, and this is much more minor, the lack of onboard music is slightly surprising, given the price and competitive landscape—that said, the amount of people manually transferring mp3s from their computer to their smartwatch is probably less than we think.
On the software side—and we're only picky here because we're talking about that $600+ premium smartwatch category—is the lack of customization for daily use and sport modes. None are dealbreakers, but if you're used to a Garmin or Coros, you might be a little frustrated. First, you're unable to edit data screens on built-in sport modes—you need to create your own custom sport mode to change the displays. From there, you can only have a total of four display screens for data per sport mode. There's a way around that with SuuntoPlus sport apps that add some preloaded data fields, but still, four screens is pretty light for a high-end Adventure Model. Slightly less important, but it's worth noting that many of the everyday customizations, like data fields on the watch face and reorganizing widgets are either limited or nonexistent in some cases.
Section divider
Suunto Vertical Review: Conclusions
Tiny little software quirks and a laggy screen aside, this is a great Adventure Model—even in a pretty crowded market. If you prop this up against similar smartwatches, like the Apple Watch Ultra, the Coros Vertix 2, and the Garmin Fenix 7 line (ignoring the Enduro 2 due to price), it holds up when it comes to battery life and multisport functions. It blows the Watch Ultra out of the water in battery life and still beats the $700 Fenix 7 in longevity as well. The Ultra also doesn't have offline mapping (and may God have mercy on your soul if you try to do a week in the backcountry with that watch), and the mapping is more robust in our testing than the Vertix 2. Again, the styling of the Vertical is probably one of our favorites—not surprising given that Suunto typically designs a very nice-looking watch.
But when it comes to everyday training and racing (and lifestyle), the lack of customization for sport modes could prove to be a little frustrating for triathletes who not only like to see a lot of data, but also see it in a very specific way (especially on race day). Here, if you put it up against competition like the Garmin Forerunner 965—with much less battery, but better data processing (and a better screen)—it struggles. My guess is many Suunto users will find themselves making lots of custom sports modes and possibly making due with less data than they'd like. And yes, the SuuntoPlus apps help, but those are even less customizable and only show very specific themed sets of information.
All in all this is a great watch at a very reasonable price that only really competes with the Vertix 2 for battery life and "adventure-ness." However, if you're willing to give up some battery life in exchange for greater power in data analysis and display, there is some very stiff competition. For adventure/outdoor use, this watch gets four-and-a-half stars; for multisport/triathlon we give it a four.