Face Off: Two Expedition-Level Smartwatches, Suunto Vertical and Garmin Fenix 7 Pro
An apples-to-apples review of the latest Garmin Fenix model, the $800 7 Pro and the $840 Suunto Vertical.
Heading out the door? Read this article on the new Outside+ app available now on iOS devices for members! Download the app.
Lately the "expedition watch" category has been a hot one. When we talk about expedition smartwatches, we're talking about an outdoor-focused model, typically over $500, built with super high-end, multiband GPS, loads of navigation features, (typically) offline maps, a super-tough build and battery measured in weeks or months, not days. Oh, and often an orange wristband.
Right now, pretty much every smartwatch brand, with the conspicuous absence of Polar, is offering an expedition-level watch: Coros (that you could argue started the category) with the Vertix 1 and 2, Apple's Ultra Watch (kind of), Garmin with the Enduro line and the Fenix line (which also has claim to the OG throne), and now Suunto's Vertical.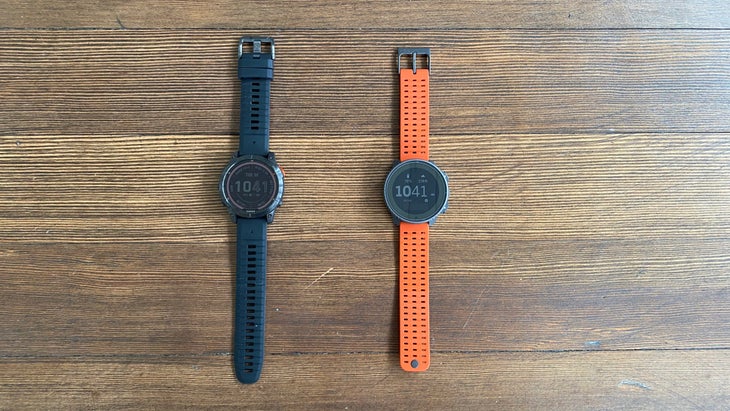 Below we'll take a close, apples-to-apples look at the latest Garmin Fenix model, the $800 7 Pro and the $840 Suunto Vertical.
But first, why is a triathlon publication reviewing these expedition models? We're not known for scaling Kilimanjaro or backpacking the AT. It's simple: Triathletes need most all of the "expedition" features that these watches offer. The overbuilt construction is necessary for race day, the high-end sensors serve our appetite for accuracy (particularly in the wet world of rarely accurate open-water swimming), and most importantly the monster battery life is crucial for the sheer number of workouts we do and the near-constant stream of physiological data we like to monitor. It takes a lot of juice to power all of that data crunching—HRV, physio readiness, sleep tracking, recovery tracking, accurate on-wrist heart rate, and much more. A 30-45-day smartwatch battery ends up looking more like 15-20 days pretty quickly.
It stands to reason that these expedition smartwatches are initially marketed to those who might spend two weeks backpacking away from an outlet or cell service, but a long-course triathlete might actually be the real hidden customer here. How many people actually tackle the Appalachian Trail each year versus how many people do an Ironman each year?
RELATED: How to Choose the Best Smartwatch for Triathletes
Section divider
Suunto Vertical vs. Garmin Fenix 7 Pro: Facts and Similarities
When I first learned that Garmin was releasing a "new" Fenix this summer, I was excited because the new 7 Pro range so closely resembles one of my new favorite smartwatches, the Suunto Vertical. Both live in the $6-800 price range, both have similar-sized touchscreens, both have solar charging to bolster bigtime batteries, both have offline mapping, and both boast accurate multiband GPS. For comparison, the Apple Watch Ultra has substantially less battery (like a day or two), no onboard maps, nor high-end training features (but much better lifestyle functions, if you have an iPhone); the Coros Vertix 2 has slightly bigger battery, in practice, and onboard maps, multiband GPS, and a mildly useful touchscreen.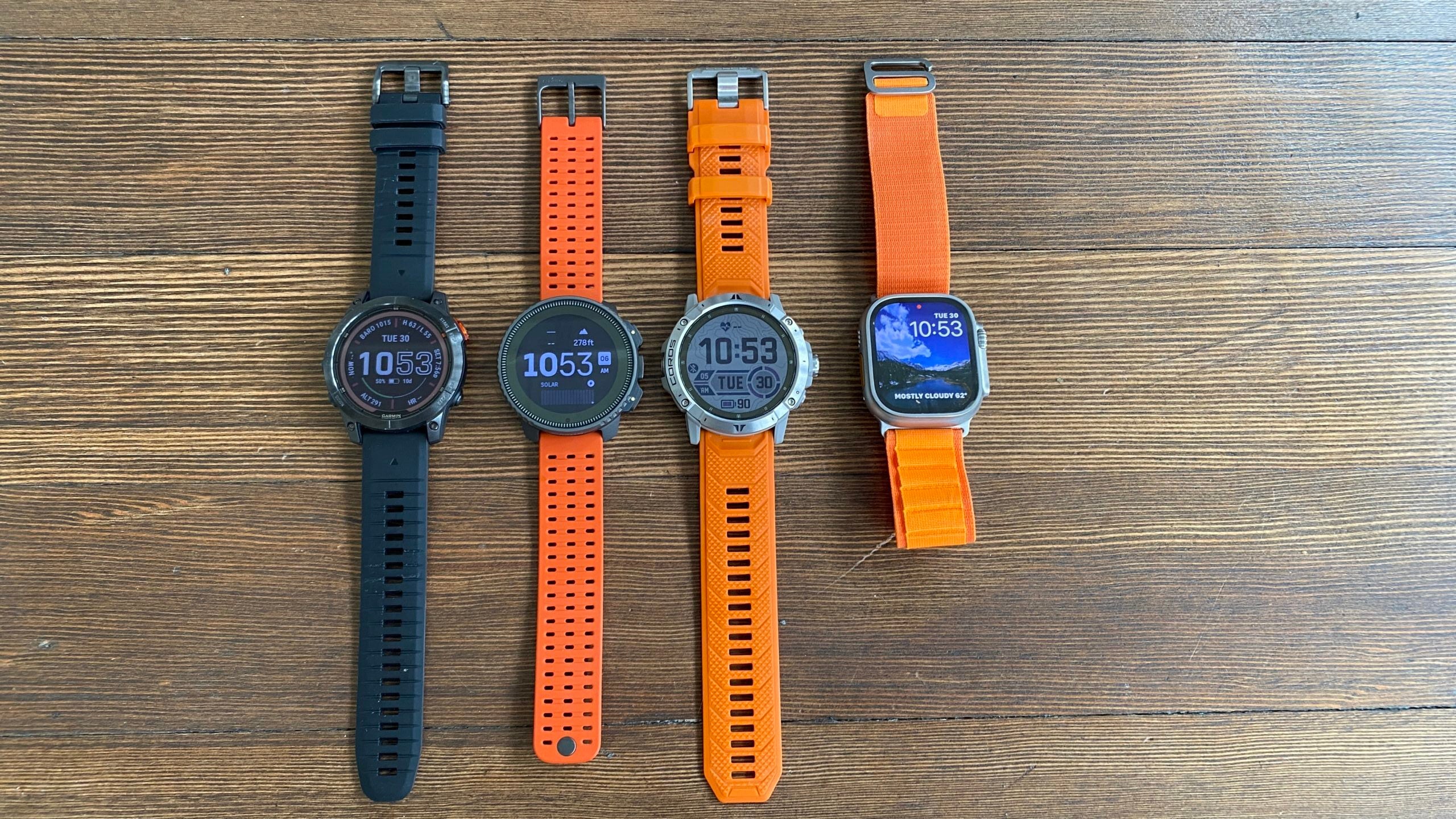 Both the Fenix 7 Pro and Vertical are also fantastic smartwatches for all of the things that triathletes need: the aforementioned big battery, all of the sport activity modes for tri (open-water/pool swimming, advanced cycling, and built-in running with power, triathlon, etc.). There's basically nothing missing from these two watches for a multisport athlete.
Below are the the relevant specs for both models at a glance:
| | | | | | |
| --- | --- | --- | --- | --- | --- |
| Watch | Price | Listed Battery | Actual Use Battery | Weight | Size |
| Suunto Vertical | $840 (tested Titanium solar) | 60 days smartwatch/60 hours GPS | 20-25 days smartwatch with training | 74g | 49mm case, 35mm screen, 280dpi |
| Garmin Fenix 7 Pro | $800 (tested 47mm solar) | ~20 days smartwatch/40 hours GPS | 10-15 days smartwatch with training | 80g | 47mm case, 33mm screen, 260dpi |
Section divider
Suunto Vertical Review: A Closer Look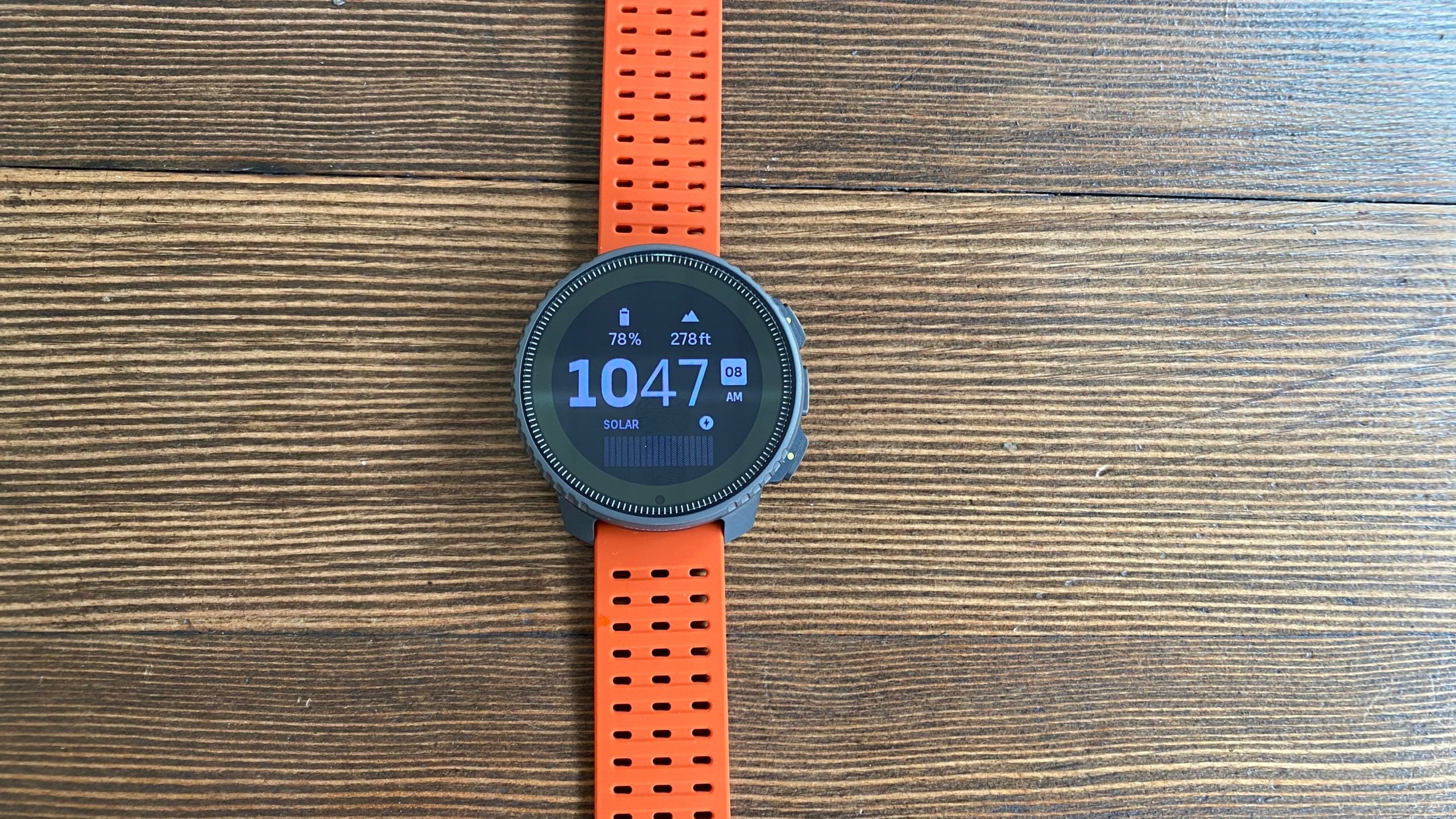 When the Vertical was first announced, I was very excited. I've been a longtime fan of Suunto's different approach to smartwatches—seemingly focusing a little more on form and everyday use than the more utilitarian Garmins. The only thing I've found lacking in the previous Suunto line was a model with that monthlong battery, offline maps, and multiband GPS. Suuntos are often beautiful watches that make as much sense for the office as the gym, and their smartphone integration—particularly for Android owners—has long been a big draw.
And with that in mind, the Suunto Vertical finally covers all of those lacking features, plus more. The titanium solar version of the Vertical (tested) has 60 days of everyday smartwatch use (which we found was more like 20-30 days of tri use), 60 hours of full GPS (max of 500 hours in reduced sampling mode), fantastic offline maps (paired with an all-necessary color touchscreen), and multiband GPS that goes a long way to help with open-water swimming or running in tight canyons and big-city environments.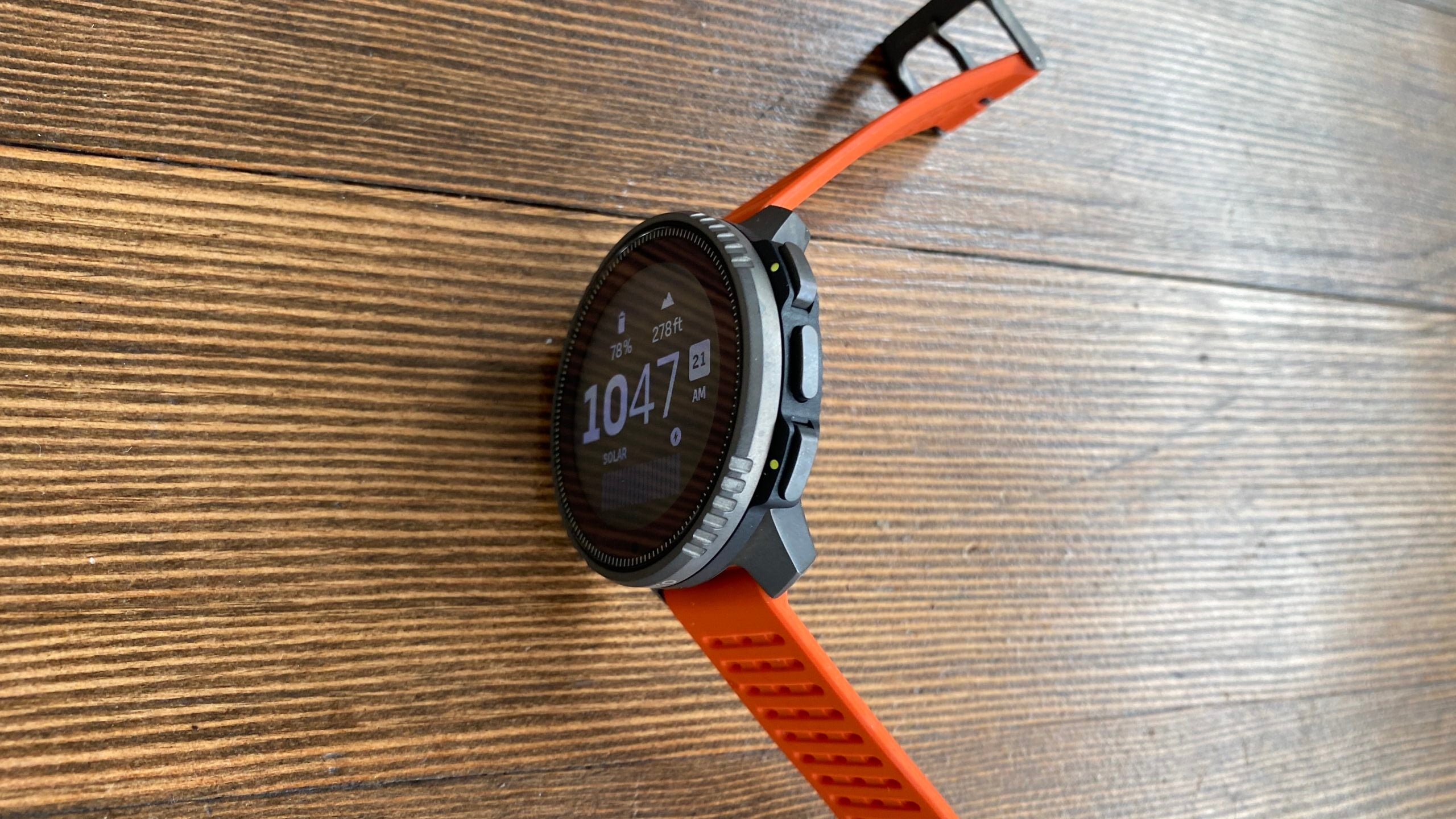 While we dive into the Vertical a bit more in this review, it's also worth mentioning that the new Suunto looks like a million bucks—nearly as smooth-looking as the new Apple Watch Ultra (or better-looking, depending on your style). It still has that burly, gnarled bevel look, but it's far more refined and stylish than something like the bulky and sharp Garmin Enduro/Fenix or the colossal Coros Vertix 2—all pictured above. Similarly, its footprint (49mm case) and weight (74g) seemingly hide its battery and GPS capabilities. With a slightly bigger screen than the comparable 47mm Fenix 7 Pro (35mm vs. 33mm) and a higher dpi than the Fenix (280dpi vs. 260), you get a lot of information in tight package.
But it's also not a perfect smartwatch. It surprisingly didn't have offline music storage—odd given its 32 GB of onboard storage—only smartphone music control. It's also quite easy and intuitive to use, but lacks a lot of customization like being able to edit existing activity profile data fields, set hot keys, or move around the order of widgets and apps. And while you can create custom activities and edit those data fields, you're limited to only four pages of data screens—supplemented by prebuilt (and uneditable) SuuntoPlus sport apps. The lack of customization also extended to everyday things like reordering widgets, and it did take us quite some time to get the standard watch face to show the data we wanted and to turn off the beeps and boops that emanate from the watch by default.
We were also disappointed by the "laggy" touchscreen that felt more like something from 2015 than what's out there right now. It never affected workouts or lap/split/time response, but it was surprising in a watch at this price.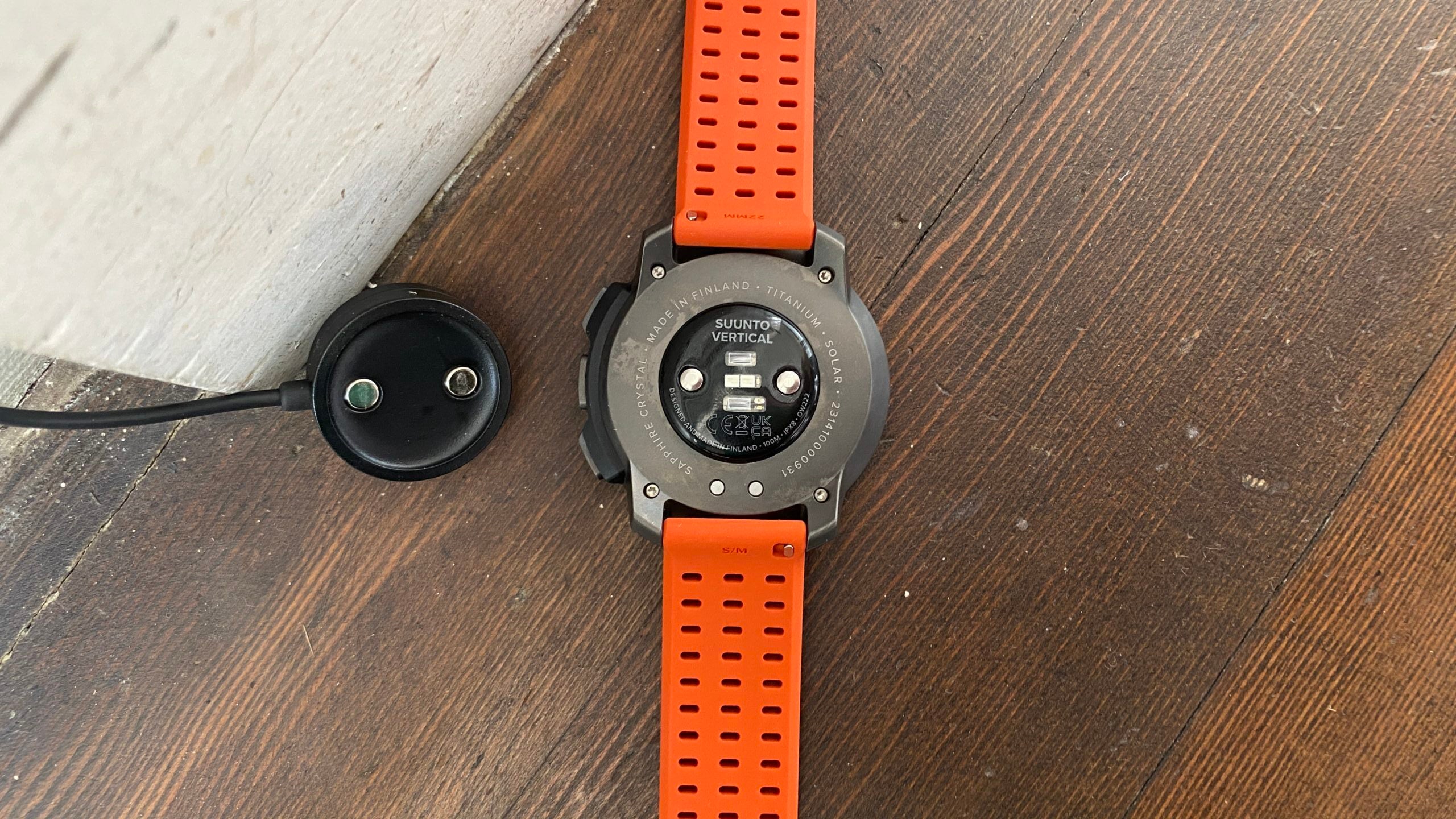 Finally, we weren't a fan of the magnetic charger that struggled to stay in place when placed at odd angles. Sometimes it wouldn't charge when we expected it to.
But where it really mattered, the hardware stood up: We found the GPS to be one of the best performing in all challenging conditions—setting a new standard for accuracy when compared to other excellent GPS models and the Fenix 7 Pro on the same route at the same time. Same goes for altitude/baro/ascent/descent accuracy. We were impressed and pleasantly surprised—especially as Suunto has a not-great reputation in that realm.
Section divider
Garmin Fenix 7 Pro Review: A Closer Look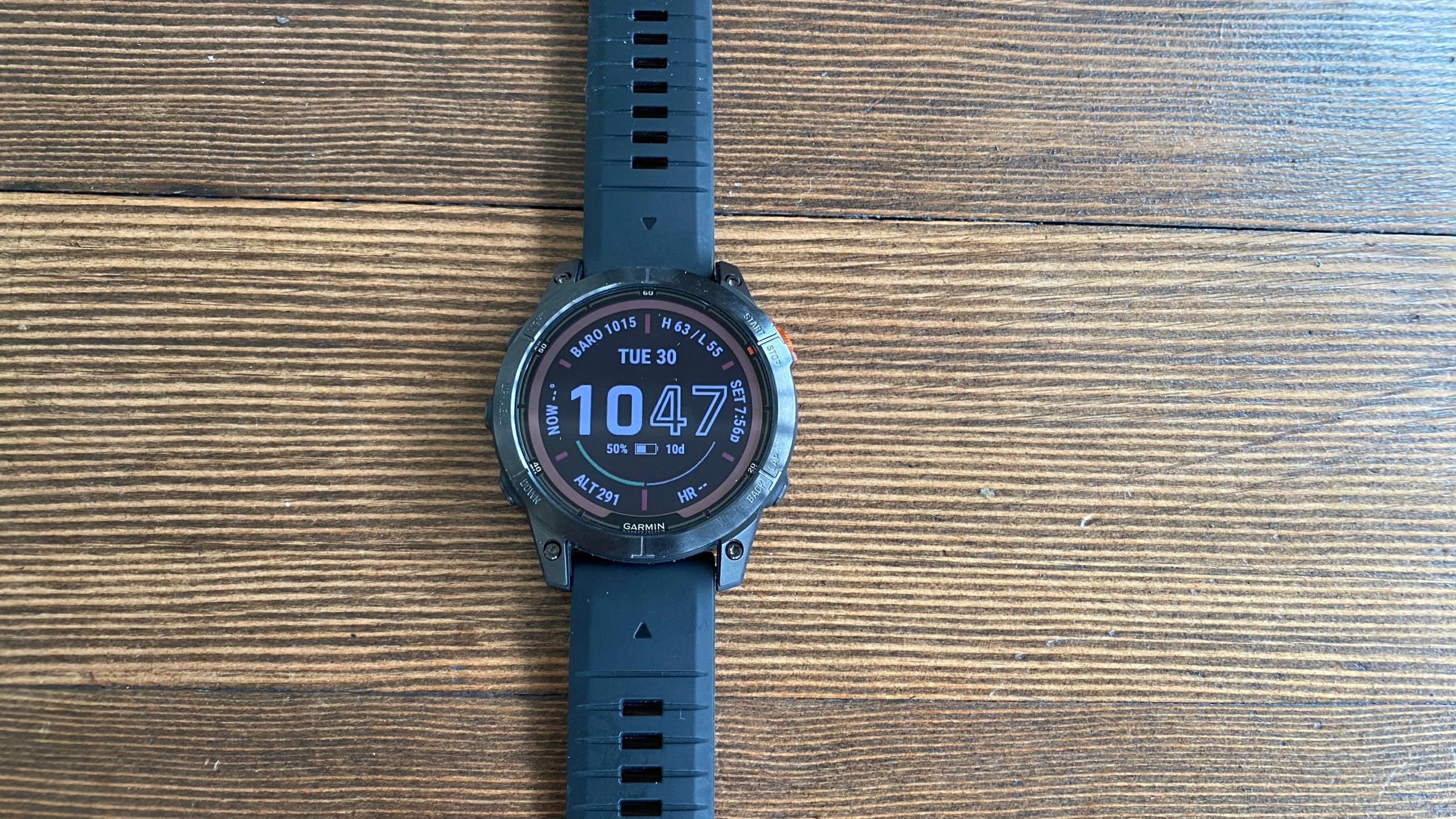 While we would have been overjoyed to learn about a brand-new expedition-level model (Fenix 8, anyone?) this summer, a few key updates have made the "Pro" akin to one of our favorite big-battery watches, the Garmin Enduro 2. Think of the Fenix 7 Pro as a baby Enduro—but one that doesn't crack the $1,100 range like its big brother. The big notes on this watch include a ~20-day smartwatch (with solar) and 25-40-hour GPS battery, all of the sport activity modes for tri (open-water/pool swimming, advanced cycling, and built-in running with power, triathlon, etc.), offline mapping (and music), multiband GPS, a color touchscreen, and a wide host of physio tracking (sleep, HRV, recovery, workout readiness, and much more).
The updates on this watch from many of the previous Fenix 7 models (with the exception of the most high-end 7X) include an LED light on all models from the smaller 7S Pro to the big 51mm 7X Pro. The Pros all also include a very nice on-wrist heart-rate monitor hardware upgrade for increased accuracy/sensitivity, and some software features like a new "endurance score," a new "hill score," and some minor mapping/navigation additions.
Hardware-wise, not a ton has changed with the Fenix 7 Pro—the touchscreen is still 30mm, 33mm, or 35mm, the construction is basically exactly the same as the other models of the Fenix 7 (with the exception of a red upper-right button), and everything works exactly as it's supposed to. The software is similarly predictable, quick, customizable (very customizable), and has endless ways to measure, interpret, organize, and parse out lots of data. In fact, like most high-end Garmin multisport watches like the Fenix, the Enduro, or the Forerunner 9xx series, it's unlikely that even the most data-crazed triathlete will use even 40% of what's packed into the watch.
Accuracy-wise, we found the Fenix 7 Pro to be typically on-point for a multiband GPS, and the built-in barometer was on par with our standard of measurement on the Coros Vertix 2—meaning the altitude/descent/ascent measurements were some of the best. When compared on the same land-based activities like hikes or runs, the 7 Pro was almost dead-on with the Vertical or the Vertix 2 control. Consistency-wise, the Fenix 7 Pro had a slight edge over the Vertical, roughly the same as the Vertix 2 in accuracy spread. Even when there was a difference between the Vertical and the 7 Pro, it was splitting hairs and less than a .1mi. difference—so unless you're using your smartwatch to plot land surveys or utilities, you'll be fine for your next tempo run.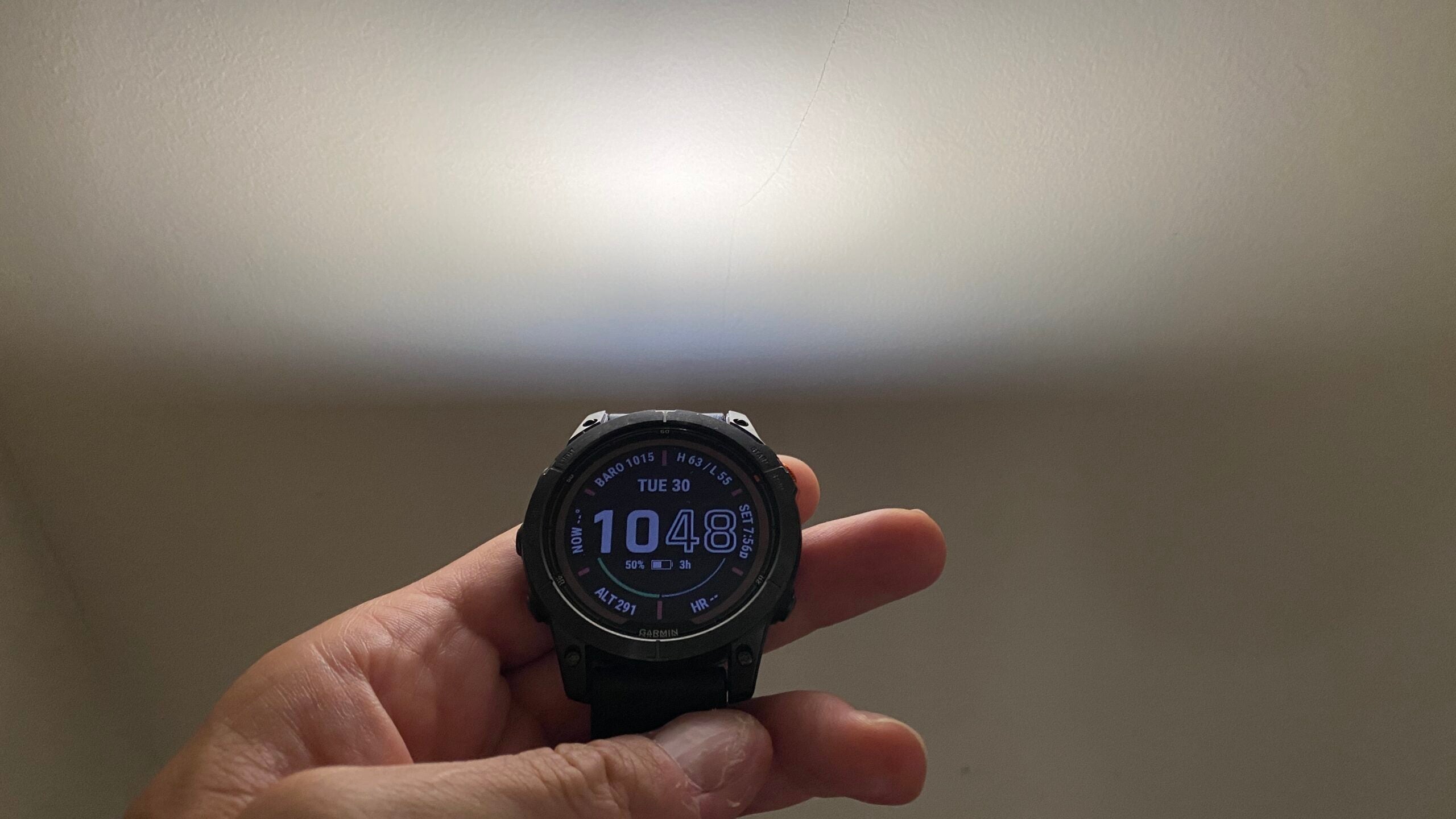 Though it's a small point (and one of the two hardware upgrades), it's worth noting how insanely helpful, novel, and singular the built-in LED light is. Unlike other smartwatch "lights" that are basically just a super-bright white screen mode—and that only serve to temporarily blind the user—the Fenix 7 Pro (and the Enduro 2 and the Fenix 7X) has a smartphone-level LED built into the front of the bevel where it can be used easily. This seemingly minor "gimmick" is actually an incredibly useful tool—especially for those who workout early in the morning or late in the day. Or, imagine setting up transition in the predawn hours and having a handsfree LED that actually casts a beam without needing a headlamp. We found countless uses for this little feature, and nothing else on the market (right now) is even in the ballpark.
The last bit of hardware update is the improved built-in heart-rate monitor that's meant to improve resolution in more sport activities. While we didn't see a big difference in our heart-rate training data, it's likely that the relocated sensors probably do more background lifting while tracking everyday heart rate.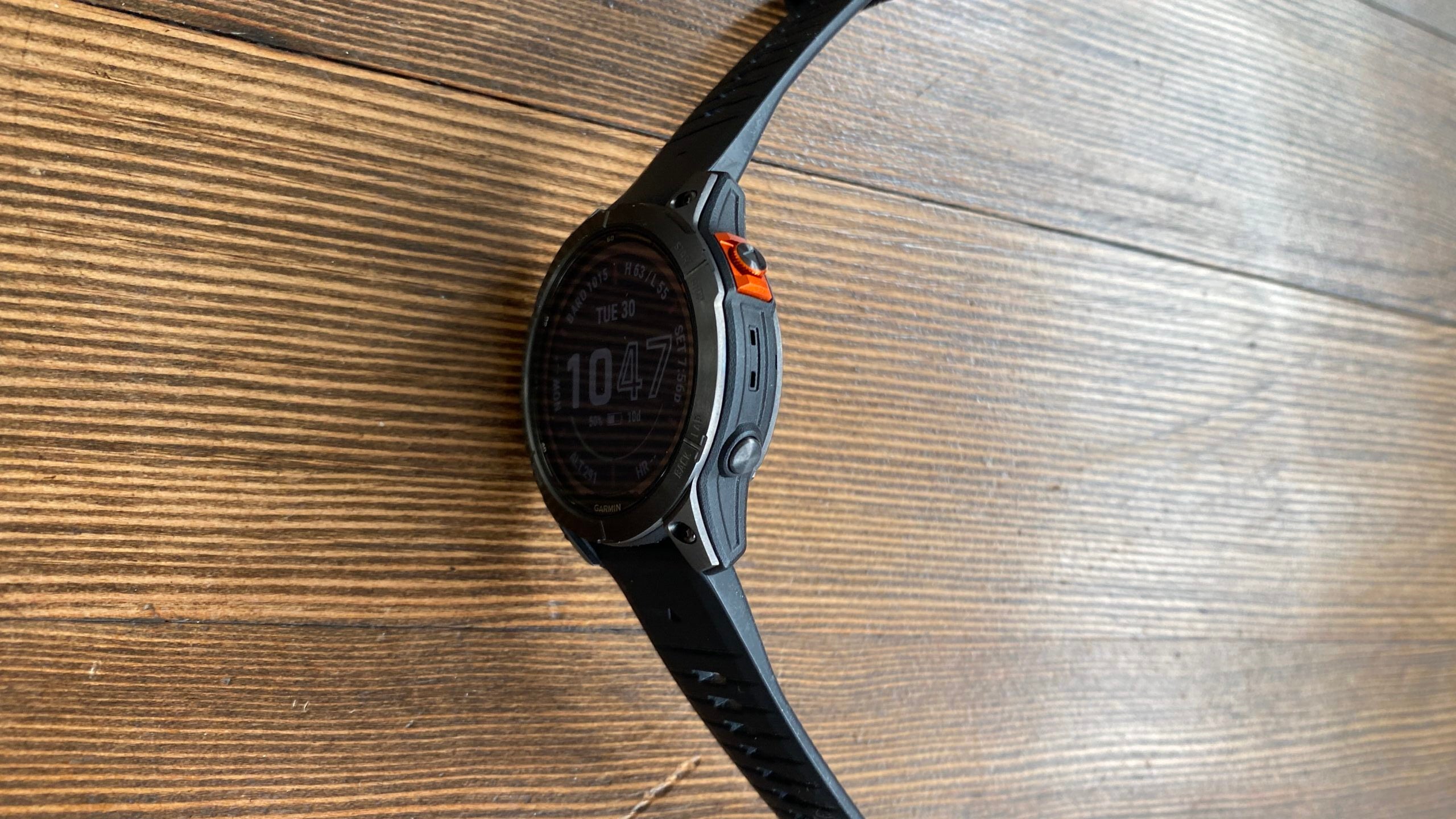 Size and form-factor wise, there's basically nothing new on the 7 Pro, but we were very (very) happy to learn that you could get the aforementioned LED light (and other upgrades) on the more human-sized 42mm and 47mm versions of the watch. Previously if you wanted the LED light, you needed to stack a gigantic 51mm Enduro 2 or 7X on your little wrist.
Battery-wise, the 7 Pro we tested (the $800 47mm version) is slightly behind the Vertical. Though advertised at about 20ish days of everyday smartwatch use, we found with daily tri use (and all of the physio tracking we liked to use), actual time to recharge was more like 10-15 days. GPS-wise, the 25-hour estimate for multiband was pretty spot on when paired with sunlight and a decent solar boost. Not quite maxed-out "expedition level" but pretty close.
Section divider
Suunto Vertical vs. Garmin Fenix 7 Pro: The Winner
This is a hard one. (And yes, these face-offs are usually hard…) If we were going off sheer improvements—distance the smartwatch has come from where it was—the Vertical is an easy winner. The Fenix 7 Pro is barely an upgrade from the 7 series, and for sure you're not going to buy this if you already have a 7 or an Enduro 2. If I were to guess, Garmin is super close to something really new with the 8 (though it could easily be another year), and they want to use up this design/mold and throw an LED on it; I, for one, am looking forward to a redesigned bevel on the Fenix line.
On the other hand, the Vertical is light years ahead of previous Suuntos in my opinion—especially for the ultrarunner/triathlon/adventure crowd. The battery is a beast, the functions and accuracy are crazy improvements, the design is amazing, and so on.
But we're doing a head-to-head here, and history has only a minor place in this discussion.
With that said, it pains me to say the LED—something that might feel inconsequential—pushes the Fenix 7 Pro over the line for me. If you look at the list of features on both, they're nearly identical, except the Garmin has offline music storage (and offline services like Spotify, which is actually most useful), the LED, better customization (though not everyone will even use it), and way more physio features (though honestly many of them are just reframed and repackaged ways of explaining the same data). I use the LED more than a few times a day, I would use it at a tri, and I feel a little off when I don't have it on me. The Fenix 7 Pro's only downside is its style (which is of course fully subjective) and its roughly 60% reduced battery life versus the Vertical. Still good enough to work for a couple of weeks of training, but not quite long enough to lose the charger (which happens with a lot of these 30-days-plus models).
Would I wear the Fenix 7 Pro to a job interview? Not unless I was applying for a backcountry guide position. But will I reach for it most other times? Probably.