Reviewed: The New Coros Pace 3 Smartwatch
A longtime editor favorite, the latest update to Coros' Pace line brings a host of new features, functions, and upgrades for only a few bucks more.
Photo: Chris Foster/Triathlete
---
Basics
An already underpriced smartwatch has been updated with a color touchscreen, better battery life, incredible GPS accuracy, more advanced heart-rate sensors, offline music, a barometric altimeter, better navigation, and a more rugged design—all for only $30 more than the near-perfect Pace 2.
---
Pros
Fantastic battery life
Excellent form factor/profile for wetsuit/everyday use
Insane price
Simple user interface
Lightest sports-focused smartwatch on the market
Best-in-class GPS accuracy
Cons
Small onboard storage (8gb)
Navigation/turn-by-turn is limited without mapping
No smartphone music control
---
---
Heading out the door? Read this article on the new Outside+ app available now on iOS devices for members! Download the app.
To begin, the Coros Pace series has been an editors' favorite ever since Coros released the first version about five years ago. While the initial iteration was a little plastic-y and felt kind of cheap, it was a good first effort as it had a lot of the features you needed without goofy extras you didn't. It was a lightweight smartwatch with a very "tight" feature set, but it wasn't particularly durable or "cool." The second version is still one of my favorite sports smartwatches with a much better construction and the one I recommend to my friends who are buying their first smartwatch. I still maintain that Coros underpriced the Pace 2 by about $50-100, but that's not really an actual complaint.
With the newest version, Coros fixed a lot of the little things that slightly held the Pace 2 back—GPS/elevation accuracy, HR sensors, battery, and durability—as well as adding a few things I'm not really sure the watch needed—things like a touchscreen, onboard music, and more navigation features. Coros also added $30 to the price, which is still a ridiculous steal. Read on to see what worked and why.
Section divider
Coros Pace 3 Review: The Basics
If you're new to the Coros ecosystem, you can expect pretty much everything a triathlete/multisport athlete would need: an excellent smartphone app with some run coaching features, open-water/pool swim, cycling, run (including running with power/"effort pacing" and track modes), triathlon and triathlon mode, and very good data display customization/post-workout display.
All Coros watches make use of a rotating crown to handle scrolling/selecting duties, plus the Pace 3 has another button to help with in-watch navigation. The Pace 3 is also the lightest-weight sport-focused smartwatch coming in at a very svelte TKg and has an incredibly slim profile—excellent for small wrists and for wetsuit use.
In terms of tech specs, you can expect about 15-25 days of real-world battery life with lifestyle functions (like sleep tracking) and daily or twice-daily workouts. The new Pace has an upgraded dual-frequency GPS chipset and barometric altimeter that drastically increases accuracy for both distance and elevation over the Pace 2. In terms of GPS life, the Pace 3 has 15 hours of dual-frequency (high accuracy) and 38 hours of standard GPS use.
The screen has also been upgraded to a 1.2-inch color touchscreen with Corning glass, and storage comes in at 8gb for offline music (which can be broadcast to headphones/speakers via Bluetooth). While the Pace 3 does display smartphone notifications, it does not, as of this writing, let you control music on a smartphone.
Section divider
Coros Pace 3 Review: The Good
I'll put this up top in case you don't read anything else in this review: There is nothing available in this price range with this feature list/tech spec. Nothing. The closest smartwatch you'll find is the barebones basic Garmin Forerunner 55 for $200 (less battery, no open-water swim, no running with power, no navigation) or the Forerunner 255 for another $100+ (less battery, no music on the basic version, no touchscreen). Neither of those watches have the same amount of truly useful features as the Pace 3. In other words, the best feature of the Pace 3 is that it's far cheaper and better equipped than any of its competitors.
That aside, there's a lot to love about the Pace 3, even when looking at it on its own. The dual-frequency GPS/barometric altimeter/updated optical heart-rate sensors help where the Pace 2 was lacking in accuracy. And by increasing the battery life, you can actually use all of these things (including sleep tracking and other daily lifestyle features) without having to charge it very often. For me, the two-to-three-week (with workouts) battery life is truly the sweet spot for multisport athletes. In terms of hardware, you'll find nothing lacking with this watch.
Practically speaking, when we tested the accuracy of the GPS and the altimeter, we found it to be almost exactly on par with our gold-standard watches like the Garmin Fenix 7 Pro or Enduro 2. When worn on numerous training runs in super-deep canyons, there was less than a 5% spread in distance/elevation accuracy between the $230 Pace 3 and our control watches that cost about four times as much.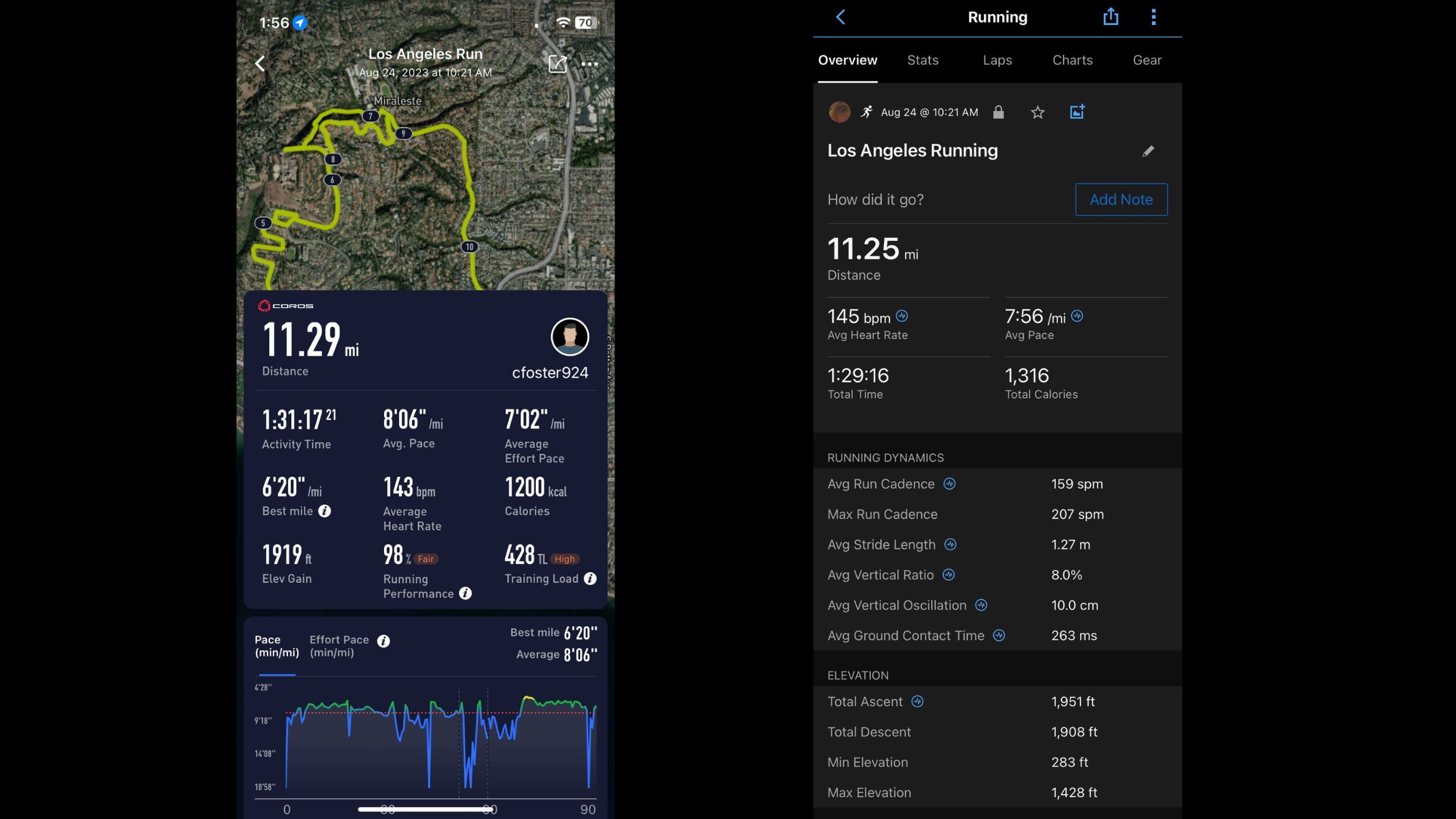 In the water, accuracy was still extremely good (something that the Pace 2 really struggled with). Both in consistency on the same course and in comparison to excellent, previously established open-water GPS watches on a set course, we saw very little variance.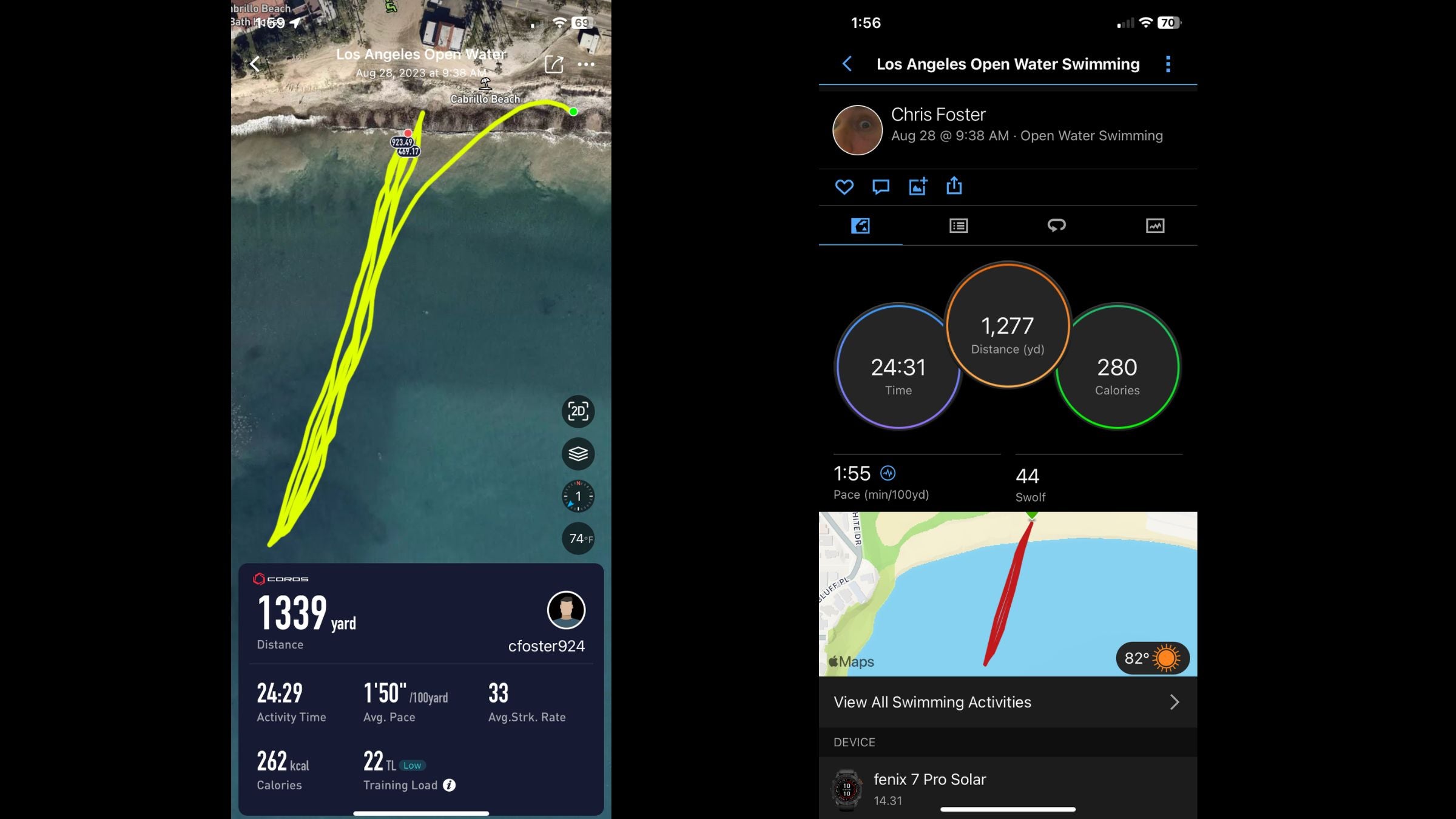 The software is also very good with a simple interface and not-overwhelming menus (right Garmin?). This is a minor bonus, but the Coros-supplied watch faces are very interesting and look like an actual graphic design team put them together, rather than a bunch of data-crazy engineers (Garmin, again?).
Finally, and this is not-so-minor for many triathletes, but the slim profile of the Pace 3 is hands-down the best I've used for wearing underneath a wetsuit and the rotating crown is excellent for menu navigation (if you chose not to use the touchscreen). When compared to a watch like the Garmin Fenix 7X/Enduro series—that snags on everything around it—the Pace 3 barely makes a bulge under even the most delicate wetsuit sleeve.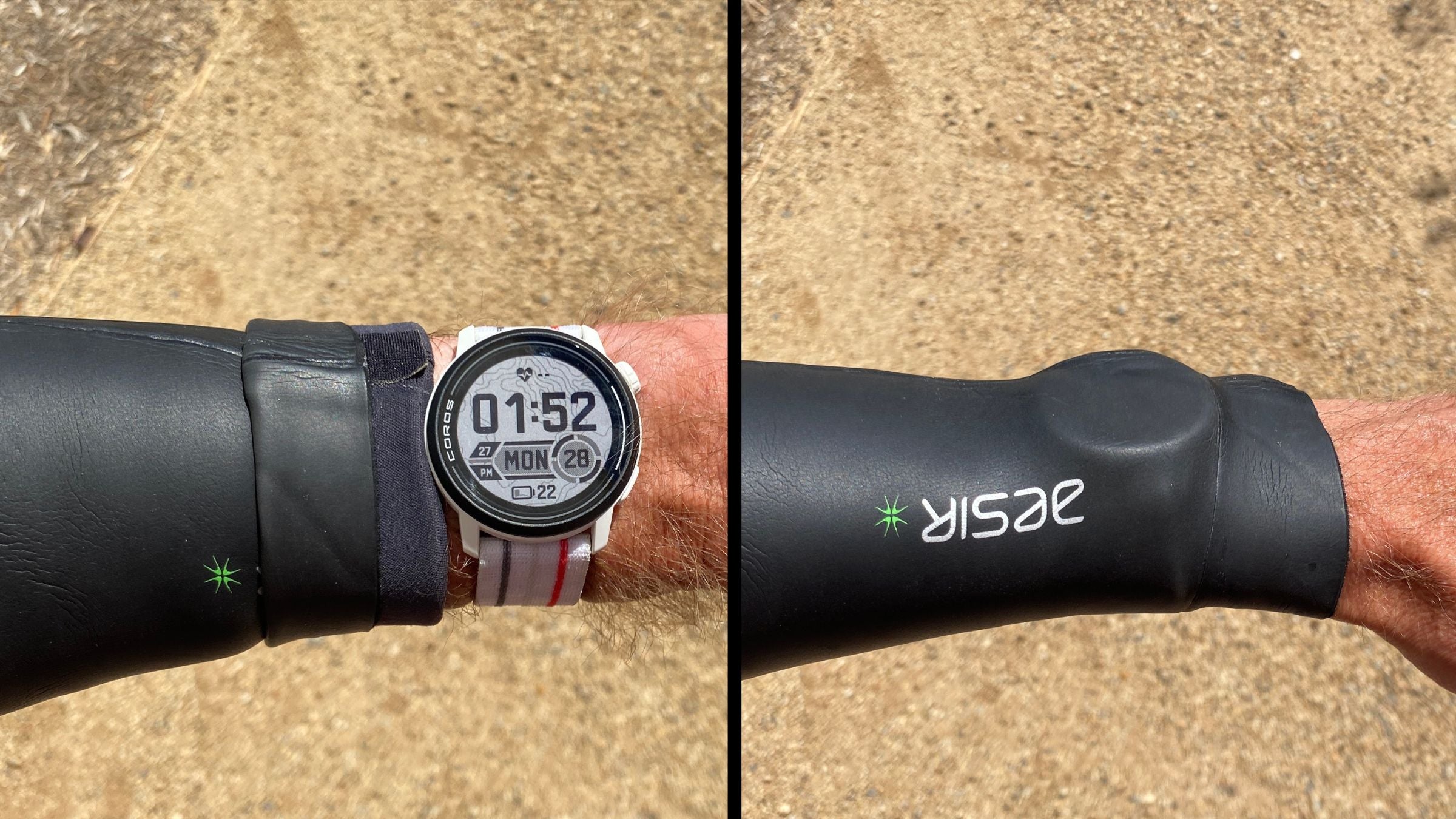 Section divider
Coros Pace 3 Review: The OK
There's not much to complain about in this watch (hence why we gave it an extremely rare five stars). If you're comparing the Pace 3 to anything in the <$450 range, you can't really find much fault, but if we were building the absolute perfect watch, there are a few things we'd do slightly differently. First, while the touchscreen is a great thing to brag about in a spec sheet, I've found that a touchscreen is really most useful when using navigation features that have maps. Elsewhere it's just kind of useful. While the Pace 3 has breadcrumb nav and (newly) turn-by-turn navigation, it doesn't have any kind of mapping (totally understandable for a watch with only 8gb of storage that costs under $500); mapping is really where a touchscreen comes in handy. That's not to say having the touchscreen is a bad thing, but if the Pace 3 didn't have a touchscreen and cost $30-50 less, I wouldn't be sad about it.
The only other little nit-picky thing about the Pace 3 is its lack of smartphone music control. It's an odd gap in functionality that almost every other smartwatch at any price that displays smartphone notifications has nowadays. It's great that the Pace 3 does onboard music and plays offline via a Bluetooth headphone/speaker connection, but 8gb is not a ton of storage, and we're finding that very few people actually have mp3s anymore. Again, not worth taking a star, but a funky missing feature if the Coros product team is reading this.
Section divider
Conclusions
Basically, Coros' Pace 3 is one of the most complete sport-focused smartwatches available, pound-for-pound—in fact it punches well outside of its weight class, especially with the upgrades to the GPS/altimeter and battery. We love pretty much everything about this smartwatch, and would have a hard time recommending anything else under $500, unless there was a specific physiological data feature an athlete is looking for (or you're married to a brand ecosystem for some reason). The only slight question mark on the Pace 3 is long-term durability, but as I had no issues with heavy use on the Pace 2, and Coros says the Pace 3 is more robust than the last version, I'd be shocked if it fell apart before its due date.
As someone who has used pretty much every sport-focused smartwatch made in the last five years from $200 up to $1200, I know what triathletes (or runners or swimmers) actually need and what they don't need. Sure, there are smartwatches with ten times more functions for a little bit more money, but my best guess says most people will never touch 50% of those features. The Pace 3 has exactly what you need, not much more than that, and executes it all extremely well for far less than any other brand. You can find the features, you can use them, and they work.
If anyone asks me for a recommendation for a $400 smartwatch, I'd probably tell them to pick up the Pace 3 and use the remaining $170 to go buy their mom a nice present or donate to a charity—that'd be the best use of your money, both as a savvy consumer and as a human being.