The Best Goal-Setting Apps And Services for 2023
Motivation starting to take a hit? Get back on track—any track—with one of these creative (and fun!) goal-setting apps.
Heading out the door? Read this article on the new Outside+ app available now on iOS devices for members! Download the app.
You're a week into 2023, and maybe your New Year's Resolution is going to plan—or maybe it's already slightly derailed. That's OK! There's still time to get the train back on track before the tri season (finally) wakes up and starts moving a bit again. But you'll need help. Don't worry, we've got your back—whether it's with our four-week Multisport Mobility Bootcamp, our guide to building better habits, or something simpler like a goal-setting app or online training log that'll help you knock out the little things that add up to big ones later on down the line. Let's dig in.
Find a challenge
While there aren't a ton of races to sign up for in January, that doesn't mean you can't find something to motivate you to train. Use a challenge—like our Multisport Mobility Bootcamp – to get you jump-started. Don't worry if you didn't start on Jan. 1, the expert workouts and plans from big-name coaches will help you set up training zones that'll give you momentum (and valuable info) into the spring. Not only will a benchmark challenge make you fitter and faster for tri, it'll give you some invaluable zone/pace training info when you're done. If nothing else, you should absolutely start 2023 with some concrete training zones to help build your training.
Don't build off resolutions – build habits instead
Everyone knows about The Quit Date—just about two weeks into the year, some say around Jan. 12, some say Jan. 10. That's the day most people's New Year's Resolutions come to a crashing halt. The bad news is that experts say habits—these are the big, strong things that you want your little resolution-seed to grow into—take about 66 days. Building a habit isn't easy, but once you've got one, you'll be glad you did (unless it's a bad one, but that's not what we're talking about here). A habit is a behavior that basically becomes subconscious, like getting up with the sun or reaching for healthy snacks in the cupboard. The good news is that there's still hope for your little germinating resolution, and if you haven't set a resolution yet—or you don't believe in them—work on building a habit instead. We'll get to some tools that will help below, but for comprehensive expert habit advice, take a look at our healthy habit guide.
Call in outside support
Challenges are good tools to help take a resolution to a goal to a habit, but everyone needs a little help once the lights of the challenge fades, and you're still trying to bridge the gap between March and your first race. The best way to help keep the habit fire burning into some excellent training—and eventually big results come race season—is to use one of the many tools available. Training logs are a good place to start, and online training logs are better than ever. If your goals are simpler and/or you already have an online training plan, read on for our top picks for goal-setting apps to help push your potentially doomed resolution before it needs to be put on life support!
RELATED: For Our Members: 4 Printable Training Plans For Every Distance Tri
The Best Goal-Setting App For Absolute Customization And Organization
Strides
Free for basic (max of seven habit trackers, no iCloud syncing, or tags/filters), $30/year for Strides Plus; Stridesapp.com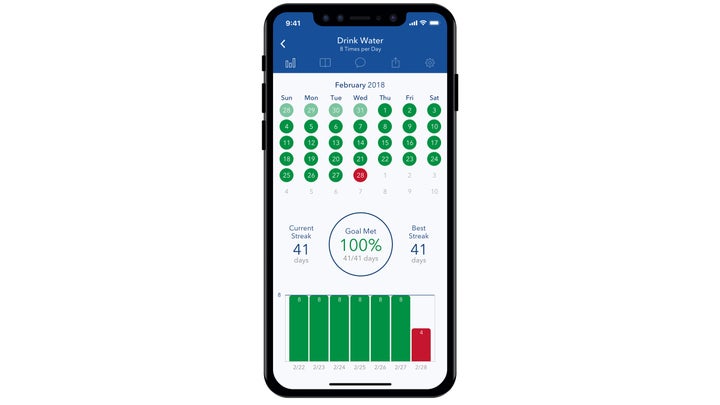 If you're the type of triathlete who likes to log everything about your workout and is super detailed in your training plans, this is the app for you. Though it's only available in iOS (sorry Android users), this is probably one of the most "powerful" goal-setting apps in terms of depth and scope. For literally dozens of both positive (drink water, meditate, say "thank you," etc.) and negative (play video games, limit caffeine, no soda, etc.) habits and goals, there are unlimited options on how often, how much, setting streaks, and creating organizational tags/filters. The free version is quite good, but if you want to do more than seven tracked habits (and organize them with tags), you'll need to upgrade. This is the one for keeping control, but not necessarily for quick use and a simple interface.
The Best Goal-Setting App For Those Who Like Simplicity
Horizons
Free for basic (max of three trackers, no multiple reminder for each habit), $7 for premium; Treebetty.com
While Strides is the do-everything-always goal-tracking app, Horizons takes a much simpler approach. The app starts with a vision board to help you to visualize the life you want in seconds, then the user is prompted to write out an action plan with the steps you'll need to take to get there. Finally, you'll be prompted to review your vision board daily and journal your progress toward your goal. The interface and setup is very user-friendly. If you're on iOS, and you're looking to simplify the process rather than organize/analyze everything, this is for you.
RELATED: 11 Triathlon Goals That Don't Involve Qualifying for Kona
The Best Goal-Setting App For Those Who Strive Socially
Coach.me
Free for the tracker app, $25/wk and up for personal coaching; Coach.me

Though Coach.me's main goal is to get their users hooked up with a personal coach—who will help you with everything from productivity to finances to beating addiction—the tracker app (iOS, Android, or web) is decent and has a very cool set of community features that make you feel not-so-alone in this otherwise-isolated time. Once you select a habit to track, you instantly join a community of other users looking to either create or beat that same habit. You can ask the habit group questions, help others with answers, check out a leaderboard, and of course see coaches to hire who specialize in that field. While most of the other apps in this category are totally self-contained, this is the one for people who miss their tri club/group ride and flock to every Zoom happy hour they can find. Consider this one of the best options for beating back some of the very unique challenges we're facing right now. Also, to be clear, this isn't the place to find a tri-specific coach—there are much better places for that.
RELATED: Lone Ranger or Wolf Pack? What's Your Training Style?
The Best Goal-Setting App For…Nerds?
Habitica
Free for basic features, $5/mo. for fun little in-game perks; Habitica.com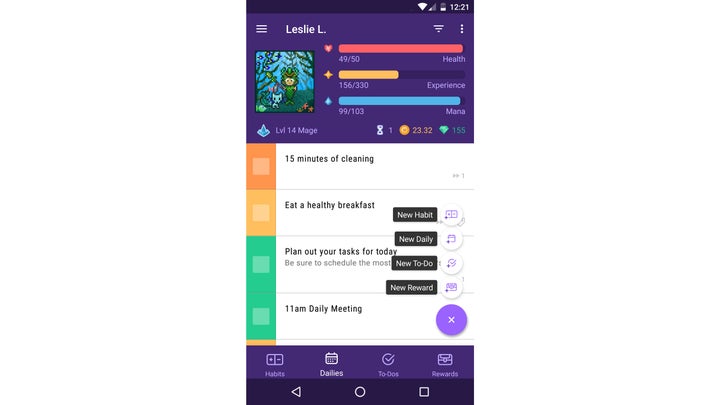 Describing everything that happens in this goal-setting RPG is more than we can detail here, but if you like video games—gaining experience points, gaining (and losing) health points, customizing characters, collecting mythical digital objects, and (way) more—then this is the most fun and effective way for you to set your goals. Using a little 8-bit-looking character via an iOS/Android app or web, Habitica lets you set your tasks and habits and rewards (or punishes) you for completing them or not. There's a serious community factor at play in this world, as you can team up with other users to fight "battles," join "guilds," and create "parties"—all the while encouraging each other with your own real-world goals or pre-created challenges. The only downside to this very fun (and complex) platform is that it may consume more of your time than you might like.
RELATED: The Psychology of Setting Motivating and Satisfying Goals
The Best Goal-Setting App For Consistency Above All
Streaks
$5 (one-time purchase); Streaksapp.com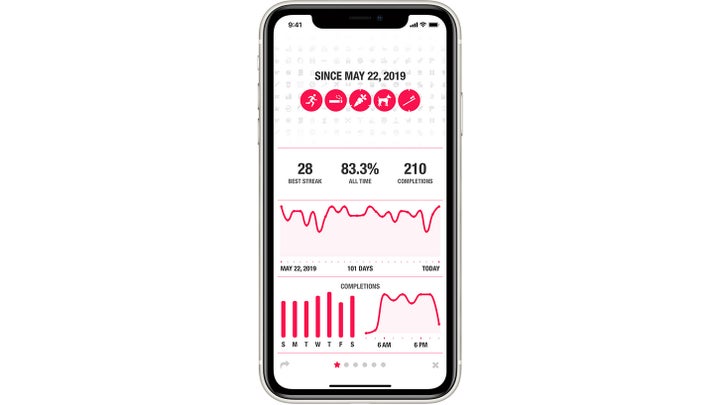 While setting a streak is usually the kind of goal that's served up best on January 1, there's something to be said for our current situation feeling like a "new year." What better way to re-motivate yourself in the absence of upcoming tri-specific goals than to get a streak going? This super well-designed app for iOS or Mac lets you track up to 12 tasks/day with the hopes of not breaking your streak. The streaks can be preset or user-created events that are single (walk the dog, drink a smoothie, etc.), health tasks (swim/bike/run, sleep, etc.—it connects automatically to the Apple Health App), and timed tasks (read, practice an instrument, meditate, etc.). Streaks also don't have to happen every day—you can set them to be active for certain days of the week, a few times per month, and way more. Reminders and stats help keep things flowing, and the user experience is probably the best of the list.
RELATED: The Six Habits Of Highly Effective Triathletes
The Best Goal-Setting App For Tri/Swim/Bike/Run
Pkrs.ai
$90/mo. after free 30-day trial; Pkrs.ai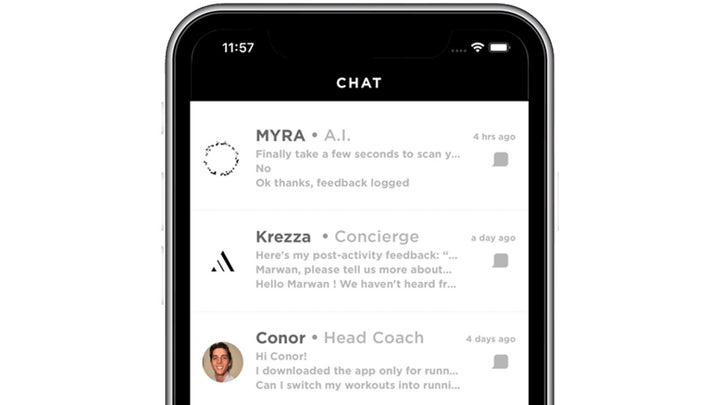 Ok, so this one is a little different than the other more "general" goal-setting apps and platforms in this list, but it bears mention because it's one of the most complete and unique online soup-to-nuts training platforms out there. Using a combination of super sharp programming via their iOS and Android app, real human coaches and experts (even world champion Leanda Cave is involved), and some almost-unsettling AI, Peakers effectively saturates you with tri-, run-, or bike-specific knowledge based on your specific goals. You put in your goal event—tri, bike, or run—you go through an intake process, and a plan emerges with concierge-level service from coaches, nutritionists, strength-training experts, and more. The app is easy to use, and the interaction between the living coaches, you, and the AI system is eerily seamless. Of course, it ain't cheap, but if you need an army of tech and experts to help get you through to the other side, this is the most all-hands-on-deck option.
RELATED: The Top 10 Indoor Cycling Platforms and Apps to Get You Through the Winter