This Sticky Little Patch Could Save Your Race
As blood glucose monitors become more commonplace, the next step is a sensor that measures and advises your hydration levels. We dig into the pros and cons of the more advanced options, the Nix Hydration Biosensor.
---
---
Heading out the door? Read this article on the new Outside+ app available now on iOS devices for members! Download the app.
Nix Biosensors is a newcomer to the human optimization market. They recently released their first commercial biosensor, the Nix Hydration Biosensor. This device is able to tell users their fluid and electrolyte loss as well as sweat composition all from the comfort of home or the gym.
RELATED: Ask Stacy: Why is Hydration So Important for Triathletes?
Nix Hydration Biosensor Specs
| | |
| --- | --- |
| Hydration Biosensor weight | Less than 0.5 oz |
| Hydration Biosensor size | Approx 3.8 cm (1.5 in.) |
| Hydration Biosensor patch size | Approx. 7 cm (2.75 in. |
| Battery Life | Up to 36 Hours |
Section divider
The Good: Nix Hydration Biosensor
The folks at Nix Biosensors have stacked their advisory boards with experts from all walks of athletic life, from Dr. Brad Wilkins, who was the lead physiologist as part of the Breaking Two project with Eliud Kipchoge to Shalane Flanagan, one of the U.S.A's best known – and now-retired – marathoners. The Nix Hydration Biosensor is backed by some of the brightest minds in endurance sports, which should make the user feel good about the product before even purchasing it.
Upon purchase, the Hydration Biosensor comes with everything an athlete would need to get started: the biosensor itself, four single-use skin patches (to which the biosensor attaches), a charger for the biosensor, and a charging cord. The Nix Biosensor app is free to download and is available on the Apple App Store or via Google Play.
For those who cringe at the thought of needles or drawing blood in order to get biofeedback, the Hydration Biosensor provides sweet relief; it is non-invasive and the most painful part of using the sensor is removing the sticky patch after its use, which feels a bit like ripping off a bandaid.
The Hydration Biosensor is extremely easy to begin using out of the box. Download the Nix Biosensor app, create an account (which is a quick process), stick on a skin patch, and attach the sensor to the patch, follow the app prompts to start a running or cycling workout with the Hydration Biosensor, and let the sweat flow. Currently, the app's only two training options are running and cycling, but outside of water sports (the sensor cannot be submerged in water), we don't see why you couldn't select "running" and actually do a hike or pickup soccer game or yoga session instead.
The app provides multiple common drink mix options to select from before starting a workout – Tailwind, Maurten, Skratch, plain water, etc. – match the mix with what you're using, and it helps the sensor better understand how you'll be fueling throughout the workout.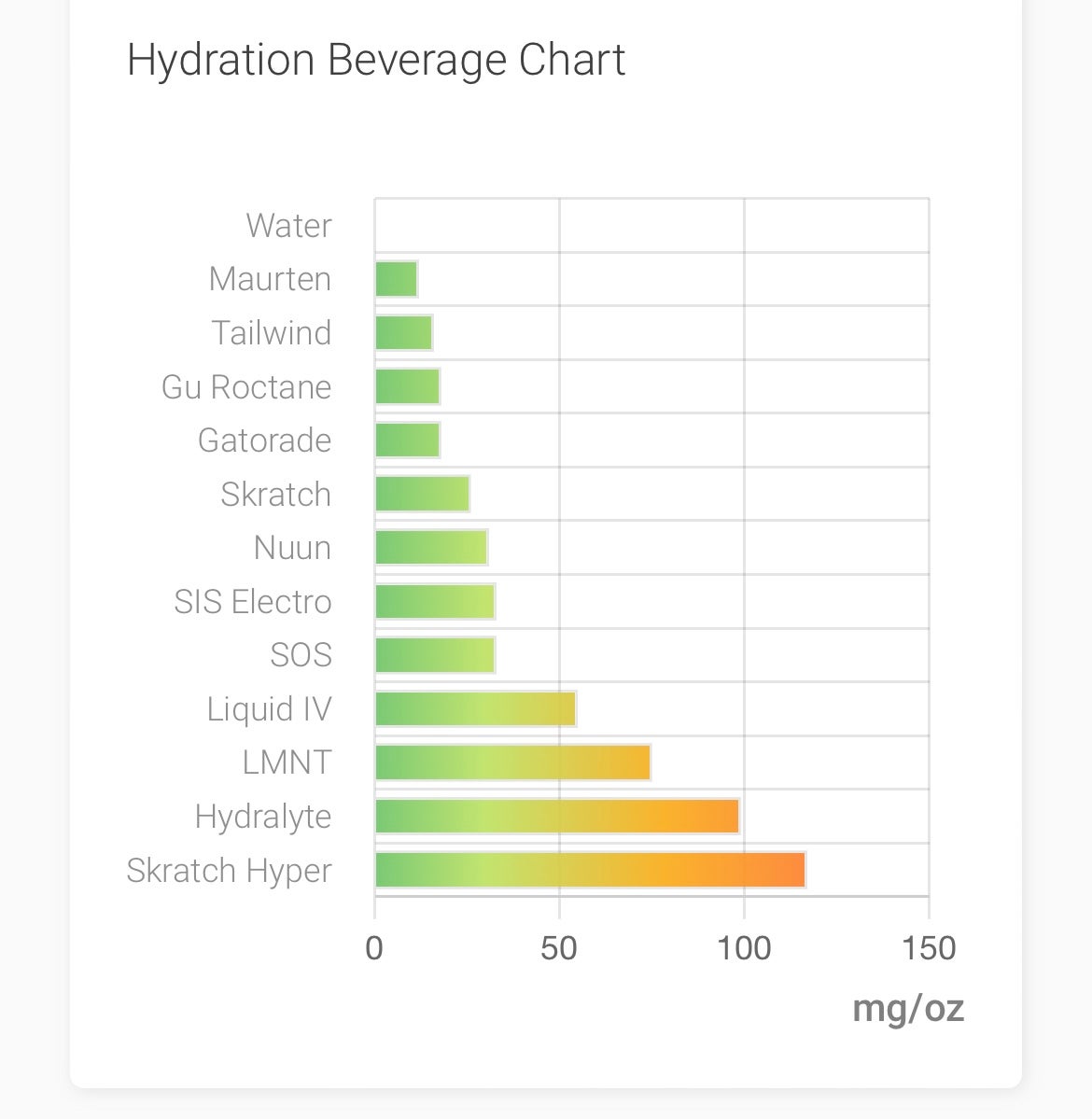 RELATED: How to Choose the Best Sports Drink for Triathlon
As you work out, the sensor will begin analyzing your sweat. The Hydration Biosensor provides three pieces of feedback: fluid loss (in real time), electrolyte loss (in real time), and sweat composition (post-workout).
The app will prompt you by telling you how many ounces you would need to drink in the current moment in order to be replenished. The Hydration Biosensor can also be synced with Garmin and Apple Health, so if you'd prefer not to toggle between apps during a workout, you can get the same drink prompts on your Garmin or Apple Health device during the session, too. Nix Biosensors says they're working on further integrations with Zwift and TrainingPeaks, among others, in the near future.
Once you drink the sensor's suggested amount, you can swipe up in the app or remove the notification on your Garmin or Apple device to indicate that you are "replenished." The sensor will then begin recalculating from zero how much you'd need to drink going forward until you "replenish" again.
Post-workout, you can analyze fluid loss, electrolyte loss, and sweat composition all in the Nix Biosensor app. What we can appreciate here is that Nix doesn't leave you high and dry (pun absolutely intended) when analyzing your sweat; they provide a graph of how other electrolyte drink mix options stack up to the amount of electrolytes you lost during the session to help give you more informed fueling choices going forward. This is useful as athletes can weigh the "I like this mix" versus "this mix is best" options.
For those who struggle to remember to hydrate during a workout or chronically over- or under-hydrate, the Hydration Biosensor is a godsend. It not only prompts you to drink, but tells you how much you'd need to drink in order to be fully hydrated based on your current fluid and electrolyte loss rates. Heavy sweaters and those who frequently train in warmer climates will find this sensor especially useful when creating fueling and hydration plans.
The sensor also has a battery life of up to 36 hours. Hypothetically, you could put on a skin patch and sensor during T1 of a triathlon and have on-demand fluid and electrolyte loss data during the bike and run portion of a race. This rapid installation could be cumbersome, but if you practice doing it quickly, it could be an easy way to nail your hydration for the remaining two-thirds of the race—particularly in a long-course event, where a slightly slower transition time can offset a huge hydration crash.
RELATED: Dehydration Makes That Effort Feel Harder
Section divider
The Just OK: Nix Hydration Biosensor
There are a few things that make us break a sweat when reviewing the Nix Hydration Biosensor.
The most obvious one is that the Hydration Biosensor cannot be submerged in water, which means it's a no-go for pool or open-water swimming (or any other water sport). Although swimming isn't typically a sweaty activity, you do sweat during it, but less obviously. As triathletes, it would be helpful to have a sensor that could give us fluid and electrolyte loss across all three sports to fully optimize fueling and hydration plans for race day. And of course it removes the ability to put it on on race day before the gun goes off.
Also, the skin patches for the Hydration Biosensor are single-use only. At $25 for a pack of four (beyond the pack of four that comes with the sensor starter kit), you're quickly devoting a solid chunk of your paycheck to Nix Biosensors should you choose to use the sensor frequently. Instead, the Hydration Biosensor is likely best used intermittently to check in with how your hydration plan is meshing with your body's needs.
The post-workout data is easy enough to understand – fluid loss, electrolyte loss, and sweat composition – but the home-page sensor metrics are confusing at first. For example, the "Nix Index" takes a minute to understand – it's not a "hydration score" as it may first appear – it's a "sweat score." The lower your score, generally, the better because it implies you are not currently sweating as much.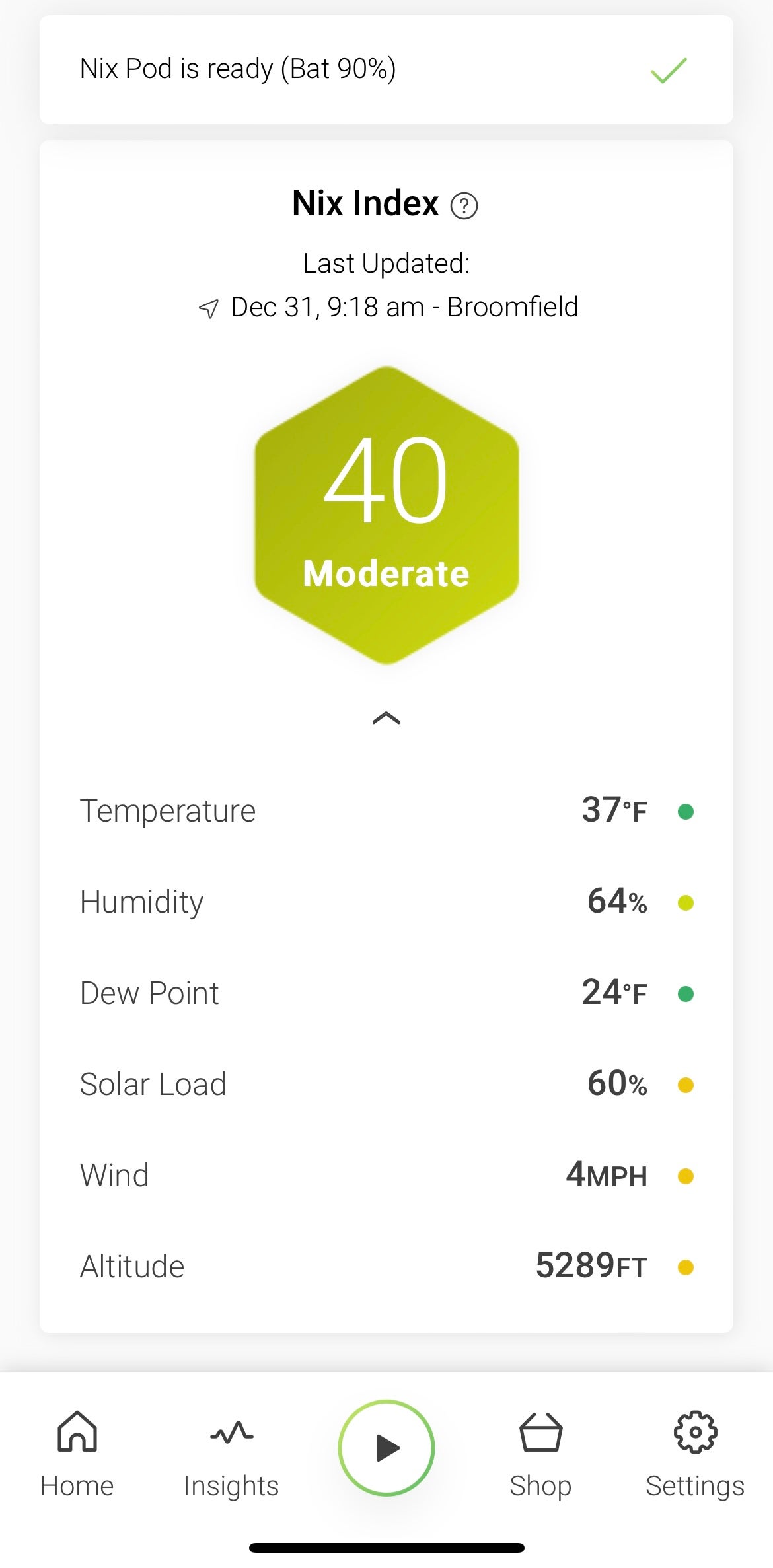 "Solar Load" is another data point that seems confusing and is not defined within the app. It is likely this data point is trying to correlate how sunny it is with how much you may or may not be sweating given the current weather, but an actual definition would be helpful.
Pre-workout, when selecting what type of hydration mix you'll be using, there is no option to input how much of the mix you plan on using and over what duration. For example, selecting "Skratch" as a workout fuel for a session is vague. It would be ideal to be more granular in this section of the app when it comes to electrolyte mix brand, how much, and planned intake duration (i.e., one 24 oz. bottle of water with one scoop of Skratch to be taken in over one hour).
RELATED: How Much Salt Do You Need While Training and Racing?
Lastly, the drink prompts during a workout can be difficult to accurately fulfill. The app and sensor will encourage the user to drink, for example, "7.5oz to be fully replenished." While an athlete may be able to estimate this amount based on the size of their water bottle, it can be difficult to accurately consume what the app prompts. Plus, depending on what you're used to, it may take some "gut training" to build up stomach tolerance for consuming more fluid and electrolytes than what you've previously done, so fully "replenishing" each time may take some getting used to.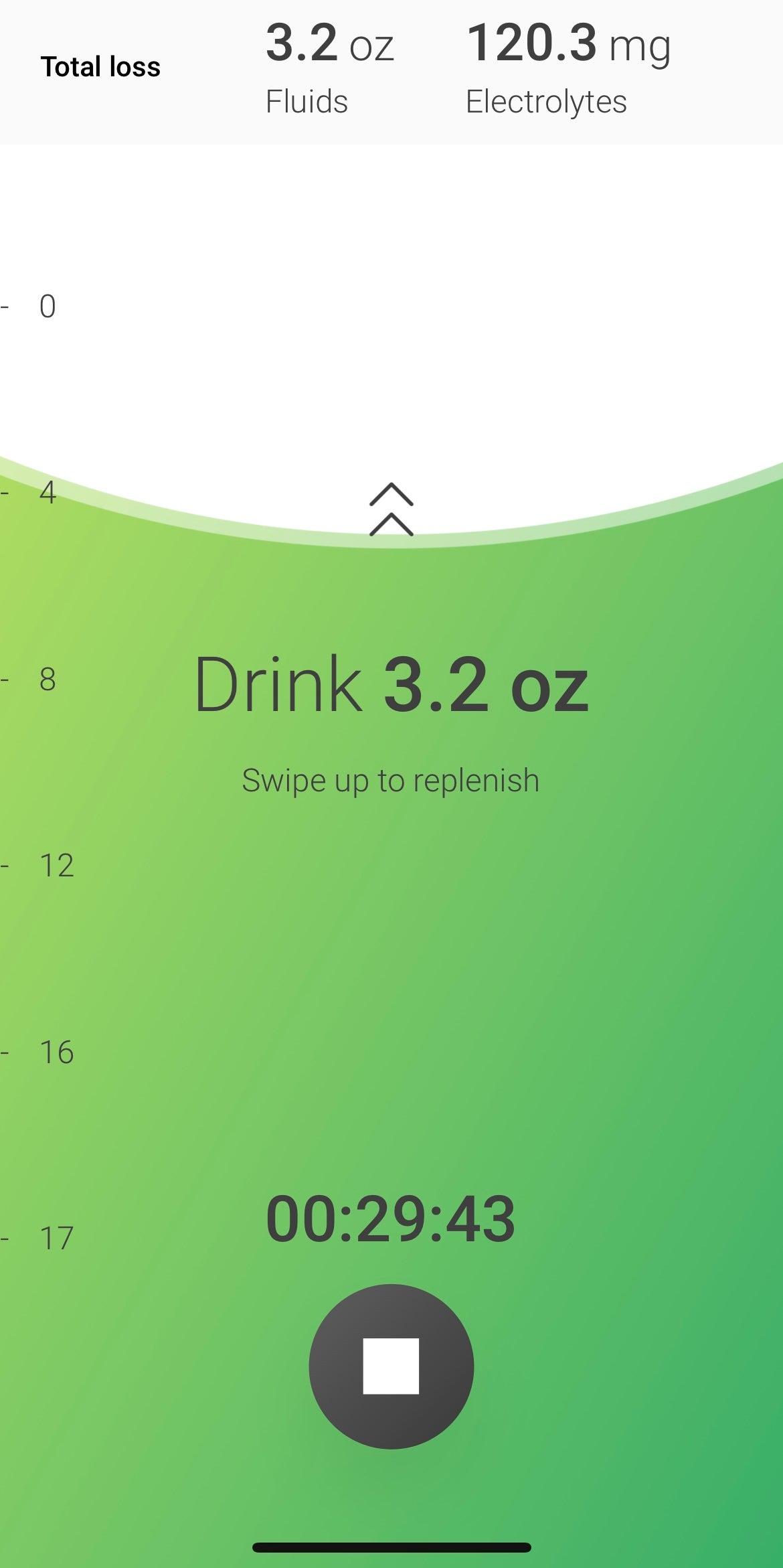 Section divider
Nix Hydration Biosensor Review: Conclusions
The Nix Hydration Biosensor makes all other stick-on sweat patches look like child's play. The Hydration Biosensor is sleek, non-invasive, connective, accurate, and easy to use. The fact that it provides on-demand activity data around fluid and electrolyte loss could be a game changer especially for athletes who struggle with digestive tract issues or dehydration in training and racing.
While the data from the Hydration Biosensor is spot-on and beneficial, there can be a bit of a learning curve as to what the "Nix Index" means and how to use it in training. Additionally, it may take some time to figure out how to best integrate the app's prompts into your training given how specific the "replenish" fluid measurements are.
On the whole, for athletes who want to finesse their hydration as much as possible or for athletes who struggle with chronic digestive problems or symptoms of dehydration during training and racing, a $130 investment (with the potential for the purchase of more skin patches) to demystify their fluid and electrolyte loss may just be worth it for some peace of mind – and stomach.
RELATED: Triathlete's Complete Guide to Nutrition and Fueling