Swimming Gear: Products To Help You Get Through Your Next Pool Workout
Heading out the door? Read this article on the new Outside+ app available now on iOS devices for members! Download the app.
Written by: Courtney Johnson
Courtney Johnson looks at five products designed to get you excited about training for your least favorite sport.
Aquavee Portable Swim System $89.90: This portable system means no more missed swim workouts on the road. No matter the shape, size or tile type, the high-pressure suction cups on the end of the V-attachment will connect to any pool in less than a minute. The inflatable belt keeps the body in a true horizontal swim position and allows the athlete to choose the proper buoyancy level. Different-sized clip-on bands allow resistance levels to be adjusted. Swim at your own pace and length without having to kick off the wall or do flip turns. The continuous workout allows you to focus on stroke technique and kicking while giving you the feel of open water. The system is also great for swim drills. Weighing only two pounds, this compact system can easily fit into a suitcase and comes in a mesh bag. Aquaveeonline.com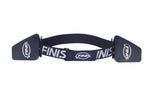 Finis Hydro Hip  $29.95: Need to improve your stroke efficiency and core strength? Then you should check out the Finis Hydro Hip. Forcing the swimmer to rotate her hips at the top of the stroke, the Hydro Hip has a fin placed on each hip to create the needed resistance to learn proper timing for engaging core muscles. It's great for developing a powerful hip snap in both freestyle in backstroke while improving distance per stroke and efficiency. The adjustable waist strap results in a perfect fit whether you're in base mode or race shape. Finisinc.com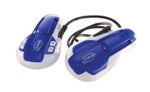 Finis SwiMPS $149.99: Stay motivated by listening to music while you swim with the waterproof Finis SwiMPS. This sleek MP3 player has a control panel built into a side paddle for shuffle, volume and resume controls. Transmitting high-fidelity sound with Bone Conduction Technology, the player supports both MP3 and WMA files. With 256 megabytes of memory, it can hold around 60 songs. Attach it to your goggles and get up to eight hours of play with the rechargeable battery. Finisinc.com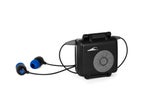 H20 Audio Interval $79.99: Listen to your favorite tunes in the pool without creating drag with the H20 Audio Interval. With bass-amplified superior sound quality from the integrated in-ear headphones, you can take your iPod Shuffle underwater and sing your way through those 100m drills. The sleek, minimalistic case attaches easily to your goggles and is 100-percent waterproof, as tested in a pressure chamber. Available in five headphone sizes for individualized fit, you will have no problem keeping the headphones in your ears even when wearing a swim cap. Waterproof armband cases are available for other-sized iPods and iPhones. Check out its website and enter to win a free iPod and see what Olympian Natalie Coughlin has to say about one of her favorite training tools. H2OAudio.com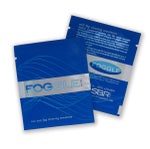 Foggle by SBR Sports Inc. $0.70 each or $28.80 for a case of 48: No more blaming foggy goggles for a bad swim! SBR Sports has developed individual, anti-fog cleansing towelettes you can take anywhere to remove residue, prevent fog and keep your goggles crystal clear. Simple to use, each towelette comes in a sealed foil packet. Open the packet, wipe your goggles with Foggle and admire the clarity. Towelettes are also great for sunglasses, scuba masks and ski/snowboard goggles. Tri-swim.com