Tested: Tyr Sayonara Swimskin
Heading out the door? Read this article on the new Outside+ app available now on iOS devices for members! Download the app.

Written by: Jay Prasuhn

In an industry full of similar-looking products, Tyr brings to the market a new swim skin complete with new technology and—not surprisingly—speed.
I love open water swimming. I accept that I won't get the good threshold training, or the great form that clean water in lane lines will present. I don't care. I like seeing garibaldi in the distance, stingrays fluttering off the seafloor. I've gotten over the gnar-gnar feeling of swimming through a kelp forest or sea grasses, and while I still get that tingle of wondering what that dark mass is off to my left, I remember that I am a few steps off the top rung in the food chain so I'm OK with it. Open-water swimming makes swimming fun for me, and the waters off Southern California are fairly tropical, up to 75 degrees F. No more need for my wetsuit, but still a bit chilly for just swim trunks.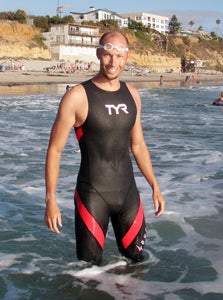 So amid the various tools I have to play with, I opted to test the Tyr Sayonara at the Solana Beach Triathlon, a North County San Diego mainstay sprint event. Why not just wear a wetsuit? Lots did. Why would anyone even want a skin unless they live in Hawaii?
Well, with luck, it was the same weekend that a big south swell came rolling in. And that's always my hope: big surf. While the better pool swimmers typically slay me when it's a calm swim, I tend to have a better day when I can skitter with greater aplomb through the big surf.
Where does Tyr's new Sayonara fall in with all of this? Well, first a bit of recent history: the swim skin category is a growing one since Blue Seventy debuted one of the first ones at the Hawaii Ironman a couple of years ago. Since then, swim skins have been credited with faster swims in Ironman as well as Olympic-level long-distance open waters swim events.
Like any swim skin, the goal of the Sayonara is not to provide buoyancy or warmth like a wetsuit. The skin doesn't have neoprene for that effect. But what it does have is the namesake "skin," over which water flows with much less hydrodynamic resistance than regular ol' human skin, with its wrinkles and hair follicles fooling up hydrodynamic flow.
Unique materials and new design features are what set the Sayonara apart.
The Sayonara is the first skin to use Yamamoto BRS III fabric. That means that the outside layer of the suit has a limestone-based micro-honeycomb structure, which forms a ball bearing effect on water molecules for increased water repellency when compared to standard Yamamoto coating. Tyr claims a hydrodynamic drag coefficient of .021, a decrease of 34 percent over the existing Yamamoto fabric on the market.
The suit has a middle layer with a flexible titanium alloy, which Tyr says contours the swimmer's shape for reduced muscle fatigue. It's all backed by a single-knit stretch with a water absorption rate of 0.5 percent.
The backing will keep the suit from getting heavy with water, but that's a moot point, thanks to other advances. One is leg or ankle grippers (the suit is offered in a short john, but I tested a long-leg version). For me, the ankle terminus was very tight, mainly because I pulled the suit up to my calves so I can pull the rest of the suit well up into the hips and crotch. It was almost uncomfortable, but my muscles became accustomed to the snug bite at the calf. It also ensured that zero water would get in at the bottom.
At the top, particularly the neck, which is a big area of water flushing in any wetsuit or skin, Tyr uniquely used a new silicone neck gripper, which kept the suit in one place and prevented water from flushing. I've never seen this used before, but I liked it.
The rest of the suit is about hydrodynamics, with flatlock seams and as much BRS III as possible. Tyr introduces zoned ventilation (the red chevron down the thighs and under the lats on the back) to help avoid overheating. They also provide a bit of extra flexibility, beyond what an already flexy BRS III rubber provides.
Tyr also introduces another new technology: the core control panel. Effectively a layer of rubber printed inside the suit, the rubber is purported to help stabilize the swimmer's core. Crafty, since this is key in open-water swimming. But does it work? We'll get to that.
During my test the water was warm enough to warrant a skin instead of a wetsuit. The decreased buoyancy of the skin meant easier diving under the big waves.
And so went my swim; it was only 300 meters, but it was one of my best swims of the year; I was able to submerge in the big surf with ease as the more than 100 35- to 39-year-olds in my age group who got battered by the surf. I popped up beyond the surf zone and stroke for the first can, then the far can, then back in to the beach. Warm enough, flexy enough, and slick enough, I experienced a swim much greater than I expected.
Back to that core control panel. This rubbery section over the core is supposed to help stabilize the swimmer's core for better body position and body roll for optimal stroke efficiency. That's a big promise, but it delivers. The stiffness in that one section serves as a constant reminder, as you're breathing, to keep tight and roll. Once settled in to a good stroke after the surf, I could actually feel the section across my belly, and it did help serve as a reminder to roll well, maintain a long body, a good recovery—all the basics. You have to experience it to see that it does deliver on its intended purpose. It just does so the same way someone might tap you on the shoulder.
I swam on a guy's feet until I realized when he stood up that we were already beached. Wow, already there. End result? Fifth out of the water. I ended up seventh in age group, and will wholeheartedly and unabashedly credit the majority of my top 10 to that swim. Usually it's a bunch of top swimmers saying arrivaderci to me as I reach T1. This time, I was the one saying, well … sayonara.
BREAKOUT BOX: The TYR Sayonara is a premium product, which merits premium pricing: $375 for the full-leg sleeveless version as tested, and Tyr has a short john sleeveless at $299. As long as you're not doing any FINA pool events, you're golden. For more information, visit Tyr.com/sayonara.