Triathlon's Last Tech Frontier Is in The Water
Swim technology is finally making waves and entrepreneurs are sprinting ahead to conquer it.
Heading out the door? Read this article on the new Outside+ app available now on iOS devices for members! Download the app.
It all started with a trip to Costco. Juan Martinez, a swimmer with a background in business administration and an MBA in entrepreneurship, had just brought home a few sets of Christmas lights for his kids back in 2016. As he watched the lightbulbs run up and down the long walkway to his house, one went off in Martinez's head—what if these lights could help pace you when you swam? It was a seemingly simple idea that ended up being not-so-simple, but Martinez had something on his side: technology, especially swim-specific technology, is having its moment in endurance sports, as entrepreneurial aquaphiles like Martinez turn their eyes toward the historically low-tech "third wheel" of the swim/bike/run gear trifecta.
In 2017, statistics showed nearly 30 million active swimmers in the U.S., that is, those who swim for fitness, not just playing in a pool. While that might not be as many as running or biking, there are also nearly 300,000 public pools. Neither of these numbers might have looked attractive to an entrepreneur 10 or 20 years ago, but today's innovators are looking at a new frontier underwater, thanks to a new tech environment that allows them to harvest swimming's seemingly low-hanging fruit for less cash.
Take, for instance, Dan Eisenhardt, the original founder behind the Recon Jet heads-up display sunglasses, a device that showed real-time cycling information beamed right in front of the riders' eyes. As a swimmer himself, Eisenhardt was originally inspired to create a heads-up display for the pool, but after pitching the idea to his entrepreneurship class while getting his MBA, he says he mistakenly "overestimated the value proposition" for a cycling application. That's MBA speak for not realizing that the "problem" in cycling (taking your eyes off the road) wasn't so big that people were willing to sacrifice their field of vision (or $$). He also looked at the technology for running, but quickly learned that only 20 percent of runners use sunglasses when they run. And yet it turns out 100 percent of swimmers wear goggles.
"I never doubted the value proposition of swimming for this technology," Eisenhardt says, as he describes the process that eventually became the FORM heads-up display goggles released in August.
Martinez also never doubted swimming. He's spent the last three years working on his LED swimmer-pacing product NOME—essentially a long strip of LEDs that runs from the head unit on the pool deck and across the bottom of the pool. The LEDs form a kind of short snake that moves at a pace you program in with your workout: Follow the light-snake, stay on pace.
While the consumer device is one thing, like most entrepreneurs, Martinez is thinking bigger: One of his main investors is a commercial pool builder. "When was the last time someone changed anything in the pool?" he asks. "For me, it's bigger than this unit. It' seems nothing has been added to pools in many years. When you build a pool, this is what you get: water, a lane, tiles, done. There's no technology in this." Martinez wants to, in his words, "revolutionize" pools by putting the tech underwater.
"It's massive," he says, and counts the lanes in front of him as we speak on the pool deck at a NOME trial. "Multiply that amount of lanes by how many pools might want one. The swim industry isn't necessarily large, there aren't hundreds of millions of swimmers. But the potential is very good because of the number of pools."
With that said, there's no growth boom going on in the swimming world, it's just more of a perfect storm in an industry that's traditionally been considered low tech and an "outside world" that has advanced faster than any other period in history. In other words, swimming had 99 problems, but it was too expensive to fix even one. The solutions required such a heavy lift in swim technology that no one was even willing to try.
"In cycling and running you have devices that you can look at in real-time and give you real-time feedback," says Martinez of the problem that both his and Eisenhardt's devices try to solve in different ways. "Am I going too slow, am I going too fast? In swimming there is really nothing telling you, other than when you stop."
Martinez believes that NOME wasn't a project he could have done 10 years ago: "There was a company that tried to do something similar, but they were too far ahead of their time. Brilliant idea, but the technology wasn't where it needed to be. In the last 10-15 years everything changed."
Both Martinez and Eisenhardt also cite the availability of new talent, particularly in technology, that didn't even exist a few years ago, like wearable devices, LEDs, and the "IoT"—or "Internet of Things," a catch-all for internet-connected devices. Martinez even found one of his LED engineers via some only-in-the-2010's social media kismet on Instagram.
"We had some amazing engineers," he says of the beginning of his startup, "but they weren't LED engineers. I never even thought people specialized in that.
"There are so many companies doing IoT as a service that enables companies like mine—startups—to do what we're doing without building an infrastructure and starting from scratch," Martinez says. Today's modular technology allows a smaller company to purchase bits of technology and piece it together—almost a democratization of big tech. "There are people who have already done it and tested it out, you just go out and buy it. You've just got to customize it to do what you want to accomplish."
With that said, swimming still poses some unique challenges that leave room for growth and the possibility for exciting things in the future. "There is a lot of opportunity in swimming, but what makes it hard is the water," Martinez says. "The only thing we need to swim is water, but it's also the thing holding us back."
Presenting Four Devices That Mark a Huge Leap Forward in Swim Technology
NOME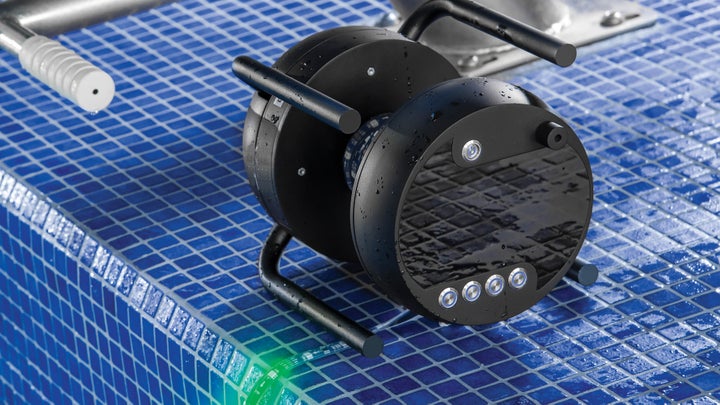 Though eventually this device might be baked into your local pool, consumers can buy this underwater LED strip that helps pace them through pre-set workouts.
$850; Meetnome.com
Instabeat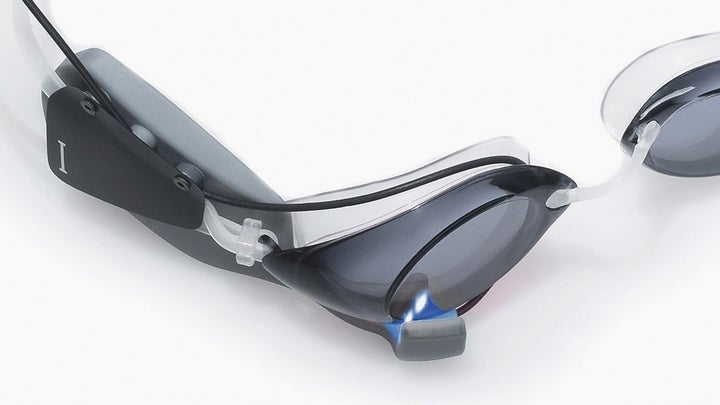 This goggle add-on monitors your heart rate in real-time via your temporal artery. It can be programmed to light up a portion of your vision in the goggles with three different colors based on preset heart-rate zones.
$250; Instabeat.com
Trainesense Smartpaddle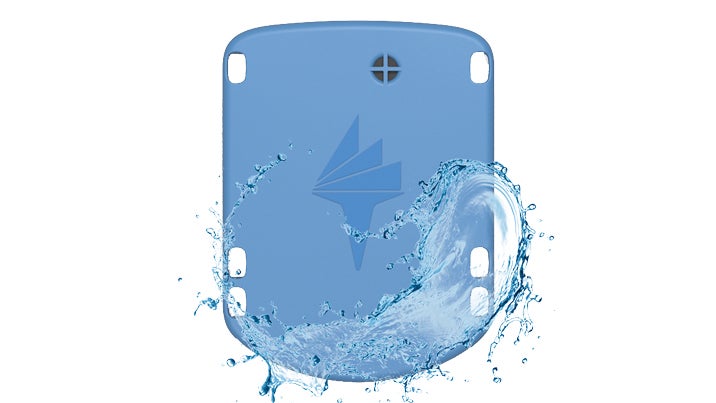 This Bluetooth-enabled pair of paddles senses the exact position of your hand in the water through every part of your stroke. Post-workout, it uploads and displays graphs and other info based on power and placement to your smart device.
Starting at $900 plus a $10 day pass or $22 monthly subscription; Smartpaddle.trainesense.com
Form Goggles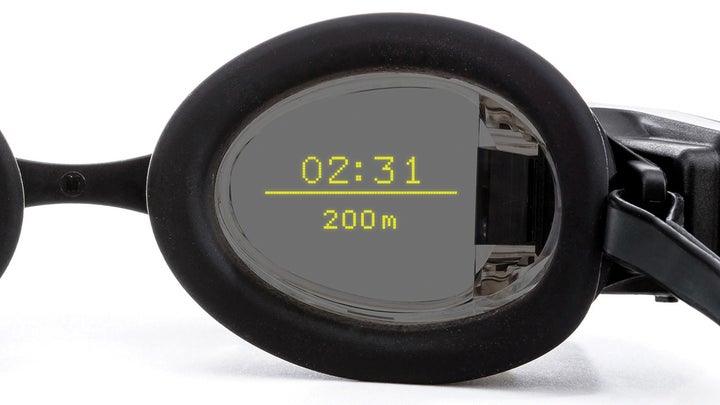 This device displays your time, pace, strokes, distance, and more in a heads-up display projected into the inside of your goggles as you swim in the pool (no open water, yet).
$200; Formswim.com