Cool Pools: Beyond Your Average Chlorinated H20
These cool pools won't make you faster but they might do something even better: bring back your enthusiasm for the water
Heading out the door? Read this article on the new Outside+ app available now on iOS devices for members! Download the app.

These cool pools won't make you faster but they might do something even better: bring back your enthusiasm for the water.
Written by: Marty Munson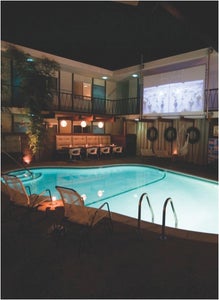 Dive-In Movie Theater
Every Wednesday, all year round, retro-chic charmer The Pearl hotel hosts its Dive-In Movie Theater. They play newer comedies and classic films on a big screen while you float around the 82-degree saltwater pool. You don't even have to be a hotel guest to enjoy the flicks.
Location: The Pearl, San Diego
More Swim Content: How To Do A Dolphin Dive
Mid-Gotham Swim-up Bar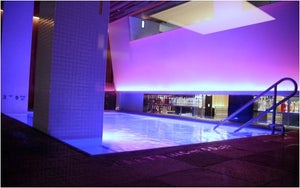 This swim-up bar isn't in the tropics for a change; it's in the middle of New York City. This indoor pool lets you act like it's summer even when there are 2 feet of snow on the streets.
Location: Grace Hotel, New York City
More Swim Content: One Tough Swim Workout

Shark Swim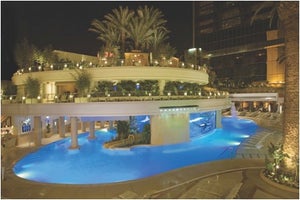 See if you can swim faster than the sharks—while they're safely encased in The Tank in the middle of the pool at the Golden Nugget hotel in Vegas. Or see the five species of sharks and other fish as you go right through The Tank in an encased chute. Not a hotel guest? Twenty bucks gets you a day pass to the action.
Location: Golden Nugget, Las Vegas
More Swim Content: 11 Tips On Becoming A Fearless Swimmer

Swim-up Gambling
Play blackjack right in the pool at the Hard Rock Hotel & Casino in Las Vegas. Maybe you'll win enough to finally get those race wheels you've been eyeing—and a new frame to go with them. This hotel and casino is also home to the famed pool party called Rehab. In case you missed the party's reality TV show, this has nothing to do with foam rollers and ultrasound devices.
Location: Hard Rock Hotel & Casino, Las Vegas
More Swim Content: How To Analyze Your Own Swim Stroke

Pool with a Serious View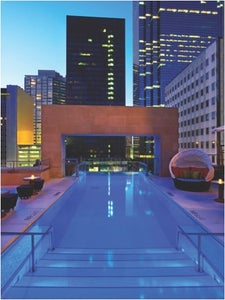 "The Poule" at Dallas' The Joule hotel is either the best or worst place to get over a fear of heights. The pool juts 8 feet over the edge of the 10th floor of the hotel, so you're literally swimming over the edge of the building. Grab a margarita smoothie or a lobster corn dog once you're out of the water. Open to hotel guests only.
Location: The Joule, Dallas