Sock Savvy: What To Know About This Underappreciated Gear
Here's how to determine the right sock thickness—and material—for your workout or race.
Heading out the door? Read this article on the new Outside+ app available now on iOS devices for members! Download the app.
Any piece of equipment that directly touches our bodies is incredibly important. Get it right, and all you have to think about is doing your best on race day. Get it wrong, and you're in for a world of hurt. Though not the sexiest gear (there's no aero version—yet!), socks are the first line of defense against furious feet. Here's how to determine the right sock thickness—and material—for your workout or race.
Go thin (0–2 mm)
Best for race day, hot temperatures or experienced runners who don't need extra cushion
If you're using race flats or tight cycling shoes, go thin, says Andy Reeves, manager at Runner's High in Long Beach, Calif. Thin socks won't change the fit and feel of the shoe, and they have two distinct advantages for triathletes: they dry faster, and they're easier to put on for fast transitions.
Top pick:
Feetures Elite Ultra Light ($15, Feeturesrunning.com)
A super thin sock that still boasts an anatomical shape and no toe seam, the Elite Ultra Light is a good choice for short-course speedsters looking for a barefoot feel without the blisters. Bonus: Feetures has a lifetime guarantee on all of its socks.
Go medium (2–4 mm)
Best for training, cold triathlons or runners with sensitive feet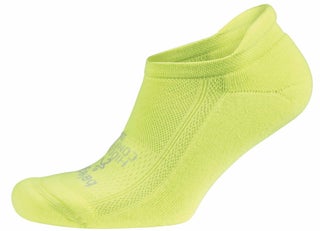 Go with a thicker sock to supplement unforgiving shoes, relieve chronically sore feet or just because you like
the way they feel. "Today's socks add thickness only on the bottom, so they can maintain their breathability but add cushioning at the same time," Reeves says. Thicker socks can also help fill up an older shoe that has stretched out but still has some life left in the midsole.
Top pick:
Balega Hidden Comfort ($12, Balega.com)
The most popular sock sold at Reeves' store, the Hidden Comfort, features plush cushioning on the bottom and thin fabric on the top. A great choice for long-course triathletes who love added impact protection but still need breathability.
Go thick (4–6 mm)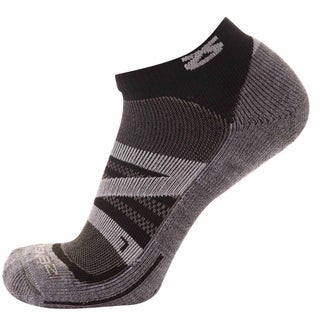 Best for training in cold temperatures or runners looking for more impact insurance
Reeves recommends going with the thickest socks for cold weather only. His favorite material: merino wool. "It's great because it breathes just as well as a thinner sock, but has added warmth," he says.
Top pick:
Zensah Wool Running ($14, Zensah.com)
Made with a blend of synthetic material and merino wool, Zensah's offering has heavy cushioning on the sole and a lighter thickness on the top to prevent sweaty feet that can lead to wet shoes and blisters. Wool is naturally anti-odor, so it helps keep feet free from funk.
Go wicking (always)
"We don't even sell any cotton socks," Reeves says, noting most of the blistery-footed customers he sees have been wearing cotton department store socks. "Today everything is wicking in order to prevent wet socks and blisters that come with them." Look for socks made out of synthetic materials or wool, which dry quickly by wicking away sweat. Cotton simply soaks up sweat.
To Sock or Not To Sock?
Leanda Cave has won world championships in every distance under the sun, from ITU short course in 2002 to 70.3 and Ironman in 2012. She never wore socks when she was competing in ITU or non-draft Olympic-distance events, mainly to save time in her lightning-quick transitions. Also, the run was short enough that she could put up with a blister if she did get one. But she socks up for half and iron-distance events. "Over the half or marathon distance when I'm out running 90 minutes to 3 hours, I'd never risk blisters," she says. "It's way too long to the finish line if a blister develops."