We Tried The "Illegal" New Balance FuelCell SuperComp Trainers
With an outlawed midfoot stack height of 47mm, you can't legally race most multisport events in the FuelCell SuperComp Trainers, but they could be the ideal triathlete long-run shoe.
---
Basics
With a dizzying 47mm stack height—7mm over the max allowed for racing most tris—the SuperComp Trainer uses a carbon plate surrounded by (lots of) foam to give a lively, but not quite springy, ride for days when heel and midfoot running is on the menu.
---
Pros
Lots of cushioning
Lively and responsive
Great for heel striking and midfoot running
Fairly light weight for what it is
One of the best knit uppers we've tried
Good stability for the stack height
Cons
Illegal for most races
Not super versatile
Not great for fast days, not "springy"
Pricey for a second- or third-pair shoe
---
Weight
11.3 oz
Price
$180
---
Heading out the door? Read this article on the new Outside+ app available now on iOS devices for members! Download the app.
When I first learned about New Balance's super-high, not-for-race-day SuperComp Trainer, I was interested, but pretty skeptical. Released last year, $180 for a pair of carbon-plated shoes that had no place on the race course seemed excessive, almost gluttonous. Why are these shoes "illegal" for racing? Because the 47mm midfoot stack height is quite far above the 40mm max allowed by both World Athletics (the rule set followed by World Triathlon, among others) and Ironman, specifically. If you haven't gotten up to speed on the new footwear rules in these parts, start here: Certain Supershoes Deemed "Illegal" Under New Rules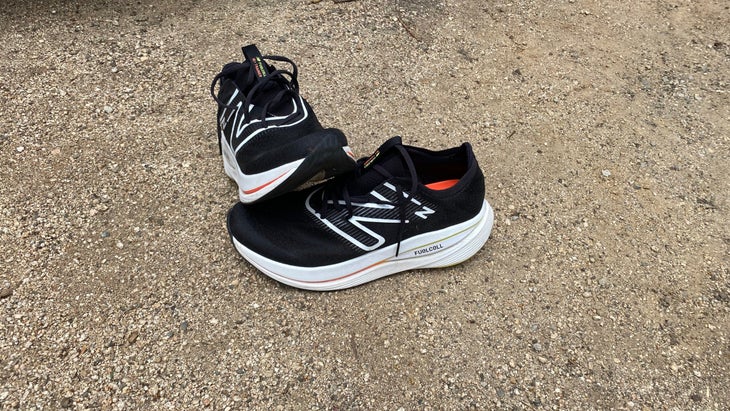 I was also skeptical because I'd tested my fair share of high-stack, cushion-focused trainers, and struggled with stability and/or that mushy, dead feeling. I hate that feeling. But literally since the dawn of man, the lure of what we can't have was too much to bear, and I had to take a bite of the forbidden fruit. And I'm glad I did.
RELATED: Ask A Gear Guru: Should I Buy Supershoes?
Section divider
New Balance FuelCell SuperComp Trainers Review: The Basics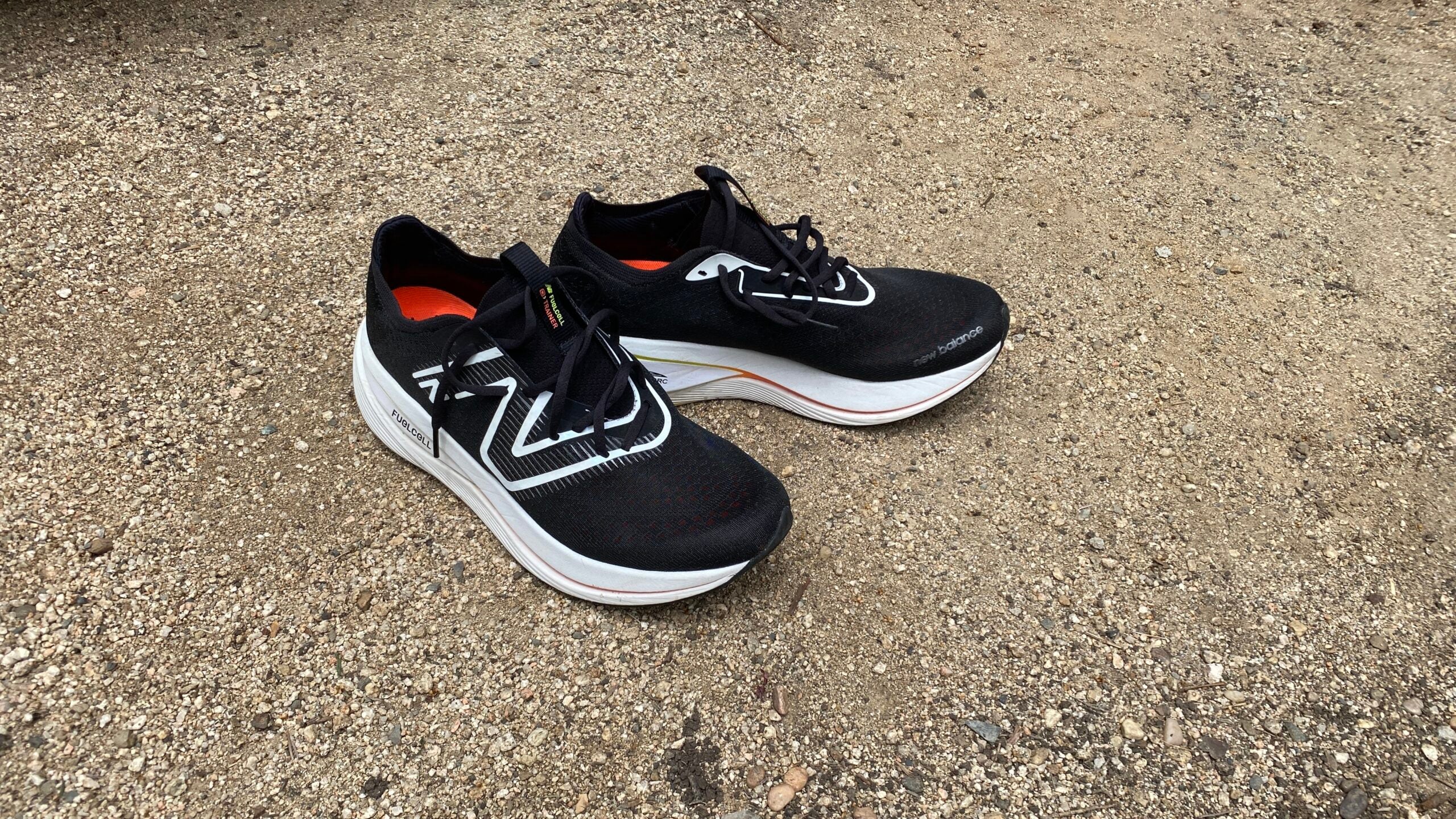 First, it's important to understand what (and whom) this shoe is for. It's ostensibly a trainer only that is best for heel striking, some midfoot, but not really tempo runs, fartleks, or certainly not intervals/track days. It's just not tuned for speedy days, in my opinion. Because it's high stack with a 6mm drop, it's also not for people with ankle or big stability issues. It's also definitely not for trail running. It is, however, great for long, slow-to-medium runs, downhills, and pavement. This shoe can take a pounding—something triathletes are notorious for doing to ourselves. Think of this pair of shoes as a protective measure.
Section divider
New Balance FuelCell SuperComp Trainers Review: The Good
What this shoe does well, it does very well: In terms of a high-stack (very high stack), high-cushion shoe, it doesn't fall victim to either a lack of stability, like the old Nike React Infinity, nor does it feel like running on bags of oatmeal like some of the more marshmallowy Hokas. The shoe is surprisingly responsive, given its construction and focus. We'll talk more about what it's not, below.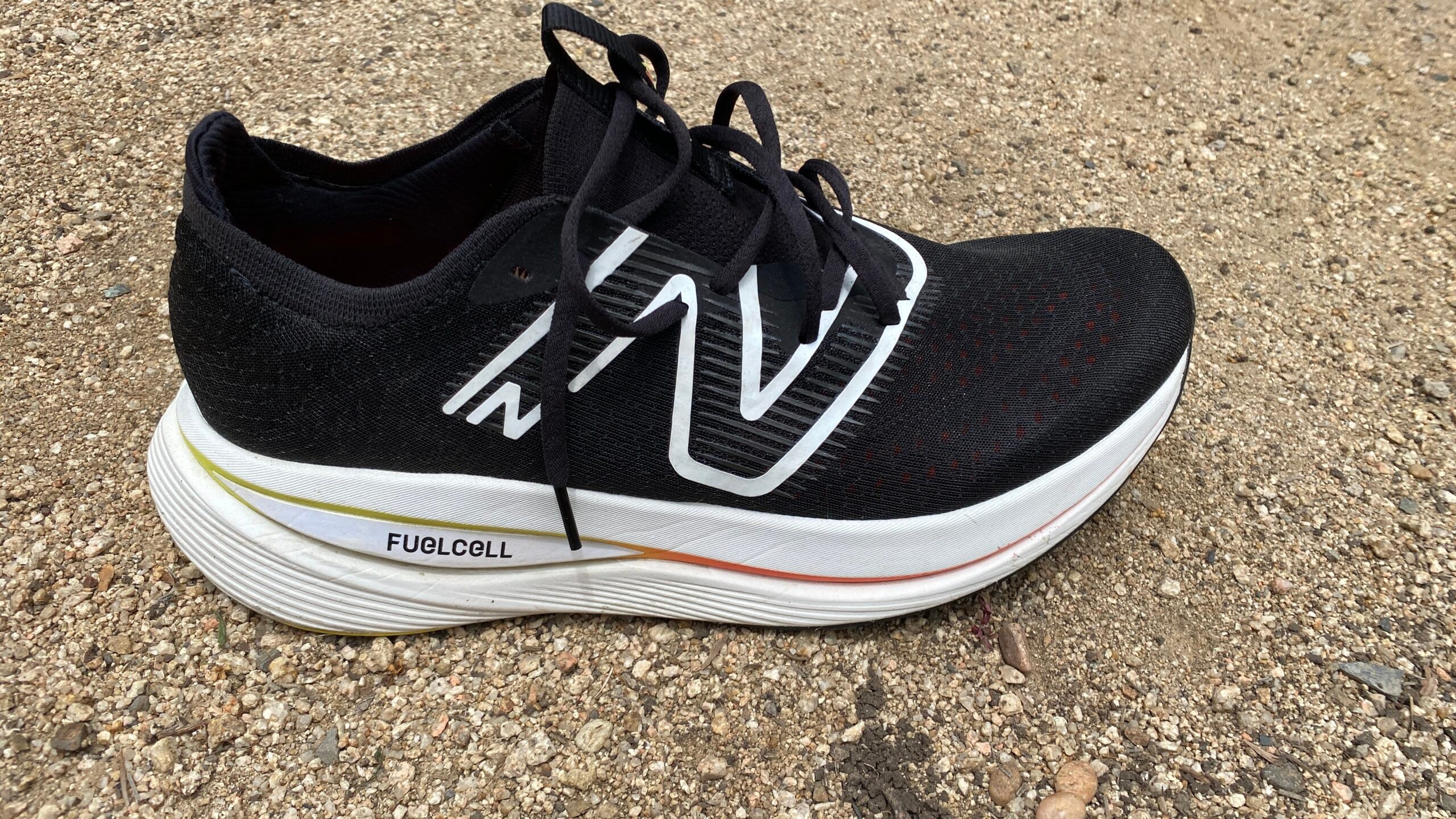 In terms of other big wins, the knit upper—which is a little bit of a hybrid sock construction—is quite honestly one of the best knit designs we've tried. New Balance uses a knitted "fold" where a traditional tongue would be to allow for a better fit and far (far) easier entry and exit. While this isn't a game changer on a pair of trainers, it's worth mentioning, if nothing else, so that other brands should take note and follow suit on tri-ready pairs.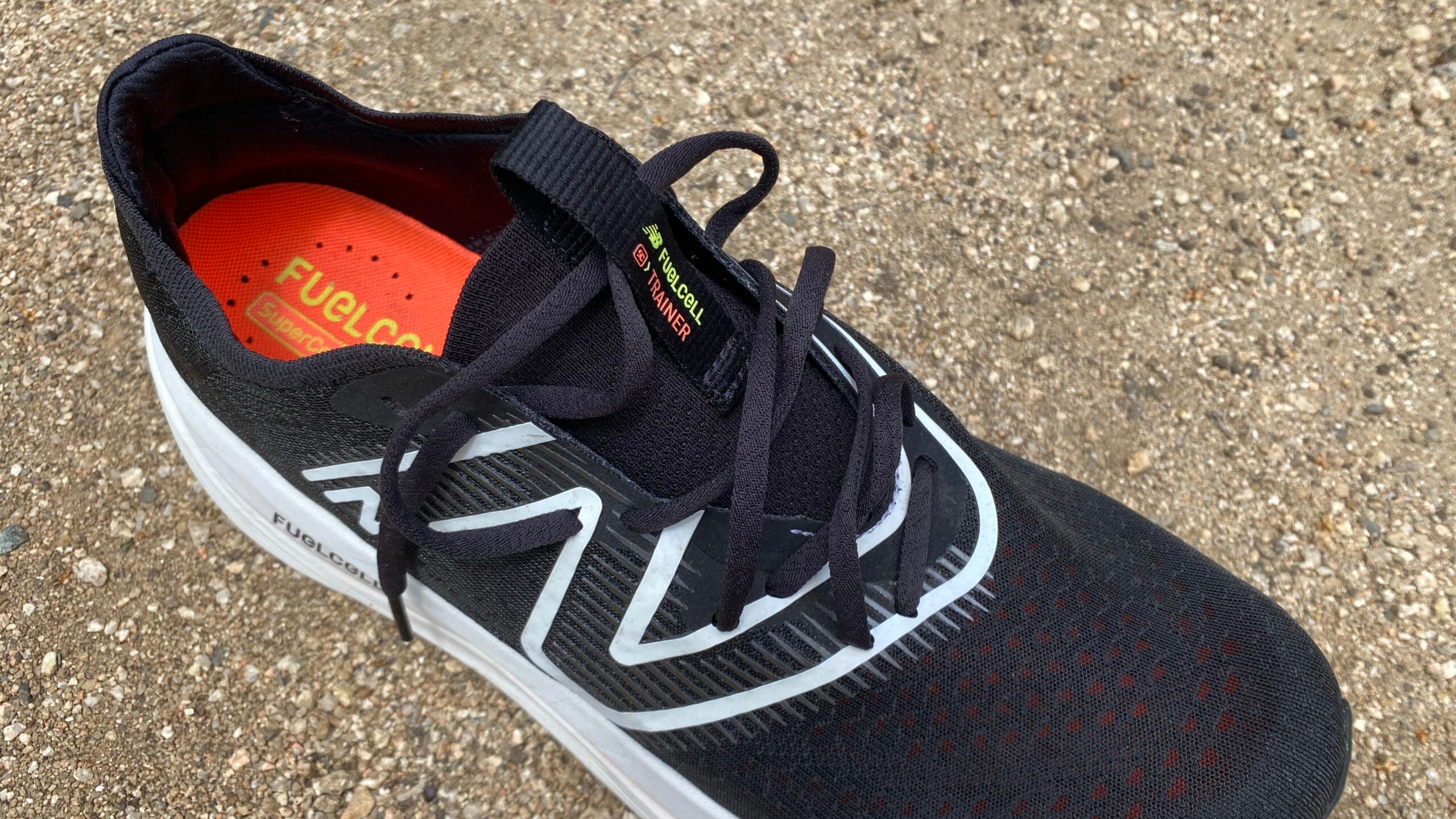 We also liked the asymmetrical placement of the laces on the upper, reducing pressure on the top of the foot for longer runs when your foot might swell. The entire knit upper is also similarly flexible and forgiving.
Finally, as said before, this is a shoe that is tuned very very well for heel or slightly midfoot striking—much better than almost all carbon-plated shoes we've tried previously.
Section divider
New Balance FuelCell SuperComp Trainers Review: The OK
As good as the SuperComp Trainer is for heel striking, it really doesn't excel for front midfoot or forefoot striking—like pretty most carbon-plated supershoes do. The propulsion is decidedly tuned towards the rear of the shoe (like it really should be). Because this feels more like a decision than a limitation—it's tough to have it all—it's not really a downside of this shoe, just a note worth understanding.
Similarly, the carbon/foam feels tuned more for a lower-cadence run than a high cadence/turnover one—making it less ideal for tempo/fartlek/intervals. This is a long-run or easy-day shoe for when your legs are either already beat up or for when you know your legs are going to take a pounding.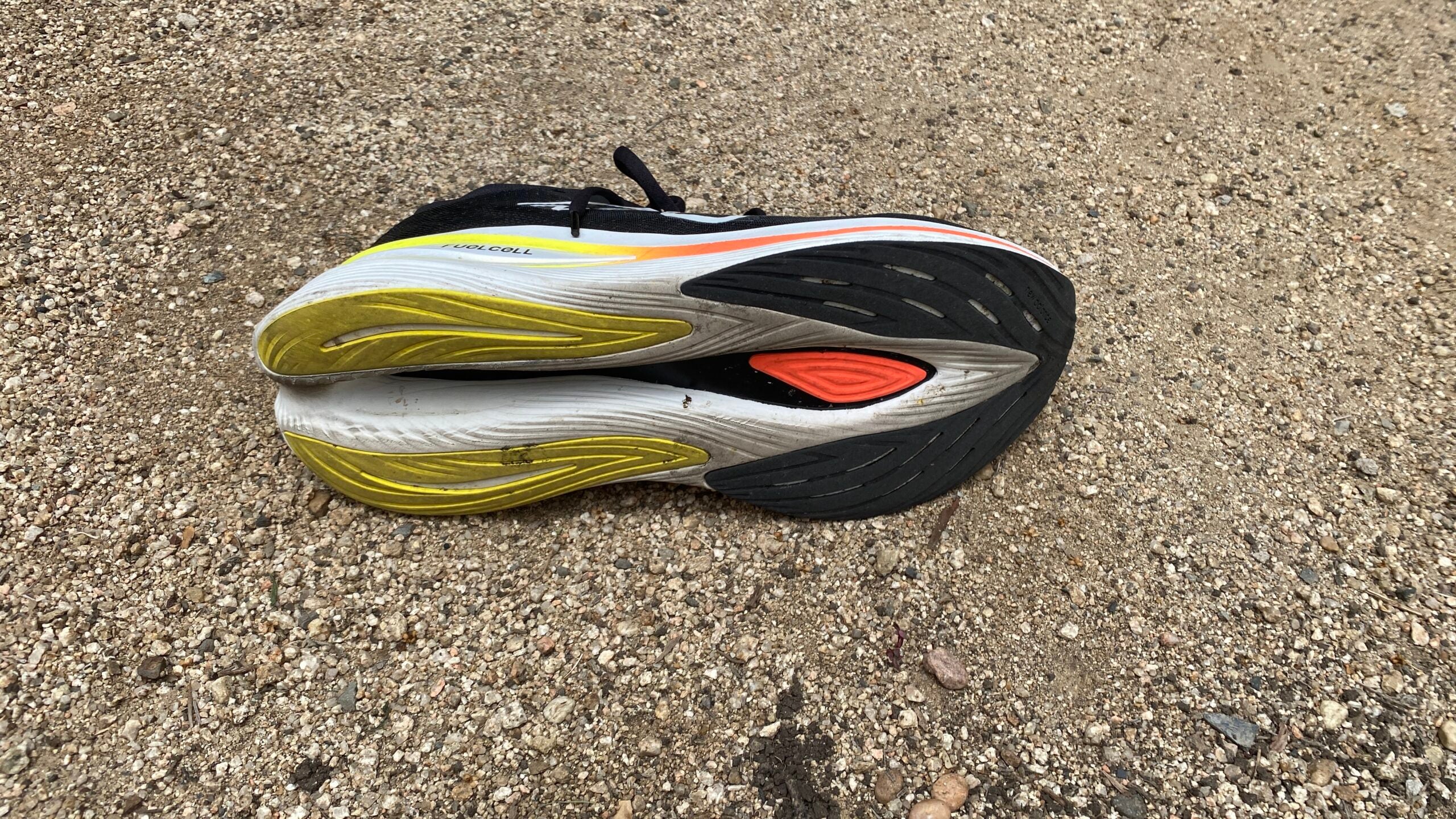 It also almost goes without saying that this is not a pair of trail shoes in any sense. Outside of the most mild, packed-dirt paths, between the precarious stack height, the light, smooth tread, and the delicate upper, the SuperComps feel extremely out of place over rocks, sand, and anything even mildly technical. "Scary" is the word I conjure up when I imagine running with this pair off road.
On the topic of tread, I was also a bit surprised by how scarce the protective outsole rubber was—not only in thickness, but in coverage. If this is a long-run shoe, it needs to be able to survive lots of heavy heelstriking miles. After around 50 miles on the SuperComps, I already saw focused wear on the rear of the shoe.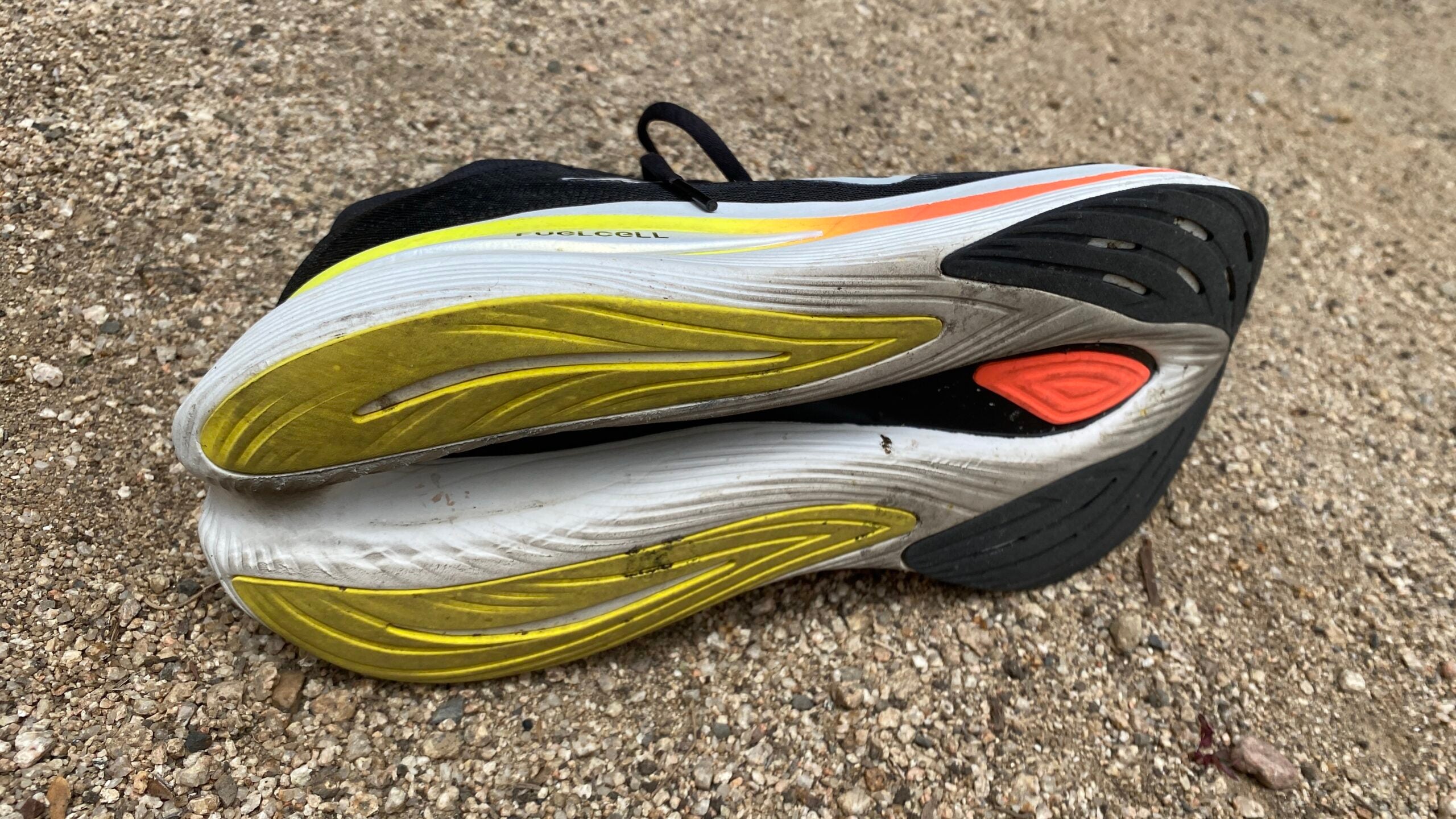 Finally, as a function of its stack height and carbon platform, stability is definitely somewhat reduced, but it's not a wobbly ride by any means. And of course because it's 47mm—7mm higher than the 40mm max—you shouldn't race in events that follow those equipment guidelines, like Ironman, USA Triathlon, and/or World Triathlon events. You might be able to sneak by in your local race, but it probably wouldn't be the best choice anyway.
RELATED: Race In This? Train In That: Triathlete's Guide To Similar Supershoes And Trainers
Section divider
Conclusions
This was a pair of shoes I was prepared to dismiss either as an unnecessary luxury or as a gimmicky novelty act, and they turned out to be neither, really. New Balance did a good job of utilizing a high stack shoe for the perfect use case: long runs/easy days. As written above, this is the pair to reach for on your 16-mile run or your mid-distance, post long-ride brick. Appropriately tuned in both cadence and foot strike zone, the SuperComp isn't a do-it-all pair of shoes, but it does do a couple of things well that are very important for triathletes.
While $180 may seem like a lot for a pair of carbon-plated shoes that don't excel at the fast stuff (nor can be used on race day), as triathletes many of us have bought pricey, "fun" pairs of uptempo trainers that have no business either on a long run nor on the race course. And at the end of the day, a pair of non-race lightweight trainers may be fun, but not as critical as a pair of long-run shoes that'll serve to protect your beat-up legs. For triathletes looking for the perfect "quiver" of shoes, the SuperComp should really top your list for long and easy days. Better yet, the new version of these shoes is arriving very soon, and they promise to be a tad lighter—I'll be looking forward to checking out another pair of forbidden fruit.
RELATED: The Best Road-Running Shoes of 2023