Triathlete.com Exclusive: 2011 Training Shoe Review
Heading out the door? Read this article on the new Outside+ app available now on iOS devices for members! Download the app.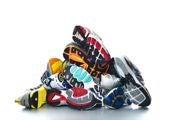 The term "training shoe" has typically been associated with clunky motion-control shoes but includes other styles of shoes, depending on the type of training you're doing—minimalist flats for drills and strides, race shoes for tempo days, or sturdy shoes for long runs. We've reviewed 24 of the best running shoes on the market in the August issue of Triathlete. Here are 14 additional, exclusive-to-Triathlete.com shoes and reviews. One is just right for you.
Written by: Adam Chase
Photos by: Nils Nilsen
We direct you to the right training shoe using our "Fit, Feel and Ride" criteria as a guide. Match our test team's objective evaluations with your unique demands of a shoe, with attention to your running form, training goals and the surface on which you'll be running.
Toebox fit: The shoe's volume from the base of the toe to the front of the shoe.
Mid-foot fit: The shoe's volume around the arch of the foot.
Foot-to-sole hold: How the shoe's upper fabric portion holds the foot against the sole. Soft: The foot is able to slide and shift. Firm: The foot is hugged tightly to the sole.
Weight: The lightest track spikes weigh about 4 ounces, while burly training shoes weigh about 14. A shoe's construction also affects how light it feels on the foot.
Heel-toe transition: How the shoe facilitates the foot's movement from ground contact to toe-off. A faster transition is often preferred by mid- and forefoot strikers who have a higher cadence. A smoother transition is often preferred by heel strikers.
Response: The sole's cushioning characteristics. A sole that absorbs shock creates gentle contact with the ground but does not help the foot recoil off the pavement. A bouncy sole returns a lot of energy to the runner and feels spring-like.
Adidas – AdiZero Tempo 4 ($100, Adidas.com)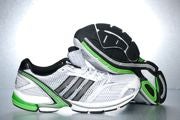 More so than the Aegis, the Tempo's lower profile has notable ground connection and concomitant flexibility for a race-ready feel, albeit a bit stiff in the heel. Our test team appreciated the stable ride and classified the performance as that of a lightweight trainer that suited mid-foot and even heel strikers. Adidas equipped the Tempo with a medial post, which limited some of the mobility that our efficient, forefoot runner testers found moderately intrusive. Yet the company recommends it for those seeking a lighter shoe with motion control.
Toebox Fit: 2
Midfoot Fit: 1
Foot Hold: 3
Weight: 2
Heel-Toe Transition: 2
Response: 1
Stability: 4
Asics GEL-DS Trainer 16 ($110, Asicsamerica.com)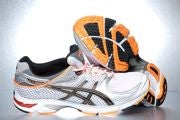 If you were a fan of the DS Trainer 15, you'll likely run for joy with the sweet 16, made even sweeter with improved cushioning. The same lightweight cushioning and mild stability remains for those with svelte feet who best fit the DS Trainer's somewhat constricted upper. Testers were pleased with cushioning, toe-box fit and what one called a "comfortable performance shoe" and appreciated the lacing system and ride, especially along the forefoot.
Quote worthy: "They are light and flexible but with enough stability for someone like myself, who needs a little stability for longer distances."
Toebox Fit: 2
Midfoot Fit: 1
Foot Hold: 4
Weight: 3
Heel-Toe Transition: 2
Response: 4
Stability: 3
Brooks Ghost 4 ($100, Brooksrunning.com)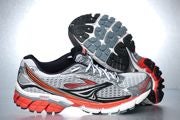 The fourth version of the Ghost polarized members of our test team; some saw the new version as an improvement while others favored the prior iteration. One tester had never run in the Ghost before and evaluated the neutral shoe as having a comfortable fit for an "everyday trainer" with excellent breathability, recommending them as a high-mileage go-to shoe. The list of favorable changes include firming the midsole and adding structure to accommodate mild overpronators. On the negative side, the Ghost seems to have gained heft and volume, and feels a little clunky compared to its more nimble predecessors.
Toebox Fit: 4
Midfoot Fit: 3
Foot Hold: 3
Weight: 3
Heel-Toe Transition: 2
Response: 4
Stability: 4
Mizuno Wave Creation 12 ($140, Mizunousa.com)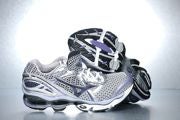 An engineering feat, the Creation's Infinity Wave construction will be welcome to heel strikers who want cushioning and ankle support. Not recommended for off-road running due to the open heel design, the Creation fits somewhat tightly and is ideal for narrow feet. The airy upper is sock-like with snugness in the arch and plenty of support. Although the Creation is on the hefty side, testers said it was worth the weight for runners that need that much heel cushioning.
Toebox Fit: 2
Midfoot Fit: 1
Foot Hold: 4
Weight: 4
Heel-Toe Transition: 3
Response: 5
Stability: 4
Mizuno Wave Rider 14 ($100, Mizunousa.com)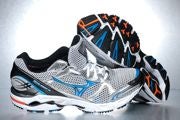 Mizuno changed the Rider's fit and cushioning, and our testers noticed right away. Recommended for skinny-ankled runners who might suffer from heel slippage but want a roomier toe box, the Rider 14's collar is high and tight enough that it caused all of our testers some soreness from rubbing on the inner collar. Although designed as a neutral shoe, the Rider's stability is noticeable, likely due to the somewhat stiff feel. Testers also observed that the heel felt raised compared to prior Rider models and that the foot bed was a little on the bumpy side but that the amount of cushioning and protection was ideal.
Toebox Fit: 4
Midfoot Fit: 2
Foot Hold: 3
Weight: 2
Heel-Toe Transition: 2
Response: 2
Stability: 4
Mizuno Wave Inspire 7 ($100, Mizunousa.com)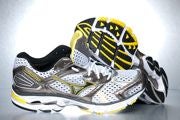 "An excellent stability trainer" summed up the general impression of the Inspire 7. The fit was snug in the heel and "slender" through the mid-foot, with a narrow toe box. Testers appreciated the amount of support, especially in the arch, and found the responsive, somewhat stiff yet cushioned trainer to be comfortable, well ventilated and light.
Toebox Fit: 3
Midfoot Fit: 2
Foot Hold: 4
Weight: 3
Heel-Toe Transition: 3
Response: 2
Stability: 5
Mizuno Wave Nirvana 7 ($140, Mizunousa.com)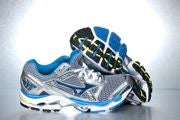 With stability through and through, the Nirvana is Mizuno's answer for runners seeking a relatively lightweight supportive shoe. Testers were aware of the somewhat stiff posting but found it stabilizes the shoe and observed that the quick transition from heel to toe balances the weight to make it feel like a performance trainer. Labeled as a "high end" comfortable and stable shoe that lacked unnecessary bulk, the Nirvana's ride got high marks, especially from testers with low-volume feet.
Quote worthy: "This Nirvana feels extremely light, especially considering the amount of shoe that is actually there. Great shoe for those looking for something light, fast, but very protective. A-plus on this shoe."
Toebox Fit: 2
Midfoot Fit: 2
Foot Hold: 3
Weight: 3
Heel-Toe Transition: 2
Response: 4
Stability: 3
Mizuno Wave Elixir 6 ($110, Mizunousa.com)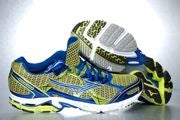 Thanks to its low weight and minimal toe-to-heel rise, the Elixir 6 was a top choice for testers who wanted a race-worthy shoe that would also persevere for long, hard training sessions. Although a little tight around the ankle collar, the fit of the airy upper is quite comfortable. But it was the lightweight responsiveness, support, stability and "feel" for the road that really impressed our test team, who bestowed unanimous accolades on the Elixir.
Quote worthy: "I have run in three other Mizuno models over the years, and now the Elixir is my favorite of the lot! I love the smooth transition and soft, cushy feel."
Toebox Fit: 4
Midfoot Fit: 2
Foot Hold: 2
Weight: 3
Heel-Toe Transition: 2
Response: 2
Stability: 4
New Balance 890 REVlite ($100, Newbalance.com)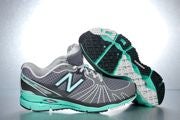 The 890 is a lightweight, everyday trainer for neutral runners. Our test team felt that the 890 was light and offered enough performance for many to consider it as a race shoe, especially for half- and full marathons. The REVlite midsole material offers excellent cushioning, and testers really enjoyed the comfort of the upper's conforming fit and seamless construction that's more likely to prevent blisters. One tester paid the 890 the high compliment that it was the "type of shoe that makes you forget you are even wearing one" although another said the heel-to-toe transition was a little stiff.
Quote worthy: "The upper feels great and softly wraps around the foot. The more I run in this the better it feels. This is a perfect shoe for someone who wants to get more into the minimalist-style shoe but still needs a little more cushion for those higher-mileage runs."
Toebox Fit: 3
Midfoot Fit: 3
Foot Hold: 3
Weight: 2
Heel-Toe Transition: 2
Response: 2
Stability: 2
Pearl Izumi Streak II ($110, Pearlizumi.com)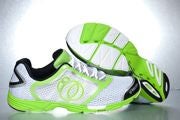 The remake of the Streak became a "fast favorite" of our test team, leaving an impression more for what it isn't than what it is. At less than 8 ounces, it sure isn't heavy. Nor is it structured or stiff. And for all its minimalistic features, the sock-like, out-of-the-box ready, flexible, nimble, well-ventilated Streak provided our testers with enough cushioning to feel soft. "These are awesome and among the best road shoes I have ever worn," lavished one tester who said the smooth ride just begged him to push hard and go fast.
Quote worthy: "If clouds were made into shoes, the PI Streak II would be the epitome of a 'cloud shoe.' What I mean is this shoe is light, nimble and nearly unnoticeable on your feet."
Toebox Fit: 2
Midfoot Fit: 1
Foot Hold: 3
Weight: 2
Heel-Toe Transition: 2
Response: 1
Stability: 4
Puma Complete Faas 500 ($100, Puma.com)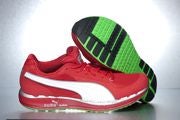 The casual look of the Complete Faas 500 was a little deceptive because it is, in fact, a lightweight performance vehicle. Testers were impressed with the plushness and comfort of the cushioned midsole material and snug, sock-like upper. The heel-to-toe transition is quite smooth, thanks to the 360-degree and lateral flex grooves and heel-to-toe rocker shape that centers the heel strike. The lack of structure and lower-profile forefoot midsole might put the Faas 500 into the racer category for those who need motion control. Our test team was more than happy to wear their Faas 500s around town for their stylish, attention-grabbing pop.
Toebox Fit: 1
Midfoot Fit: 2
Foot Hold: 4
Weight: 1
Heel-Toe Transition: 4
Response: 2
Stability: 2
Reebok Premier Zigfly ($100, Reebok.com)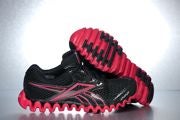 Almost light enough to be in the racing shoe category, the Zigfly is flexible yet well cushioned. And the upper's fit characteristics really grew on the testers. The novel "ZigNano" midsole served our test team well, scoring high marks for its bounciness, smooth transition, flex and responsiveness, although the amount of lateral flex was a bit much for one tester with vulnerable ankles. The open mesh upper offers sensational breathability and sockless comfort especially for lower-volume feet. However, the tongue may require some adjusting.
Toebox Fit: 3
Midfoot Fit: 2
Foot Hold: 3
Weight: 2
Heel-Toe Transition: 5
Response: 2
Stability: 2
Saucony ProGrid Hurricane 13 ($135, Saucony.com)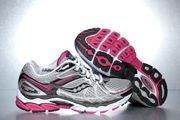 Saucony pleased our choosy testers with the newest Hurricane, thanks to its comfortable fit that's generous in the toe box yet holds the foot snugly through the middle and rear. It's balanced and light on the foot while being exceptionally stable, yet has a cushy midsole that allowed long training miles to pass easily for our test team. The upper's fit is resilient enough that you can slip them on and off for quick transitions.
Quote worthy: "The soft, absorbing materials make this shoe ideal for everyday heel-strike runners."
Toebox Fit: 3
Midfoot Fit: 2
Foot Hold: 4
Weight: 3
Heel-Toe Transition: 4
Response: 2
Stability: 5
Saucony ProGrid Kinvara 2 ($90, Saucony.com)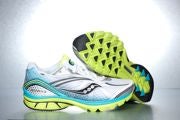 Not too noticeably different from the original, the Kinvara 2 also falls into the almost oxymoronic category of "cushioned minimalism" that was enjoyed by our entire test team. The light-feeling, "free" Kinvara is almost spongy in its resilient yet stable ride. And with a tiny heel rise, it is almost a zero-drop shoe. It has a slightly narrow fit underfoot, although the wide toe box and expanding upper mesh makes it feel larger. And it'd be hard not to notice the fun colors of the open, highly breathable mesh uppers that give the Kinvara real curb appeal.
Toebox Fit: 3
Midfoot Fit: 2
Foot Hold: 2
Weight: 1
Heel-Toe Transition: 4
Response: 4
Stability: 2