Ask Chris: What Are The Best Running Shoes for Triathletes This Fall?
Our reviewers take a look at seven pairs of under-the-radar shoes that you shouldn't overlook this season.
Heading out the door? Read this article on the new Outside+ app available now on iOS devices for members! Download the app.
It's fall again, that means it's time for kids to head back to school, fall marathons, end-of-season races, and a host of new shoes to pine after. We've tapped some testers to help us take a look at a wide variety of the best running shoes for triathletes as the leaves start to turn.
As people who swim, bike, and run, the best running shoes for triathletes are often the best shoes for runners as well, but with a few caveats: We generally run slightly less mileage than someone training for a standalone 5K, 10K, half marathon, or marathon, and with less mileage comes less chance for repetitive injury. Of course this isn't to say running isn't a common cause of injuries among triathletes, but rather that we can experiment a little more with our footwear choices. While the best running shoes for runners may be a tried-and-true brand that relies on tradition and durability, we've found that the best running shoes for triathletes could be any number of brands and models with some very interesting technology.
With that in mind, we look at seven pairs of shoes that lay slightly off the beaten path with some unique shapes, concepts, and tech:
Best running shoe for triathletes who want a (super) soft ride
Altra Torin 4 Plush
$140, Roadrunnersports.com
W: 8.5oz, M: 10.1oz, zero drop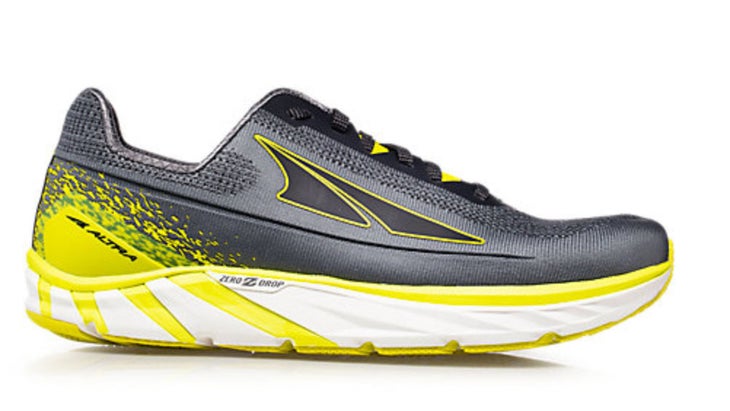 Plush is almost an understatement. This version of the Torin delivers quite the luxurious ride and fortunately the comfort doesn't come at too hefty a price as far as weight, durability, or energy suck because the Quantic midsole material is resilient and, after considerable testing, seemingly immune to compacting. Other than muting the underfoot feel for the terrain, the creature comfort of such a cushy midsole and insole didn't detract from the run, providing what our testers described as "boing-y" and a "floaty" responsiveness. The fit of the engineered knit upper was a little narrow for Altra, and the brand's splay-accommodating toe box was still somewhat wide; the women's version is designed with gender specificity.
-Adam Chase
Best running shoe for triathletes who run offroad and want a low-profile
Merrell Bare Access XTR Sweeper
$110, Roadrunnersports.com
W: 6oz, M: 8oz, zero drop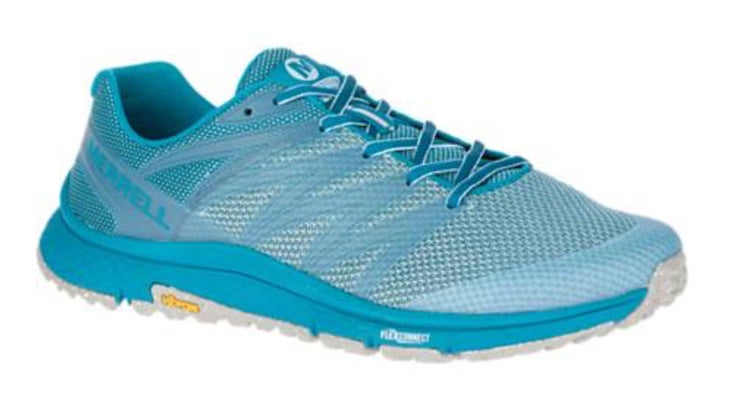 Merrell does naked right. While slipperesque in their close-to-the-ground sensation, the Sweeper manages to provide enough protection from hard rocks to prevent the feeling of running on hot coals. Not that the Sweeper is well suited for rugged terrain at high speeds, but for more tame trails these low-profile shoes are very flexible to help check your form and keep you from heel striking. The shoe itself is vegan friendly and environmentally sensitive—the upper is made of 40 percent recycled plastic, the outsole is 30 percent recycled Vibram Ecodura from scrap rubber, the footbed is 30 percent recycled, the laces 100 percent recycled, and the midsole foam is made with algae that naturally cleans water.
-Adam Chase
Best running shoe for triathletes who run on their forefoot
New Balance FuelCell Rebel
$130, Roadrunnersports.com
W: 6.1oz, M: 7.3oz, 6mm drop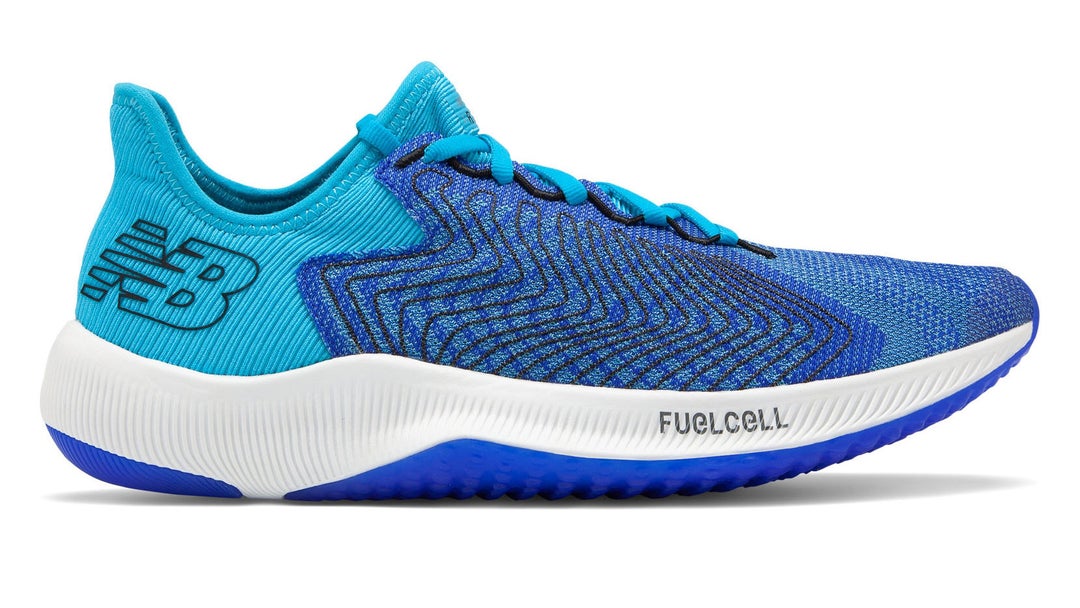 The Rebel is a departure from the norm—in a good way—especially for those who run more on their forefoot, a seldom-emphasized area in running footwear. With a sock-like knit upper that really hugs the foot and moves naturally, you could almost remove the too-long laces with little change. The flexible crystal rubber outsole, combined with the high-rebound midsole, helps to get you quickly and efficiently to toe-off and the FuelCell energy return is noticeable. It was, however, the Rebel's midfoot lateral outrigger construction that our testers said stole the show, with its unique platform and the stabilizing effect of this neutral lightweight trainer/racer.
-Adam Chase
Best running shoe for XTERRA triathletes
Adidas Terrex Agravic Boa
$150, Roadrunnersports.com
W: 8.5oz, M: 10.1oz, 6mm drop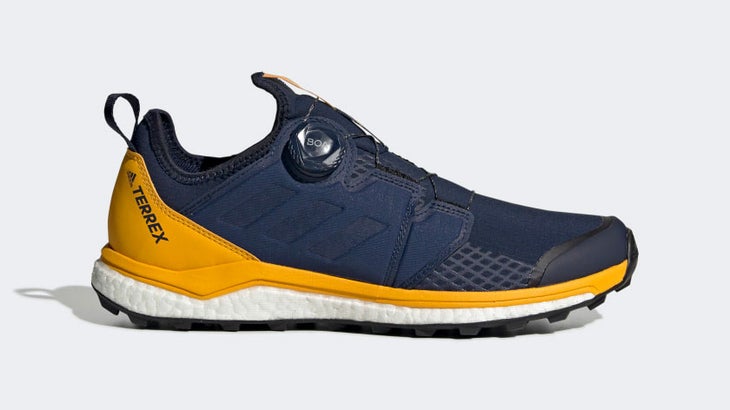 On with a quick twist of the Boa lacing system, the Agravic are ideal for speedy changes in off-road tri T2s. The Boost midsole allows for a relatively low profile and enough trail feedback to make the Agravic agile, yet with ample responsive cushioning to protect on rocks or pavement. The Continental outsole rubber was durable and had solid traction on rock and gravel—wet and dry. The upper is abrasion resistant and held up well on the trails, but the fit runs about a half size large, so try before you buy—even though the Boa system helps quite a bit.
-Adam Chase
Best running shoe for triathletes who want a glove-like fit
Skechers GO Run Max Road 4 Hyper
$130, Roadrunnersports.com
W:  6.3oz, M: 8.4oz, 6mm drop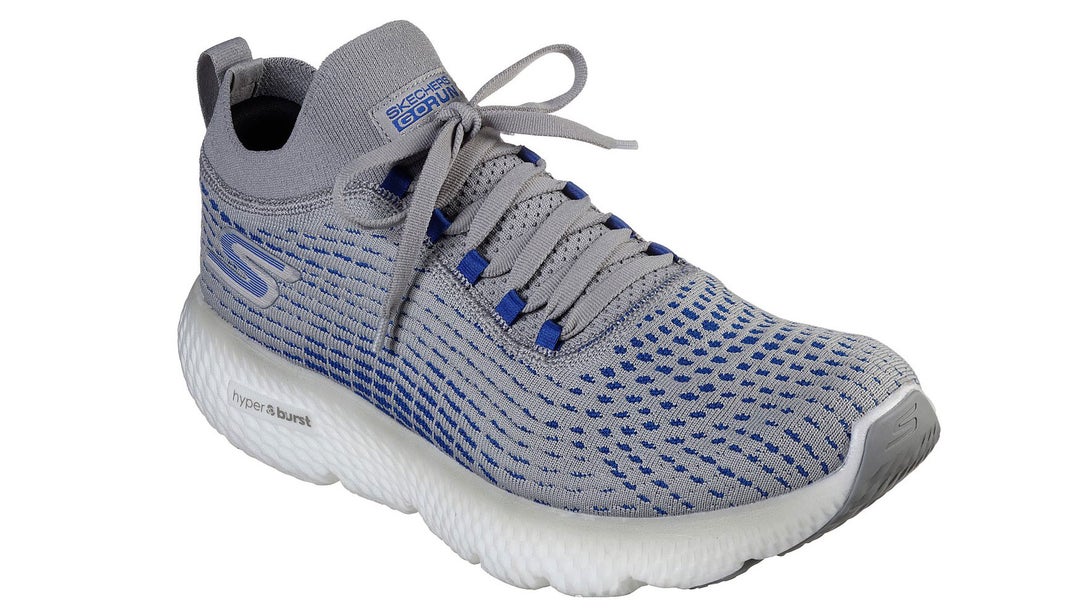 If you want to encapsulate your foot like a Spiderman web, attached to a thick layer of incredibly bouncy cushioning, the GO Run Max Road 4 Hyper is a great socklike shoe option. The stretchy compression knit upper with a snug collar is form fitting and moves with your foot, providing a custom-made feel yet without much structure. The midsole is made of Skecher's Hyperburst, an incredibly resilient material that feels the same on the first step as it does many miles into the run. There's a lot of Hyperburst underfoot and, depending on your preferences it can seem excessive. To save weight and bolster flexibility, the outsole only features rubber in strategic areas.
-Adam Chase
Best running shoe for triathletes who want to go basic
361 Degrees Fantom
$120, Roadrunnersports.com
W: 8.4oz, M: 10.2oz, 8mm drop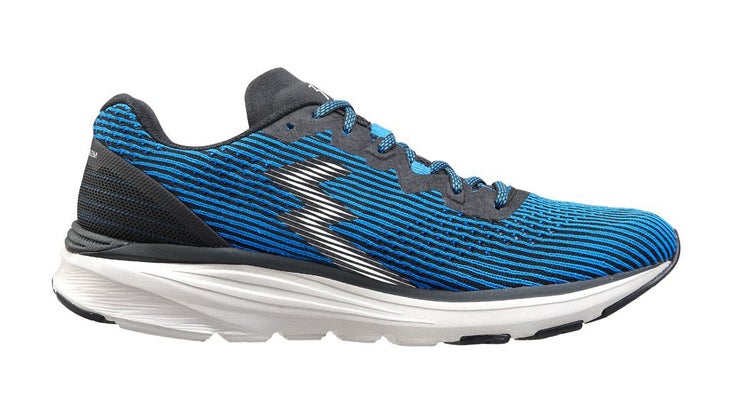 Sometimes no-frills simplicity hits the spot like nothing else. The Fantom is a flexible, versatile neutral trainer that pleased our testers with its straightforward, comfortable performance. And it did so mile after mile after mile. The breathable upper features a seamless knit that holds the foot firmly, without any hot spots, allowing for a natural foot flex, especially with 361's comfortable and novel tongue design. The midsole felt soft yet firm, particularly when running at a higher cadence, and although the Fantom lacks bells and whistles like energy-returning materials, it was plenty efficient and responsive—just not enough to use for racing.
-Adam Chase
Best running shoe for triathletes who want to move fast
Nike Zoom Pegasus Turbo 2
$180, Roadrunnersports.com
W: 6.1oz, M: 7.3oz, 10mm drop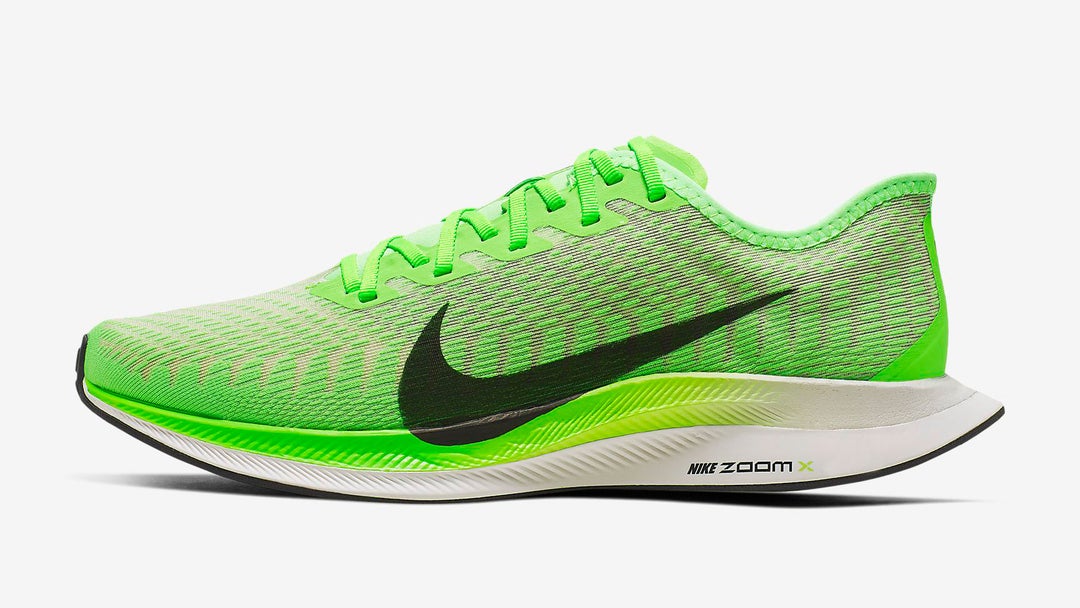 While a lot of attention has been heaped on carbon-fiber plate models like Nike's VaporFly Elites, the 4%s, the NEXT%s, and the Hoka Carbon X, if you prefer something a little less aggressive, but equally cushy, the Pegasus Turbo 2 is a good choice for race-day distances from Olympic to half-Iron and efficient/strong full-iron athletes. More energetic than the first iteration, this version of the Turbo 2 has a softer mesh upper, a two-layer midsole, and a more minimal tongue. Though some testers thought the tongue/lace system wasn't quite there yet, the addition of elastic race-day laces would go a long way. Look for a faster turnover/higher cadence and more push off coming out of T2.