Ask a Gear Guru: What Are the Best Sports Bras With Pockets?
Need a place to stash your phone or a few gels? These sports bras with pockets pull double duty for runners on the go.
Photo: Oiselle, Brooks, Janji, adidas
Heading out the door? Read this article on the new Outside+ app available now on iOS devices for members! Download the app.
Running generally doesn't require a lot of stuff, but chances are you're still heading out the door with a few essentials: your phone, keys, and perhaps a gel or two. But bulging belts can be annoying, as can bulky vests and sweaty arm bands—and while pockets built into shorts or leggings are great, there's nothing worse than when they start sagging thanks to the weight of your phone.
Enter: the pocket sports bra. Bras with pockets remove excess weight from your shoulders, hips, or arms, and put it square in the center of your back and chest—a location that's less likely to mess with your gait over time. And, let's be real, you've probably been stuffing things into your bra for years already, right? Do it in style with bras specifically designed to help you stash anything you might need on the run.
RELATED: Supportive Science: The Quest to Build A Better Sports Bra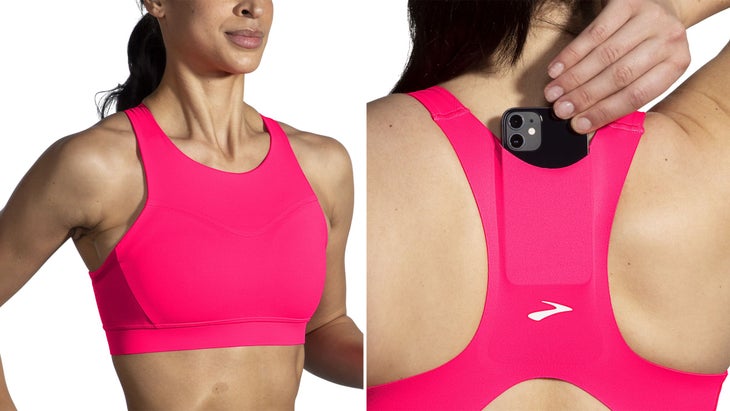 Best Sports Bras with Pockets: Brooks Drive 3 Pocket Run Bra, $50
Why limit yourself to one pocket when you can have three? Constructed from a seamless, sweat-wicking and quick-drying performance fabric, Brooks' Drive 3 Pocket Run Bra features one big phone pocket on the back, plus two smaller mesh pockets on the sides for storing an ID or credit card, keys, or fuel. And not only are the side pockets just offset enough, the pieces of fabric are laser-cut and bonded together with special textile glue to avoid underarm chafing. Available in sizes 30AB to 40 DE.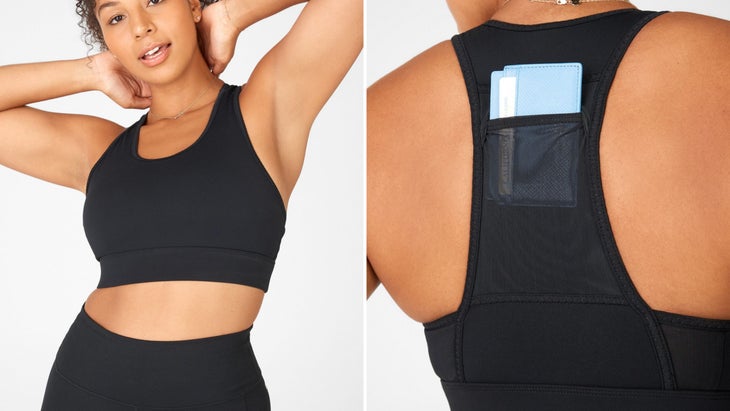 Best Sports Bras with Pockets: Fabletics On-The-Go Medium Impact Sports Bra, $45
Designed to complement one of the brand's most popular legging styles, the Fabletics On-the-Go racerback bra lets you stash your phone, cards, or keys in the mesh pocket on the back. And, like the leggings, the fabric is moisture-wicking, breathable, and made from 4-way stretch fabric. The best part: You can choose from over 20 different color options. Available in sizes XXS to to 4X.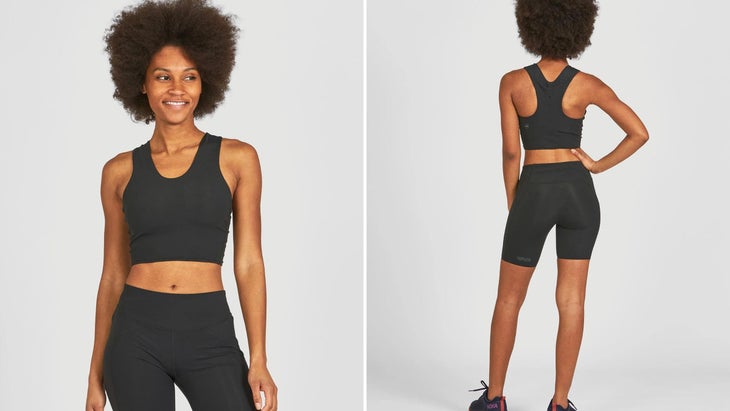 Best Sports Bras with Pockets: Janji Groundwork Long Bra, $66
Janji's Long Bra doubles as a crop top, hitting just a couple of inches above the belly button (it pairs perfectly with high-waisted shorts or tights). You won't have any issues with "bounce" in this bra—not at your chest, thanks to the lightly compressive, moisture-wicking fabric and a soft elastic internal band, nor at the back, where the racerback design includes a powermesh-reinforced phone pocket that sits between your shoulder blades. Available in sizes XS to XL.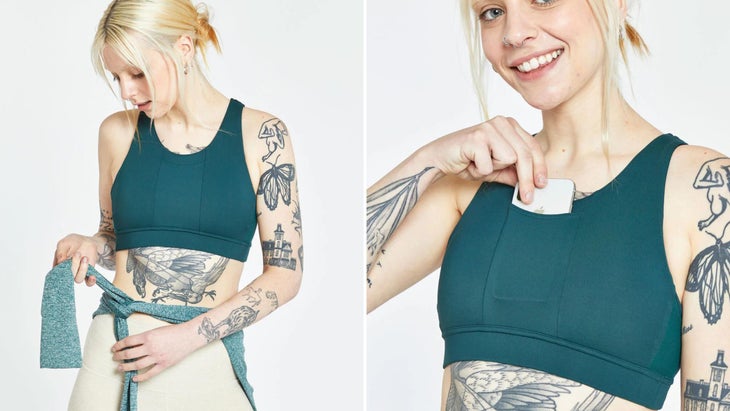 Best Sports Bras with Pockets: Oiselle Pockito Bra, $58
As convenient as back phone pockets are for storage, they're not great when you actually want to access your phone multiple times during a run. Oiselle's Pockito bra puts the phone pocket front and center, using a double layer of polyester and spandex compression fabric to minimize bounce (two straps surround the wide racerback panel to keep things stabilized). There are also two small mesh pockets on the sides for any other essentials you need to carry. Available in sizes 2 to 12.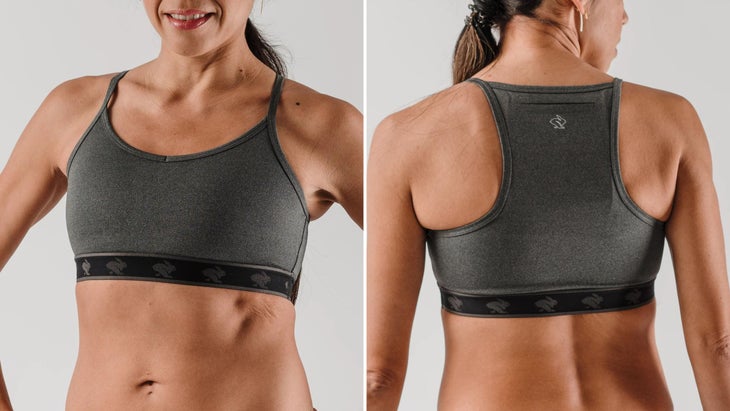 Best Sports Bras with Pockets: Rabbit Strappy Pocket Bra, $55
When you want a little less fabric up top, opt for Rabbit's Strappy Pocket Bra. It's got the same laser-cut, built-in pocket on the back as the brand's popular UtiliBRA-vo, but with thinner straps and a lower neckline. And here's a fun fact: The sustainable nylon lining is made from recycled coffee grounds, which helps it dry quickly, control odor, and stay cool even as you get fired up. Available in sizes XS to XL.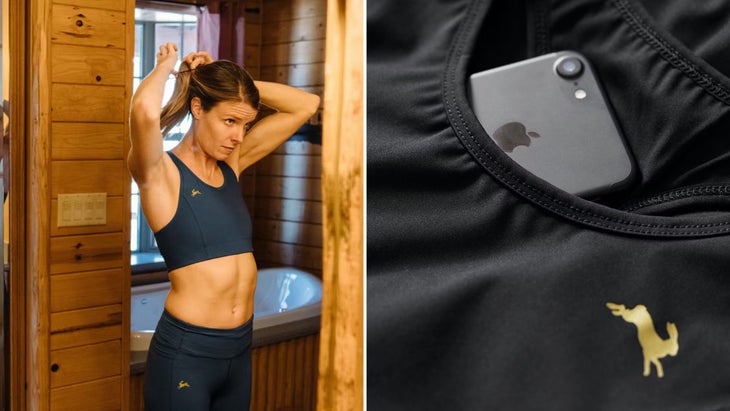 Best Sports Bras with Pockets: Tracksmith Allston Bra, $72
Tracksmith's Allston Bra is constructed from two layers of performance fabric (the same silky, compressive blend of nylon and elastane used in their Allston tights, actually)—and hidden between those two layers is a sneaky pocket that can handle a phone, multiple gels, or any other essentials. No matter what you stash in there, the soft and smooth lining (also used in the brands Turnover Tights) ensures no chafing at the band. Available in sizes XS to L.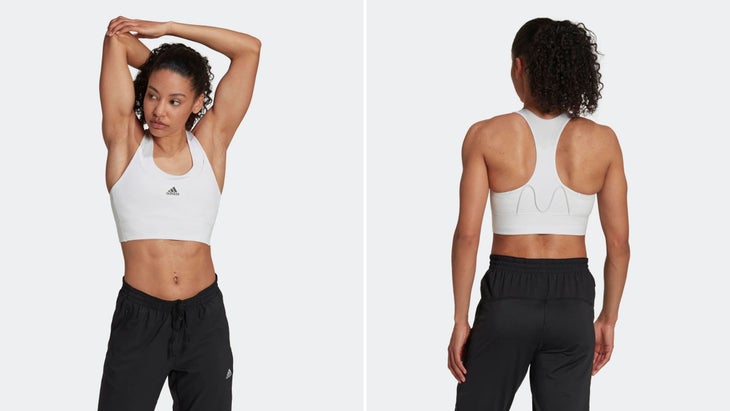 Best Sports Bras with Pockets: Adidas Running Medium-Support Pocket Bra, $55
Keep your phone and your fuel at the ready in the three front pockets sewn into this bra from Adidas. It's made from recycled polyester and elastane that conforms and stretches to your shape, even with essentials tucked away, and won't trap heat at your chest thanks to moisture-absorbing AEROREADY technology. There's also a bungee cord—which is reflective in low-light conditions—on the back for tucking in a shirt if you do get too warm. Available in sizes 2XS A-C to XL D-DD.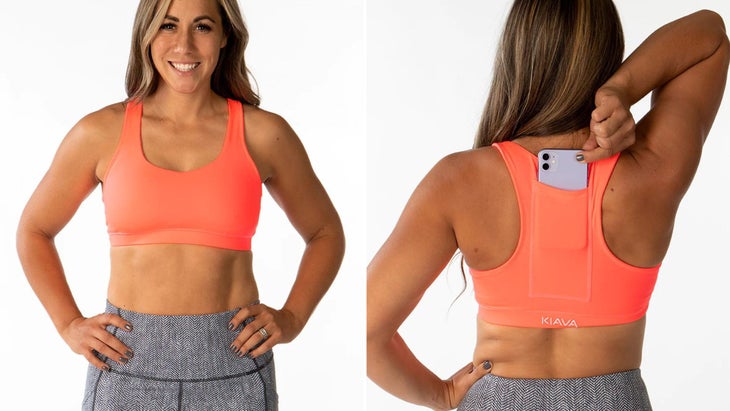 Best Sports Bras with Pockets: Kiava Simple Runner's Bra 2.0, $39
Kiava's original Runner's Bra was so popular, the brand recently introduced a new and improved version. The extra wide racerback style—fashioned from quick-drying and sweat-wicking fabric—fits even the biggest of smartphones, and the redesigned straps offer a more supportive, comfortable fit. Available in sizes XS to 3XL.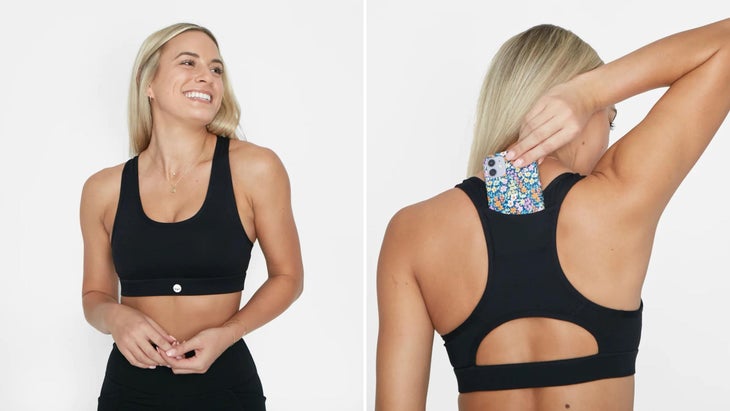 Best Sports Bras with Pockets: Senita Athletics Perfect Pocket Sports Bra, $30
Stash your phone in the back pocket of Senita's Perfect Pocket Sports Bra, which really is close to perfect. It's wire-free—all the way up to size XXL—and instead of raised stitching, features flat, chafe-resistant seams to minimize distractions. Designed using a fast-drying, sweat-wicking blend of polyester and spandex, there's also an adjustable clasp on the back so you can hone in on the perfect fit. Available in sizes XS to XXL.
RELATED: What to Wear for Running in the Cold, the Heat, and Everything in Between