Ask a Gear Guru: What Are the Best Running Clothes Made From Recycled Materials?
We tested 35 pieces of eco-friendly running gear over 600 miles. Here are 11 tops and bottoms that performed as well or better than non-recycled apparel.
Heading out the door? Read this article on the new Outside+ app available now on iOS devices for members! Download the app.
Endurance athletes have many ways to reduce their environmental impact, including racing locally, keeping shoes out of landfills, and wearing gear until it's no longer functional. When it's time to buy new apparel, common advice is to seek sustainable materials like merino wool and bamboo. But there's another, increasingly available option—running clothes made primarily of recycled materials.
Recycled-material running apparel is mostly made from recycled polyester. According to the Higgs Materials Sustainability Index, which compares the environmental impact of different materials, recycled polyester produces 76% less emissions and uses 82% less water per kilogram than virgin polyester, on average. The constituents of recycled polyester can vary. For example, the Goldwin shirt I tested is made of ECOPET, a material created from used polyester fiber waste and recycled polyethylene terephthalate (PET) plastic bottles. The recycled polyester in the Brooks singlet is made solely from recycled PET bottles (six of them). The Patagonia shorts are made almost entirely of plastic bottles collected in coastal areas before they wash into the ocean.
How We Tested
To see how these offerings work for warm-weather running, I did more than 600 miles in them over the past few months. My selection filter was that each tested piece needed to be made of at least a majority of recycled materials. My testing filter was both more subjective and more exacting: Is this gear worth running in regardless of its save-the-world credentials? After all, there are a growing number of running shoes with recycled or plant-based materials. But they're inferior to "normal" running shoes, and few runners are willing to sacrifice performance and comfort just to accommodate greener materials. So I was curious whether mostly recycled shirts, singlets, and shorts perform, fit, feel and measure up to non-recycled summer running gear.
Of the 35 items I tested, I kept returning to 11. Others didn't make the cut because of turn-offs such as feeling too rubbery, not wicking well, or clinging too much even when dry. (Don't worry, I've donated, not discarded, these pieces.) Here are my brief thoughts on the 11 pieces that are at least as good as the rest of my warm-weather running attire.
Short-Sleeve Shirts
Goldwin Quick Dry Tee ($105)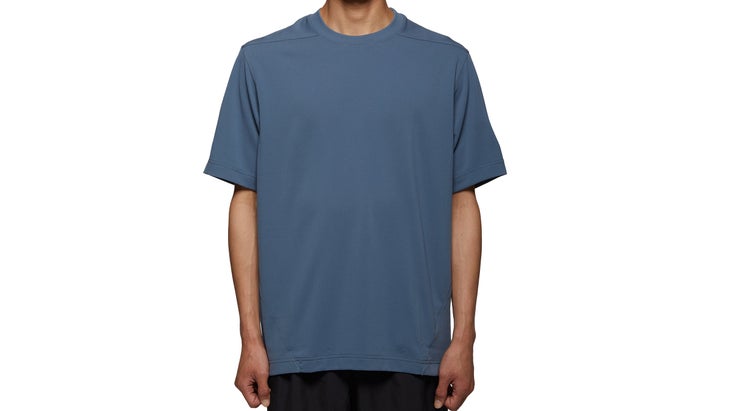 Material: 100% recycled polyester
This is an accurately named shirt—on running clothes laundry day, it's always the first piece to dry. Because I sweat heavily, I was dubious that the shirt's double-faced construction would work for me on warm runs. But it wicks well, and the inner polyester layer doesn't cling. The antibacterial properties of the interior material also seem legit. After three consecutive sweaty runs, I could still pull it on without shuddering at the odor.
Helly Hansen Lifa Active Solen Tee ($60)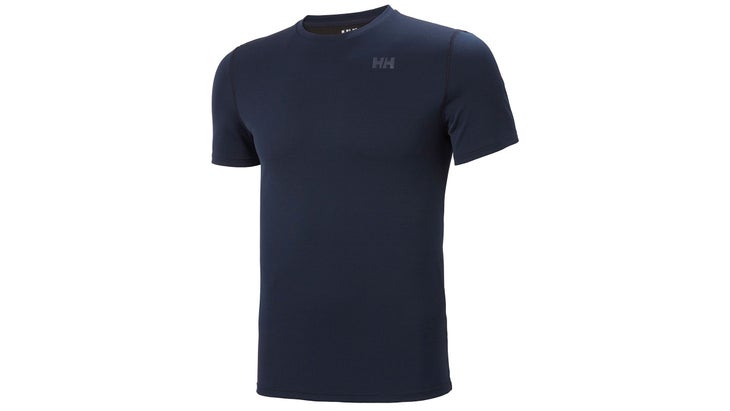 Material: 60% recycled polyester/40% polypropylene
There's a lot going on in this seemingly plain-looking shirt. The two-ply construction includes an interior of Lifa, one of the first patented wicking materials. Used coffee grounds are infused into the fabric to provide chemical-free UPF 50+ protection. The shirt's softness and wicking had me reaching for this shirt when I should have been testing others. Its fit, weight, sun protection, and appearance make it a good crossover shirt for other outdoor summer activities.
Rabbit Jog Tee ($50)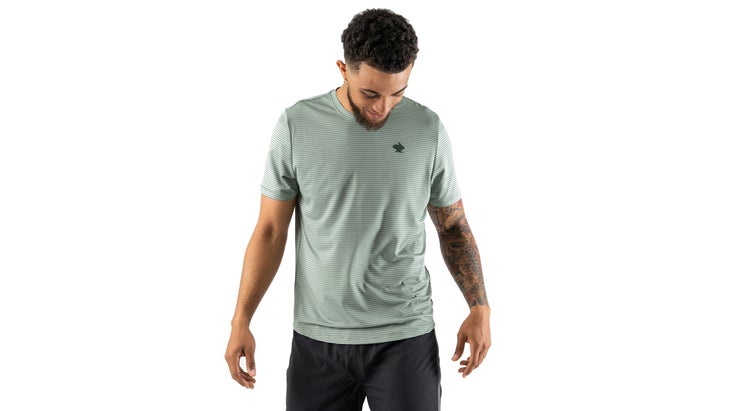 Material: 94% recycled polyester/6% spandex
Don't let the name deter you if you are averse to the "J" word. The Jog Tee can handle long, hard runs as well as most other high-quality shirts. The fit is tailored, but the shirt still flows and breathes once you start sweating. The fabric is thin and airy enough to see through if you hold it up to the light. I also appreciated its looks–the thin horizontal stripes and subdued colors of the style I tested don't scream "running nerd."
SaySky Clean Combat Tee ($62)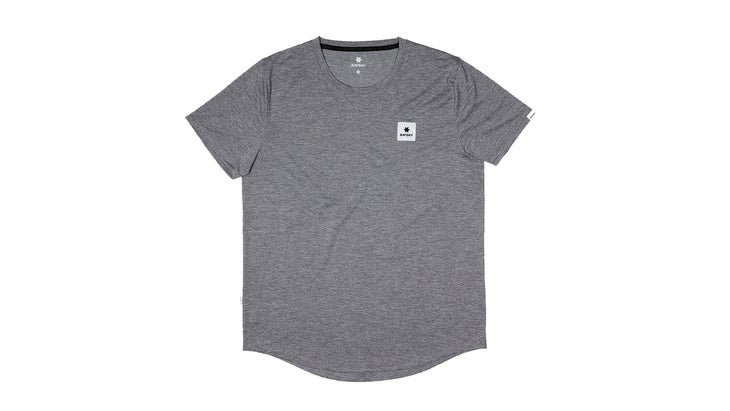 Material: 100% recycled polyester
Danish brand SaySky continues to impress me with its apparel made by runners for runners. This is a workhorse shirt, soft and comfortable on easy runs in cooler weather and great at moisture management on longer and harder outings. Wicking is enhanced by an interior mini-waffle pattern. It stretches enough to not cling but not so much that it flops or hangs too low. SaySky offers a singlet of the same constitution and heft.
Singlets
Brooks Atmosphere Singlet 2.0 ($40)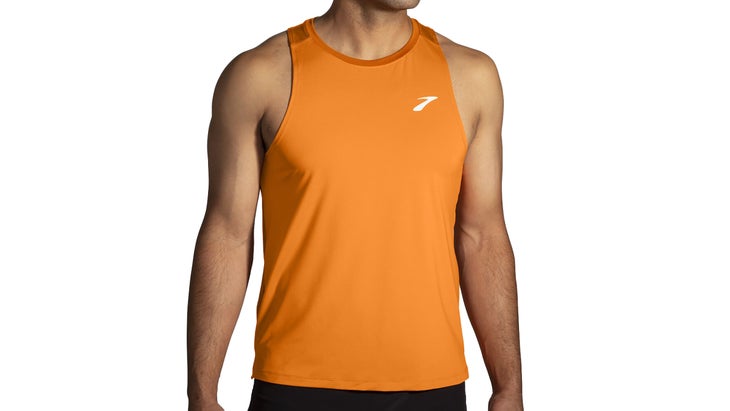 Material: 76% recycled polyester/15% polyester/9% elastane
A trait of a good piece of running apparel is that you don't think about it while getting in your miles. That was my experience with the Atmosphere 2.0. It's a classic non-mesh singlet that just happens to be made primarily of recycled materials. The fit hits a nice middle ground between snug and loose. The fabric feels soft and does a decent job of wicking. Bonus: It has a UPF 50+ coating.
La Sportiva Tracer Tank ($45)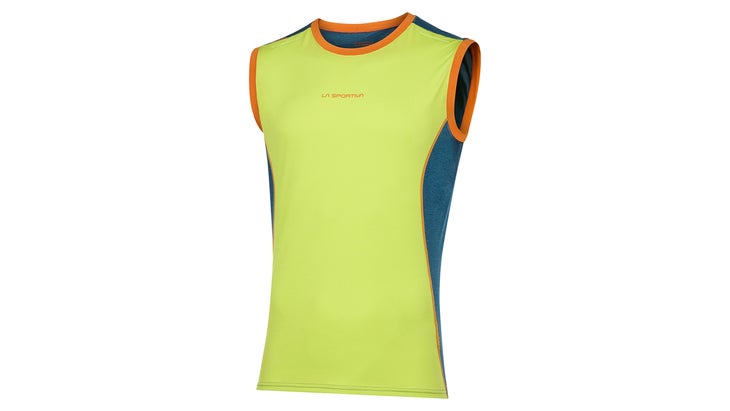 Material: 100% recycled polyester
The Tracer is a true tank top, with holes cut close to the armpits. If you're not a particularly heavy sweater, that shouldn't be a problem on hot, muggy days. If you, like me, lose a few pounds just stepping out the door on a hot day, you might find the relative lack of upper-body ventilation a drawback in such conditions. The fabric has an almost silk-like comfortable feel. I enjoyed the Tracer most on easy runs in low humidity and temperatures below 80 Fahrenheit.
Saucony Elevate Sleeveless ($35 men's/$45 women's)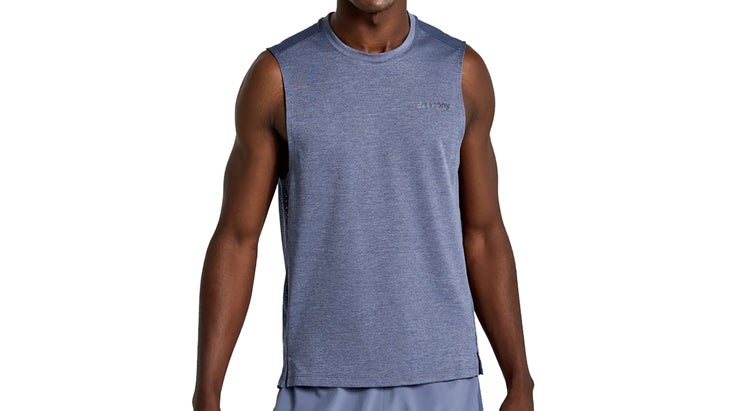 Material: 100% recycled polyester
This was the best singlet I tested for super sweaty days. It has a mesh construction throughout, with the back mesh holes being much bigger than that in the front, that greatly aids sweat evaporation. The singlet drapes loosely without billowing, which adds to performance and comfort on hot, humid runs. (Despite the "sleeveless" name implying its akin to a muscle tee, the arm openings are wide, as you would expect from a traditional singlet.) This piece is an excellent bargain.
Shorts
Janji AFO Middle Short ($64)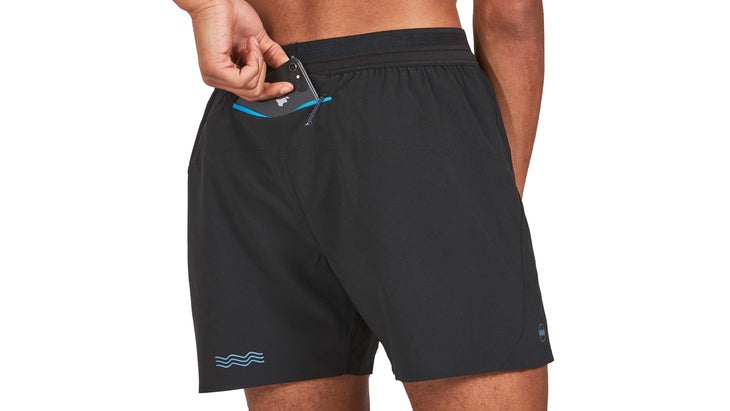 Material: 88% recycled polyester/12% elastane
Janji's bestselling short is full of features but has a barely-there feel on the run. A micromesh waistband with exterior ties sits atop the light, breathable body. The rear zip pocket has a convenient pull string and is large enough to hold most phones (if that's your thing). There's also a small, secure pocket in the front top of the liner, good for stashing a car key fob. Overall, these are an exemplar of a modern everyday running short.
Patagonia Strider Pro 5" short ($79 women's/$85 men's)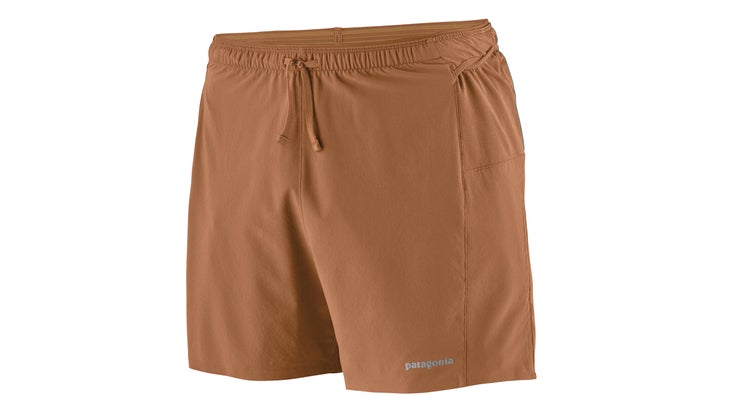 Material: 90% recycled polyester/10% elastane
These are one of the best shorts I've worn in my 44 years of running. So it's great that they're eco-friendly because I'd be raving about them regardless. Everything about them hits a Goldilocks, just-right note—the weight and feel of the shell fabric, the fit, weight, length, and comfort of the liner brief, and even the pocketing (one rear central zip, and a stealth slot on each back hip). Only when the dew point was above 70 Fahrenheit did the outer layer get saturated enough to cling.
Pressio Elite 3" short ($50)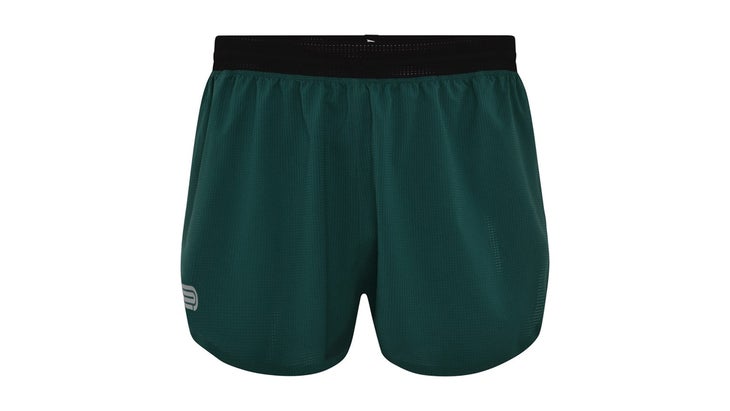 Material: 100% recycled polyester
U.K.-based Pressio entered the U.S. market earlier this year. It aims to combine sustainable manufacturing with high-performance gear. I've run in several of their winter and summer pieces and have been impressed with all of them, including these shorts. They're the lightest ones I tested. The length, ventilation, and breathability made them my go-to for hard workouts and, on particularly humid days, long runs, when I valued less material clinging to my thighs.
Salomon Cross 7" short ($45)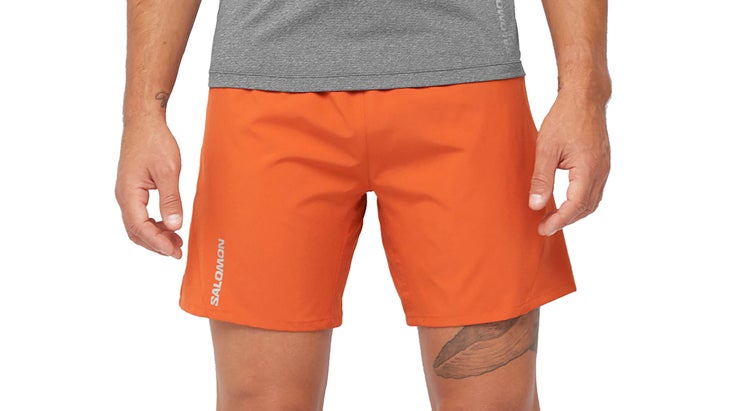 Material: 100% recycled polyester
These shorts made me reconsider my 5-inch-inseam cap. Unlike most longer shorts I've tried, the Cross 7"s have a reasonable thigh circumference and a pleasingly light body. A thin, separate band of material atop the waistband helps to anchor the shorts and relieve abdominal pressure. The micromesh liner helps to keep things cool. The length also makes these shorts a good choice for trails, if you tend to favor more coverage in that environment.