ASICS MetaSpeed Sky Extended Review
Our tester unpacks the fit, feel, advantages (and disadvantages) of one of the best new supershoes of 2021.
Heading out the door? Read this article on the new Outside+ app available now on iOS devices for members! Download the app.
After testing more than a dozen supershoes for various reviews and then circling back to run on favorites, I've gotten spoiled rotten. I now enjoy and appreciate the luxury of matching shoes that best pair with my running style and training goals. And Asics' MetaSpeed Sky has been a frequent partner, especially because the Sky was Asics' only version until the MetaSpeed Edge was recently introduced as the higher cadence shoe that complements the Sky's "longer stride" leanings.
RELATED: Face-Off: Asics MetaSpeed Sky v. MetaSpeed Edge
TL;DR: There's an immediate "wow" feeling of enveloping cush that quickly converts to a corresponding energy return, resulting in a spring-like bounce to accentuate my aging giddyup—making me want to go farther and faster. Why is the Sky so awesome? Read on.
Feel and Ride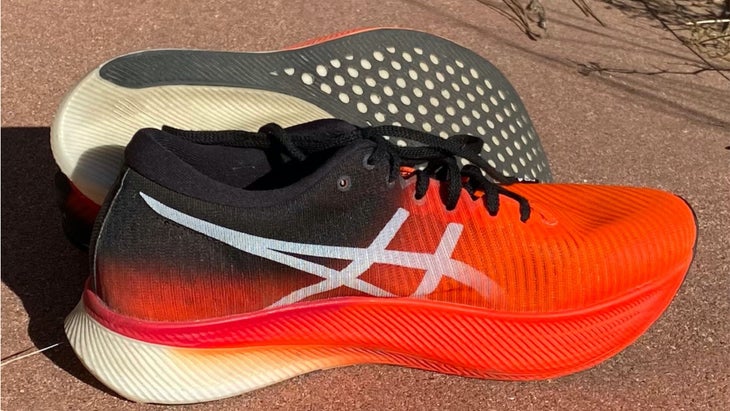 The Sky is both absorbing and bouncy underfoot. Like most carbon-plated super shoes, they are wicked stiff when trying to flex them in your hands, yet don't feel that way when on a run. When compared to other shoes in the category, these shoes boast impressive stability on corners and don't feel as high-profile as their stack height would indicate. In other words: They run clean and fast.
The lightweight, energetic feel comes across as both balanced and efficient. The midsole FLYTEFOAM Turbo material—Asics' lightest and most responsive foam—felt softer than that of many other super shoes, but it didn't come across as sloppy. And the rocker is more gradual with a lever action that was rigid but didn't drop off suddenly and serves up a smooth transition to toe-off. The motion was one of compression to spring-off that helped gather steam for an up and forward trajectory.
The Sky was designed to extend stride length while keeping cadence consistent—doing this through the energetic midsole foam that it stabilizes with a sharply-curved, rigid, full-length carbon plate that reduces ankle flexion. The encouragement to stretch your gait comes from a combination of a long-feeling rocker and an increased late-stage curve that kicks in under the toes, when the foot is pushing off, coaxing striding out from hip extension. As a nice touch, the low 5mm drop limits overstriding by discouraging heel striking and rewarding forefoot landing with an energetic response.
Fit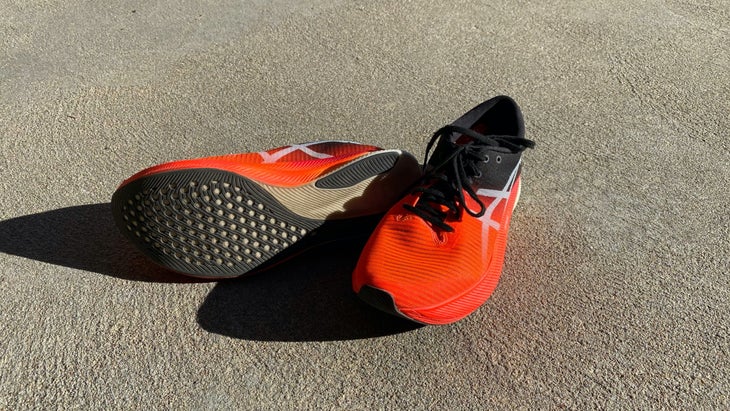 The engineered mesh upper breathes effectively and is made from 100% recycled polyester so you get a warm environmental story with your comfort. The laces are old-school in that they stay tied and simply work while working simply. The toe box was not as wide as shoes built for splay, but wider than most racing-oriented shoes and—given the stretch of the breathable polyester—had enough play in the material that they didn't create any tight or hot spots. Many athletes have noted, however, going up a half-size from their usual sizing because of the snug fit.
Extras
Collegiate cross-country practice used to wrap up with striders to help us extend our gait and make us more efficient runners, and we often did them barefoot on the grassy infield of the track. Now, fortunately, I can get this through better engineered shoes that help coax me to a longer stride length. And, yes, if you're wondering: I feel as though I'm "shoe doping" thanks to these super shoes.
Conclusion
To be fair to Asics, the brand chose the "Meta" moniker well before some other company glommed onto it. So please don't hold that against them.
My experience with these shoes brought me to conclude that they are in the top three super shoes available right now—along with the Nike Air Zoom Alphafly NEXT% and Saucony Endorphin Pro 2—and they made me want to try the MetaSpeed Edge, designed for higher cadence runners as opposed to longer stride runners, because I'm more of a high turnover runner than I am one who takes longer strides. Good thing for me that was next in my closet!
Check out our Face-Off between the long-striding Sky and the quick-cadence Edge.