An Early Look at the Nike Vaporfly 3 Supershoe
Our initial testing reveals the updates to the beloved, game-changing Nike Vaporfly make it an even better racing shoe than before.
---
Basics
MSRP: $250
Weight: 5.8 ounces (women's 8), 7.0 ounces (men's 10)
Stack Height: Not yet revealed, but less than 40 millimeters heel
Heel-toe Drop: 8 millimeters
---
Heading out the door? Read this article on the new Outside+ app available now on iOS devices for members! Download the app.
If running shoes had a king, the Nike Vaporfly would wear the crown. When it debuted in 2016, it created a new class of racer, the supershoe, which quickly made all other racing shoes obsolete. Supershoes' ability to enhance running economy caused world, national, and personal records to fall faster than a neatly organized string of dominos.
Like all monarchs, however, there comes a time when the current ruler must step down to usher in a successor. The first heir to the original Vaporfly 4% was the Next%, which shared the essential DNA but had a different build, with 15% more ZoomX foam underfoot and three millimeters less heel-toe drop. The second version of the Next% only introduced a refined upper. But the Vaporfy 3's accession to the throne promises more substantial changes.
When a running shoe develops a loyal, cult-like following, change is not taken lightly. We saw this when Nike updated the beloved Alphafly last season. Significant changes to Alphafly, specifically the increased heel-to-toe drop, were received with mixed feelings. The changes to the Vaporfly, however, appear less drastic than those made to the Alphafly. According to Nike, here's what's new and what's the same.
RELATED: Ask A Gear Guru: Should I Buy Supershoes?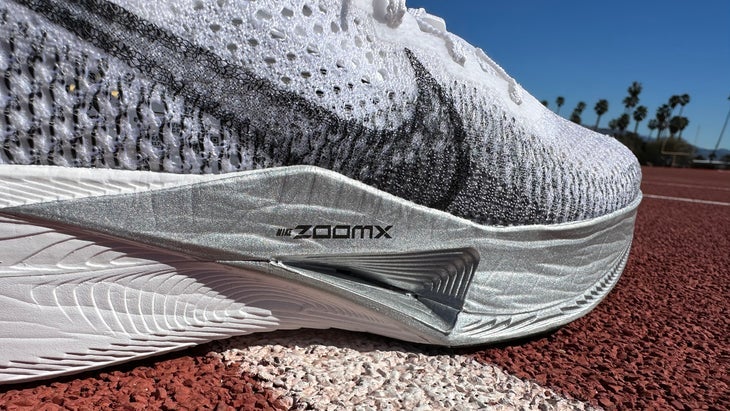 Nike Vaporfly 3 Review: What's different
New thin-web outsole design that's two millimeters thinner and lighter
Lost outsole thickness replaced with two millimeters more ZoomX foam
New, more breathable FlyKnit upper
Midsole geometry redesigned for a more stable ride
Roughly a tenth of an ounce lighter overall
Nike Vaporfly 3 Review: What's the same
Nike's highest energy-returning midsole foam, ZoomX
Shape and stiffness of full-length carbon fiber plate
Padding along Achilles
Offset lacing system and nodulated laces
Eight-millimeter heel-to-toe drop
Price point
How I Tested the Vaporfly 3
For the past three weeks, I've been testing the Nike Vaporfly 3 ahead of its launch in late March. I've run two races in them, a 3k at 4:58 pace and a 5k at 5:09 pace, with two workouts, ranging in pace from 4:10 per mile to 8 minutes per mile (during recoveries). For a deeper comparison, I did A/B testing where I ran with the Vaporfly 2 on one foot and Vaporfly 3 on the other. Here's what I found out.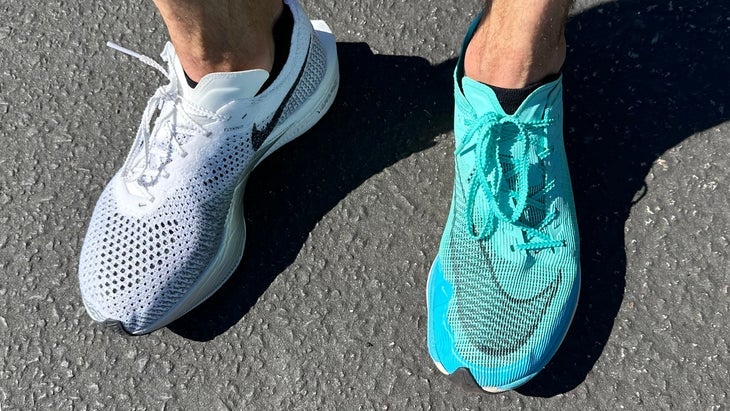 Nike Vaporfly 3 Review: Notes from the Road
When UPS delivered my Vaporfly 3 and I quickly laced them up, my first impression was, "These feel softer." Measuring the midsole with my handheld durometer (a tool to assess the firmness of foam), I was surprised to see it registered exactly the same as the Vaporfly 2. Granted, they both use ZoomX as the midsole, but it can be tuned to different stiffnesses. My guess was that the softer feeling can be attributed to the midsole's redesigned geometry that flares out more, plus the added two millimeters of foam underfoot.
Taking a look at my training plan, I was thrilled to see that my workout for the next day included fast reps between mile race pace and threshold pace—a perfect initial test. Once I got the Vaporfly 3's up to speed, I found they still had the familiar Vaporfly feeling: ​a responsive, cushioned ride that's quick off the ground and eager to run fast. During the fast intervals, I noticed a bit more support and stability through the heel and midfoot compared to version 2.
However, it wasn't until I did the A/B testing that the subtler differences began to emerge. In terms of ride, the toe-offs on the Vaporfly 2 felt more pronounced and sudden than when wearing the 3. The geometry seemed to guide my toe-off primarily over my big toe, which makes sense given that the forefoot on the Vaporfly 2 curves dramatically inward. Toe-offs on the Vaporfly 3, in comparison, were smoother, less drastic, and felt more evenly distributed across all toes. This leads me to believe that the Vaporfly 3 is more capable and comfortable for longer races, such as the 10k, half marathon, and marathon, and less suited for the 3k and mile than the Vaporfly 2.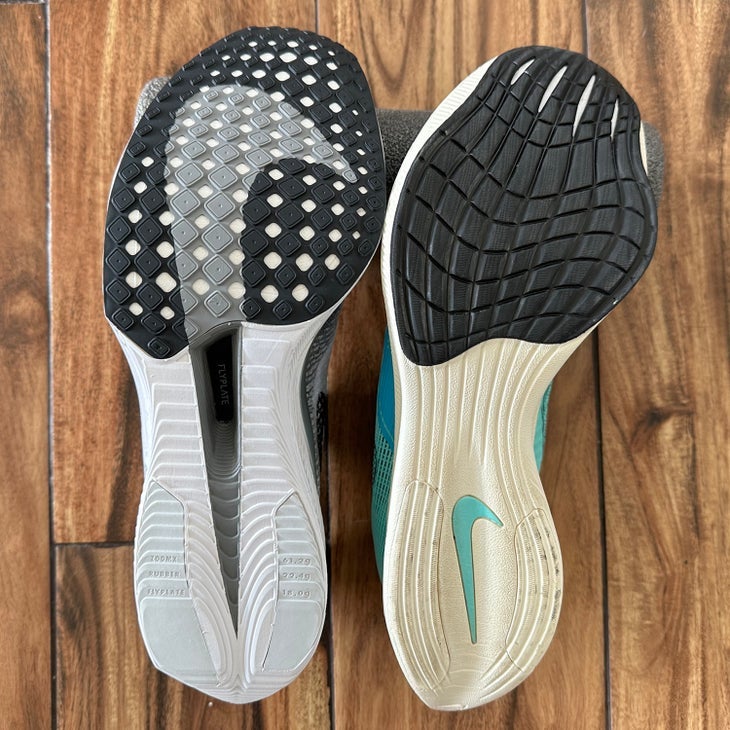 Visually, the midsole is blocky, with cut-outs on the lateral side and on the bottom under the arch, giving you a window to the same carbon fiber plate used in the Vaporfly 2. These cut-outs in areas where support isn't needed have become common among super shoes to help reduce weight. The downside of placing these midsole cut-outs along the sole is that rocks and debris tend to get stuck in them. Sure enough, that happened as I crossed over wood chips during a run. This isn't a safety hazard, but it can be annoying, especially during a race.
The most significant change I found between the old and new Vaporfly was the upper's fit. I'm pretty fussy about the fit of my racing shoes: I prefer a tight hold for short distances up to 8k/10k, and more space in the toebox for longer distances to accommodate more swelling over time. The Vaporfly 3s have a fair amount of excess space around my toes, so much so that I'd probably want to size down half a size. It's unclear whether this was just an isolated issue with my early pair, or if the Vaporfly 3s will fit large across the board. I'd want a broader sample size to say definitively they universally run large.
Nike went with the tried and true Flyknit upper for the Vaporfly 3. The Flyknit reminds me a lot of the Atomknit on the Alphafly NEXT% 2—somewhat scratchy and highly porous, with virtually no stretch. While I didn't get to test these in hot conditions, breathability was fantastic on a few warmer runs in California during the test period. I anticipate the Vaporfly 3 will make an excellent summertime and wet-weather racing shoe. Like its predecessor, there's very little padding throughout the upper except for a generously cushioned roll along the heel collar, which comfortably locked down my heel.
Nike Vaporfly 3 Review: The Verdict
When jealous runner friends have asked me what I think of the Vaporfly 3 during these past three weeks, my answer has been, "The jury is still out." This wasn't because I had doubts. My experience thus far had confirmed that Nike didn't change the Vaporfly's essential characteristics: It is still the king of super shoes. I still won't race in anything else for distances under 10 miles. However, thanks to a little extra foam and a touch more stability in the midfoot and heel, the updated Vaporfly 3 also seemed to be much improved for long-distance races like the half marathon and marathon.
A good litmus test of their marathon prowess will be at Boston, London, and other spring marathons, where I'll be watching to see what shoes professional Nike runners choose. Will the beloved Alphafly 2 marathon racer dominate, or will we see more of the much lighter, and now improved, Vaporfly than in past marathons?
While waiting for more confirmation, at the end of three weeks of testing and now taking time to process my thoughts, I'm ready to say that the jury has a verdict: As the run—or race—gets longer, the Vaporfly 3 is much better than its predecessor. They're still the best shoe for me at 5K or 10K, and I'd also consider wearing them instead of the AlphaFly 2 for the marathon or half marathon (which I wouldn't do in the 2). For really short-distance races like road miles, however, I'm probably going to stick with the Vaporfly 2.
The Nike Vaporfly Next% 3 is scheduled to be released in March.
This review originally appeared on Outside Run.