Ask A Gear Guru: What Shoes Work Best For Running Sockless?
Ready to shave seconds off your transition? Time to consider running sockless in your race-day shoes—check out our list of favorite sockless shoes.
Heading out the door? Read this article on the new Outside+ app available now on iOS devices for members! Download the app.
Like tri suits, visors, and a conspicuous lack of body hair, running sockless is a tri tradition that appears inscrutable from the outside but makes a ton of sense once you're in the thick of it. Not only does putting on socks take up precious time in transition (and can be super frustrating), but running sockless can be a good way to beat the heat. However, just like everything, there's an art to this science, and not every pair of shoes is made equally in the eyes of the (blister-ridden) sockless shoe god. Below we've got a handful of tips and a handful of sockless running shoe picks. Kick off your socks and read on!
Think It Through
While you may already be thinking, "Yes! I want to go sockless! Chris seems super smart, and I'm sold!" Hold your horses. First, carefully weigh the pros and cons of going sockless: How much time will it realistically save you? Are you running a 5K or a 10K or a marathon? Will the time savings be offset by crippling blisters or the need to readjust your sockless running shoes every few miles? Be realistic, too, about your goals: Are you focusing on PR'ing or getting a spot at AG nationals or Kona? Are you trying to hit the podium? Are you just trying to finish? We have a ton of great shoeless tips and sockless running shoe picks below that can make the experience not only bearable but fantastic, but just make sure you're doing it for the right reasons (not just because Chris said so…).
Water Is Your Friend (Sometimes)
Depending on the swim location, you could be running barefoot through sand or dirt or small rocks. Common sense dictates that any of that stuff that stays on your foot when you shove it, sockless, into your cycling shoe (or even if you're wearing socks…), could make its way into your running shoes, where it matters more. Some sand in socks can be annoying; some sand in sockless running shoes can be tragic. Many transition areas have showers or hoses as you run through to help, but don't bank on that. Bring a bucket or even an extra water bottle (or make your own DIY portable shower!), and you'll have a clean set of puppies before you go skin on shoe. That said, you'll have to be a little more mindful of pouring water over you during the race, as the absorptive buffer that socks provide won't be there to save your skin, and blisters literally feed off water.
Powder Power
While cleaning your feet pre-sockless shoe shove is important, as I mentioned above, keeping your feet dry is also key. Toweling off is a fine start, but to save even more time (and to be even more sure), use talcum powder to coat the inside of both your bike and your run shoes. Not only will the talcum powder prevent extra moisture that leads to blisters, but it'll also help get your foot in and out of the shoe faster.
Preparation is Everything
If you're truly concerned about time in transition, you should already be thinking about this, but make sure your race-day setup is absolutely flawless and well thought-out. Open your shoes completely, put talcum powder in them, loosen the laces. Rather than the stock laces, you may want elastic laces, but when running sockless, it's extra important that your shoes are tight and snug. Extra play by sloppy or loose lacing can cause problems fast, and having to retie or adjust your shoes on the run will kill any potential time savings you earned by skipping socks.
Pick The Right Sockless Running Shoe
Not all shoes work great for sockless running, and not every foot is made the same. While we've got some good picks below, based on features and experience, these are just best guesses. You won't know if running sockless in a pair of shoes will work for you until you actually do it. And just like anything, you don't want to learn hard lessons on race day that you could have learned while training. Be sure you try running sockless for at least your race distance a few times before race day. That said, the shoes below are either made for sockless running or happen to have the features that make them a smooth fit:
The Best Sockless Running Shoes
Atreyu The Artist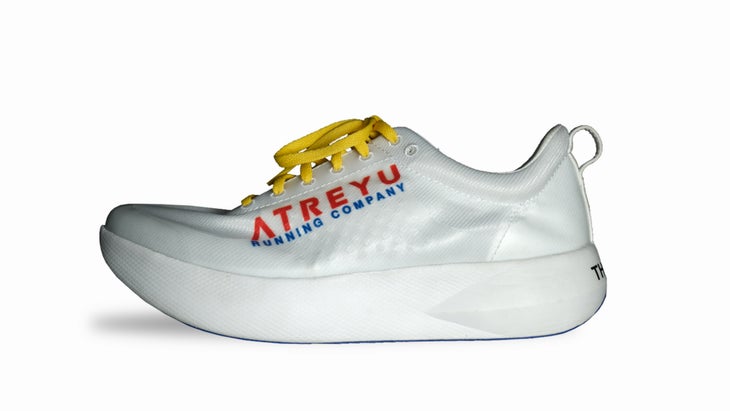 $100, atreyurunning.com; 6oz. (unisex); 6mm drop
This is a carbon-plated supershoe for $100. Let that sink in. Better yet, it's a good pair of carbon-soled supershoes for $100. If you haven't heard of Atreyu yet, check out our review of their two current models and a bit of their story. TL;DR: Atreyu has quietly been making simple, but well-crafted running shoes for a few years, and their new six-ounce racing model tested better than shoes over twice the price. Yes, you can run sockless in these (the founder is a triathlete), as the interior is soft and supple. Bonus: The heel tab makes these a race-day no brainer.
Hoka Mach Supersonic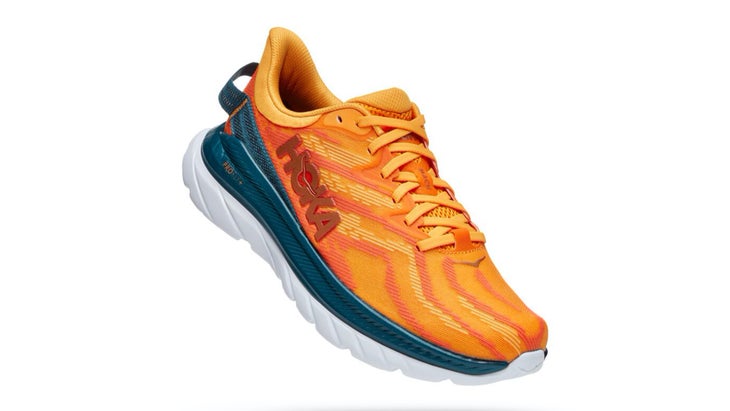 $150, hokaoneone.com; 8.3oz. (men), 6.9oz. (women); 5mm drop
If you're looking for something a little more everyday than the Atreyus above, the Mach Supersonic is a speedy upgrade to Hoka's Mach. While it doesn't have a carbon plate like some of the other shoes in the Hoka lightweight trainer/racer line, it still has tons of plush cushioning, but not so much that it dampens the ride. In terms of tri-use, the giant heel tab helps in transition and the low-seam mesh upper breathes and dries quickly while providing a soft interior for sockless efforts.
Zoot Ultra TT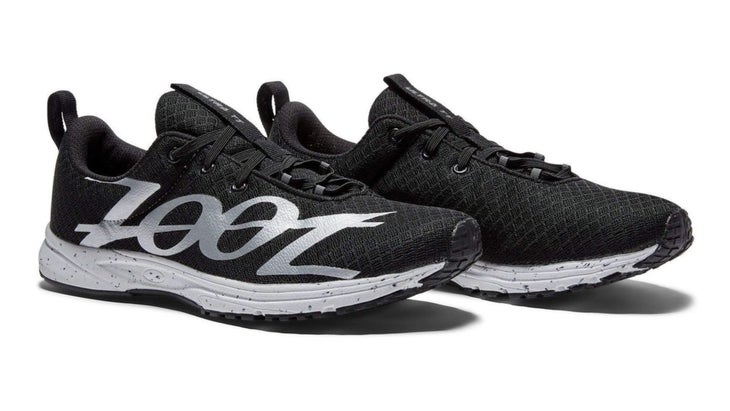 $135, zootsports.com; 7.3oz. (men), 6.3oz. (women); 3mm drop
Zoot is a tri-first brand that has taken a conspicuous pause from the shoe game up until recently. Fortunately, they're back with a triathlete's dream for the sockless running shoe. The Ultra TT has a cushy foot opening to provide softness and to prevent water entry while running (and dumping water). Better yet, Zoot has installed water exit points around the shoe to make sure any water that does get into the Ultra TT doesn't stay there. Little features like included elastic speed laces and the smoothest, largest internal toe cap we've seen really round out this sockless wonder.
Nike Free Run 5.0
$100, nike.com; 8.3oz. (men), 6.8oz. (women); 8mm drop
Though you might not want to do big, long miles with the Free Run 5.0s, it's tough to ignore the sockless comfort of the breathable knit material that actually moves with your foot. The outsole is made of one of Nike's softest foams, cut with grooves to make an already flexible shoe even flexier. We love this comfy, rockless-ready shoe for either sprint/Olympic-distance racing or shorter recovery runs.
On Cloudmonster
$170, on-running.com; 9.7oz. (men), 8.11oz. (women); 6mm drop
It should be no surprise that this beast of a shoe is meant for max cushioning—inside and out. The outsole is On Running's biggest, beefiest, and cushiest ride so far—in the tradition of something like a Hoka Bondi. Also unsurprisingly, the Cloudmonster has a fluffy, cushy interior design, and although they don't have a heel tab like most of the other shoes in this lineup, this shoe still works great for long-course races where cushioning and comfort are more important than outright speed. Bonus: For all of this material, the Cloudmonsters still tip the scales at under 10 ounces—something the Bondis have yet to do.