Reviewed: Salomon Hydro Handset
Heading out the door? Read this article on the new Outside+ app available now on iOS devices for members! Download the app.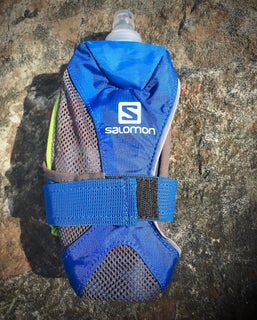 Staying hydrated is as important during the winter as it is during the summer. So while your runs may be shorter due to the cold, that doesn't mean you should have something to drink with you. Many run turn to the handheld bottle. Small and easy to use, handhelds are perfect for runs of an hour or less, when you don't need to bring a lot of water with you. However, I have always felt that handhelds, especially larger ones when full, throw off my arm swing. The Hydro Handset from Salomon has come up with a new design that may be the solution.
The Design
Most handhelds are a plastic flask or water bottle held to your hand with a single strap to keep it in your palm. The Hydro Handset from Salomon rethinks that design using a more involved webbing structure. A large web is attached to flask holder at five points shaped like a star. You slide your hand through the bottom loop, then your index and middle finger go through one loop while your ring and pinkie go through the other. This position orients the Hydro from your palm to your fingers rather than across your palm. A large strap goes through a small loop on the bottom of  flask, then across your wrist and secures with velcro. In a well thought out design element, this strap can go through three different loops depending on the size of your hand and wrist. It can be worn on either hand. 
The design is made possible by the use of a soft flask rather than plastic. It shapes to your hand and collapses down as you drink from it. When full, it will hold 500ml, about 16 ounces of liquid, which is plenty for most athletes for up to 90 minutes. There is also a zipper pocket large enough to carry a gel or two and your phone.
The Test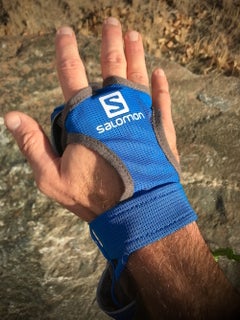 Being skeptical of handhelds to begin with, my first runs were only four to five miles long, but I loaded it up with a gel and my phone to simulate a longer run. Immediately, I could feel a difference. Despite the size, the weight seemed to be better distributed across my hand and wrist. The top of the flask sat just below my fingers, so they curled over the bite valve in a more natural position. The usual imbalance I feel with handhelds was mostly gone and I felt like my arm swing was much more natural.
Being flexible and having a secure web system meant I could still grab my zippers and press the buttons on my watch. Salomon uses a bite valve at the top so no water dripped out while I was doing this.
One tester with small hands was impressed that the Hydro still worked for her. With the wrist strap looped through the smallest setting, she found it to have a secure fit despite the Hydro being almost bigger than her hand. I wore the Hydro mostly on my right hand. I did try it on my left and found it to work just as well. The wrist strap sat high enough on my wrist to not rub against my watch.
The main drawback I found was that accessing the pocket is a bit complicated since the web that goes over your wrist also goes over the bottom portion of the zipper. The other drawback is the price. At $42 it is nearly double the cost of other handhelds.
The Verdict
There are a lot of reasons to like the Hydro Handset from Salomon. It's unique design disperses the weight across your hand to make it feel less obtrusive, no matter what size your hand is. It can carry the extras you need for a longer day and still allow you to use your fingers. It may be a simple product, but Salomon has found a way to advance the design to make handheld hydration feel more natural.