Of Advocacy And Accessories: Triathlete Visits 2010 TrekWorld
Heading out the door? Read this article on the new Outside+ app available now on iOS devices for members! Download the app.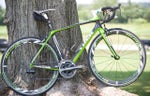 Triathlete senior editor Jay Prasuhn attended Trek's 2010 preview event. Prasuhn shares his experience and provides detailed descriptions of Trek's newest products for 2010.
Remember when kids everywhere rode a bike to school? Some folks even rode their bike to work. Then the console game came along. Nintendo screwed it up for a generation of couch weights who ditched the Schwinn for a Playstation… and suddenly we have kids with obesity issues and air quality issue in our cities. Our governments gave up on funding for bike paths in our cities, and suddenly, there were less commuters. It has been a downward spiral.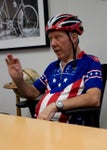 Thursday evening, I met U.S. Congressman Jim Oberstar. When I heard a congressman was giving a keynote at the TrekWorld 2010 bike presentation in Madison, Wisc. (instead of Lance Armstrong, I think everyone's hope), I was like "meh."  I'm not a politics and government aficionado.
Then Oberstar spoke, and I changed my view; he's as much a champion to creating bike paths in U.S. cities and changing the paradigm back from a couch potato culture to a bike culture as Lance is with the fight against cancer. It was a pleasure to meet a guy in high government office that actually cares about cycling. In fact, we met after he and Trek president John Burke had finished a spin with his daughter and granddaughters at the Trek offices in Waterloo. He loves the bike and we're lucky to have him on our side.
In having congressman Obermayer present, Trek drove the message of advocacy. Trek has been a leader in making donations to advocacy to things like 1 World 2 Wheels and Go By Bike (in fact, Trek has a cool desktop and Facebook widget to log your bike miles). Burke brought SRAM president Stan Day up to applaud him for his own advocacy efforts with their advocacy efforts with World Bicycle Relief.
And of course, Burke urged us and the dealers present to be advocates as well; to press local government in efforts to create bike-friendly legislation and funding for trails, bike lanes and anything that will help get people on the roads—commuting again, garaging their emission-producing vehicles and allowing kids to safely ride again to school.
OK, off the soapbox… onto the goods.
Click on each story to learn more about Trek's 2010 products, and click here to see a photo gallery from the event.
First item of order: Did we see the Speed Concept? Well, yes and no.