Level Up Your Tri Game with Smart Tech
How SOLOS helped pro Sam Appleton take his workouts from good to great.
Heading out the door? Read this article on the new Outside+ app available now on iOS devices for members! Download the app.
The first time Sam Appleton heard about SOLOS, he wasn't sure what to make of it. After all, it was something out of a sci-fi movie: a pair of smart glasses that projected all of his performance metrics right in his line of sight. It sounded cool, but wouldn't such technology be complicated and cumbersome?
But then Appleton wore SOLOS on a bike-run brick workout, and it was love at first sight. "The product is really intuitive," says Appleton. "There was no barrier to entry. It could be used right out of the box – the only adjustment I needed to make was finding the right angle for the display screen to suit me."
But what was most impressive to Appleton was how quickly SOLOS took his bike and run workouts to a new level. Instead of keeping track of multiple devices to view speed, power, cadence, and heart rate data, everything was right there in front of him in a high-resolution display that blended seamlessly with his field of view. He could make immediate adjustments to his performance without ever taking his eyes off the road or trail.
What's more, he could use the smart glasses for other data: By downloading his planned route to the SOLOS app on his phone, Appleton could ride with confidence on new routes, thanks to the turn-by-turn instructions projected on his screen. Integrated Bluetooth speakers allowed him to tune into his playlist without noise-blocking earbuds. When his coach uploaded workouts into TrainingPeaks software, his sessions would automatically sync with his smart glasses for fuss-free execution.
"My favorite feature is the new integration of TrainingPeaks workouts that is built into the SOLOS app on my phone. Once connected, the workouts prescribed in TrainingPeaks from my coach are sent through to my pupil display on the glasses, sending me the vital information I need to complete the session. If I have a target power zone, heart rate or cadence, these will be shared through the display and I will be prompted by voice and visually, if I am in compliance with the parameters prescribed."
Instead of charging, mounting, and monitoring several devices, all Appleton needs to nail a workout these days is to put on his sunglasses and head out the door. "SOLOS has really transformed my workouts. They're so different from before."
SAM APPLETON'S WORKOUT TRANSFORMATIONS
Session 1 – Power Up Bike Workout
WARM UP
30 minutes easy spinning
MAIN SET
5 x 7 minutes as:
3min @ 300-320W
1min @ 360-375W
1min @ 250W
2min @ 350-400W
5 minutes easy spinning between each round
Before:
"You can see this session has a lot of different prescribed wattages over different periods of time," says Appleton. "I used to write the session down on the back of my hand, or, if I forgot, I'd pull my phone out mid-ride to check."
After:
"Once SOLOS is connected to my TrainingPeaks account, all these numbers get pushed to my pupil display, telling me what power I have to hold and for how long. If I am in the prescribed power zones, the display will show me that by the numbers showing green. If I am outside the zone, the wattage numbers will be red, and I will be prompted by the built-in speakers that I need to adjust. This is an easy way for me to know if I am completing the workout correctly.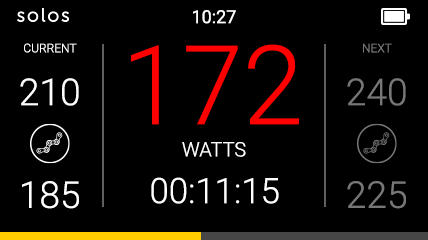 Session 2 – Easy Spin
Before:
"I am a firm believer that easy sessions are just as important as hard sessions when looking at the program holistically. A 60-minute easy ride helps my muscles recover by promoting blood flow, but also giving my body some mild aerobic endurance," says Appleton. "But I admit I'm not the best judge of whether I'm actually taking it easy. I need a reminder to stay in my prescribed heart rate zone to ensure I'm not overworking and compromising other sessions to come."
After:
"I use SOLOS on every single one of my easy rides. I throw on a podcast that plays through the built-in speakers, and my pupil display shows me if I am in the correct heart rate zone for the session. It takes the guesswork out of my session and allows me to train more efficiently."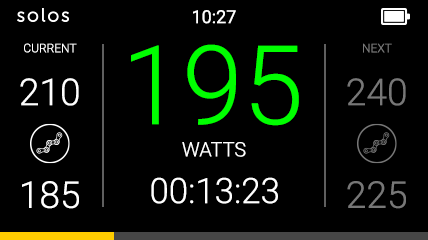 Session 3 – Key Brick Run
WARM UP
5 minutes easy run immediately off the bike
MAIN SET
4 x 2 minutes @ 3:10 per km pace
2 minutes easy
10 minutes @ 3:20-3:30 per km pace
Before:
"When I am running hard, it can be difficult to read the numbers displayed on a watch," says Appleton. "On more than one occasion, I've tripped while fumbling with a wrist-mounted GPS watch."
After:
"I can use SOLOS in harmony with TrainingPeaks to ensure I am hitting the correct paces. With SOLOS, all the feedback I need is shown to me through the pupil display on screen in front of me. Again, the numbers will be displayed in green or red in alignment with the correct pace zones. All I need to focus on is my form and technique, without having to rely on reading off other external peripheries. I can also have my favorite playlist coming through the speakers for that little bit of extra motivation if I need it!"