In Heavy Rotation Volume 6: Our Editors' Favorite Gear
We're breaking out our favorite, battle-tested stuff and talking about why this is our go-to gear for training, racing, and living the tri-life.
Heading out the door? Read this article on the new Outside+ app available now on iOS devices for members! Download the app.
Introducing the sixth installment of our column, "In Heavy Rotation." We won't be digging deep into our closets on this one—here we'll talk about that piece of equipment that gets tossed in the washing machine most often, grabbed first in a rush, and used when we know we need something that just plain works. Companies provide us with a lot of products to check out (tough job, right?), but these are the things that stick around long after the photo shoot is over and the review has been written.
Check back here each month for an eclectic mix of our editors' greatest gear hits.
Chris Foster, Senior Editor
Former pro triathlete, current three-sport vagabond
Can't wait to…run on empty trails.
Can't wait to be done with…the swim.
Gear wisdom: "If the thing takes longer than 20 minutes to set up, it's probably not worth it."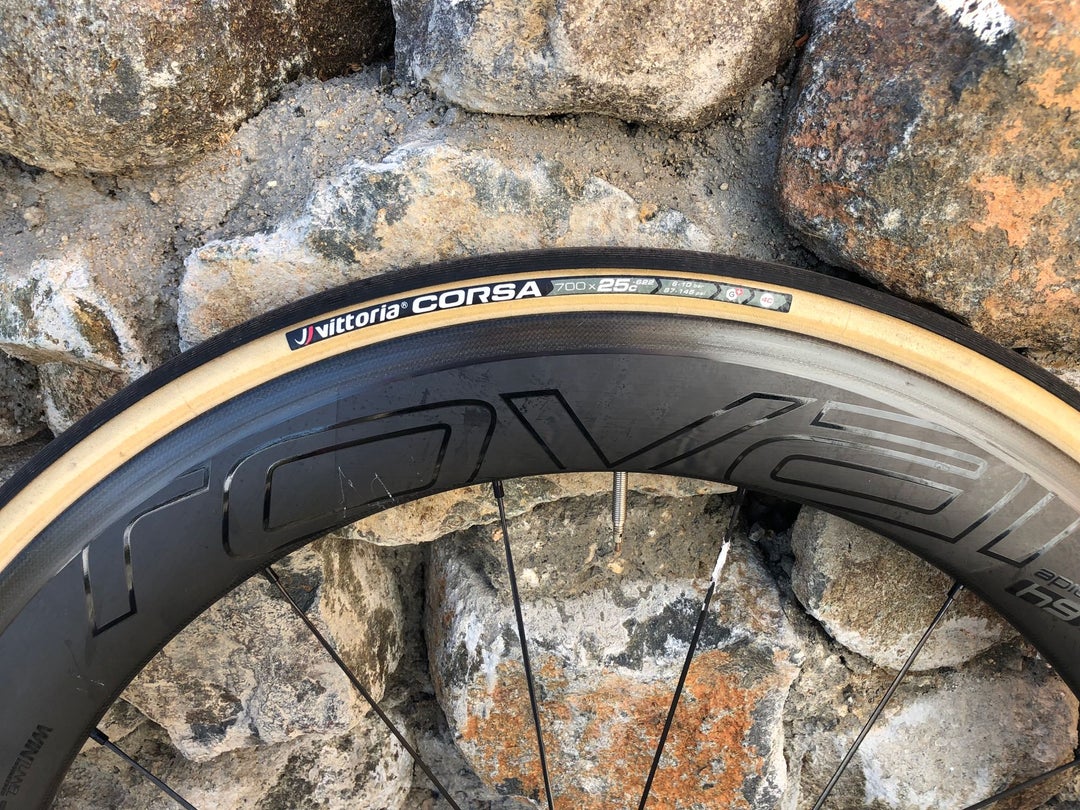 Vittoria Corsa Tire
Amazon.com, $70
Despite the fact that the Corsa has been around for a while, despite the fact that they make higher-end tires than this version, I've actually fallen in love with Vittorias since the latest update to the line. Yes, there are lighter tires for this price (255g for 25c), and yes, these fall into the regular range of TPI (320), but something about this compound of rubber—now upgraded with wünder-material Graphene—makes for a supple and grippy ride that actually feels comfortable and lends some give to otherwise abusive wheels. Though I admittedly haven't ridden more than a few times in the rain on these (I live in Southern California, give me a break!), they've handled predictably and given me confidence in corners. After hundreds of miles, I still haven't had a flat, and while that's entirely anecdotal, I've tested other tires that cost far more and boast puncture protection that haven't held up such a record.
Pro tip: Looking to stand out? Get the old-school khaki-sidewalled version for a retro touch.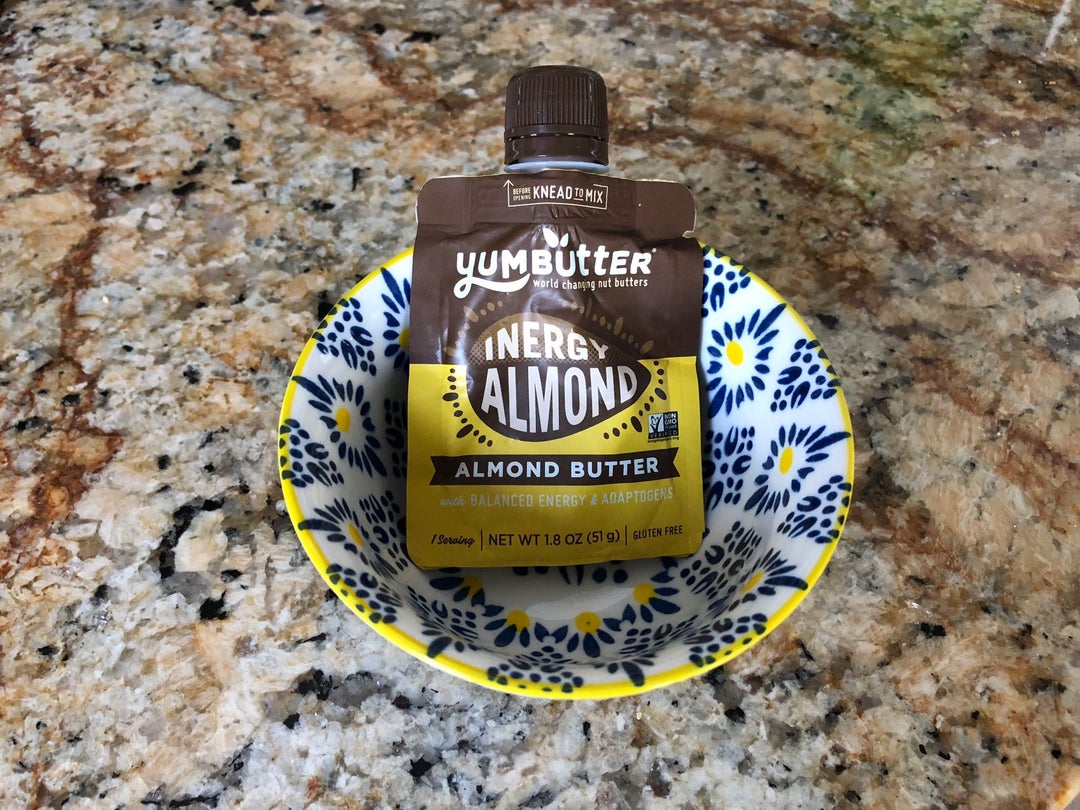 Ancient Inergy Almond Butter
Yumbutter.com, $20 for 10
As someone who is a strict adherent to my ritual breakfast of oatmeal, nut butter, and honey, I'm always on the lookout for ways to boost my boring morning meal and make the thing work even when traveling to faraway races. I can't tell you how many times I've tried to smuggle peanut butter onto a plane (sometimes it works, most times, it doesn't). As such, I've always been a fan of the single-serving nut butter pouches that have become so popular in the last few years. My quest for a better version of my breakfast landed me on this smallish brand with almond, cashew, sunflower, and peanut butter selections. I specifically love the Inergy Almond Butter because it has a cocktail of organic maca, guarana powder, L-Theanine, and pink Himalayan salt—all stuff with properties that are meant to boost energy and endurance. I'm also a fan of the fact that it's resealable and has a clever way of ensuring you're able to use every last of the 1.8 ounces.
Pro tip: Also check out their super packed Superfood Almond Butter blended with organic chia, organic hemp seeds, organic gojo berry powder, organic lucuma powder, and pink Himalayan salt.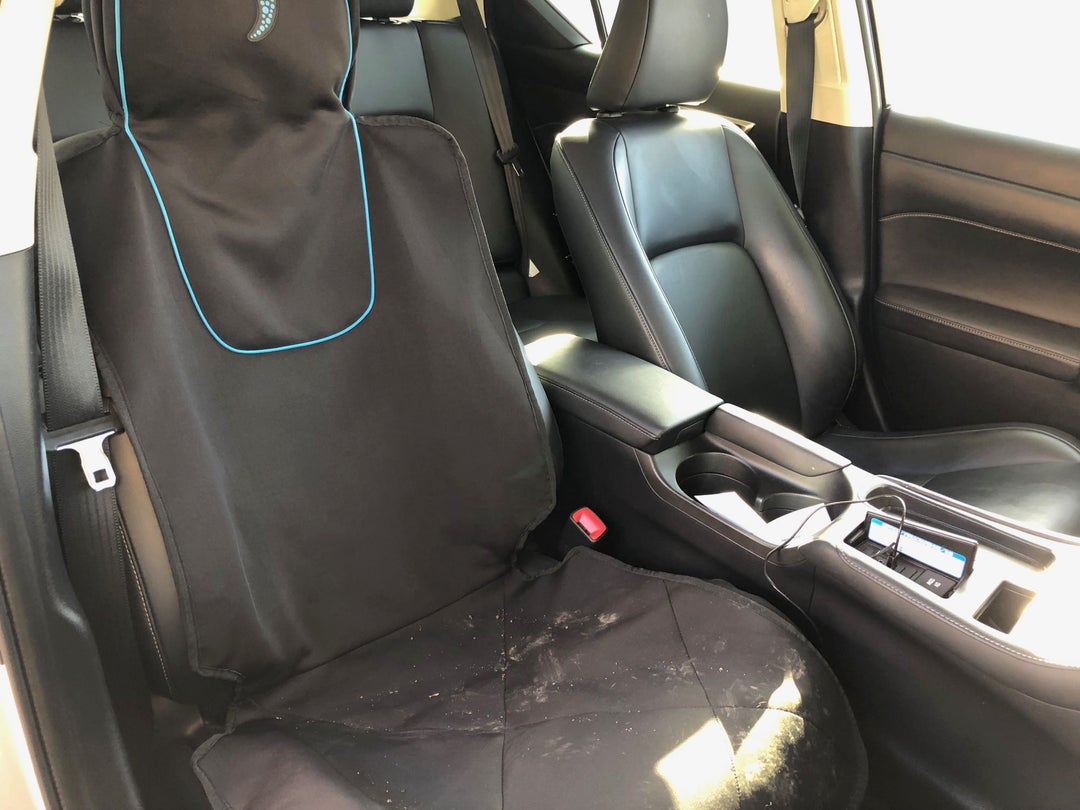 Dry Rub Medium Car Seat Cover
Getdryrub.com, $100
Count this as something I wish I had gotten a decade ago. Dry Rub's car seat cover is a suprisingly thick synthetic fabric that easily wraps around your car's headrest, and in this version tucks an anchor in the crease of your seat and extends a small "skirt" sround the bottom. Because it's thicker and more substantial than other car cushions, it does a better job of staying put, even on slippery leather seats. The "medium" offering adds the skirt and anchor (both essential) but still take a few seconds to install when you need it—in other words, it doesn't have to live on the seat of your car. It did a great job of staying put in both of my differently shaped car seats and never let any of my (or my pooch's) filth seep into the seats, and because it's machine-washable, it doesn't become a stinky mess after a few uses.
Pro tip: Though I was a fan of the medium, the "spicy" version with a trigger-point massage system wasn't exactly my cup of tea. The large rubber balls you place in the pockets behind the cover were very difficult to get in the right place, and I never felt like they added to the experience—but others may find them helpful.
Toni McAllister, Managing Editor
Trail runner
Can't wait to…go outside and run some hills.
Can't wait to be done with…sitting.
Gear philosophy: "I keep it simple. The right shoes, proper nutrition, and tools that help me stave off injury are my focus."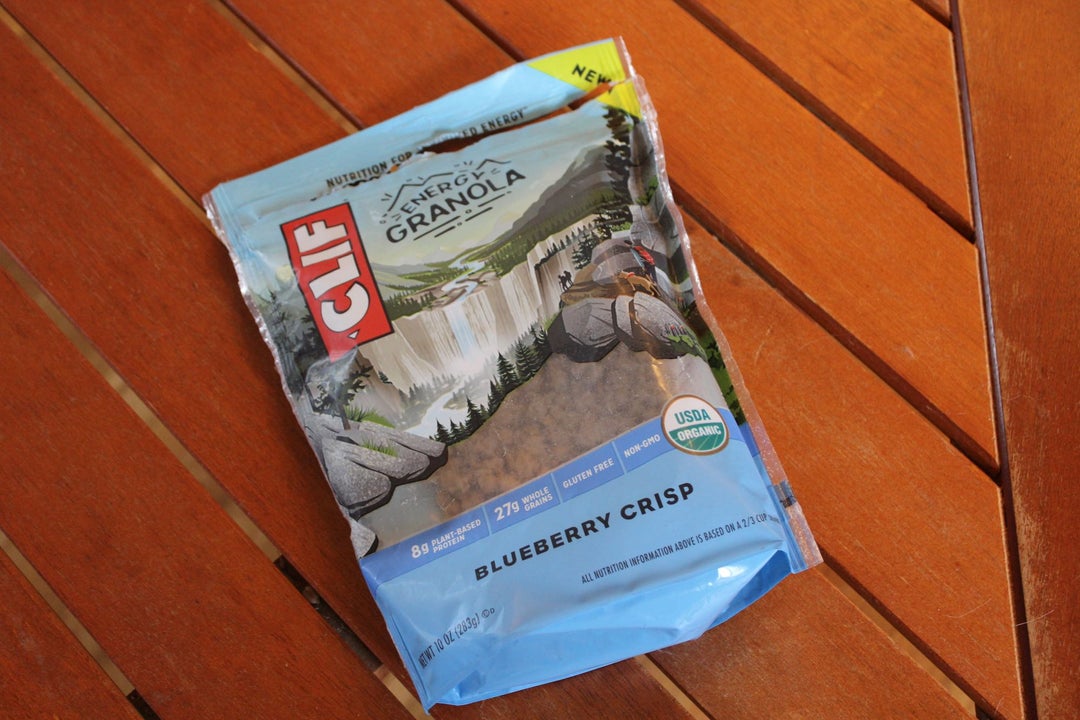 Clif Energy Granola
Amazon.com; $5.50/10-ounce pouch
Unless it's loaded with fat, packaged granola can taste like cardboard to me. It can also be pretty low in protein. Lately, I've been snacking on Clif Energy Granola (Blueberry Crisp flavor). It packs a fair amount of taste with 4 grams of protein per 1/3-cup serving. And although the fat content isn't sky high (4g), don't expect this granola to be low in sugar too—11 grams per serving will definitely get you going. Although I like granola with milk or yogurt, this one also works straight out of the bag for on-the-go fueling convenience: The 10-ounce bag is a perfect size for stuffing into a backpack.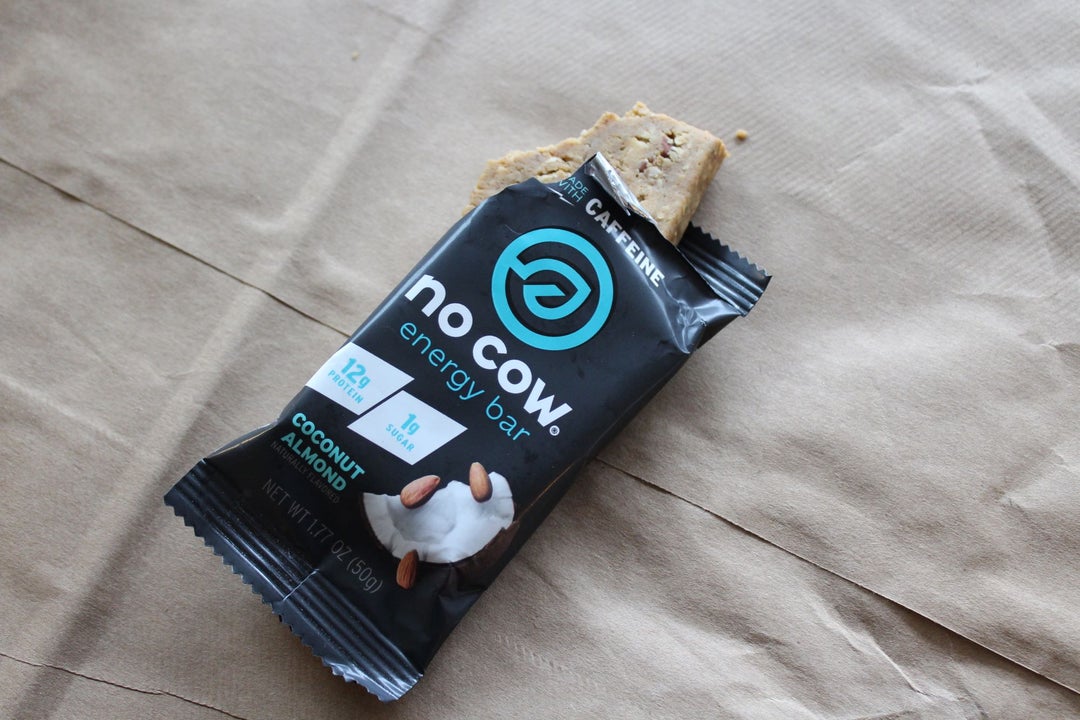 No Cow Energy Bar
Amazon.com; $24/box of 12 bars
So, practically every bar on the planet today touts itself as "non" many things—non-GMO, non-soy, … No Cow Energy Bars are all that (non-dairy, non-GMO, non-sugar, non-gluten, non-soy), and they're vegan. But they draw the line on caffeine—each bar contains 45mg, or the equivalent of a half-cup of coffee. For me, that's a decent mid-afternoon jolt en route to an evening workout. The bars do dish out a sizable amount of fat (10g), carbs (24g), protein (12g), and dietary fiber (9g), but they also contain sugar alcohol and stevia—sweeteners not everyone loves.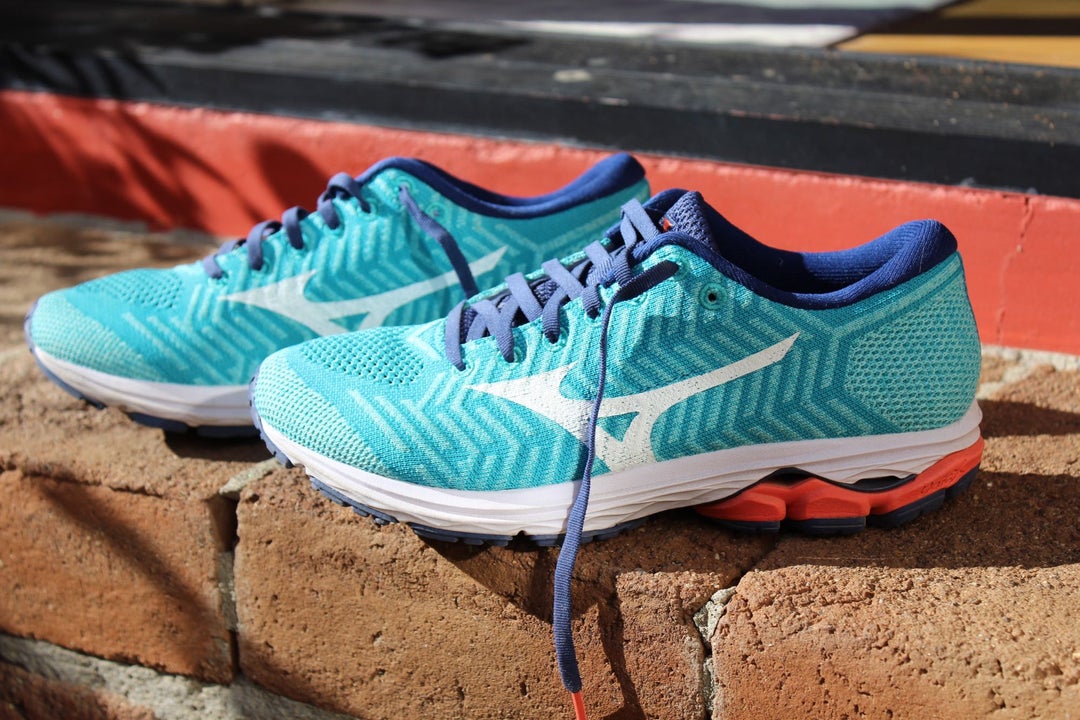 Mizuno Waveknit R2
Roadrunnersports.com; $130
I've tried a few pairs of Mizuno running shoes in the past, but I've not found any as comfortable—or nearly as perfect for my feet—as these Waveknit R2s. There was no break-in period; the sock-like knit upper is super comfy and breathable, yet still provides support; and there's just the right amount of cushion underfoot with an exaggerated lateral crash pad for smooth road running. The R2s also have a plush ankle collar (a bonus for those of us who are a little thicker in that area!). For training or racing, these shoes are lightweight, coming in at 8.7 ounces (women), with a heel drop of 12mm.
Corey Hollister, Art Director
Seasoned cyclist, triathlon newb
Can't wait to…ride.
Can't wait to be done with…racing in the heat.
Gear wisdom: "If it doesn't make me look or be faster, it's useless"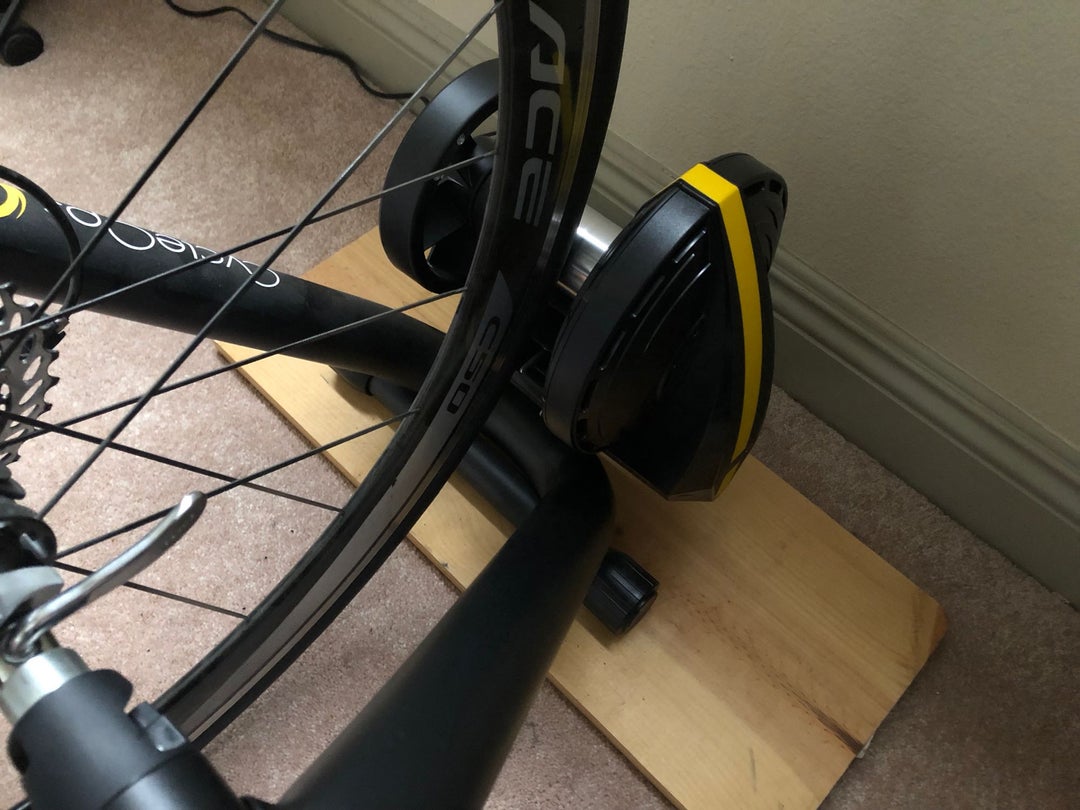 CycleOps Magnus Smart Trainer
Cycleops.com, $600
Winter is coming. So I've been getting used to the fact that indoor training is going to become one of my primary ways to stay active in the coming months. For the past four months I have been using the CycleOps Magnus Smart Trainer on and off to get dialed in for the dark winter days. I have tried a few smart trainers, and while the direct drive tends to be the most popular, I really prefer the tire on method as it is easier to swap the bike in and out. This is probably a function of being in San Diego, as most of the time we have good weather, so I can quickly take the bike out of the mounts and go for an outdoor ride. Of course you sacrifice burning through your tires rather quickly.
The Magnus is rather quiet and has performed well, but I had some tire squeaking—remedied with a cleaning of the contact surface with alcohol wipes. I use the CycleOps to connect to Zwift, and I get real time feedback from the course with elevation changes and the integrated power meter seems to be pretty accurate. Take down is quite easy, as the trainer legs fold up for quick storage and it doesn't weigh quite as much as direct drive units. Overall, it has most of the features of more expensive direct drive units for a fraction of the cost—plus the flexibility to quickly take your bike on an off as needed.
Pro tip: If you are using this trainer on a carpeted floor, put a board under the rear feet to get a more stable platform to ride on.
Brooks Turbine Jacket
Brooksrunning.com, $110
Choosing what to wear when going on a run or hike in the colder months is always a challenge. The worst is when I start my session freezing, only to be stripping off the outer layer midway through due to overheating. Then I'd have to carry around a bulky jacket for the rest of my run. I picked up the Brooks Turbine Full Zip Jacket just for this. It has served as a great compromise between a heavy winter jacket and a light wind shell. Thermal panels on the interior keep me warm, while stretchy, breathable fabric on the sides keep things flexible and breathable. The full zip is great for regulating temperatures, and the sleeves are fitted well with thumb holes to keep them from working their way up my arms during runs. I appreciate a reflective stripe on the back, but wish there were some on the front and arms to keep visibility high during early morning or night runs. Pockets are on the inside and not the easiest to get to if you have a phone or music player in there, but overall this jacket is a great option if you need a warm, flexible, and breathable outer shell for colder days.
Pro tip: There is a headphone catch on the zipper hanger to keep cables from getting in the way of swinging arms.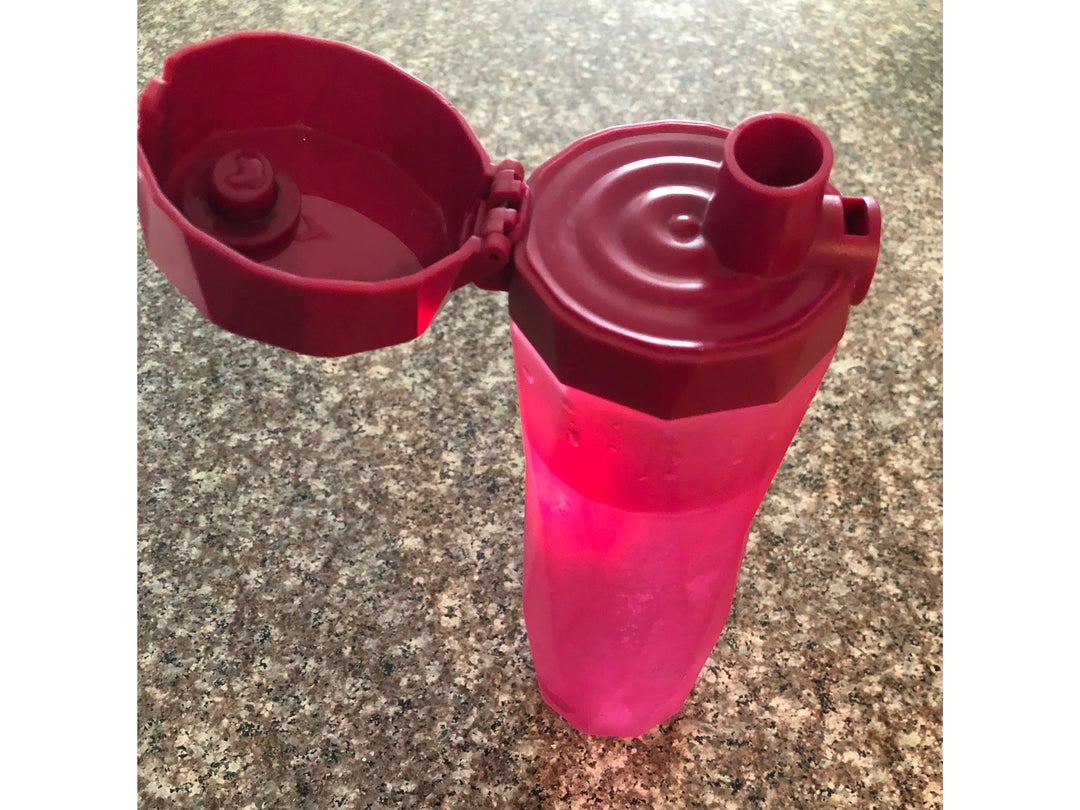 Hidrate Spark Smart Water Bottle
Hidratespark.com, $55
I'm the first to admit that I don't drink enough water. I tend to rush out of the house slamming a coffee down and then not touching water until several hours later. The result? Sluggish energy and often grumpy moods throughout the day. My training would also suffer, as I would be trying to rehydrate on my training rides without much luck. The Hidrate Spark was a game changer. It's a Bluetooth-enabled bottle that knows how much you are drinking in a day (assuming that you are only using the Spark bottle). After connecting to an iPhone or Android, a sensor in the bottle tracks when you drink and fill it and adds all the ounces you have taken in throughout the day. The app also connects to other health apps and along with the data you provide, the temperature outside and your activity, gives you the amount you should be drinking on that day.
One of the coolest features? The bottle blinks at you when it's time for you to drink. This is great when you are flying a desk for a living because the light catches my attention out of the corner of my eye. Time to drink! I find the app to be addicting as well, as it makes drinking water like a game, with me trying to reach my goal or get a high "score". The bottle construction is solid and I have dropped it several times with hardly a scratch on it. Battery life is fair and is powered by two 2032 coin-style batteries. I get a couples months of solid use. My one complaint is that changing the batteries is not the easiest thing, and it would be great if you could just plug in the bottle to a usb cable.
Pro tip: Take pictures of the battery assembly before you take it apart. When replacing the batteries, you have to take apart a few components to get to them and it can be complicated to get back together.