In Heavy Rotation Volume 5: Our Editors' Favorite Gear
We dig deep into our closets for the editors' greatest gear hits.
Heading out the door? Read this article on the new Outside+ app available now on iOS devices for members! Download the app.
Introducing the fifth installment of our column, "In Heavy Rotation." Each month, our editors will break out their favorite, battle-tested stuff and talk about why this is their go-to gear for training, racing, and living the tri-life. We won't be digging deep into our closets on this one—here we'll talk about that piece of equipment that gets tossed in the washing machine most often, grabbed first in a rush, and used when we know we need something that just plain works. Companies provide us with a lot of products to check out (tough job, right?), but these are the things that stick around long after the photo shoot is over and the review has been written.
For more of our favorites, take a look at Triathlete.com/inheavyrotation for previous versions of IHR, and check back here each month for an eclectic mix of our editors' greatest gear hits.
Chris Foster, Senior Editor
Former pro triathlete, current three-sport vagabond
Can't wait to…run on empty trails.
Can't wait to be done with…the swim.
Gear wisdom: "If the thing takes longer than 20 minutes to set up, it's probably not worth it."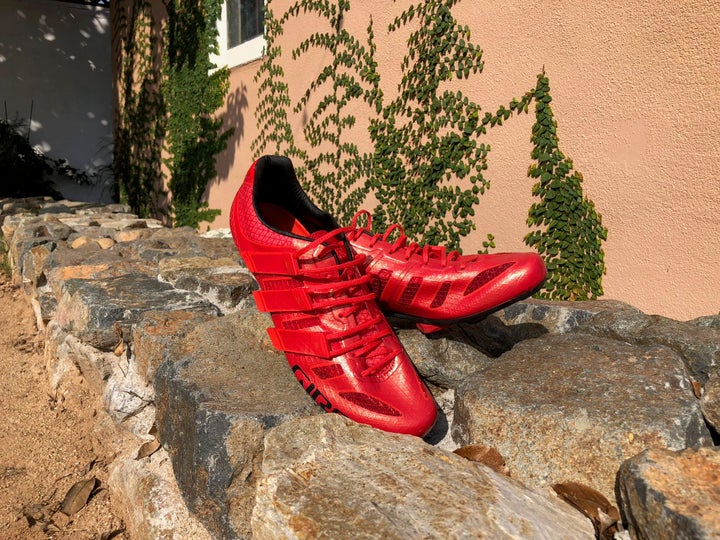 Giro Prolight Techlace Cycling Shoes
Competitivecyclist.com, $400
Yes, I am a triathlete. Yes, I know these are road shoes. But these are the kind of road shoes that are close cousins—maybe even siblings—to a pair of tri shoes. Using a super-secure velcro closure that's very easy to get on with wet, sockless feet, these crazy light (150 grams for size 9) road shoes pull excellent double-duty as a daily training shoe and a viable option for racing. The mesh ventilation on this pair helps with drying feet, but like a pair of tri shoes, these can be a little chilly during early-morning races right out of the water. While the Prolights also tick off most of the tri boxes, they also include a very novel footbed customization kit that allows you to adjust the insole based on the height of your arch.
Pro tip: Part of the reason these are ideal for tri is the flexibility and thinness of the upper—if you like putting out monster wattage during town-line sprints, these are probably not the best option.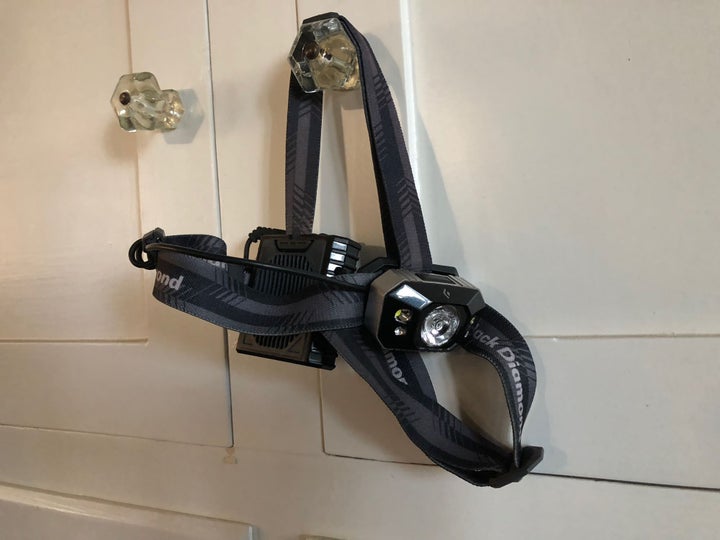 Black Diamond Icon Headlamp
Amazon.com, $90
At a quick glance, Black Diamond's Icon headlamp doesn't look like a good choice for low-light running. Featuring a large battery pack that sits behind the head and a slightly bulkier lamp in the front, this setup looks more like something a mountaineer would use. And yet the balanced nature of the system, combined with adjustable straps on the side and top, makes this an excellent—and versatile—lamp for running. Using replaceable or rechargeable AA batteries in a waterproof compartment, the Icon provides 70 hours of burn time on high (which throws an amazing 100-125m of light) to 175 hours on low (with a very useful wide beam setting). The system itself is super tough—and this from someone who routinely abuses his gear.
Pro tip: It can take a while to get the hang of the light's settings. With only one button but seemingly endless combinations of settings, there's a pretty steep learning curve.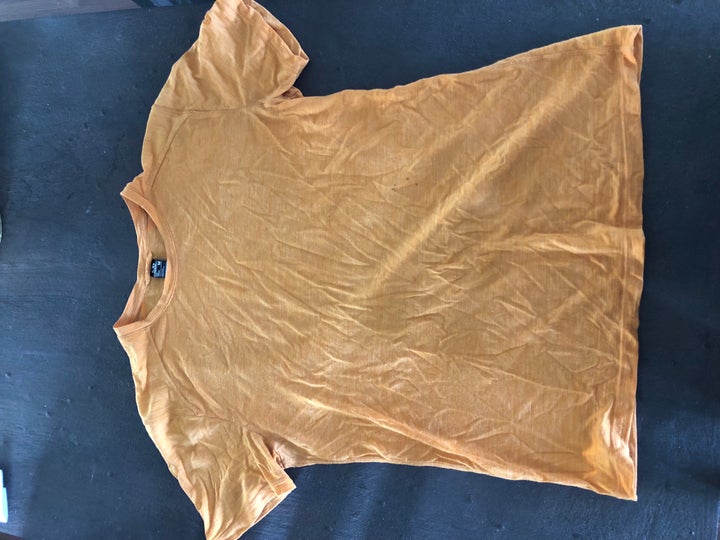 Icebreaker Cool-Lite Sphere Short Sleeve Crewe
Amazon.com, $70
As someone who's a huge fan of Merino wool, this super-lightweight, super-soft running t-shirt will probably wear down to the bare threads before I end up replacing it. Even out of the package, this 52-percent Merino, 35-percent TENCEL®, 13-percent nylon shirt felt worn in. Despite its featherweight feel, the Cool-Lite Sphere actually keeps you warm in most short-sleeve appropriate temperatures. In fact, in the hottest conditions, it can feel a little warm on the start before a thin layer of sweat begins to help cool you down. As much use as it's gotten, unlike many synthetic materials it has done an excellent job of keeping odors at bay—even when crammed into a tiny ball at the bottom of a bag for hours on end.
Pro tip: To keep this thing alive, be sure to hang dry.
---
Liz Hichens, Senior Digital Editor
Former endurance junkie, current HIIT fan
Can't wait to…enjoy brunch after a workout.
Can't wait to be done with the…bike.
Gear wisdom: "Buy it right the first time, and limit what you keep. Don't end up with all kinds of gear in a box in your closet."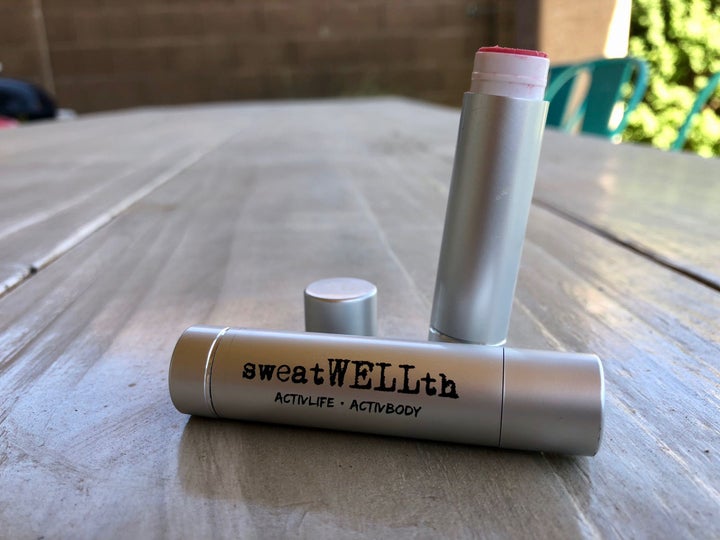 SweatWELLth Lip Quench
Sweatwellth.com, $12
I hadn't heard of this brand until recently—and boy was I missing out. I'm not one to get too caught up in beauty supplies, but this is one product that I love. These little tubes contain SPF 25 to protect from the sun and time-released minerals to combat electrolyte loss. They also have some crazy technology that produces a moisture-triggered cooling sensation (it's hard to explain—it's most like a tingling feeling). There are three fun color options (pink, nude, and plumb) that make you feel like you're wearing a luxurious lip gloss and not a product made for athletes. I keep one of these in my gym bag, one in my purse, and one in my makeup bag, and apply before and after workouts. The price tag of $12.50 per tube is not cheap, but it's totally worth it for this do-it-all lip product. It's a must-buy before the dryness of winter sets in.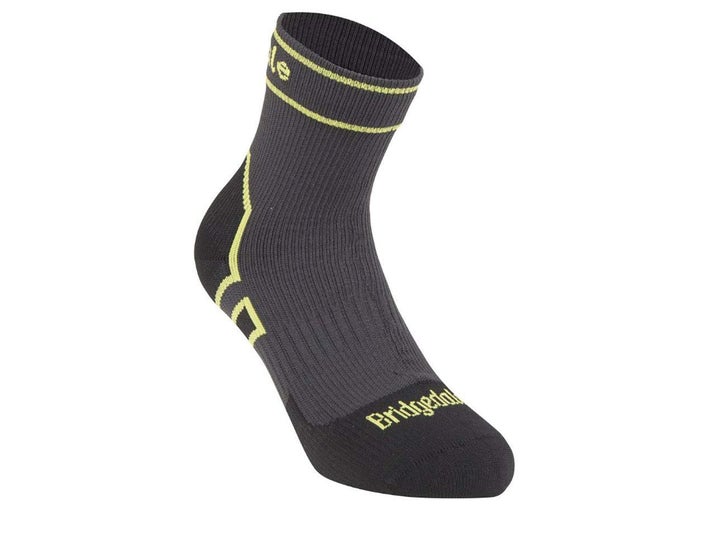 Darn Tough Vermont Vertex No Show Tab Ultra-Light Socks
Amazon.com, $16
I feel a little silly being so excited about socks, but I am truly in love with these ones from Darn Tough Vermont. Previously, I never thought sock choices made much of a difference in running comfort or performance. I'd rather spend my money on the premium bigger-ticket items, like new apparel or shoes. Old me is 100-percent wrong—turns out high-end socks can have a big impact. These socks feel thick in your hands, but then are super light on your feet. I've worn them indoors, in the heat, and in frigid conditions. They've served me well no matter what I throw at them and provide comfort I didn't even know I needed. A few times I have done an extra load of laundry to make sure I have them for my longer runs. If you struggle to spend $16 on one pair of socks, I totally get it, but I promise you won't regret the investment in your feet.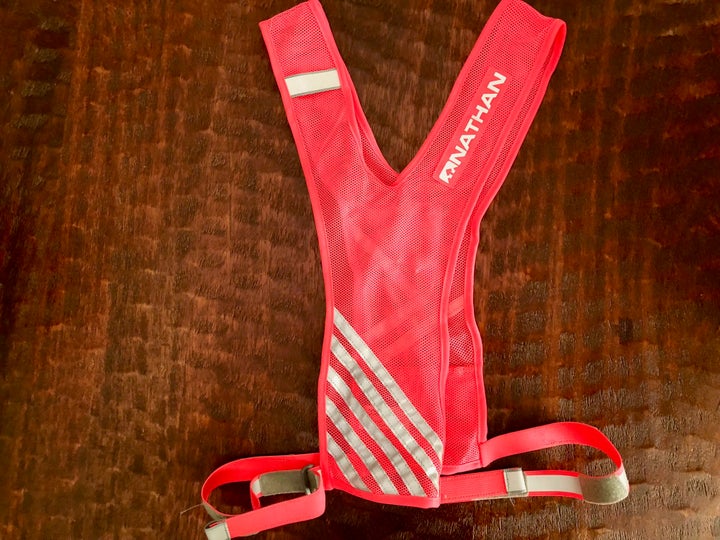 Nathan Sports Bandolier Safety Vest
Nathansports.com, $25
The days are getting shorter, which means it's time to break out the reflective gear for morning runs. I've never been a fan of the vest options because they're usually pretty bulky (and not the cutest). Instead, I purchased several shirts and jackets with reflective properties. This vest has changed everything for me. Now I can wear my normal running apparel and just make sure to throw this on before I'm out the door. It's super sleek and lightweight, and I instantly forget I'm wearing it. Plus, the pink (or "diva pink" as Nathan calls it) is a nice change from the traditional neon yellow (it is also available in "safety yellow" if that's your preference). It has a zippered pocket on the back that I honestly didn't notice until I'd worn it several times. It can hold a key, cash, and ID but not much else. My one complaint is that the Velcro straps can easily catch onto a singlet or other apparel. As long as I'm careful while putting it on it's usually not too big of an issue.
---
Toni McAllister, Managing Editor
Trail runner
Can't wait to…go outside and run some hills.
Can't wait to be done with…sitting.
Gear philosophy: "I keep it simple. The right shoes, proper nutrition, and tools that help me stave off injury are my focus."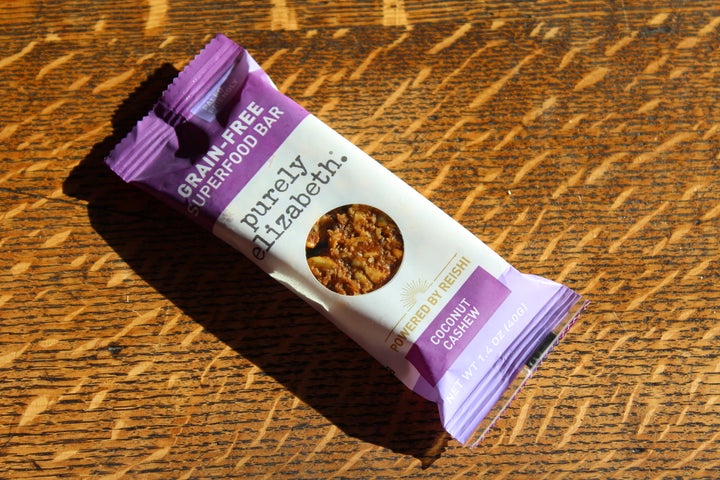 Purely Elizabeth Bars
Amazon.com; $27.50 (box of 12)
It's not often that a recovery bar makes you say, "This is really good." But that's exactly what I thought after trying my first Purely Elizabeth bar (coconut cashew). I couldn't find anything to diss: Not too sweet, crumbly, or gooey; no chemical or "cardboard" after-flavor to ruin the experience. Along with nuts, seeds, and coconut, the company lists "Organic Reishi Extract" (yes, mushrooms) as an ingredient, but I can't taste the latter at all. For those concerned about gluten, Purely Elizabeth touts being grain-free. The coconut cashew bar contains equal protein and carbs (6 grams each), with 230 calories and 18 grams of fat—not bad for a quick recovery snack or a healthy alternative for kids on the go.
Outdoor Research Surge Sensor Gloves
Amazon.com; $23
It takes forever for my hands to warm-up during dark, cold-weather runs. I wear gloves when I know the chill is really on, and like designs with touchscreen fingertips so I can use my iPhone for music and emergency calls. When I saw these neon gloves from Outdoor Research, I liked the lightweight feel with touchscreen index finger and thumb, but I wasn't crazy about the eye-jarring yellow-green. They stand out, but that's the point: The color is more visible during darkness and daylight, and the gloves have reflective markings to make them really pop. I think of them as my "safety running gloves." Although they're the perfect weight during Southern California's cold months (where I live), these gloves are probably not warm enough in extreme northern regions.
---
Erin Beresini, Editor-In-Chief
All-distance three-sport geek, from super sprints to Ultraman
Can't wait to…be outside
Can't wait to be done with…I love it all!
Gear philosophy: "I'm a minimalist. I like to go old-school and listen to my body, as detached from tech as possible. But when I like something, I'll use it hard and forever until it explodes."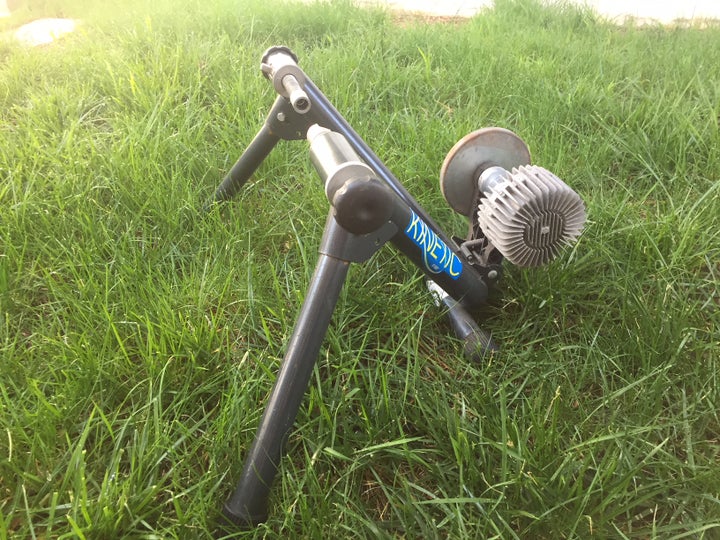 Kinetic Road Machine
Amazon.com; $300
This thing is a classic beast that will never fail you. I got mine in 2005 when the only bike I owned was a nine-year-old MTB with knobby tires, and it has been with me and every bike I've had since. I got my dad one last year and not much has changed, thank goodness. The trainer itself is pretty dang quiet—your wheel choice determines how much louder you'll have to crank the tunes. It rides pretty smooth, even after all these years. It's not any heavier than many of the current smart trainers and because it's, um, dumb(?), you can use it anywhere, electricity be damned. I like to put it out in the middle of the backyard on a nice day, put my head down, and ride hard while rocking out to [insert something that sounds cool here].
Pro tip: Any model made after 2010 is compatible with a pro flywheel that gives 12 extra pounds of extra inertia for longer spinups and coasting, should you want it.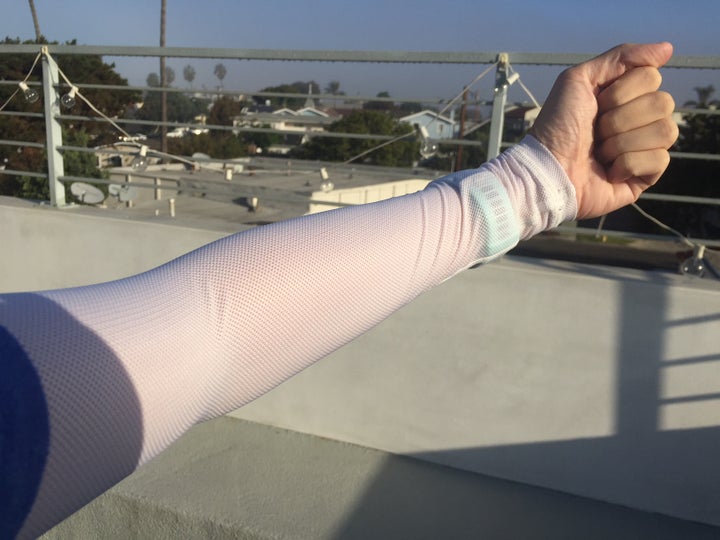 De Soto Arm Coolers
Amazon.com; $40
Maybe this makes me a weird triathlete, but I don't only throw these things on for warm rides, I also wear them with t-shirts when I'm just hanging out. They block 90 percent of UVB rays and I am uptight about sun protection, so I love that. They also don't feel too hot when it is hot, so it's a big win-win-win. My arms don't fry, I don't overheat, I get to hang out in the warm sun. I've always had the classic white, but now they come in colors and patterns! But if you're going to try to pull them off as regular person clothes, I'd stick with white. It totally works. Sort of.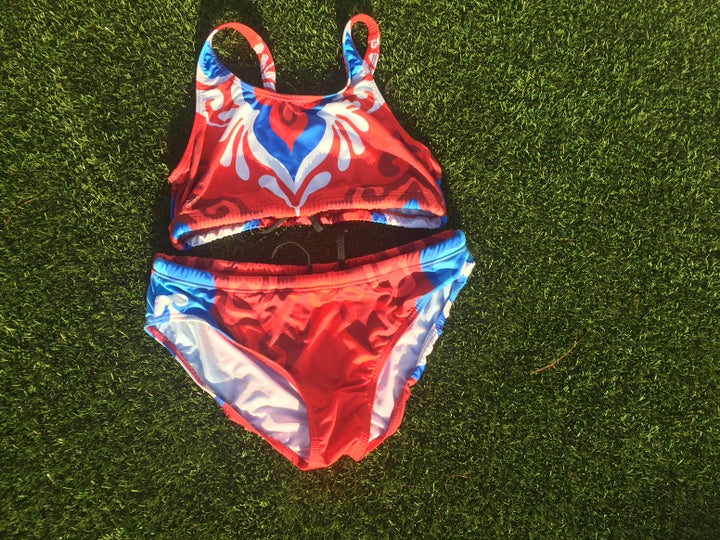 Triflare USA Beauty Sport Bikini Bottom and Top
Swimoutlet.com; $40 each
This bikini went through an entire pregnancy with me and beyond. The conservative cut and fun pattern made it my go-to for swim training with a growing—and then shrinking—belly. It was always endlessly flattering, no matter what phase of babyness I was in. Easy-to-cinch ties under the boobs and on the bottoms, respectively, kept the top from riding up to expose underboob, and also the bottoms from falling down when pushing off the wall. Bonus: I got lots of compliments wearing it, and it's held up well after a year of regular use—a small bit of stretching, but no fraying, and not much fading either.