In Heavy Rotation Volume 4: Our Editors' Favorite Gear
Our editors break out their favorite, battle-tested stuff and talk about why this is their go-to gear for training, racing, and living the tri-life.
Heading out the door? Read this article on the new Outside+ app available now on iOS devices for members! Download the app.
Introducing the fourth installment of our column, "In Heavy Rotation." Each month, our editors will break out their favorite, battle-tested stuff and talk about why this is their go-to gear for training, racing, and living the tri-life. We won't be digging deep into our closets on this one—here we'll talk about that piece of equipment that gets tossed in the washing machine most often, grabbed first in a rush, and used when we know we need something that just plain works. Companies provide us with a lot of products to check out (tough job, right?), but these are the things that stick around long after the photo shoot is over and the review has been written.
For more of our favorites, take a look at Triathlete.com/IHR for previous versions of IHR, and check back here each month for an eclectic mix of our editors' greatest gear hits.
Chris Foster, Senior Editor
Former pro triathlete, current three-sport vagabond
Can't wait to…run on empty trails.
Can't wait to be done with…the swim.
Gear wisdom: "If the thing takes longer than 20 minutes to set up, it's probably not worth it.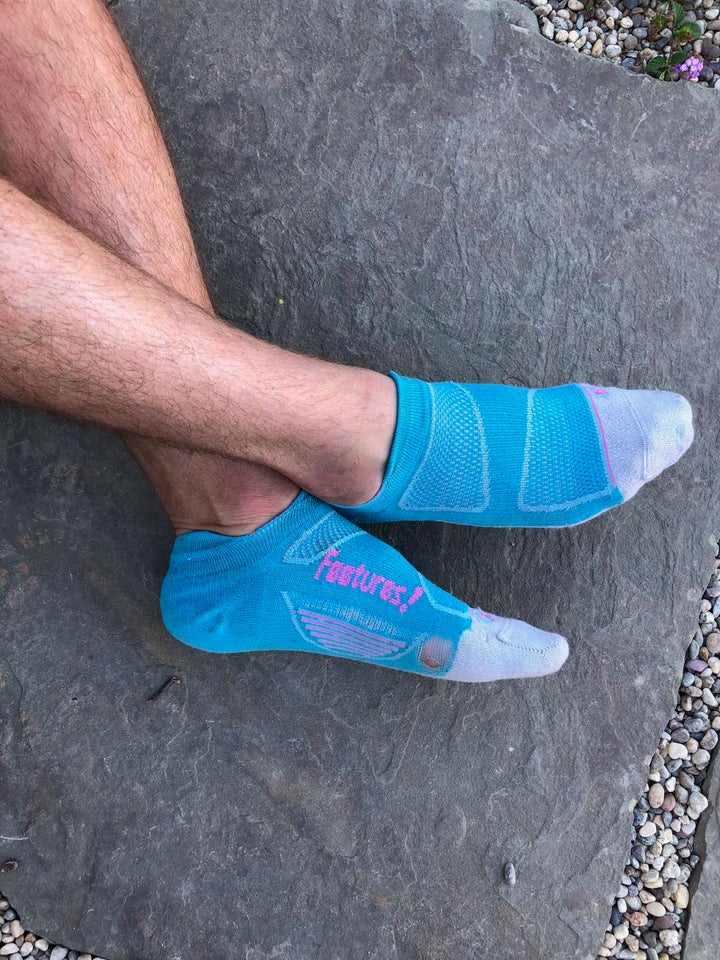 Feetures Elite Ultra Light No Show Tab Socks
Amazon.com, $16/pair
Why is there a picture of socks with a hole in them? If you're a visual person, the first thing you'll notice about these socks is that they look terrible in the photo. You're probably wondering, "Chris, why would you recommend a pair of socks that gets holes in it?" Well, first it's because I've run a lot in the past year, probably more than I ever have before. In May, a friend and I ran the length of Catalina Island, California—all 40 miles of it (pretty obvious backdoor brag, right?). And of course we went in prepared, so there was all of the training leading up to that long day.
The point is: I wore the hell out of these socks, and I loved them, and they gave me no blisters ever. And when the holes came—as they would with almost any sock that faced this much abuse over 14 months—I called the number on Feetures' website (the same one everyone does, no special editor number), and immediately a sweet-sounding southern lady picked up the other end. No long list of menu options, no hold time (it actually caught me off guard). I asked her if the holes I had worn into my socks were covered by Feetures' lifetime guarantee, and she said, with such a lovely accent, "Of course sugar, just fill out the form, send them to the address, and we'll send you a new pair!" That was it. No haggling, no, "Well we don't cover _____ with our warranty." So, because I love these socks so much and because socks will wear out—if you love them enough to wear them as much as I do—I wanted a visual record of the socks that took me across an island in the Pacific Ocean, just before I sent them back for a brand new pair.
Editor's Note: The picture is of Feetures' Elite Merino sock, which appears to be discontinued. The Elite Ultra Light has the same seamless blister-free design and lifetime guarantee.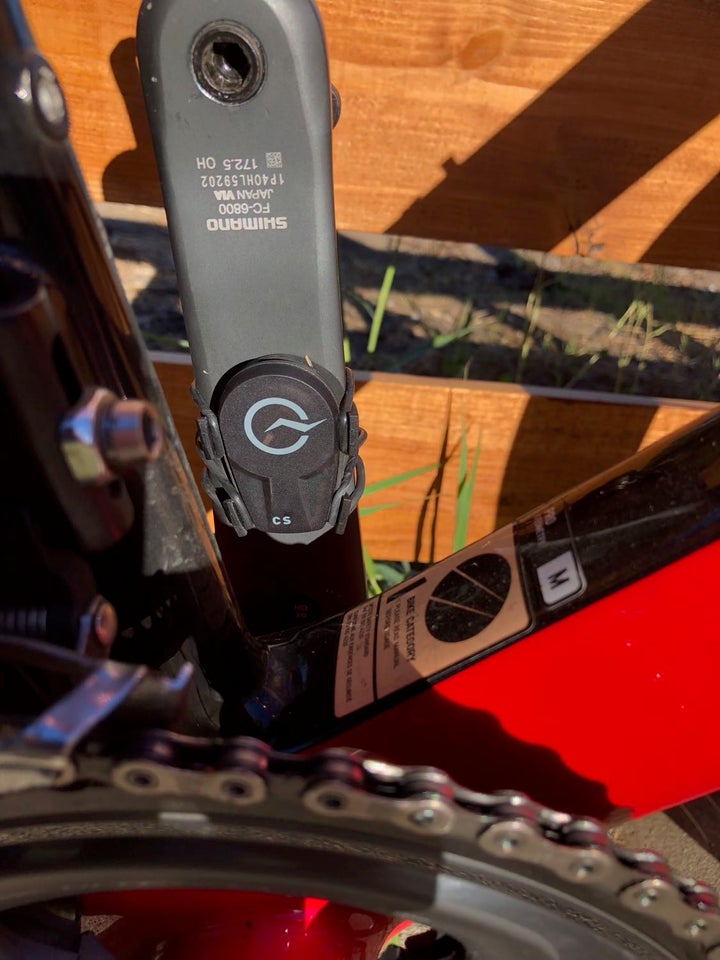 PowerTap Magnetless Speed or Cadence Sensor
Amazon.com, $30
This is one of those little items that make you wonder why it took so long for someone to think one up. Through the use of accelerometers, PowerTap created a magnetless device that does either speed or cadence—depending on how you set it up. In fact, you can change it back and forth very easily, if need be. For someone who travels and uses a lot of different bikes, this is a great device to use on a trainer one day, a spin bike the next, and back from mountain to road with no zipties, magnets sticking to things, or tricky setup. It pairs quickly and easily with any cycling computer or smartphone that has Bluetooth SMART or ANT+, and it's powered with a universal CR2032 watch battery. All it needs is enough space to wrap onto a crank arm for cadence or a wheel's hub body for speed. Obviously the sensor won't work with a disc wheel, but you can still mount it on nearly all front hubs. Buy two if you want speed and cadence simultaneously.
Pro tip: Be sure you have enough clearance between your crank arm and your chainstay—the sensor is low profile, but not exactly paper thin.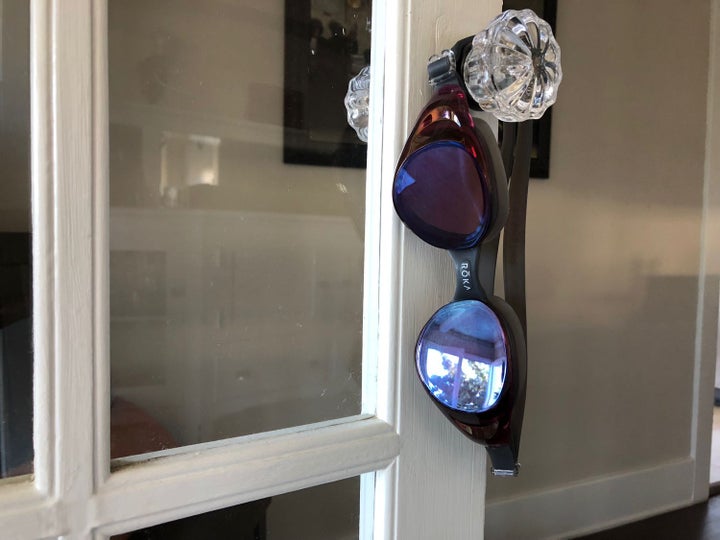 Roka X1
Amazon.com, $22
As someone who has struggled with finding a good pair of goggles over the years (weird head, maybe?), the X1 was a godsend. Straddling the line between snorkel-gigantic and squinty-Swedish, the size of these open-water beauties gives just enough field of vision to see your surroundings without taking up your whole skull. Roka's visual clarity is also impressive—the X1s are as distortion free as the brand's renowned eyewear. Even with some pretty bad swim bag abuse, the outside of the lenses still look clear and scratch free, but to be fair I also don't swim in chlorinated water very often these days. The inside fog coating is about on par with other brands—they can get a little cloudy in super warm water conditions, but nothing too notable either way. Though I haven't tried all of the lens colors, "dark vermillion mirror" seems to work well in all but the most blinding conditions, but Roka's online lens guide is actually very helpful when deciding with pair (or pairs) to buy for different race day situations.
Pro tip: Small-headed triathletes or those with very narrow faces may want to try Roka's next size down, the R1.
---
Liz Hichens, Senior Digital Editor
Former endurance junkie, current HIIT fan
Can't wait to…enjoy brunch after a workout.
Can't wait to be done with the…bike.
Gear wisdom: "Buy it right the first time, and limit what you keep. Don't end up with all kinds of gear in a box in your closet."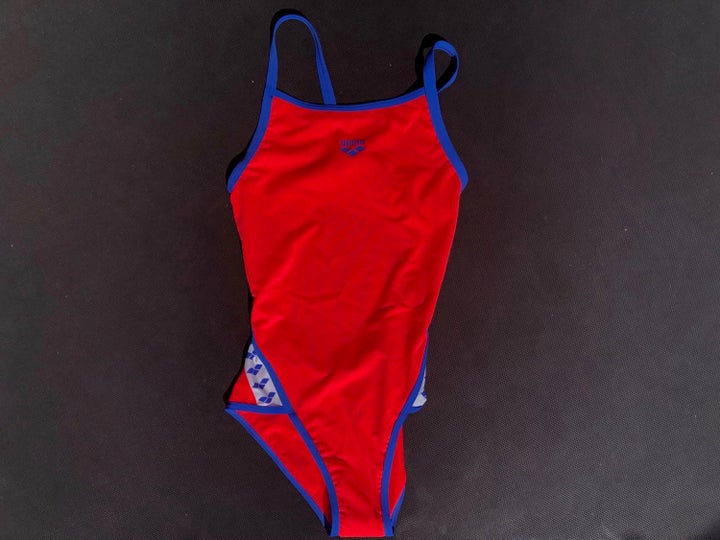 Arena Team Stripe Superfly Back
Amazon.com, $75

Like so many triathletes, swimming endless laps in a pool is not something I look forward to. Getting to wear a new swimsuit always ups my motivation level a bit, and the arrival of this suit gave me the kick I needed to hop in the pool. This Arena style is a throwback to the brand's original suit from the 1970s and features the original diagonal logo stripes at the bottom and the 70's signature contrasting trim. The fit itself is a bit more contemporary. The back cuts fairly low and took some getting used to, but ultimately was very comfortable. So far, I'm very impressed by the overall quality. It's held up well to a handful of wears and washes and hasn't stretched at all. I could see this suit lasting for years. (There's nothing more frustrating than finding a suit you like, only to realize it will probably stretch or thin beyond wearability within a few months.) I love the red, but it's even brighter than it looks in the picture. If subtlety is more your thing, I'd go for the black or navy options.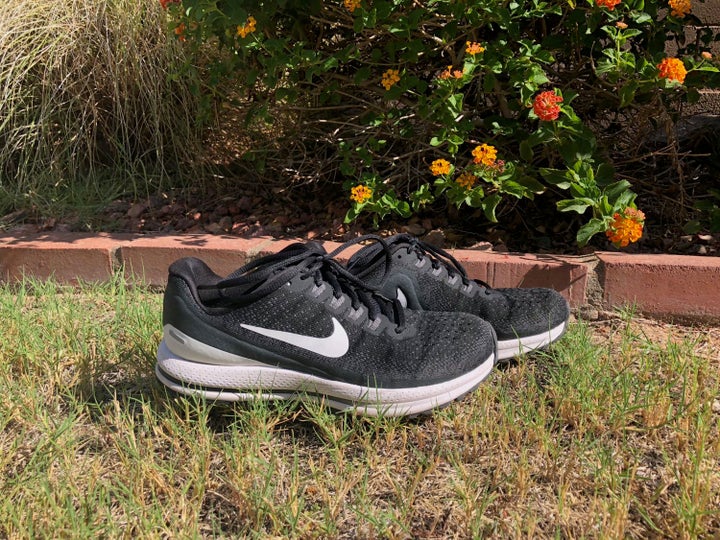 Nike Air Zoom Vomero 13
Roadrunnersports.com, $140

Generally, I love to have several pairs of running shoes in my rotation. I love to use them for the gym, for running errands, and for shorter indoor and outdoor runs. My go-to pair has always been Nike's latest Vomero model. I ran my first marathon in 2004 and, though I finished strong, hobbled away with a stress fracture that lasted for weeks. I kept trying to run again—and kept getting injured again. A few years later, I finally got smart enough to go to my local running shop and have a shoe pro tell me what I needed. I walked away with a pair of Vomeros and I've never looked back. I've purchased at least 20 pairs over the years—they provide plenty of cushion, while also offering a lightweight, sleek, and smooth ride. Every version has offered generic colors (like the black ones here), as well as some more fun colors (like purple and green). The price has slowly approached the land of crazy, but I still pay the $140 every four to six months.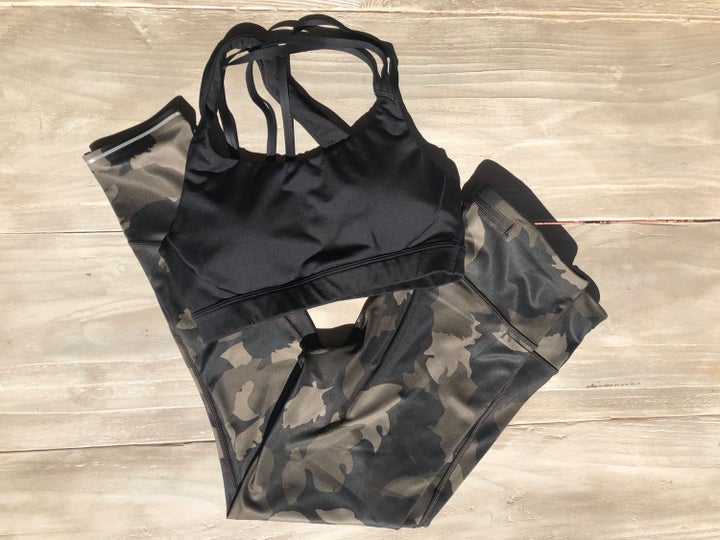 Athleta Run Free Collection
Run Free Bra $49
Camo 7/8 Tight $98
Athleta.com
I've always been pretty loyal to the Athleta brand and was super excited to see that they've come out with more styles made specifically for runners. The entire line features their "Powerpace" fabric. The super lightweight fabric is made out of recycled plastic bottles (but you'd never know it.) I'm a fan of the 7/8 tights, though I wish I'd gone with a more diverse color—the camo is a bit limiting. I'm usually a dedicated shorts wearer on the run, but I've enjoyed adding these to the mix. They're comfortable and stay in place, even with longer mileage. I'm also a huge fan of the higher waist and back and side pockets. I'll wear these through the fall, but they are too thin to rely on when the temperatures drop to winter levels.
While I like the pants, I love the sports bra. Most sports bras fall in the category of function or fun—but not usually both. This one manages not to sacrifice comfort or fashion. I was nervous the three straps on the side wouldn't hold up well, but the overall security was a pleasant surprise and I find myself wishing I could wear it for every workout. Only standard sizes (XS to L) are available, so if you need a specific cup size this style probably won't work for you.
---
Toni McAllister, Managing Editor
Trail runner
Can't wait to…go outside and run some hills.
Can't wait to be done with…sitting.
Gear philosophy: "I keep it simple. The right shoes, proper nutrition, and tools that help me stave off injury are my focus."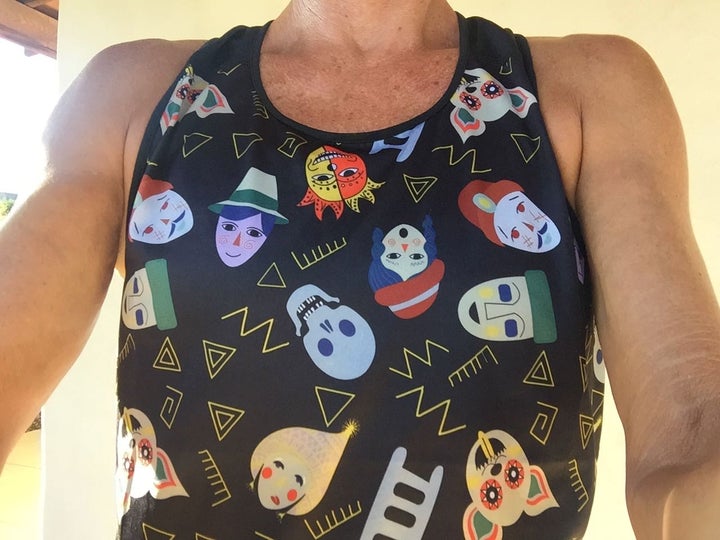 W's Compass Singlet in Las Caras de Carrera
Runjanji.com, $40
When you wear this bold print tank from Janji's Run Bolivia collection, there will be questions. When I first donned it for a run and some tennis practice, I got: "What do those faces mean?" "Oh, there's a skull too?" This top's vibe is so far removed from typical staid and solid athletic wear, you know it's got a backstory …
According to Janji, the tank was created by Bolivian artist Claudia Gorena who wanted to capture the universal emotions of training and competing: joy, suffering, ritual, drama, exhaustion, seriousness, and silliness. Alas, Las Caras de Carrera (Faces of the Race), is a one-of-a-kind, albeit pricey, tank that's part of Janji's commitment to sourcing sustainably made fabrics (and donating 5 percent of sales to help fund clean water projects around the world). Yeah, I did question the top's "Made in China" label. Janji has publicly stated that workers at the Swedish-owned, China-based plant it sources are paid 50 percent more than the living wage in that country.
Enough of the marketing lingo—this running tank's standout feature is its featherweight feel. The 100-percent polyester tricot fabric is like wearing nothing at all. I've given this top a good dose of sweat equity, and it's solid on moisture-wicking and breathability (it features a mesh back panel for extra venting). I've washed the true-to-size tank per manufacturer instructions, and it comes out beautifully with no shrinkage, fading, or wrinkles. I usually opt to hang-dry it indoors, and it's ready to wear in less than 90 minutes.
But here's the thing: Even though there's a good-global-citizen aspect to this brand, $40 might be a lot to spend on a tank that's bound for severe body odor and a stinky gear bag. (Full disclosure: I do my part by cutting up my nasty underarm-stained t-shirts and turning them into dirty-dancing sleeveless crop-tops.) And yet, I really do adore this Janji top; here's where I think it can really shine: inside a beautiful gift-wrapped box, with a card made out to that special athlete who has everything (except nasty old t-shirts).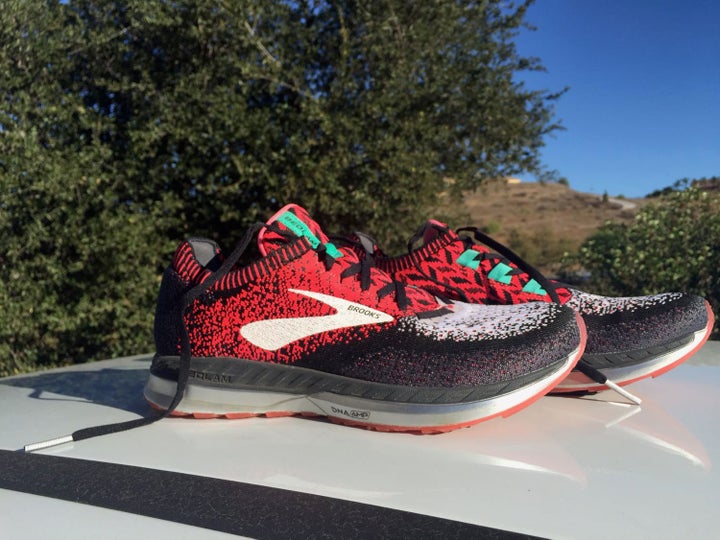 Brooks Bedlam
Roadrunnersports.com, $150
It took me a while to really love these Bedlam runners from Brooks. I kept wearing them around the office, on weekend errands, and for lunchtime walks. They provided a comfy, cushy feel for those lightweight jobs due to secure fit, roomy toebox, breathable knit upper, and good energy return, but they weren't my choice for running because I was concerned I might get blisters from the shoe's high ankle collars.
Usually, I don't do "break-ins." If there's any comfort question, it's a non-starter for me. But almost accidentally I started running in them (stuck in SoCal traffic, pull over, and go for a run). To my surprise, these Bedlams felt pretty good when pounding the pavement. All the things I initially liked about them shined (without ankle rubbing), and I've continued using these kicks for easy training runs. Despite being my all-purpose walkabouts and easygoing runners for nearly two months now, they don't feel dead. Bonus: They look good!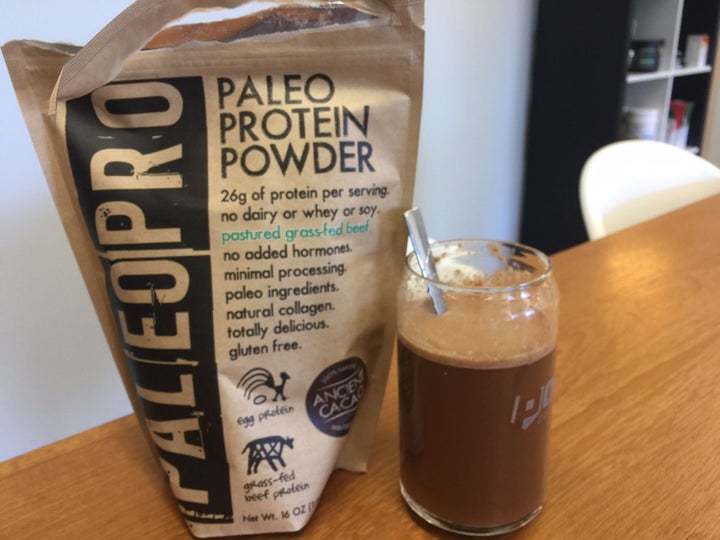 Paleo Protein Powder
Amazon.com, $43/per 1-pound bag
Mix one scoop of this cocoa-flavored powder with 12 to 16 ounces of water, and you've got 26 grams of protein along with a smidge of sodium and potassium per 120-calorie serving to round out your recovery. I like the fact that this protein powder doesn't contain a bunch of ingredients I can't pronounce—grass-fed lean beef protein, egg protein, cocoa, natural flavors, monk fruit extract, and sunflower lecithin. As for taste, it's incredibly sweet due to the monk fruit extract, which contains zero sugar and carbs. (Purportedly, monk fruit extract is 150 to 200 times sweeter than sugar.) I could do with less sweet and more cocoa, but it's hard not to like the protein level and relative simplicity of this product. Tip: I have a shaker bottle that makes mixing this powder easier. Otherwise, it can take a while for the granules to thoroughly dissolve. Also, this product can be mixed with other beverages—milk would be a good bet for added calories and protein.
---
Corey Hollister, Art Director
Seasoned cyclist, triathlon newb
Can't wait to…ride.
Can't wait to be done with…racing in the heat.
Gear wisdom: "If it doesn't make me look or be faster, it's useless"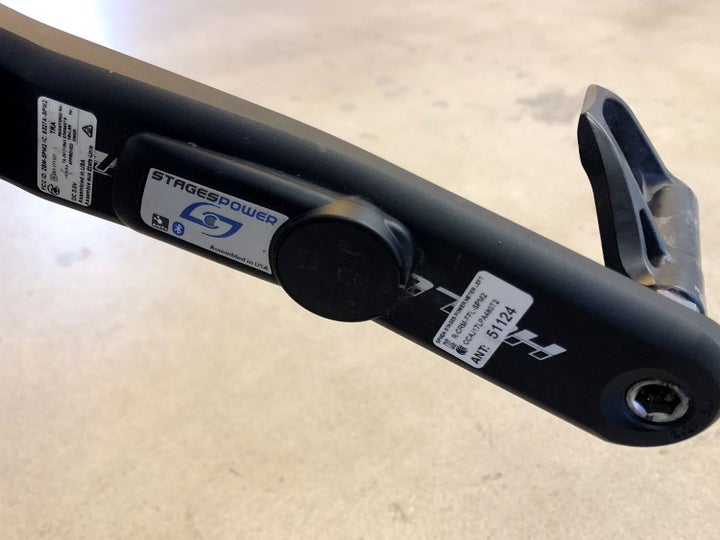 Stages Gen 3 Power Meter (Left-side crank arm)
Amazon.com, Prices vary on crank arm type ($580 for version used)
I'd always heard that training with power is one of the best ways to track fitness on the bike, but I had never actually installed a power meter on my trusty steed before. When I set out to get one, I had a few criteria: It had to be reliable, affordable, and stealthy. At under $600, the Gen 3 power meter is a good bargain, given that it replaces your current crank arm with one that houses the power meter. Stages has a wide range of crank arms available, so you will likely find a drivetrain match made in heaven. On the outside, it's tough to tell there's power meter guts on the inside, and installation is as easy as swapping out your crank arm. Power is calculated by doubling the power output from your left leg. Although it's not the most accurate power meter in the game, I found the readings to be pretty spot on. Connecting to my head unit was simple, and the smartphone app allows you to download new firmware and zero your unit. The meter is powered by a coin style battery (CR2032), and although my unit came with a bad battery—which caused some connection issues—as soon as I got fresh juice in the unit, it has been flawless. If you are a data nerd (like me!) and are looking for a slick and affordable power meter to add to your machine, the Stages power meter is a solid choice.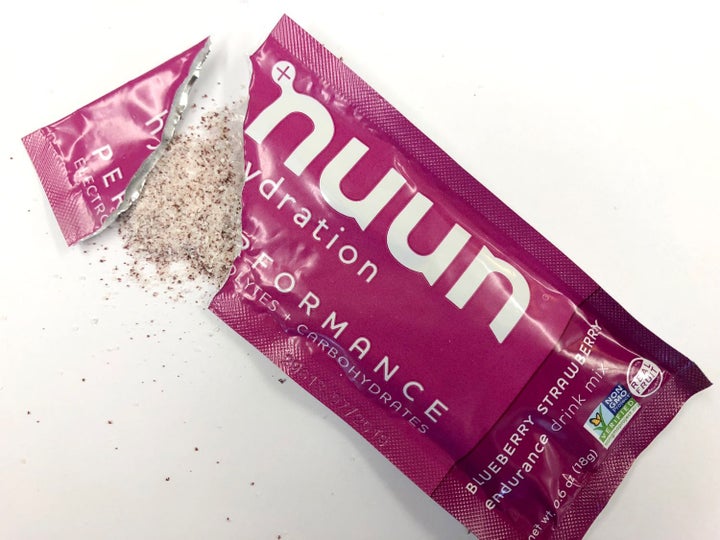 Nuun Performance Hydration Powder
Amazon.com, $24 (12 sachets)

For me, hydration additives are always a must when going out on long or intense training activities. I have always been good at keeping hydrated, but I admit that I usually don't eat enough when putting in hard efforts. In an attempt to help combat bonking—plus give me the electrolytes that I need—I have been using nuun's Performance hydration powder for the past seven months. This powder has the all the benefits of a sports drink, plus 15g carbohydrates and 60 calories per serving. Even though this is not a replacement for eating solid food, I have found that it helps me when I am in-between eating a bar, gel, or gummy. It's also great for those short runs/rides where you don't necessarily need to pack food. The powder dissolves well into water and has a pleasant flavor (in this case blueberry and strawberry, but also available in mango). This won't be the best-tasting hydration mix on the market, but the tradeoff for the added carbs and calories is worth it. After a few bottles, I got used to the taste, and it has become part of my fueling plan with no stomach issues. On the downside, this mix does not come as a tab—like nuun's famous electrolyte solution—so if you want to bring more with you, you'll have to stuff individual packets into your pockets. The packaging repeals sweat, so don't worry about premixing a sweat cocktail in your shorts.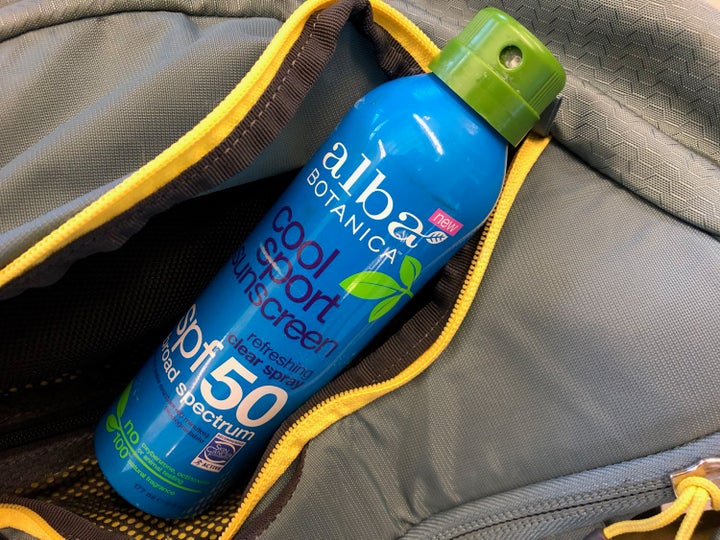 Alba Botanica Cool Sport Sunscreen Spray
Amazon.com, $16 
I can hear my mom in my ear every time I head outside for extended periods of time without sunscreen on: "If you don't want leather skin when you get older, put on your sunscreen!" Ok, so we all know we need to wear it, but what a lot of people don't realize is the lotion you are putting on your skin might be as bad for you as the sun on your bare skin. Alba Botanica is an all-natural spray sunscreen with none of the nasty chemicals of other brands. I had originally been using the lotion version, but for the past year I switched to the spray. I find it easier to apply when headed out the door, plus the cooling spray feels nice when applied on a hot day (just hold your breath when spraying around your face and neck). The sunscreen comes out clear, so rubbing it into your skin is fast and easy. Being a sport spray, you get about 80 minutes of water resistance and 50 SPF, but in my testing I have found it to work even longer. I have had minimal eye burn from sweat and there is no greasy residue. The 6-ounce can is a bit too big to bring with you, so keep that in mind when you plan on being gone for long periods of time. Listen to your mother, protect your skin.