In Heavy Rotation: Volume 3
Our editors break out their favorite, battle-tested stuff and talk about why this is their go-to gear for training, racing, and living the tri-life.
Heading out the door? Read this article on the new Outside+ app available now on iOS devices for members! Download the app.
Introducing the third installment of our column, "In Heavy Rotation." Each month, our editors will break out their favorite, battle-tested stuff and talk about why this is their go-to gear for training, racing, and living the tri-life. We won't be digging deep into our closets on this one—here we'll talk about that piece of equipment that gets tossed in the washing machine most often, grabbed first in a rush, and used when we know we need something that just plain works. Companies provide us with a lot of products to check out (tough job, right?), but these are the things that stick around long after the photo shoot is over and the review has been written.
Take a look at the first and second volumes of Heavy Rotation, and check back here each month for an eclectic mix of our editors' greatest gear hits.
Chris Foster, Senior Editor
Former pro triathlete, current three-sport vagabond
Can't wait to…run on empty trails.
Can't wait to be done with…the swim.
Gear wisdom: "If the thing takes longer than 20 minutes to set up, it's probably not worth it.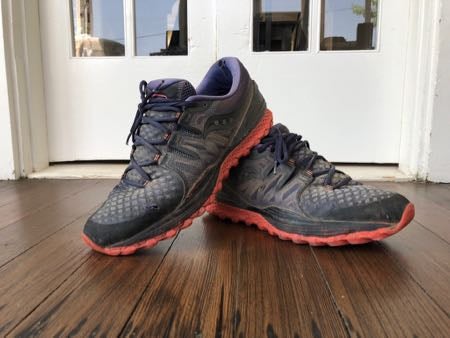 Saucony Xodus ISO 2
Roadrunnersports.com, $130
As hard as I am on my gear, I'm incredibly hard on my shoes. As someone who needs to run at random times in random places, it's tough for me to have a special pair of shoes that works only in certain conditions. I've been known to fly to multi-day events with nothing more than a very small backpack, the clothes on my back, and the shoes on my feet. I need a pair of shoes that do everything without complaint. I've taken these Xodus ISO 2s on international trips, worn them in an on-road 70.3-distance race, competed in sketchy trail races, and even used them doing construction work in the mud, and they've always held up. Despite a little wear and tear on the upper (and this is an upper that I use to shift my motorcycle, so don't be misled…), the still-cushy midsole performs shockingly well on pavement and the outsole has barely worn down despite hundreds of hard running miles (and probably another 100 miles of walking). Think: The toughness of work boots mixed with the versatility of an everyday neutral, 4mm-drop trainer.
Pro tip: Get a subdued color, and you might even be able to get away with wearing these in casual, non-sports situations.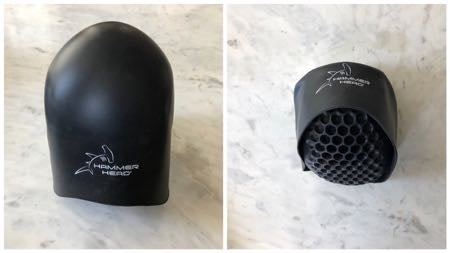 Hammerhead Swim Cap
Hammerheadswimcaps.com, $35
Ok, bear with me on this one: Thirty-five bucks for a strange-looking swim cap may seem insane at first, but I'm thinking this brand is actually on to something. As someone who has written about concussions in swimming, experienced the brutality of an ITU start firsthand, and even had a friend lose an Olympic shot to a terrible mid-swim concussion, I don't think protecting your noggin during the swim is so crazy. This thick, seamless silicone swim cap has little honeycomb-shaped "pockets" built into the top and front. Similar to the idea behind MIPS helmets, the little pockets are meant to absorb some of the concussive forces that occur when you take a blow to the head—whether it be an aggressive turn around a buoy or that @#$%! guy who always swims too close to the center of the lane at the local pool (you know that guy…). Though the top of the cap is a little taller than the sides, giving a slight conehead look, the cap itself is surprisingly comfortable, and a big part of the reason I always wear it open-water swimming (aside from the safety aspect) is because it does seem to retain heat a little better than a standard latex or even silicone cap. Bear in mind, it doesn't protect the sides of your head from impact, but the folks at Hammerhead have hinted at a new model with honeycombs on the side coming out soon.
Pro tip: Wear this underneath your colored race-day cap for extra warmth and peace-of-mind.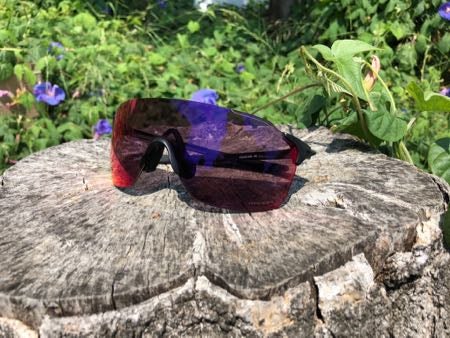 Oakley EVZero Stride
Backcountry.com, $200 (polarized)
This is another piece of gear that I definitely didn't think I'd like. I've never been a huge fan of the JLo oversized frameless sunglass look, but given the crazy light weight on these (23g), I figured I'd give them a try. First off: The size of the lens is great. It feels more like wearing a full-face visor (without the heat penalty) than a pair of sunglasses. Oakley's always-distortion-free lenses also make a big difference with a pair of wraparounds this size. The hydrophobic coating on the EVZeros is also no marketing gimmick, and the lack of a frame lets sweat and rain simply slide off the bottom of the lense instead of collecting and coagulating in a nasty little mess. I was also pleasantly surprised by the durability of this pair, which is nice because they're not exactly cheap. They're generally good for running as well, but the size proved to be a little hot on super humid days where I'm plodding along and not generating a ton of self-created airflow.
Pro tip: If you have sensitive eyes, be sure to go dark on your lens color. Without frames, there's a whole lot of light coming in from all sides.
Liz Hichens, Senior Digital Editor
Former endurance junkie, current HIIT fan
Can't wait to…enjoy brunch after a workout.
Can't wait to be done with the…bike.
Gear wisdom: "Buy it right the first time, and limit what you keep. Don't end up with all kinds of gear in a box in your closet."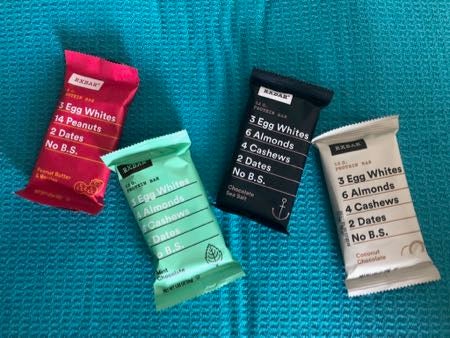 RX Bars
Amazon.com, Box of 12 for $28
For many years I was a hardcore bar-aholic. Instead of properly planning out my meals and snacks, I'd reach for a bar in a pinch—which ended up being more often than I'd care to admit. As I learned more about the importance of basing a diet on real foods, I swore off bars completely. That turned out to be a not-so-great long-term plan as the demands of parenting, work, and fitness require a certain level of convenience. Enter: RX Bars. My brother, a nutrition fanatic, introduced these to me a couple of years ago and I've been hooked ever since. The ingredients in each bar are listed right on the wrapper. "3 egg whites. 6 almonds. 4 cashews. 2 dates. No B.S." Boom! That's it.
The texture takes a little getting used to (they're all very chewy—some flavors are worse than others). When I first found these, there were a few flavor options. Now there are over a dozen plus some seasonal choices. They are also easier than ever to find. You can buy them on the RX Bar website, Amazon, in four packs at Target, and several other places (like your local grocery store). My favorite flavors are coconut chocolate, blueberry, and mint chocolate.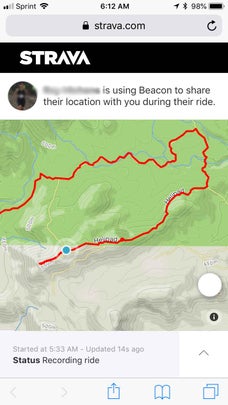 Strava Beacon
Strava.com, Part of the Strava Safety Pack ($2.99/month or $24/year) or the Strava Summit Membership ($8/month or $60/year)
Earlier this month Strava completely re-hauled the way it charges its subscribers. When my husband first told me of the changes, my first question was "do you still get to use the Beacon feature?" As someone who reads and writes about triathlon every day, I get to learn about the awesome parts and the less-then-awesome parts—like bike crashes. While Strava's Beacon feature hasn't completely relieved my anxiety about my husband riding on the roads and trails, it's helped a lot. I love the ease of it all. He simply records his ride, chooses me as a safety contact, and then I get a text with a link to track his ride. No complicated log-ins and no downloading apps. I've found it to be completely reliable—we've never had it fail. I can't with certainty say it's the best safety tracking option out there because I haven't tried them all. I can say the combo of its simplicity plus the fact that it's an easy step for my Strava-loving husband has made it a staple in our household.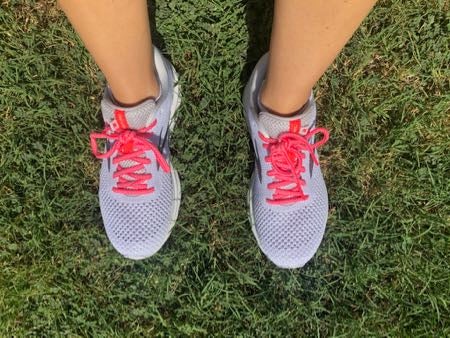 Brooks Revel 2
Roadrunnersports.com, $100
This updated Revel pair from Brooks has become my new favorite "fun" shoes to run in. The flat knit upper on this shoe gives them a really unique look and make them extremely breathable. I was a little nervous that as stylish as the fabric is, it would lose its shape with use. I haven't found that to be the case. I've worn them several times and they've held up well. I wouldn't wear them in wet or muddy conditions (both because of the unique fabric and because of the pale color). They're very comfortable and bouncy on the treadmill, road, and in everyday wear. Because they're so fun to wear out and about, I'm not willing to make them my main running shoes. I mostly wear them on short runs, to the gym, and on errands. Overall, the price point, unique look, and comfort make this shoe worth adding to your lineup—assuming you're someone who enjoys rotating through a few different running shoes within a training week.
Corey Hollister, Art Director
Seasoned cyclist, triathlon newb
Can't wait to…ride.
Can't wait to be done with…racing in the heat.
Gear wisdom: "If it doesn't make me look or be faster, it's useless"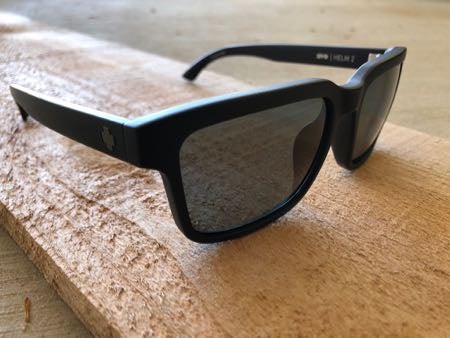 Spy Optic Helm 2 Polarized Sunglasses
Amazon.com, $150
Sweet gear doesn't always have to be about the activity. Sometimes you need to look rad why sitting back and enjoying a "recovery ale" after an effort well done. The Helm 2's are just that, rad. I have rocked the original Helm's for years and when the new adaptation of the already solid sunglasses came out, I had to give them a try. These new ones have been my daily drivers for the last three months and along with being the ultimate chill sunglasses, these also serve well during almost any outdoor activity. Now sporting new rubber feet that grip around your ears and don't slip, make them great for grabbing a quick run or ride without having to fully kit up. Also new is the new hard case that Spy includes. In the past, all you got was a cheap sleeve, sock thing that was usually lost immediately. The Helm 2's are comfortable, and these particular ones feature a soft matte finish, which helps with slippage and feels nice on the nose. They also feature Spy's "Happy Lens", which keeps colors rich and vibrant. Overall, I know when I have these shades I will be ready for any adventure, especially if it includes hanging out with a cold beverage.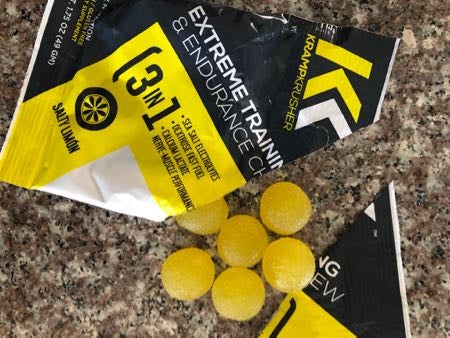 Kramp Krusher Salty Limon Chews
Amazon.com, $37.99 (12 pack)
We all sweat, me more than others, but sweat means you are losing precious salts that are needed to keep you going through long training sessions and races. I tend to pack nutrition very heavy in electrolytes during my activities to keep me performing at my best. When I first came across Kramp Krusher I was skeptical—especially the Salty Lemon flavor. I was pleasantly surprised and these have become my favorite fuel for the last six months. They have a nice mix of sweet and salty flavor with a kick of lime. While being loaded with salts and dextrose, they are not high in calories. At only 70, these will not replace a bar or any other calorie dense food, but taken at the first sign of cramps has helped considerably during long training rides. To be honest, I think half of the effect is that the name of the product is Kramp Krusher and my immediate thought is that I am taking something to help said cramps. These chews are quite delicious and very soft, making them easy to chew and swallow. What's not so easy is getting them out of the package. There are times where I am really chewing on the package to open it. Once open, the half sphere chews like to stay in their cellophane home. The sugar coating makes them sticky, so keep that in mind. Make sure to wipe your hands before returning to your bars.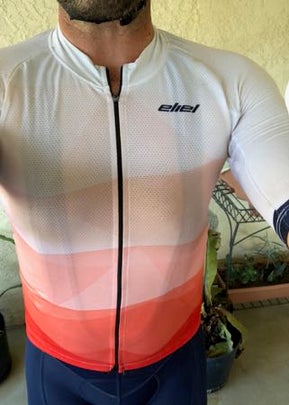 Eliel Rincon Jersey with Laguna Seca Bibs
Elielcycling.com, $129.95 (Jersey), $199.95 (Bibs)
I have tried lots of kits over my time as a cyclist. All have their own purpose and gimmick, but it's hard to find one that does it all and is great for long rides in the saddle. Enter Eliel, a newer brand started in Southern California, one of the major cycling meccas in the country. Eliel prides itself on materials and craftsmanship, all which you will pay for, but it's so worth it. I have been using Eliel kits for the past year, and their latest Summer offering (its still Summer…..barely) is all the quality they are known for, in light seasonable colors to keep you fashionable and cool in the heat. Let's start with the bibs. With a chamois that is without a question the most comfortable I have ever worn. They are light, comfortable, and have laser cut openings that don't roll up or fray. The compression is moderate, but does not feel like you are suffocating your legs. Straps are nice and stretchy and don't dig into your shoulders. Two thumbs up. The jersey is cut in a cross between full aero and team cut. It hugs your body nicely, but you don't feel like a stuffed sausage. The arm length is long, as is the current trend in cycling appareal. Materials are premium with deep pockets in the rear and a zipper that does not get hung up in the front. Along with their premium fabrics, Eliel has some of the best looking kits out there and that is always the perfect combo, to feel stylish and comfortable! These kits are also extremely durable and I have not had any problems with chamois detaching or any seams fraying. All this comes at a price, and you will pay for the craftsmanship and made-in-California tag. But if you want a quality kit to train in, I cannot recommend Eliel more.
Toni McAllister, Managing Editor
Trail runner
Can't wait to…go outside and run some hills
Can't wait to be done with…sitting
Gear philosophy: "I keep it simple. The right shoes, proper nutrition, and tools that help me stave off injury are my focus."

Cherrish
Amazon.com, $19.95 (six-pack), $41.88 (12-pack)
I'm not big on juices, but I love fresh fruit in a recovery smoothie. And what sounds better than a cherry smoothie? Let's face it though, who has time to pit the little gems? Besides, my favorite summertime fruit is just about done for the season. There's always frozen pitted in the freezer aisle, but I just discovered that Cherrish juice has some tasty options. As its name implies, the company uses cherries as its main juice ingredient—specifically Montmorency and Bing varieties. Despite my juice aversion, I have to admit this stuff is brightening up my smoothies (and my blender).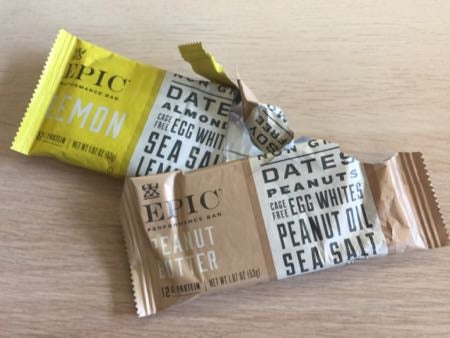 Epic Performance Bar
Amazon.com, $21 (box of nine bars)
Epic—the same company that delivers bone broth, jerky, and animal fats—has a new line of vegetarian "performance" bars marketed toward athletes and "adventurers" looking for wholesome snacks. I'm a little obsessed with these chewy goodies. I recently threw several bars in my gear bag, thinking they would last a long while. I gravitate toward bananas and dates during heavy workouts, but real food isn't always as convenient as something packaged. Gear-bag friendly, these high-protein Epic snacks—made from dates, egg whites, and nuts—have been my go-to lately. Favorite flavors: peanut butter and lemon.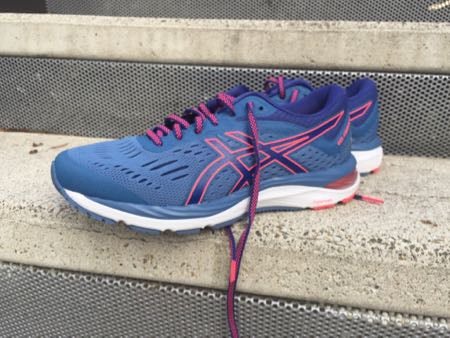 Asics Gel-Cumulus 20
Roadrunnersports.com, $120
It's been 20 years since Asics first launched its Cumulus running shoe. To celebrate, in 2018 the company released its Gel-Cumulus 20 with some technology and design upgrades. I like this latest lightweight version that provides awesome breathability with the right amount of cush for training. My only complaint about these neutral roadsters are the overly padded ankle collars—they rubbed on me, particularly on the Achilles tendon. No matter how much adjusting I did, the problem didn't go away. I want to love them for all their other qualities, but my thick ankles make the relationship impossible. Surely though, these runners could be the perfect hookup for someone looking for a little extra ankle wadding.