In Heavy Rotation Volume 2: Our Editors' Favorite Gear
Each month, our editors will break out their favorite, battle-tested stuff and talk about why this is their go-to gear for training, racing, and living the tri-life.
Heading out the door? Read this article on the new Outside+ app available now on iOS devices for members! Download the app.
Introducing the second installment of our new column, "In Heavy Rotation." Each month, our editors will break out their favorite, battle-tested stuff and talk about why this is their go-to gear for training, racing, and living the tri-life. We won't be digging deep into our closets on this one—here we'll talk about that piece of equipment that gets tossed in the washing machine most often, grabbed first in a rush, and used when we know we need something that just plain works. Companies provide us with a lot of products to check out (tough job, right?), but these are the things that stick around long after the photo shoot is over and the review has been written.
Take a look at the first volume of Heavy Rotation, and check back here each month for an eclectic mix of our editors' greatest gear hits.
Chris Foster, Senior Editor
Former pro triathlete, current three-sport vagabond
Can't wait to…run on empty trails.
Can't wait to be done with…the swim.
Gear wisdom: "If the thing takes longer than 20 minutes to set up, it's probably not worth it."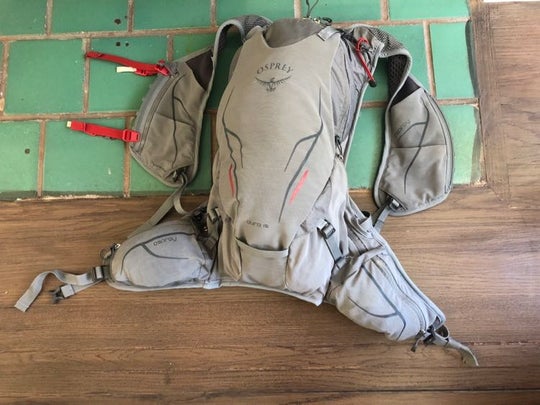 Osprey Duro (men) /Dyna (ladies) 15
Rei.com, $140
Here's a little tip for those triathletes who turn their noses up at the thought of wearing a hydration pack while running (or…gasp, even riding): Get over it. With this huge, 15L hydration pack, I've run commuted to work with my Macbook, I've done super-long rides without having to stop for fuel/water refills, and I've even used it for the bike/run legs of a half-Ironman in Israel's Negev desert. I've done my best to test Osprey's lifetime warranty and treated this pack with nothing but disrespect, but aside from a few trips to the washing machine, it has held up dutifully. An included 2.5-liter reservoir with magnetically attached hose sits beneath tons of organizational space and is held to your body by oversized "harness" double chest straps. Even if you don't completely fill the pack for an epic trek, pack compression does a good job of preventing bouncing with smaller loads. With a pack and shoulder straps this size, it can get a little toasty, and unfortunately there's no good system to prevent sweat from leeching inside the main compartment, so be sure to wrap anything that can't get wet in a plastic bag inside. Despite having basically no structure on the back—like a normal backpack would—expect to use this way more than you'd expect.
Pro tip: Tie the excess length of waist straps together to prevent flopping, but don't cut them off—you may need to lengthen the waist if you use it to ride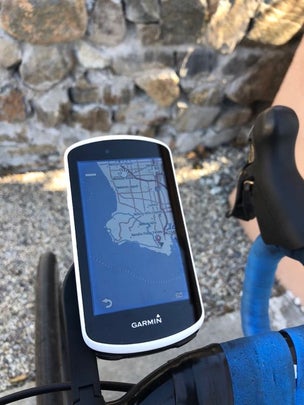 Garmin Edge 1030
Rei.com, $600
My first impression of the 1030 when I first got it, was, "This thing is ridiculous." Why would anyone need something literally the size of a smartphone mounted to the top of their handlebars? I was also skeptical about how deep I'd fall into a "function hole" with all of these settings and features (see top note on "gear wisdom"). But instead, the large touchscreen actually made setup and navigation a breeze, and after having such giant digits and map features, I don't know how I'd ever go back to anything smaller. Battery life was also surprisingly good (about 15-20 hours of ride time, depending on use), and I'm ashamed to admit that it's stayed alive in my garage even after extended cycling hiatuses. Being able to receive texts and phone alerts is a huge plus—safety be damned—but bear in mind that the text response function does not work with iPhones (thanks to Apple), which is a huge bummer. Otherwise, it connects to your smartphone and more or less acts like one with features like excellent Strava Live visualizations, GroupTrack to see where your friends with compatible Garmins are, and the ability to find popular routes directy from the 1030 itself. Aside from the size (the thickness is actually more than you'd think) and the weight (123g; the Edge 520 is roughly half that), there's not much to dislike about this smartphone wannabe.
Pro tip: Definitely be sure to play around with the touch sensitivity settings before your first ride, too light, and you can wreak havoc on your session, too heavy, and you'll basically disable the screen or flip the mount trying to get it to work.
Fieldwork Primo Smoothie Meal Replacement
Amazon.com, $55 (18-serving container)
It's rare that a nutrition product makes it into heavy rotation in my house, simply because my workouts are sporadic and often spontaneous. I'm a big real-food person, so I tend to stray away from recovery powders or pre-workout supplements because they often feel a little one-dimensional in their nutritional use. Fieldwork caught my eye because they were considered meal-replacement, meaning you could use the powder in either pre- or post- or no-workout situations without the accompanying fear of GI or emotional stress from downing a product against its intended use. The light vanilla flavor does a good job of complementing most smoothies, and the ingredient list is a who's who of today's hot nutritional superfoods: tart cherry extract, turmeric, electrolytes, dairy protein, probiotics, and prebiotics alongside a laundry list of organic fruit and vegetable extracts. In other words, there's a lot going on in each 200 calorie serving (20g protein, 18g carbs, 5g fat). As an unusual bonus, Fieldwork offers nutritional counseling appointments you can schedule on their website to help you figure out how to work a meal replacement into your diet. Word of warning, this powder is very difficult to mix—even with a dedicated protein powder shaker. While you can maybe use it only with water, it's really made to be used in a smoothie, blended with other ingredients.
Pro tip: Chocolate flavor may be on the way soon!
Liz Hichens, Senior Digital Editor
Former endurance junkie, current HIIT fan
Can't wait to…run.
Can't wait to be done with the…bike.
Gear wisdom: "Buy it right the first time, and limit what you keep. Don't end up with all kinds of gear in a box in your closet."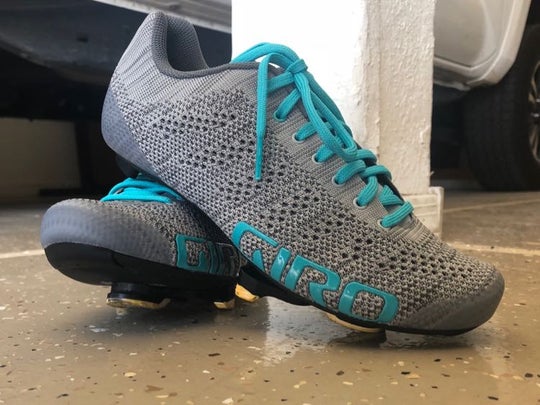 Giro Empire E70 Knit
Rei.com, $200
These cycling shoes are a super-fun addition to my gear collection. The knit upper and colorful laces are a fun and fashionable way to mix up the monotony that sometimes comes with cycling gear. As someone who often trains in hot conditions, I appreciate that the fabric provides unparalleled ventilation on hot days. The fit is snug and comfortable without being too restrictive. These are the type of shoes that will get some looks (in a good way) during a group ride, but I won't be wearing them in a triathlon anytime soon. The laces aren't ideal for T1 and, while they're technically water resistant, I can't imagine trying to slip my wet feet in them.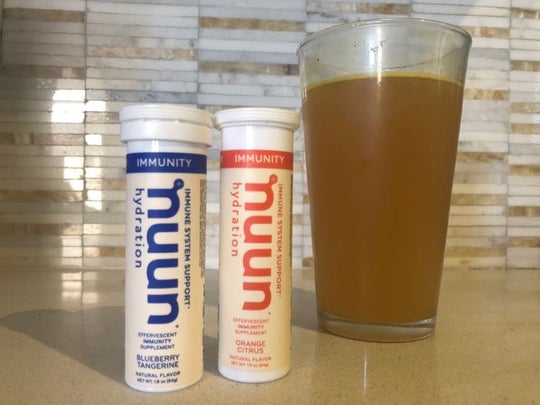 Nuun Immunity Hydration Tabs
Rei.com, $7 per tube
I use Nuun Energy in my everyday training, so when they came out with this immunity product, I was excited to try it. While other immunity-boosting products (like Emergen-C, as an example) rely on mostly Vitamin C to protect your body, Nuun takes a more diverse approach. Elderberry, turmeric, Echinacea, ginger, zinc, and others join Vitamin C in the ingredient list for these effervescent tablets. The combination of stress, training, and the germ-filled children that enter my house every day (it doesn't get much worse than preschool germs) make using a product like this necessary. I enjoy both flavors, orange citrus and blueberry tangerine, but will admit that the filmy consistency took some getting used to.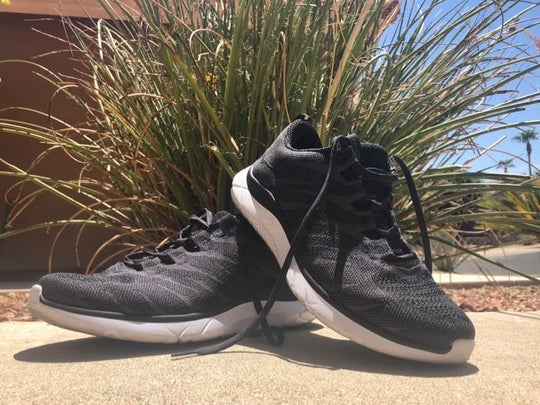 HOKA ONE ONE Hupana Knit Jacquard
Roadrunnersports.com, $115
These shoes have become my favorite running shoes for when I know I'm going straight from a run or the gym to hitting some errands around town. They're fairly supportive, well cushioned, very light, and offer a good springy feel. I love that the all black pairs well with almost anything and the shoes are less bulky than what we're used to seeing from HOKA. While they're definitely solid enough for a quick run and fashionable enough for casual use, I don't use them as my only running shoes. I have a go-to pair that I rely on for longer runs and key speed sessions, but I love having a more versatile pair, and these definitely fit that need.
Toni McAllister, Managing Editor
Trail runner
Can't wait to…go outside and run some hills
Can't wait to be done with…sitting
Gear philosophy: "I keep it simple. The right shoes, proper nutrition, and tools that help me stave off injury are my focus."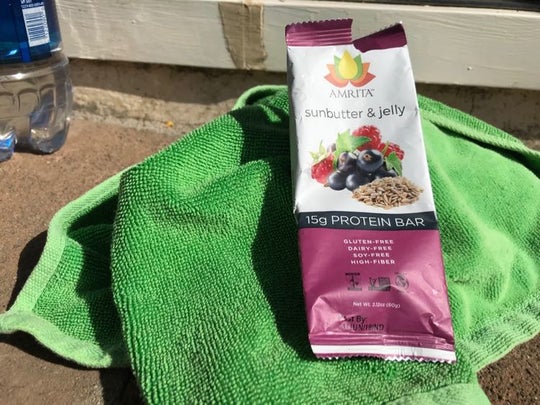 Amrita Sunbutter & Jelly Protein bBar
Amritahealthfoods.com, $27 (pack of 12 bars)
I'm a snob when it comes to sports nutrition products. I really don't care what they taste like—instead I study ingredient labels in search of the most natural, nutritious fuel I can find. To be clear, I usually go DIY for my training energy because I'm so dogmatic. But sometimes homemade isn't practical, so I carry a bonk-emergency bar (or two), just in case.
One that's made it into my bag lately is Amrita's Sunbutter & Jelly protein bar. It offers 15 grams of protein, 11 grams of sugars (all fruit based), and a smidge of salt all bound up in a 225-calorie serving that works for me during lighter training and recovery. Taste is good (there's a host of Amrita flavors to choose from), but the list of all-natural ingredients (with no added sugars of any kind) is most impressive: Dates, brown rice, sunflower seeds, dried fruits, and so on. Bonus: No stomach upset.
One caveat: This Amrita Sunbutter & Jelly protein bar lacks all the electrolytes needed during and after heavy sweating, but for lighter workouts it does the trick.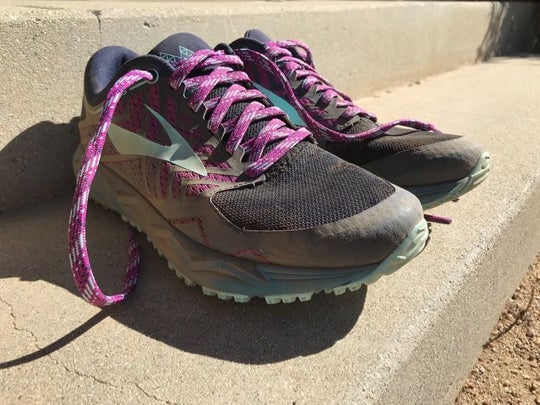 Brooks Caldera 2
Roadrunnersports.com, $140
I'll take a hilly dirt trail over a road run almost any day, the exception being muddy conditions (sloppy just isn't my gig). But here in Southern California, dry is pretty much the norm, so I'm always eyeing off-road running shoes, and my latest pair are handling the terrain nicely. Released this spring, the Caldera 2 is lightweight with enough cushion and responsiveness for my local foothills, and they provide good traction for all the up-and-down without feeling too heavy or excessively sticky. The Caldera 2 is designed for medium to high arches, and my mediums fare well in these kicks. My only complaint is that these runners aren't as breathable as I would like (hot inland trails can fry feet). In all fairness though, Caldera 2's double-mesh upper with super sturdy sidewalls are built to tackle off-road challenges beyond just sage scrub and rattlesnakes (think mud!). One more thing: Despite the Caldera 2's promise of being able to cross over for small stretches of road work, I wouldn't recommend it. Stick to the dirt instead.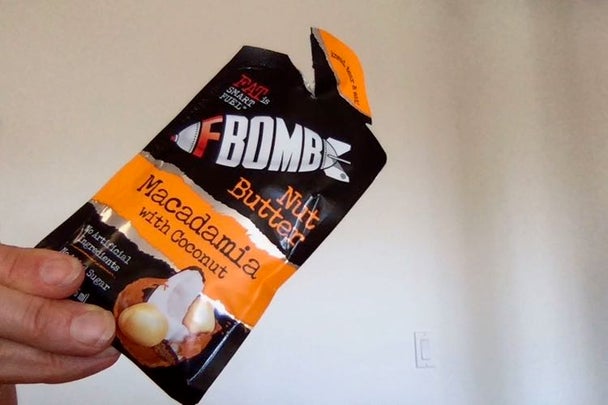 FBOMB Nut Butter
Amazon.com, $25 (10 single-serving pouches)
Wish there was a tidy way to wrap up a couple tablespoons of clean nut butter for your post-training recovery snack? Something that stows away in a gear bag and won't ooze all over your personals? I did. So then comes FBOMB from Love You Foods, a line of single-serving packaged nut butters that are easy to eat, and don't taste like a chemical mess. Just like a gel, you simply tear open and squeeze the pouch pack into your mouth. I'm liking the Macadamia with Coconut version, and here's why: dry roasted macadamias, raw organic coconut, and sea salt. That's it—the total ingredient list. The 1-ounce package offers 205 calories, 2 grams of protein, and a solid 21 grams of healthy fat (the "F" in "FBOMB" is for fat, after all). Given that this quick fuel is free of any artificial ingredients and added sugars, I'm giving it a free pass on its crazy name and a single thumbs-up on nutrition. I'd give it a double if only the company could figure out a way to deliver the goods in recyclable packaging.