How to Clean Stinky Workout Clothes and Gear
No, your workout clothes do not smell of greatness - they stink (badly). Here's how to get your gear smelling fresh again.
Heading out the door? Read this article on the new Outside+ app available now on iOS devices for members! Download the app.
There's a reason even the most creative candle companies aren't making a "workout wear" scented offering any time soon. While some might consider a strong odor to be the sign of a good workout, the nose-wrinkling stench of sportswear is not just unpleasant to have lying around (especially for the non-athletes you live with), but also a fast track to ruining your gear. Let's unpack what to do, when, and how to keep your workout clothes and tri gear from getting funky.
First: you have to deal with the root of the issue. Sweat is made up of 99% water, along with compounds like salts, ammonia, and urea. The bacteria that lives on the skin feeds on these compounds, breaking them down, and producing a foul-smelling byproduct called bromhidrosis, commonly shortened to "BO." (That's right – "BO" is not short for "body odor," despite common misconceptions.) BO is what produces the smell of sweat, which causes your gear to stink, and can become a breeding ground for mold, fungus, bacteria, and even potentially infections or diseases like the flu.
Zachary Pozniak, vice president of operations at prestigious dry cleaners Jeeves New York—and the mastermind behind their addictive TikTok account which boasts over 540,000 followers—explains that your post-workout clothes smell because their synthetic fabrics, like polyester and nylon, are lipophilic, which means they are naturally attracted to oil. The synthetic fibers hold onto body oils (perspiration and sebum) which promote stinky bacteria growth which leads to malodor.
Wash your gear as soon as possible to avoid smells
If you take one thing away from this piece? "The sooner the garments are cleaned, the better," Pozniak urges.
"It's important to ensure your clothes are washed thoroughly. Adding some stain stripping products or vinegar can be really beneficial here too," Pozniak says. "Always make sure you're using a high quality detergent, such as Tide Ultra Oxi with Odor Eliminators or Hex Performance Detergent. Low quality detergents will not have the ingredients to remove the odor causing oils from the fibers of the workout gear effectively."
"Synthetic fabrics are also hydrophobic, meaning they dislike water, which is why they wick or remove water so quickly. Because of this you should air dry these clothes," he adds.
How to deep clean stinky workout clothes
There's a certain sense of achievement that comes with deep cleaning your gear—and Pozniak says athletes should make this a regular practice.
"Workout gear should be cleaned after every use," he reminds us. "What we recommend for deep cleaning is to use a deodorizing spray first. Allow to dry, and then wash with a high quality detergent, as recommended above. For deep cleaning, we recommend treating soiled areas with your favorite stain removing spray once the items are dry. Because this is a deep clean, I'd recommend using a few more products. First, add Downy Rinse & Refresh into the fabric softener slot. This is a super low pH laundry 'stripper' that removes leftover dirt and grime; it is most effective at removing lingering body oil which can cause that malodor. Also I like to add a bit of washing soda into the drum of the machine as well. This will help boost the cleaning power of your detergent. Then wash on cold with your high quality detergent."
How to dry workout clothes to avoid mold
As mentioned before, air-drying is key to avoiding moldy smells after laundring your workout clothes.
"For items that can be hung on a hanger, this is best as it allows air circulation, which will be better for odor and mold control," Pozniak adds.
Pozniak also says to leave items in an airy and cool environment.
"The worst thing you can do with your sweaty, moist workout gear is to put it away damp," he says. "Our recommendation is to wash the same day, if this is not possible, air dry and then wash as soon as possible. Taking perspiration-soaked garments and throwing them into a dark, warm environment will make removing odors more difficult. Mold can become an issue if the temperature of the laundry bag is between 60-80 degrees Fahrenheit, which is the optimal temperature for fungi and mold growth.
"Mold needs Moldicide to kill the fungi and spores," he adds. "We have used Concrobium Mold Remover on fabric and shoes in the past with good results. Of course, read the instructions on the product and test before use.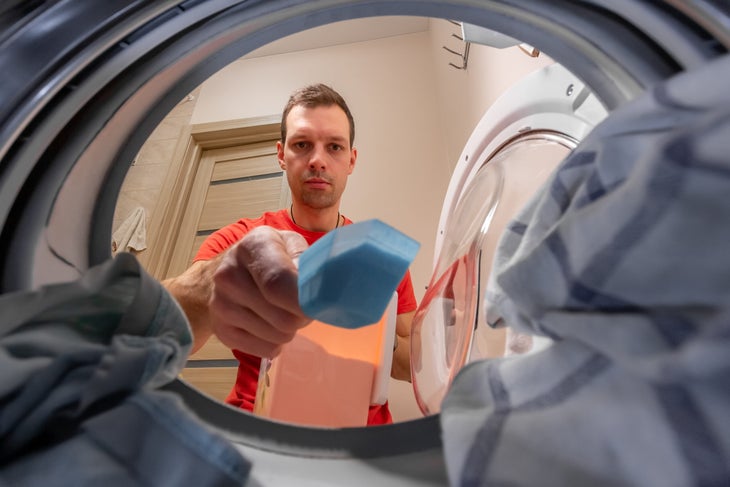 Avoiding sweat stains on workout clothes
Washing immediately also limits long term damage caused by sweat stains.
"Odor will be the biggest issue, but the second issue is that each person's perspiration is somewhat different and in some cases, perspiration could cause a bleaching effect on dye," Pozniak says. "This is often why areas at the neckline and underarms turn into strange colors like pink and orange—not to be confused with white deodorant stains or yellow oxidation stains."
Combat chlorine damage to swimsuits
An unfortunate reality is that chlorine can ruin swimsuits and wetsuits, which Pozniak knows all too well.
"Chlorine from pool exposure sometimes cannot be corrected. I know this from my personal experience as a PADI [Professional Association of Diving Instructors] Scuba instructor. So many of my Scuba items were damaged from chlorine pool water even after being rinsed with fresh water after a class. Even low levels of chlorine as used in a pool can act as a mild bleach and damage fabrics," he says.
"As soon as you exit a pool, your bathing suit should be rinsed off with clean water. Once home, the bathing suit should be washed right away, we recommend adding a 1/2 cup of white vinegar to the wash basket to neutralize the chlorine.There are also chlorine resistant bathing suits and detergents such as Molly Suds Swimwear Cleaner," he advises.
As for goggles, a mild liquid soap is preferable to a detergent or product with strong chemicals. Rinse until clean in cool water, air dry, and storing them correctly to avoid scratches or damage is imperative.
How to clean stinky running shoes
Good news: there are some steps to take to keep your running shoes in race-ready condition.
"Though some running shoes can be washed in a machine, I recommend pretreating with a high quality stain remover—we like Shout Triple Action, OxiClean Max Force, or Puracy—for a few hours and then hand wash them in a sink or basin," Pozniak states.
"If you want to use a machine, put the running shoes in a mesh lingerie bag and choose the delicate cycle. As for drying, stuff some smaller towels into the shoe and allow them to air dry. This will help ensure the shape of the shoe stays intact."
RELATED: 5 Steps to Remove Smell From Running Shoes
How to remove smell from helmets or bike shoes
Of course, there's gear you can't simply toss in the machine right after training. Pozniak recommends wiping helmets or bike shoes down after use with a clean dry towel, then spraying lightly with Hex Performance Deodorizing Spray, Sweat X Sport Odor Eliminator Spray, or similar, and leave to air dry.
When to throw tri gear away
"Once they become offensively smelly," laughs Pozniak. "If the spray-on odor removers are no longer working, especially when paired with a high quality detergent, it may be time for some new gear! Ditto: if they're contaminated with mold. "
RELATED: Ask A Gear Guru: What Should I Do With My Old Gear?