Fashion Meets Function: Timex Debuts WS4
Heading out the door? Read this article on the new Outside+ app available now on iOS devices for members! Download the app.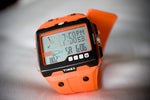 Triathlete senior editor Jay Prasuhn reviews the new WS4 from Timex.
It was the biggest 'aw, man' moments of my recent trip to Connecticut. Fellow photographer Larry Rosa, a frequent contributor to Triathlete, was in town to shoot the Revolution3 Triathlon. He updated his Facebook page with: "Touring the Timex facility."
No way! How cool would that have been to visit Timex? I totally forgot that Connecticut housed the U.S. base for Timex. Oh, and Cannondale! If I had planned a bit better and announced my arrival to the east coast, I could have taken advantage and been shown around these great facilities. As you might have noticed by now, I love tours.
I messaged my contact there, Keith Meyer. "Dude, I'm staying in Southbury, heard you are nearby! I should have come visit your facility and done a tour!"
His reply: "You're just a mile away, but we're slammed. For sure next year!"
"Aw, man!"
I now know why they're busy. Yes, they're pumping out Ironman watches at probably rate of one per second, but they have the coolest new watch hitting the market, and Meyer sent me one to try out. It's chunky. It's bright. It's bling. It's data-rich. It's different than anything else they've ever offered.
It's called the WS4 and is part of Timex' outdoor action-inspired Expedition Series. We feature this watch (can you call it a watch? How about a control panel?) in the upcoming August high tech issue of Triathlete. When I saw it, a colleague of mine and I quickly sent an email to Meyer "Can we test? Can we test? Can we test?" Meyer relented and sent two to test. He was (and still is I think) suspect why all of us at the office were so excited to try out this new device.
Well, first off it's different from everything else out there. On my way home from the race, I was sitting in the United lounge and a fellow traveler asked "what kind of watch is that?" When I told him it was made by Timex he said "oh, really? I didn't think Timex made watches like that."
"That" is meant as, watches that are chunky, and in fashion right now; the WS4 has the same fashion sense as watches like U-Boat, Nixon and Bell & Ross. Sturdy statement watches. It looks more like a tool than a timepiece. It's the action sport's version of cufflinks.
Previously, on my way to Connecticut, a guy in fatigues on my flight saw the big bit of orange bling on my wrist. "Man, that's some sort of watch? What does it do?"
I thought about what kind of fun I could have with this guy.
"What does it do? What does it do? Hell, what doesn't it do?" I held out my closed, upturned palm and started unfolding fingers. "Altimeter! Barometer! Visual weather indicator! Digital compass! Temperature! It slices! It dices!  It does it all!"
I was rolling. "And—get this, you won't believe this one—it tells the TIME! (And has a stopwatch, countdown timer, alarm, chronograph, indiglo night lighting. It has all of the basics of your normal Ironman watch… but I didn't get into all that with him.)
Dude laughed—he was blown away. "Wow, I gotta get one of those."
The WS4 is going to kick ass with runners, triathletes and swimmers— basically any endurance sports fanatic. Want to swim with it? It's water-resistant to 50 meters. Would I take it running though? Well, I'd opt for a smaller watch—it is a bit heavier than a standard Timex Ironman watch. But if I was headed to the track from the office and forgot my dedicated sport watch, this does everything that one does and has all the key functions (stopwatch, lap, countdown timer), so again, sure, why not?
Of course, pro triathlete/fashionistas like Luke Bell and Amanda and Michael Lovato were keen on it—it was the first thing Amanda noticed upon seeing me. (Of course, anything as bright orange and large enveloping my wrist would do that.) Luke made a point that it's the perfect competitor in our market to surf brands like Nixon, Quiksilver and the like. This watch is for guys who want to have good data, but don't necessarily want to be wearing a sport watch around all the time. It's all about style. A big, chunky watch is in style, and guys as old as 45 want to retain their young style as much as they can before they sign up for AARP.
I noted that what separates the WS4 from being a copycat is the function. While the surf brands typically promote tide features, the WS4 has none of that. Instead, it has stuff triathletes would feed off of and surfers couldn't care less about: outdoor data. And I had fun playing with it all.
Setup was pretty easy. I only had to calibrate either the altimeter or barometer, since both rely on the same pressure. After setting the watch next to a trusty digital indoor temperature reader, the WS4's temp reading was within a degree of my baseline guide. Cool. Of course, the temp goes up when it's on your wrist. But it'd be interesting to do a crazy hot track workout, glance at it trackside with your bottle between sets and come out of it knowing you were able to make time on your 800s considering the track temperature was 102 degrees Fahrenheit.
The digital compass (with a digital needle and display in degrees and cardinal points) is probably more for fun than anything, unless you compete in Xterra races and have a penchant for getting lost. It has an adjustable declination angle that bumps up the compass' accuracy.
The barometer shows current barometric pressure, as well as lows, highs in millibars (mb) or inches of mercury (inHg). It will track current and sea level pressure. That barometric pressure then allows the WS4 to host a little icon for estimated weather patterns—sunny, partly cloudy, cloudy and rainy. It's your own little weatherman-in-a-box.
A final fashion element: It comes in a rainbow of colors, including black (black with a silver face or black with black face), orange (shown, as tested), blue, yellow and a stunning white.
Afraid this luxury piece might be out of your price range? The price for this functional, fashionable conversation piece is $200. It is absolutely reasonable given the amount of function you get out of it.
What was my final impression? It is completely affordable and I think this would be the perfect birthday gift for the triathlete who has everything; Or at least thinks they do. They don't have everything until they have the weather forecast at their wrist.
You can learn more about the WS4 at Timex.com.