Can French Sports Store Decathlon Change the Way We Buy Gear?
The mission: Make sports accessible to everyone. Will Americans buy in?
Heading out the door? Read this article on the new Outside+ app available now on iOS devices for members! Download the app.
Imagine getting kitted up for a triathlon for less than $600. I mean literally everything from your bike to your wetsuit and running shoes. All brand-new gear that's comfortable, functional, and that does not feel–despite the price–super cheap, much of it backed by industry-leading guarantees should it bust on you, including a lifetime warranty on your bike frame. This dream is a reality in 53 other countries where French sporting goods store Decathlon does business. And now Decathlon is coming for Americans–for the second time. Will we welcome them back?
Founded in northern France in 1976, the brand now has more than 1,500 stores and sells gear for more than 86 sports. Its 2018 revenue was just over $11 billion, or about a third that of Nike. Decathlon is the world's third largest bike manufacturer, behind Giant and Hero Bikes. And after a failed attempt to enter the U.S. market at the turn of the century (more on that in a bit), they're back with a new strategy, driven to deliver their ethos of affordability and accessibility to the U.S. permanently.
The company opened its first store in California's Bay Area this March, with a second San Francisco location launching November 15. We checked out Decathlon's HQ in France and spoke with a dozen of their engineers and product designers to get a better understanding of what the store may bring for American endurance athletes. Here's you need to know about Decathlon before you make your next gear purchase.
Decathlon Makes Everything Themselves
The company is vertically integrated, meaning virtually everything you see in the store was created in-house, from research and development to, in many cases, materials and manufacturing. This allows Decathlon to sell products at wholesale-like prices; the retail markup isn't necessary as they are their own supplier. I know what you're thinking: But is the stuff any good? The short answer is yes, but the long answer is more fun.
Until the mid-1990s, everything in Decathlon was branded…Decathlon. As a 2009 case study on the company's vertical growth strategy mentions, the unintended effect was that the brand stood for Soviet-like standardization. That's not the kind of brand story or product that competes well with, say, Nike.
So Decathlon did something radical that landed it in the Journal of Innovation Economics and Management in the study mentioned above: it completely restructured to create a suite of house brands, dubbed "passion-brands", focused on performance and innovation. Each passion brand covers a sports industry segment: b'Twin (pronounced "between") for cycling, Kalenji for running, and Aptonia for triathlon, for example. Within those brands are sub-brands hitting different price points for novice, intermediate, and advanced athletes. The kicker: Even the advanced stuff (think: higher-quality materials, more aero fit) is pretty freaking affordable; a jersey from Van Rysel, Decathlon's top-of-the-line cycling brand, costs $65. The brand's entry-level b'Twin-branded "Essential Jersey"? $10.
Since the passion brand launch began in the late '90s and a total restructuring in to favor innovation over standardization, Decathlon's products have racked up dozens of design and editors' choice awards, including praise for its bikes and running gear. We've tested their trisuits (thumbs up), I ran in their $25 running shoes (just fine for a 10K), and I pedaled a $600 aluminum-frame bike on the cobbles of northern France and was impressed with the smooth ride. Extra impressed when I saw the price.
Remember when I said they'd come to the U.S. before? That was in 1999, and the strategy then was to buy existing sporting goods stores and their inventory, operating more as a traditional retailer rather than bringing its vertically integrated approach. The response was tepid and Decathlon closed the stores within seven years. Since then it's been busy reinventing itself as described above. Que its second U.S. coming.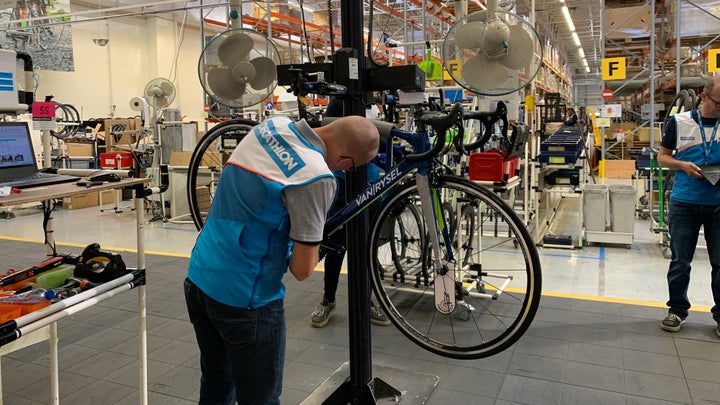 Decathlon is a Slave to Price
C-suiters love to ask employees: "What keeps you up at night?" For Decathlon, it's achieving the best quality-to-price ratio. Again we go back to the company's vertical integration. Business wonks salivate over Decathlon's streamlined innovation process that includes their own team of 50 experts dedicated to "R&D of the human body" at Decathlon's SportsLab, studying ergonomics, biomechanics, thermodynamics, and sensory perception (a more empirical study of how people respond to the products in their environments) to inform their product development and updates. Just like Nike and Adidas.
But unlike those behemoths, Decathlon's brand mission is not to price at what the market will bear, but at the lowest possible price to make your jaw drop and make a profit to keep Decathlon going. That means it needs to sell high volumes of goods to be sustainable. So the slavishness to price is both the beauty of Decathlon's existence and the bane of its push into the U.S. because…
American Discount Culture Can't Be Discounted
Remember when JC Penney went to 'everyday low prices' and slashed coupons? JC Penney practically died. There are many theories on exactly why that strategy backfired so badly, but a few worth noting here that are relevant even if JC Penney/Decathlon isn't an apples to apples comparison: Price affects how we perceive quality. When we're told something's expensive, we tend to think it's of higher quality. On the flip side, discounts can help create hype and urgency that drive sales. We like to feel like we got a great deal on something nice, not that we bought something cheap.
So it may sound insane, but getting the message across that Decathlon's products are expertly engineered and insanely affordable could be a real challenge for the company in the U.S., a country where "everyday low prices" is associated with low-quality Walmart goods, and where prices that are always low fail to drum up sales hype.
Then, there is Amazon, the spectre in every retailer's closet. The rules for winning currently dictate that customer experience has to be singularly wonderful to make customers buy directly from a certain retailer over Amazon and keep coming back. In-store, Decathlon's working on some cool layout and design concepts (try its tents with VR goggles). But the current iteration looks a little more Wal-Mart than the sleek, modern concept store it's currently testing in France. (Its first San Francisco-area store does have RFID-enabled cashless checkout.)
The Full Suite of Gear isn't Available in the U.S. Yet. 
Decathlon has incredible supply chains set up in its primary areas of commerce that it's still working through here. And certain goods, like cycling helmets, must go through a lengthy U.S.-specific certification process to be sold here. The company only wants to present products that it can sell at affordable prices–despite importing most of it at this point. Therefore, not everything is available in the U.S. yet. But you can still find all of your running, tri kit, bike (the actual bike), and swimming needs on their website. Not to mention cross training stuff, like hiking gear. My most-used Decathlon purchase is a $10 backpack–with a 10-year warranty. But you can get a bag from them for $3. And a transition bag for $65.
The Bottom Line
I went to Decathlon a skeptic and came out a believer. The company's mission to make sports accessible to everyone–with good gear that will actually perform as intended for more than weekend romp–is much needed in a society where capitalistic goals can render sports (especially cycling) unattainable for many people.
For anyone just starting out in triathlon, getting back into it, or who's just on a tight budget, Decathlon deserves your attention.