Triathlete's Men's Summer Cycling Clothing Roundup
We review some of the hottest cycling kits for the hottest summer weather with our seven-point rating system.
Heading out the door? Read this article on the new Outside+ app available now on iOS devices for members! Download the app.
The perfect bike kit can make all the difference on long training days. The best summer cycling clothing for men in 2021 is more than just a padded pair of shorts and tight fitting t-shirt—a well-designed cycling kit can help reduce recovery time between workouts via temperature control, prevention of saddle sores and skin rash, and reduction in riding fatigue through proper padding and compression.
A comfortable set of bib shorts can make long miles more pleasant by preventing saddle sores, reducing chafing, and wicking moisture away from your…ahem, "nether region." We've paired five pairs of men's bib shorts with summer jerseys to find the ultimate men's cycling kits that perform well in the heat.
(Looking for women's specific kits? We rounded those up here.)
RELATED: How to Find the Right Bike Shorts For You
2021 Summer Cycling Clothing – Bib Shorts
Bib shorts, or "bibs" for short, are cycling shorts with suspenders. Cyclists tend to favor bibs over other cycling shorts because they stay put and don't need a drawstring. Bib shorts for men can come with a bunch of different features, but a great pair of bib shorts are comfortable to wear all day, have a pad (a.k.a. chamois) that prevents saddle sores and bruising, are breathable and moisture wicking, and are durable enough to withstand frequent washing and friction.
2021 Summer Cycling Clothing – The Chamois
That thick pad in men's cycling shorts is more than just a vibration absorber. The perfect chamois will not only provide padding to your sit bones, but it will keep your groin dry and chafe free while reducing pressure on sensitive soft tissue and your pudendal nerve. Combined, that pad can be the difference between diaper rash and bruised sit bones or feeling eager to get up and ride the next day.
2021 Summer Cycling Clothing – How We Tested
Which bib short and jersey you choose will come down to price and the details. Look for a jersey that fits and looks good on you, and choose bib shorts that fit well and offer the features you're looking for. When making the purchase, choose a retailer that lets you try on items, and if you're ordering at home make sure you can return items that don't fit.
We have tested five different offerings for men's cycling clothing to give you some insight for making your next purchase.  Full disclosure: I am a pain in the chamois – I like legs and sleeves that don't move on me, tab features that avoid my skin and pricey bibs from abrasion by the zipper, pockets you can actually use, appropriate compression, a chamois you would want to sit on, and I want it all soft and pliable while maintaining a "race fit" to avoid the parachute look.
Editor's Note: While the gear below was loaned out by the brands represented, all choices were selected independently by the tester without any promotional consideration or brand input. Also, unlike other "best triathlon cycling shoes review" websites, our testers actually wear and try the gear ourselves—no glancing at spec sheets and rewording marketing terms! For more on how we review gear, click here.
2021 Summer Cycling Clothing – The Ratings, Explained
| | |
| --- | --- |
| Fit | Notes on sizing. |
| Overall Comfort | Scale from 1-5 on overall comfort while riding—this can include construction and materials, but pad is rated separately. |
| Pad Thickness | Scale from 1-5 on pad thickness with 1 being minimal and 5 being very thick. |
| Moisture Control | Scale of 1-5, this is overall moisture control that includes the pad and all other materials; 1 indicates that it gets soggy/wet and stays that way, 5 indicates excellent dissipation and evaporation. |
| Durability | Scale of 1-5 with 5 being the most durable, this rates how tough the materials appear and roughly how many seasons the clothing might last. |
| Saddle Relief | Scale of 1-5 that specifically looks at the construction of the shorts and whether they chafe and/or give a reasonable amount of cushion for the normal rider; 1 indicates poor relief/lots of chafing, 5 means excellent relief with absolutely no chafing. |
| Value | Scale of 1-5, this is not just the price itself from low to high, but how much bang you get for your buck. |
Section divider
Zoot Core+ Cycle Jersey and Core Cycle Bib | $75 Jersey $95 Bib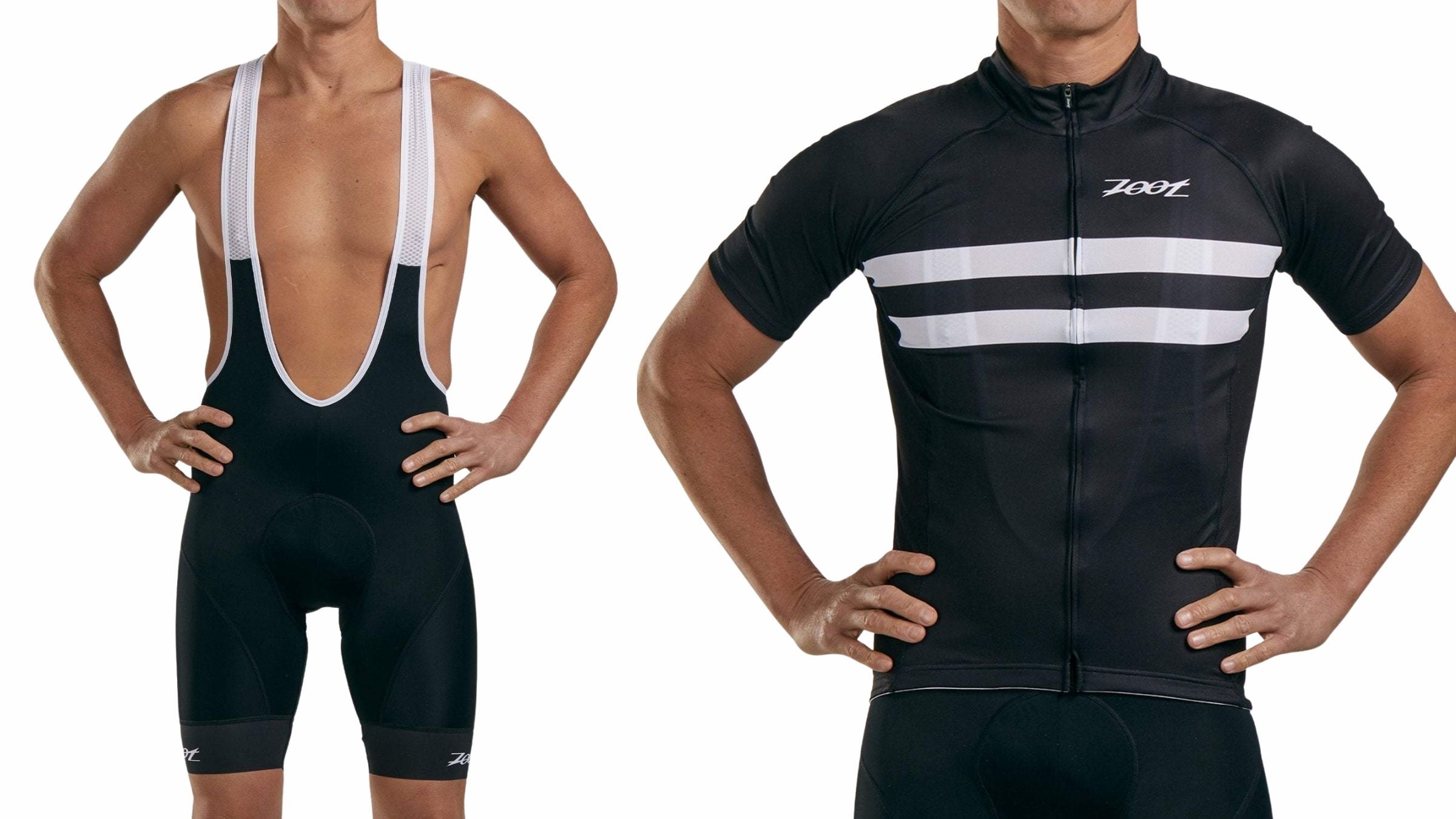 | | |
| --- | --- |
| Fit | A loose fit for both jersey and bib shorts—jersey arm sleeves and leg length are cut short (good for those working on hiding tan lines). Due to the length of the zipper, expect the front of the jersey to fold and "pooch out." |
| Overall Comfort | 3 |
| Pad Thickness | 3 |
| Moisture Control | 3 |
| Durabilty | 3 |
| Saddle Relief | 3 |
| Value | 3 |
Basics:  Entry-level Zoot kit offering traditional cut and materials to provide the basics for a warm-to-three-season training kit that won't break the bank.
What I Like:  The jersey has a taller-than-typical collar providing nice sun protection to the back of the neck and ventilated side panels o help with heat dispersion. The bibs stay put when riding, while leg grippers provide sufficient hold to keep the bib shorts from sliding up the leg. The pricing is excellent, allowing you to either buy multiple kits or use those savings towards some fancy wheels or a wetsuit.
Needs More Salt:  The kit can best be described as Generic. The materials are reminiscent of clothing from the 90's, with dated fabrics and zipper. The jersey is loose-fitting and the arms are cut short. And because there are no grippers at the end of the sleeves, they creep up during your ride. The bibs lack any noticeable compression in the legs, and the chamois is underwhelming.
Section divider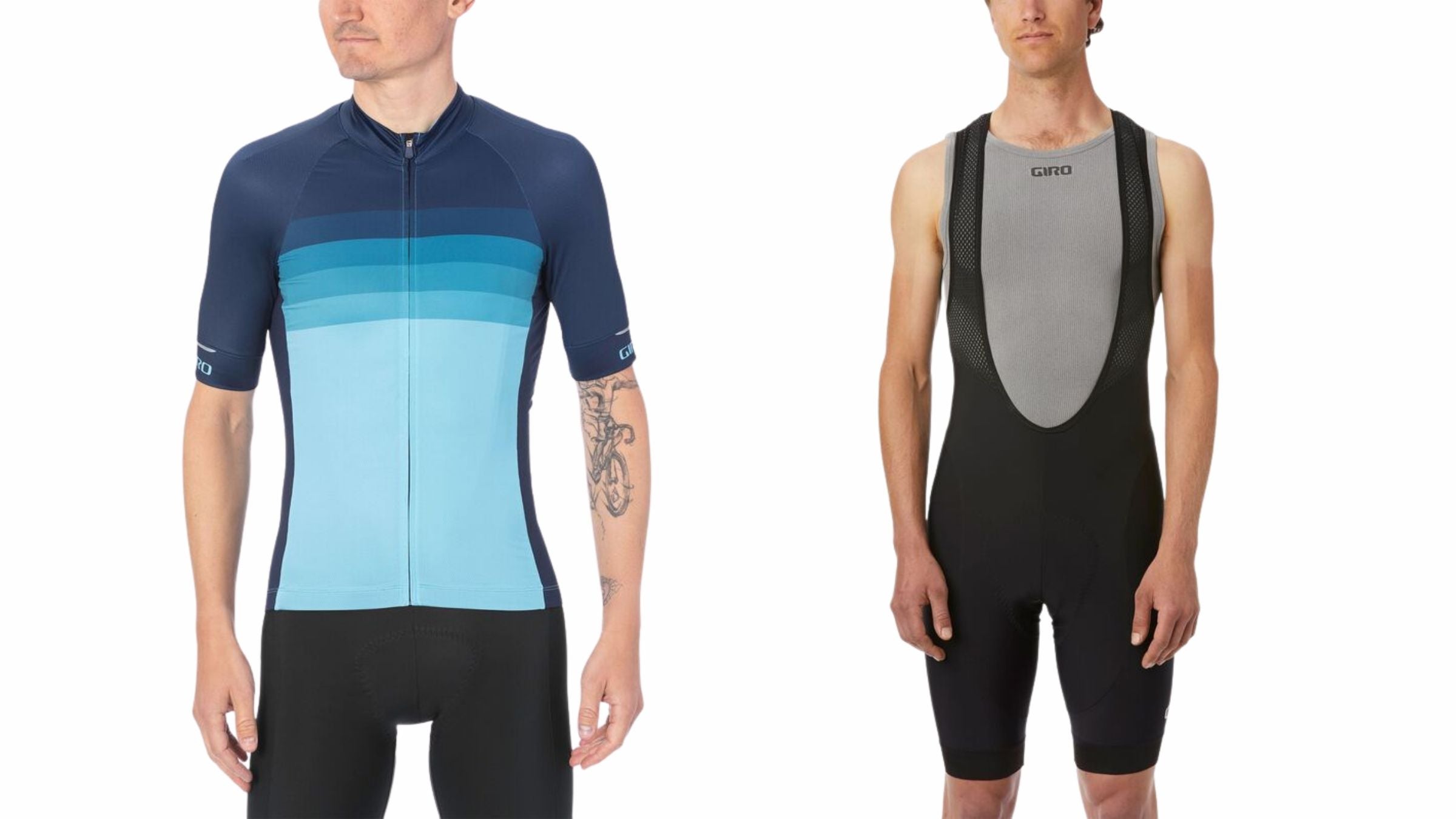 | | |
| --- | --- |
| Fit | Soft and comfortable with a slightly loose fit on the jersey, while legs on bib shorts are noticeably tight throughout the thigh. |
| Overall Comfort | 4 |
| Pad Thickness | 4 |
| Moisture Control | 2 1/2 |
| Durability | 5 |
| Saddle Relief | 4 |
| Value | 4 1/2 |
Basics:  Part of Giro's Renew Series aimed at reducing environmental impact through use of recycled materials, the Chrono Kit achieves all day comfort with multiple tech features
What I Like: The jersey is made of noticeably soft and comfortable fabrics. Highlight features such as UPF 50+, sleeves with unnoticeable grippers that keep them in place, and highly reflective 3M highlights ensuring safety during poor visibility make this my favorite jersey tested. The bib shorts have a wrap-around-your-core construction (though this is not for everybody, as it does create increased heat) that houses three rear storage pockets—making this a great choice for bike packing or T-shirt rides.
Needs More Salt:  The trade off for soft bibs and jerseys is poor wicking, making the kit palpably and visibly wet with sweat as the ride goes on. This kit would be better suited for rides where the temperature does not tip over 80 degrees—but makes a great offering for year-round riding.
Section divider
Castelli Climber's 3.0 Jersey and Premio Bib | $140 Jersey   $260 Bib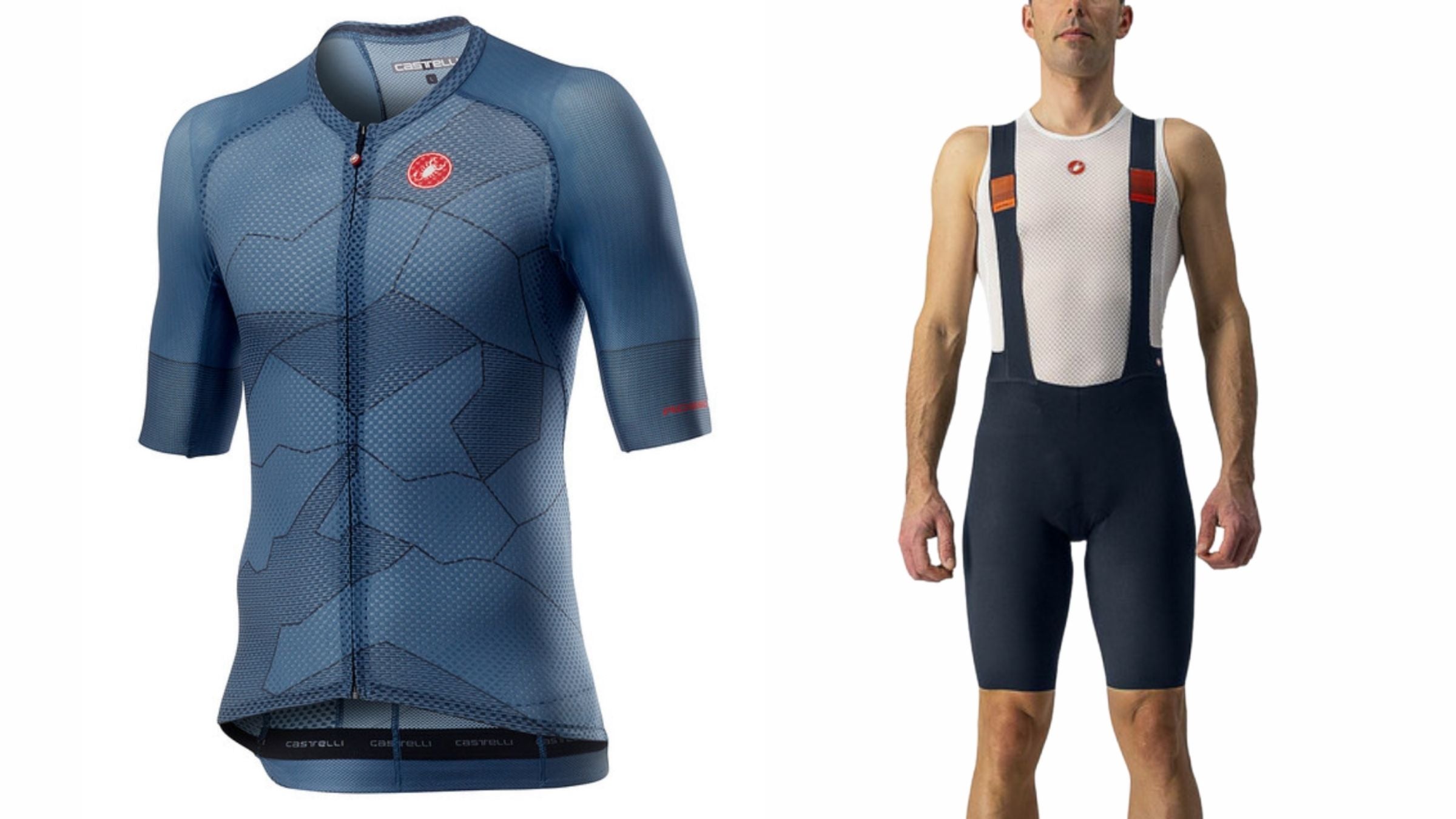 | | |
| --- | --- |
| Fit | Race cut—no bagginess or wind drag with either the jersey or bib shorts. The jersey arm sleeves are long (almost to the elbow), and the legs on the bib shorts tend to be on the longer side. |
| Overall Comfort | 5 |
| Pad Thickness | 4 |
| Moisture Control | 5 |
| Durability | 3 /12 for jersey, 4 for bib shorts |
| Saddle Relief | 5 |
| Value | 4 |
Basics:  A lightweight and highly wicking jersey that keeps you cool and sheltered from the sun's UV, while maintaining some trickle-down aerodynamic benefits from Castelli's Aero Race Jersey. The Premio Bib is Catelli's top-of-the line, all-seasons bib short designed with premium fabrics, a spare-no-expense chamois, and unique features such as lie-flat bib straps to keep everything in place.
What I Like:  Once you put this kit on, you do not need to touch it until it is time for it to come off. The sleeves on the jersey are long, and the fit is very "pro." Neither the jersey nor bib shorts bunch, move, or shift at all. The bib shorts are definitely one of the most comfortable bibs I have ever worn. They provide the proper amount of compression, mid thigh, and flexibility through the hips. My first ride in this kit was 87 miles on a warm Southern California day, and the kit looked as fresh at the end as at the beginning (which is more than I can say for the tester). The materials wick sweat off you efficiently, leaving no moisture or making you look like salt lick.
Needs More Salt:  This is a $400 warm-weather kit, making it a tough pill to swallow when you are considering buying those new ceramic racing goggles. The jersey is definitely limited to warm riding (it is nearly transparent, you can see my tattoos through it), and although you could layer it with a base layer, the fabrics and noticeably smaller rear pockets do keep this in a hot summer "climber" jersey category.
Read an extended, in-depth review of the Castelli Climber's 3.0 Jersey and Premio Bib (for Triathlete members – subscribe today for as low as $2 per month).
Section divider
MAAP Stealth Race Fit Jersey and Team Bib Evo | $ 180 Jersey $270 Bib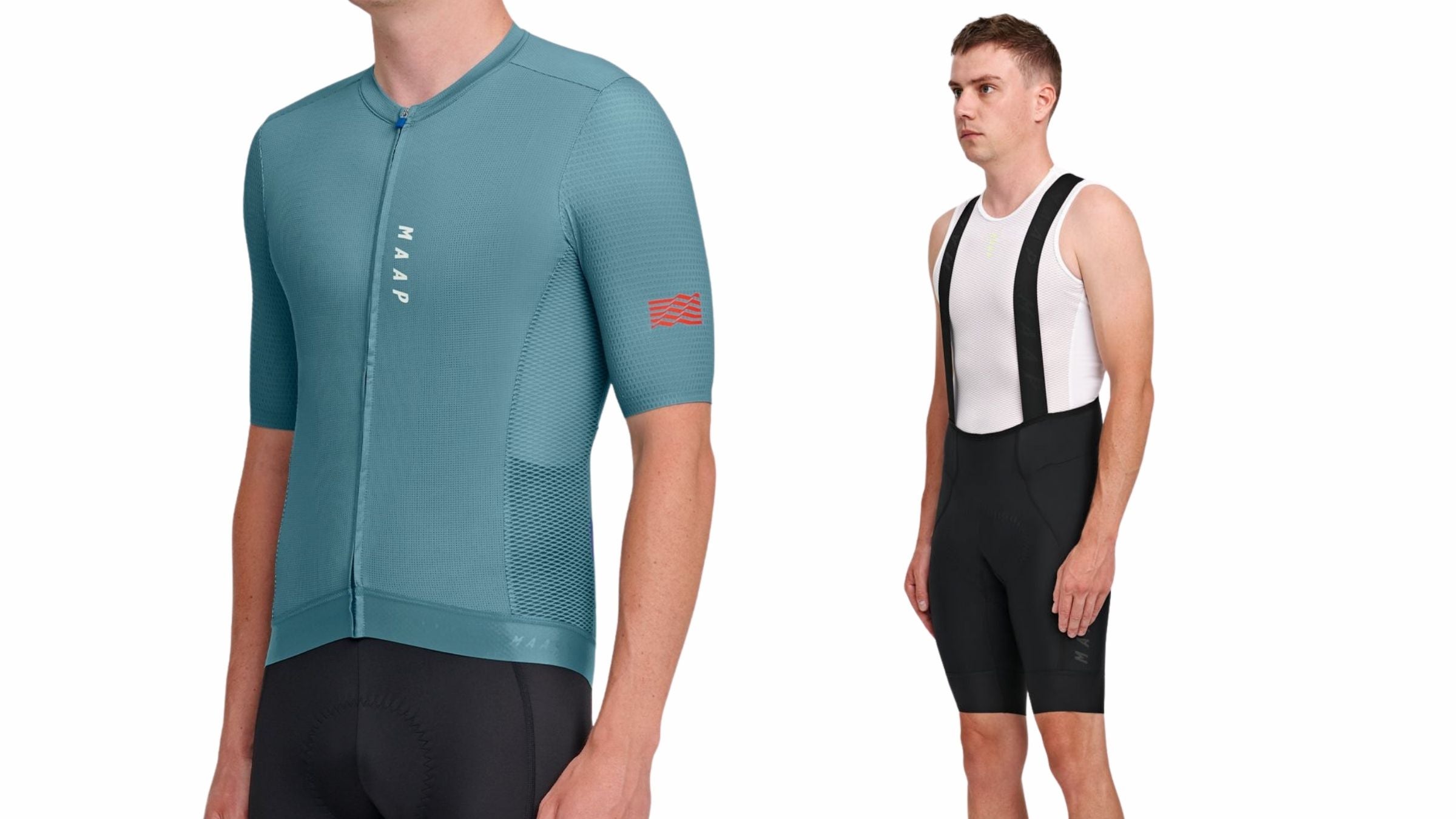 | | |
| --- | --- |
| Fit | A nice compromise between snug, race fit, and comfort. Varied fabrics providing varied flexibility with arms being most restrictive and thighs being most forgiving (for those track-legged athletes). |
| Overall Comfort | 4 |
| Pad Thickness | 5 |
| Moisture Control | 4 |
| Durability | 4 |
| Saddle Relief | 5 |
| Value | 4 |
Basics:  MAAP blends updated style with the familiar cut and fit of what you have come to expect from today's high-end cycling clothing—think of your traditional tuxedo paired with some cool Vans. Additionally, MAAP is Bluesign® certificated which means that their products and manufacturing processes are safe for the consumer and the environment, giving you a "good for the planet" feeling on your purchase.
What I Like:  The jersey combines multiple different materials for a "race fit" cut that is breathable and comfortable—avoiding the ultralight, stiff-paper feel of most lightweight summer jerseys. The bibs have wide, secure shoulder straps that keep them in place, and as I am a fan of longer length legs I loved the cut and length of these bibs. The fabric provided excellent flexibility when riding in an aggressive position without sliding up your leg. However, the show stealer is the chamois—simply put, it is the best of all the kits tested.
Needs More Salt:  At this pricepoint, there is an expectation for certain features common among the top-shelf offerings that I didn't see in this MAAP kit. Absent were skin-protectant tabs for the jersey zipper and no compression element on the bibs' legs. Also, where the leg gripper length was excessive, the sleeve gripper was more of a tourniquet bracelet—it did the job, but not as comfortable as employing grip fabric into the sleeve for seamless and comfortable retention of fabric.
Section divider
POC Essential Road Light Jersey and NE-Plus Ultra VPDS Bib | $ 100 Jersey $240 Bib
| | |
| --- | --- |
| Fit | Both jersey and bib shorts fit like you should be out on an adventure with some planned cafe stops—very casual without much concern to prevention of wind drag. The bib shorts have more of a backing than typical bib shorts, giving more of a tank-top feel, but due to lack of seams in the straps, there is no discomfort when adding weight to the leg pockets. |
| Overall Comfort | 4 |
| Pad Thickness | 4 |
| Moisture Control | 4 |
| Durability | 5 |
| Saddle Relief | 5 |
| Value | 4 1/2 |
Basics:  If any reader has listened to my pleas for triathletes to get a gravel bike (great road and adventure training), this would be an ideal kit for your next summer gravel ride or bikepacking adventure. The bibs were designed with a short gravel saddle in mind, meaning the chamois is shortened and the shorts have leg pockets.
What I Like:  The jersey has nice sleeve grippers, a comfy neck zipper protection, and is very well vented through multiple panels (not just your "put a bunch of perforated fabric in the armpit" method). The bib shorts have a large mesh backing and completely seamless straps, making for a comfortable fit regardless of riding position.  I liked not having the extra fabric in the front of the chamois, but I still found the chamois comfortable. Like all of POC products, rider safety is paramount, and this kit has multiple reflective safety features allowing for improved visibility.
Needs More Salt:  The jersey is loose fitting, bordering on baggy, and with the absence of any significant grip or compression along the bottom of the jersey, it fits more like a shirt. This is a great look and feel for gravel adventures, but may be too loose for tri summer training. The bib shorts leg gripper isn't amazing, as I found the legs to migrate up too frequently. That being said, if they were loaded down with gels and electrolytes, may stay in place better.