Triathlete's Garage: Lynskey Houseblend T230
Heading out the door? Read this article on the new Outside+ app available now on iOS devices for members! Download the app.

The Lynskey Houseblend T230 frameset (with an Alpha-Q TS-20 fork) can be had for as little as $1,915 for a stock satin finish, or more than $3,495 for a made-to-order, full-custom build. Add a bit more for a custom paint job.
Written by: Jay Prasuhn
Talk about "coming home" again. After a solid year of riding on either carbon fiber or aluminum bikes on test rides, it's an understatement to say it was a pleasure to put in some serious volume on Lynskey's Houseblend T230, reminding me that aero is not the end-all, be-all for triathletes. Especially for those who not only enjoy long days in the saddle, but also those who want to continue to enjoy long days in the saddle.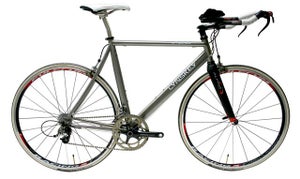 You may be familiar with the Lynskey name. Mark Lynskey was one of the principal members of the family-owned Litespeed bicycle company in the early '90s, supplying race-winning titanium rigs to names like Cameron Brown, Tim DeBoom and Michael Lovato among others. Five years ago, the family sold Litespeed to a larger partner and left the business shortly after. For craftsmen like Lynskey, the passion that comes from creating works of art doesn't easily fade, and it wasn't long before Lynskey joined his mother and brothers back in the industry under their new namesake brand. So while the brand name is just two years old, the bike-building expertise runs decades deep.
To be perfectly clear, the Homeblend is a race bike, front to back, with ovalized aero tubesets, horizontal dropouts for a tight rear-wheel tolerance to the seat tube and a short headtube allowing for a low front end. True, it doesn't have the wind tunnel pedigree that seems to be a mandate for acceptance among the Internet-era chat room goers. But whether you're a front of pack or back of pack racer, the ovalized tubesets on the Homeblend will be enough—it's simply not critical enough to split hairs about getting into transition 28 seconds faster due to a tunnel-proven airfoil shape.
That's because greater gains may be found in the quality of ride. The first point to that end: The fit geometry is no-nonsense; a 78-degree seat angle and a balanced stack and reach that fall right in line with Dan Empfield's FIST triathlon bike-fitting protocol, with a 78-degree seat angle, set with an aluminum Thomson layback post. That's steep, and can be made even steeper, upward of 81 degrees, if the post is reversed. Our size medium to large frame, equivalent to a 56cm frame, had a beautiful balance of steering, thanks to a proper reach and headtube angle of 72 degrees. It was as it should be; low in front and easy to steer while in the aerobars.
But the greatest quality came via the frame material. For the uninitiated, here's a titanium primer: The metal has amazing properties. It has a low specific gravity, is resistant to corrosion and has excellent resiliency and fatigue life. For that reason, it's prized by the aviation industry in order to make lightweight, strong fighter jets and electrical line insulation.
It also makes a wonderful material for bike frames. What makes it pricey is not only the cost of the tubesets (finagling material from companies like Boeing is like wrestling a gorilla) and the high art of welding titanium, which requires a much more complicated and intricate process than, say, tig welding or filet brazing (welding techniques applied to aluminum or steel).
While carbon fiber may be the hot ticket ride right now, it still fails to meet the smooth ride the Tennessee-built Houseblend T230 presented. It took just one ride on a typical section of road to experience it and feel at home again. When I say typical section of road, I mean what the state department of transportation passes for acceptable roadway: pitted, seam-gapped, usually chip-sealed, occasionally beset by those landmines we call potholes. It's this kind of riding that makes your long Saturday ride one of dread.
The Houseblend T230 was a completely different experience than any bike I've ridden in the last year; I could quite literally sail over the consistently crappy roads in a way that made me smile. Riders can simply focus on turning over the pedals in a way that is simply impossible on any other bike, other than steel. And there aren't too many steel tri bikes on the greater market.
It's hard to quantify the benefit of a truly comfortable ride. When you're not bracing, and are instead putting power through the pedals due to that greater comfort, are you not getting from point A to point B faster? This may well be enough to trump any carbon fiber aero argument.
Let's put it this way: If a proper geometric fit aboard the Houseblend T230 is getting you to 90 percent of your optimized aero advantage, then perhaps you lose that 10 percent to a slightly less aero bike than the carbon offerings out there.
But what if you can make up that 10 percent—plus maybe another 2 percent—based on a separate parameter—greater power output, thanks to that significantly greater comfort element? That's hard to quantify, but it's a valid consideration. If an athlete in his 40s, 50s or 60s still wants to podium in his age group but has dreaded the beating their bike (however tunnel-pedigreed it may be) is delivering, that athlete ought to have a serious look at the Houseblend.
For more on the Houseblend T230, visit Lynskeyperformance.com.