Triathlete's Garage: Look 576 Aero
Heading out the door? Read this article on the new Outside+ app available now on iOS devices for members! Download the app.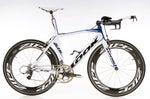 Triathlete senior editor Jay Prasuhn reviews the Look 576 Aero.
It was nearly a year ago that Look invited the media to the unveiling of its 2009 line a few months before the Hawaii Ironman. The new Look 596 tri bike drew rapt attention even amid a bunch of road bike enthusiasts who aren't typically moved by tri offerings.
But while the throng was fawning over it, I looked over its little brother—the 576. Sitting idly along a wall, it drew me. While the one-piece carbon crank, the tunnel-designed seat gap, the new monobloc and the super-adjustable front end on the 596 were alluring, it was the other bike that I wanted to test. Why? While the 596 represents the bike you want, the 576 is the bike you could probably get; it's fantasy versus reality.
OK, maybe you have deep pockets and can buy whatever you like; in that case, go crazy. But not me; I keep a close watch on my dead presidents, especially in this economy. To that end, the newest model in the Look line, the 576, met—and then exceeded—my criteria at a tick over three grand, complete.
Geometrically, the 576 is less aggressive than its senior; with a longer head tube and front-center, and a slack head-tube angle, it's built to be predictable in the aerobars. At the same time, it is a real tri bike, with an appropriate 78-degree seat angle throughout the size range. As a result, it will steer well for the beginner to mid-level triathlete—a cyclist that needs comfort and steering stability instead of an aggressive fit.
But it will also grow with you; when you hone your handling and want to start dropping the front end for something more aero, you won't be fudging to get the saddle forward. The stem can get plenty low and the saddle plenty forward. And it rode as expected: steady, but not twitchy. You won't attack corners or U-turns on the 576, but then again, why would you?
It's that ePost that I really enjoyed on the road for two reasons: Borrowed from Look's other tri bikes, it makes the 576 like its others: a cut to fit, with the post fitting into the frame mast. I loved that it's reversible, offering plus or minus five degrees of fore/aft movement—you can go to 80 degrees of seat angle without any funky saddle tweaks.
But it's the included spacers that I found a quiet feature. First, if you cut the frame a touch short, it's no problem: Every frame comes with several spacers that can be used to boost the post off the frame. Further, the plastic spacers come in three different durometers, offering varying degrees of ride vibration damping. On our road tests—two separate long rides—I used the same length but different durometer spacers. It yielded very different levels of comfort. Whether you're seeking total stiffness or a more plush experience, the ride is tunable.
Given the pedigree, Look has built in its storied history, and even for a price-point bike it doesn't take a chance to sully its name. The compact design gave it the looks that will draw you in, but it also delivers a torsional stiffness that, paired with surprisingly light frame weight, makes the 576 a great climber. I generally don't set that high a benchmark for a $3,000 bike, but Look delivers with a product that performs like a $5,500 rig.
The 576 is an awesome choice for anyone from the first-timer to the wallet-watcher. It's a straight tracker, with the geometry that makes it such that you can grow into it as a triathlete. With a proper 78-degree seat angle, it allows you a more aggressive position as your experience level grows. But out of the gate, the slacker head angle, longer front-center and longer head tubes make for a bike that inspires confidence during your early forays into triathlon. And it has all the aero requisites to boot. Even when making an "entry-level" offering, Look holds fast to high standards—and delivers.
To learn more about the 576, visit Lookcycle-usa.com.