Tech Support: Choosing Appropriate Rim Depth
Heading out the door? Read this article on the new Outside+ app available now on iOS devices for members! Download the app.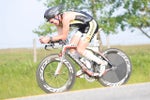 Written by: Christopher Kautz

Dear Tech Support,
I'm having a hard time finding the best race-day wheelset for me. I have access to a large number of wheels with different depth rims, including a full disc wheel, but I don't know how to select the appropriate setup.
Gray Augustus
Idaho Falls, Idaho
Gary,
This is a common dilemma for riders going into big races. It's also the most frequently asked question of the wheel gurus at Zipp and HED, so clearly you're not alone.
This dilemma used to be much easier to answer, as there were not nearly as many choices in the wheel world as there are now. Today, however, most manufacturers make a large number of wheels of varying depths, starting with a shallow box section rim, ending with a full disc, and often with three or four rim depths in between the two extremes. And they make so many different wheels because there is more than one right answer to your question. Tim Mulrooney of HED says that wheels have become like golf clubs-you need a whole set to have the right combination for every situation. Obviously, this is not financially feasible for the overwhelming majority of triathletes.
But you can make the right choice for your needs. There are two main areas to address in selecting wheels: your needs as a rider and the demands of the event you'll be racing. On top of this, there is a whole subset of details that are becoming more significant as technology develops. To fully address this topic, including all the important details, there will be two installments. In this piece, I will cover the basics of wheel selection, namely rider needs and course demands, and in next month's column, we'll sweat the smaller stuff.
Starting with your needs as a rider, according to Mulrooney, the basic formula is a function of your height and weight. Lightweight riders will be more impacted by side wind forces, and therefore need to ride wheels with less surface area. Conversely, bigger and heavier riders can have more depth in their wheels and still maintain good control of their bike. Bike control is where Josh Poertner of Zipp says another part of the rider equation has to be factored in, namely bike handling skills.
According to Poertner, athletes who are relatively new to the sport or less confident in their bike handling abilities need to run less depth than comparably-sized athletes with better abilities. "To make the right wheel choice, people need to be honest with themselves about their bike handling skills," says Poertner. Athletes shouldn't sell themselves short and ride wheels shallower than they need because that means giving up free speed. But they also shouldn't exaggerate how well they can handle a bike and run wheels that are too deep because they're compromising their ability to stay in the aero position.
The last aspect that comes from the rider's needs is a function of how fast she is. As a rider goes faster, her effective wind angle changes, becoming less of a crosswind and more of a headwind. This change means there is less side pressure on the wheels, allowing faster athletes to ride deeper rims and still maintain good control. However, slower riders, as in below 18 mph, will experience more of a push from crosswinds, which creates more instability.
Almost as important as the athlete's needs are the demands of a course. It's important when going into an event to understand how much climbing and descending will be involved, as well as the strength and the direction of the wind. On flatter courses, heavier and more aerodynamic wheels will provide more speed than lighter, less aero wheels, but as a course becomes increasingly hilly, weight becomes more of a factor.
The wheel needs of triathletes participating in non-drafting events are much easier to select than those of a road racer, where tactical considerations play a role. Since the bike leg in a triathlon is a steady state effort, the wheelset that minimizes power consumption is the right choice, whether that power is being lost through aerodynamics or weight. While discs are generally considered the fastest wheels aerodynamically, Mulrooney cautions against their overuse because of the added weight that normally comes with them. On the other hand, Poertner says that from Zipp's research, no one should ever run a rear wheel shallower than a 404, which is 58mm in depth, and that most athletes can comfortably run rims deeper than that on the back end of a bike.
The front end of the bike is a different story. The rim depth of a front wheel has a much greater influence on a bike's handling than its back wheel, so most athletes use shallower front wheels. Front wheel depths for triathlon will generally start at 45mm for less confident bike handlers and windier conditions, and increase from there. However, as I will explain in part two of this article, rim depth is only part of the equation when selecting wheels.
Christopher Kautz is the owner and founder of PK Cycling, and one of the originators of the fit studio concept. His clients include numerous Ironman World Champions, Tour de France veterans, and Olympians. You can find him at pkcycling.com.