SRAM Apex: Reducing The Barrier To Entry
Triathlete tech editor Aaron Hersh gives the ins and outs of the affordable SRAM Apex groupset.
Heading out the door? Read this article on the new Outside+ app available now on iOS devices for members! Download the app.
Triathlete tech editor Aaron Hersh gives the ins and outs of the affordable SRAM Apex groupset.
Written by: Aaron Hersh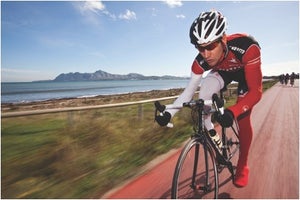 Triathlon is so much more than a venue for elite athletes to face off against each other. The sport is a great way to get fit, healthy, have fun and maybe enjoy a little competition. Unfortunately all the gear required to swim, bike and run creates a financial barrier for some to enter the sport. SRAM Apex has made that obstacle a little less daunting. Although Apex doesn't cost a lot, "cheap" does not accurately describe it. Apex provides race-worthy performance at a previously untouchable price.
What's New?

Price: SRAM Apex is the cheapest competition-worthy groupset on the market. A complete tri kit rings the register at $799, which is priced lower than Shimano's entry-level kit and roughly $150 less than SRAM's former most economic option, Rival.
Gear Range: Most double chainring component groups force the rider to choose between a comfortable uphill gear and a fast downhill gear. A triple-chainring crank (three gear options up front, rather than two) provides a wide gear range, but it has sloppy front shifting and is significantly heavier than double-chainring cranks. Instead of adding a ring to the front, SRAM made the easiest gear even easier by building a cassette with a 32-tooth cog—a gear that size is usually reserved for off-road bikes. This enormous gear span makes Apex more functional than even top-shelf parts for riders living near steep hills. This versatile gear range and crisp double-chainring shifting has rendered the triple-chainring crank obsolete.
What's the Same?
Tri-specific parts: SRAM's bar-end shifters and TT brake levers are not linked to specific component groups. SRAM's aluminum 500 TT brake levers and shifters are the most economically appropriate match for Apex, but the carbon 900 TT parts and even the R2C Aero shifters are compatible.
Cogs and chain: Even though the rear derailleur gets all the credit, the shifters and cassette combine to have a bigger influence on shift performance than the derailleur. Apex must be able to make strong and accurate rear shifts because of the ultra-wide gear range, and SRAM wisely used the same highly tuned cogs found on its Rival cassette rather than saving money by using less refined cogs. Since Rival uses the same gears and shifters as Apex, shift performance is nearly identical between these two differently priced component sets.
How does it stack up?
SRAM Rival: Apex rear shift quality is nearly identical to Rival because both groups share shifters and cassette cogs. The Apex brake calipers also provide similar feel and stopping power to the more expensive Rival brakes. Finish quality is the biggest difference between the two kits. Rival boasts aesthetically crisp components and SRAM's recognizable brake caliper design; Apex does not. Although Apex lacks the same eye-catching aesthetic as Rival, it functions nearly as well and costs $xxx less. As is the case with all component manufacturers, spending money for high-end parts yields diminishing performance returns.
Mixed Shimano kit: Entry-level tri bikes are usually spec'd with a mixed bag of components rather than a complete kit. This allows the manufacturer to keep the price down without eliminating the flashy bits that add a little glamour to a bike. Cervelo builds the $1,700 P1 with Shimano's outstanding Ultegra derailleurs, chain and cassette but saves money by spec'ing an FSA Gossamer Pro crankset and their own Cervelo Mach 2 brake calipers. Mixed kits, like the one on the Cervelo P1, can provide sharper rear shifts than a complete Apex kit but Apex offers superior brake performance and slightly crisper front shifting as well.
Should you ride it: The dynamic nature of road racing puts much more stress on components than a steady triathlon bike leg. Saving money on components—rather than wheels, frame or race entry fees—is the best way to keep your tri habit under budget. Apex is price sensitive, but matches loftier groupsets in the performance categories that matter to triathletes. It shifts crisply, brakes sharply and is only a few grams heavier than more expensive kits. Apex will start appearing on entry-level tri bikes this fall and it is a trustworthy group that you can be proud to ride.