Set Up Your Bike Like The Pros
Chrissie Wellington and eight more of the world's fastest triathletes share their race-day bike set-up secrets.
Heading out the door? Read this article on the new Outside+ app available now on iOS devices for members! Download the app.

Chrissie Wellington and eight more of the world's fastest triathletes share their race-day bike set-up secrets.
We asked top pro triathletes how they ensure their bike is fast and reliable on race day. Olympians, a Kona champ, 70.3 world champ, Ironman winners and other great professional triathletes shared the habits, secrets and quirks they rely upon to get their bike through a race as fast as possible without any mechanical breakdowns.
Chrissie Wellington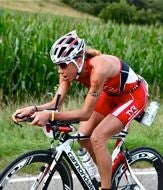 "To keep your stomach from acting up on race day, avoid over-hydrating or overeating before the race the days before the race. I cut down on fiber and rich foods about three days out to reduce the likelihood of GI distress. Instead of eating adventurous foods, I stick to plain items including pasta, bread and rice. Avoid eating anything new in race week, including the enticing free food samples available at the pre-race expo. Once on the bike, wait until you have settled into a rhythm before taking in nutrition or hydration."
Chrissie is the most dominant Ironman athlete on the planet. She owns three world championships, the iron-distance world record of 8:18 and has never lost at the distance. Chrissiewellington.org
Michi Weiss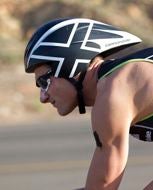 • "I like to have new tires on race day, but I always break them in [by riding] at least 50 miles.
• If you have to check in your bike the day before the race, bring something to cover it in case of rain overnight.
• I love my Speedfil and recommend hydration systems instead of standard round bottles because it's very easy to lose a bottle out of a cage after hitting a bump or pothole. Additional bottle cages between the aero extensions, or behind the saddle are good as well.
• If you have to check in your bike the day before the race, let some air out of the tires, but keep around 50 psi. A full pumped up tire could explode sitting around in the heat, and if you let all the air out, you [wouldn't be able to] see right away in the morning when pumping up if you had a flat tire.
• No matter the distance, I take a spare tube or tubular tire with me.
• I like to carry as much as possible of my own nutrition product- PowerBars and Power Gels- on the bike. It's kind of a 'buffet on wheels.'
• I would recommend not sticking open bars on your frame. It is just gross, makes your fingers all sticky, and is pretty hard to get off. Better choice is either taping everything on the frame, or using a bento box, such as the one from FuelBelt. I always cut the nutrition bar packaging open, but I leave them in their package.
• When you're racing Ironman or any other race that offers a special needs drop, freeze your items, which you have to drop on race morning, so that you get them at a just right temperature in the heat of the race.
After training hard for months, you want to make sure that your bike arrives in time, and safe without any cracks in the frame or deformed wheels. That's why you may want to spend a little extra when it comes to quality bike travel.
• TriBike Transport rules! Those guys are just great—no hassle at all. Just make sure you have a second bike for training at home because you have to drop off your race bike about seven to 10 days before race day.
• Ship your bike. Although you still have to disassemble everything and put your bike in a box, you can be almost sure it will arrive at your accommodations on time.
• If you fly with your bike, avoid layovers because short or hectic layovers are the main reasons why bikes get lost while traveling. You should also check how much the airline charges for the bike because there are huge differences. Frontier, for example carries it for free!"
Michi Weiss won Ironman St. George in 2010, is a sub-eight-hour Ironman and is a 2004 MTB Olympian. Michiweiss.at
Linsey Corbin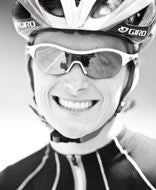 "I do many things that most racers consider unnecessary to minimize the number of things that can go wrong on race day. Here are a few of them.
• I like to take a mini razor with my spare tire when riding tubulars just in case the glue holds the tire too tightly on the rim and I can't get it off with my hands.
• I like to take an Allen wrench to my bike and go through and double-check all my nuts and bolts pre-race.
• When flying to a race, I generally only put in my bike box the bike. That way if my bike doesn't make it I have still have helmet, nutrition, shoes in either my carry-on or a suitcase, which leaves me with fewer replacements to track down before race day.
• Don't leave your nutrition bottles in the hotel fridge on race morning. Ooops!
• Make sure your brakes aren't rubbing. (OK, most people do this.)
• If traveling to a foreign country to race, make sure to pack plenty of race day/training nutrition that way you don't have to waste time searching high and low for your go-to products. [Editor's note: Triathlete.com content director Kurt Hoy brought Chrissie Wellington's favorite oats to IM South Africa after she forgot them at home and couldn't find them in Port Elizabeth.]
• I like to show up to transition with plenty of time to get in a nice warm-up followed up by some quiet time away from the crowds and nervous energy.
Linsey won Ironman Coeur d'Alene in 2010 and was fifth in Kona in 2008. Linseycorbin.com
Jarrod Shoemaker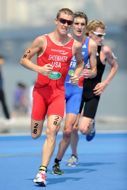 "Making sure that everything on your bike is working properly before race day. I see a lot of people showing up to races with derailleurs out of line, loose handlebars and dirty chains. Your bike should reflect the way you want to race. Do you want to be clean and fast or dirty and slow? Take your bike to a mechanic or clean it yourself. It will help you go faster on race day and make you look that much cooler."
Jarrod is a 2008 Olympian, won the 2010 ITU World Championship Series race in Hamburg and was on the cover of a Wheaties box. Jarrodshoemaker.com
Rasmus Henning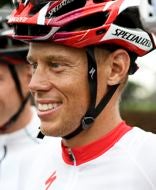 "Protect your rear derailleur when flying with your bike. Taking it off the frame is easy—just unscrew it using a 5mm Allen wrench. After removing it from the frame, I use an old long-sleeve shirt to wrap it and then I use the sleeves to tie it inside the rear fork so it doesn't bounce around or get crushed."
Rasmus is a 2008 Olympian, won Challenge Roth in 2010 in 7:52 and is one of the nicest guys in the sport. Rasmushenning.com
Mackenzie Madison
"I like to over-prepare rather than leave things to chance. These steps, for example, can prevent problems before they pop up.
• Bring more calories than you plan on using. You'll drop some, spill some, eject some on a pothole. Better to have an extra gel or two taped to the bar than to run out of nutrition.
• Electrical tape is your friend; you can never have enough. Just remember the scissors.
• If it might be a long day, tape a small piece of candy to your basebar. If you're not a candy lover, bring something to make you happy when you start to fade.
• Fill a flask with your favorite gel and dilute it with some water. Strap it on the top tube with a mount that allows you to take it in and out so that you don't have to worry about opening wrappers and can easily squeeze the gel out.
• Check the bike's shifting all the way up and down on both derailleurs. Better to have a mechanical emergency before the race than during.
• Put your flat repair supplies in a water bottle, peanut butter jar that fits in your water bottle cage or under the saddle in a standard bag. Some saddle/seat post combinations have ample room between the rails to fit some spare supplies.
• Get extra magnets for your race wheels so you don't have to swap them on race day … or worse, forget to and ride blind.
• Bring a bike pump. If not for your use, for the hundred others who don't."
Mackenzie was third at Ironman Canada in 2010, has a Masters degree in exercise physiology and is a USAT Level I certified coach. Kenzmadison.com
Joanna Zeiger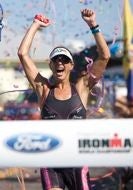 "If you have to disassemble your bike to travel to a race, mark your seat post and handlebars with electrical tape to make sure you reassemble the bike with exactly the same fit dimensions."
Joanna is a 2000 Olympian, Ironman 70.3 world champion, Triathlete magazine columnist and holds a Ph.D. in genetic epidemiology from Johns Hopkins University. Seriously. Joanna-zeiger.com
Jesse Thomas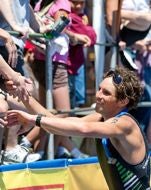 "Race-wheel it up. This is really the only thing I change for race day. If the course isn't crazy hilly, technical or windy, then I do a deep front and a disc rear. I ride a Rolf Prima TT85 and Rolf Prima Disc wheelset. If it is one of those challenging races (like Escape from Alcatraz), then I run a deep-dish wheel on both front and rear. Race wheels are awesome. They remind me of lacing up my spikes before a big track race. Fast, light, ready to go!
Set up your bike the day before the race. This not only saves you time on a busy race morning but it also helps you sleep better because you've got less stuff to think about before the race.
Bring the backups. Even as a pro, I bring a way to replace or at least fill a flatted tubular. If I ride with tubes, I take a tube and a CO2 cartridge. There's nothing worse than training for a race and not being able to finish because of some bad luck. If you get a flat, don't freak out. Just calmly replace it and then work your way back into it. You might be surprised—the little break could make you feel a lot better the rest of the race.
Raid the aid. I consume most of my calories on the bike through fluid and, despite my girlish figure, I'm a heavy sweater so I depend heavily on aid stations to provide me with water and calories. So instead of carrying crazy water bottle systems on my bike, I use 2-3 regular water bottle cages on my bike."
Jesse is the 2011 Avia Wildflower Long Course Triathlon champion. He has an MBA from the Warsaw Sports Marketing Center at the University of Oregon. Leapdaysports.com
Kyle Pawlaczyk
When you disassemble your bike for travel, make sure to carefully mark your seatpost, handlebars and anything else that may have to come apart. Consider making a "fit sheet" with your bike fit measurements, which will allow you to double-check your setup when you arrive at the race site. I also like to put my pedals, tools, and other small parts into a single "parts box" along with my bike to keep everything I need to re-assemble my bike is in one place.
If you fly with your bike often, learn how to properly pack your bike and invest in a good bike travel case. A lot of damage to bikes can be prevented if the bike is properly packed and sufficiently protected.
Kyle is a 2nd year pro focusing on Ironman and 70.3 races. He is a columnist for Beginner Triathlete. Usprotri.com
Alicia Kaye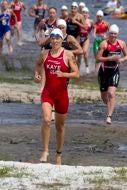 To mount your bike faster in T1, out your helmet on as your kick down the rest of your suit. As always, practice in training will help this go much faster on race day. Also, practice clipping and unclipping your helmet. Your fine motors skills are greatly reduced when your heart rate is so high after the swim. You can put your sunglasses on in transition or to save time you can tape them somewhere on your bike so you can put them on as you ride away from T1. Be sure to practice this because some aerohelmets make it difficult to put on a pair of sunglasses with one hand, unless you're so awesome that you can ride with no hands on your tri bike.
Rather than eating in transition, do it on the go! I tape my favorite gels to the top tube of my bike and rip them off as I need them.
For greater safety and faster transitions, learn to put on and take off your shoes while riding. This will prevent you from waddling around transition in your bike shoes. I try to always leave my bike shoes clipped before and after workouts to practice putting them on and taking them off while moving every time I ride.
Also, make sure you know where you are going in transition and understand the flow of the Swim In, Bike Out, Bike In and Run Out gates. Check out where the mount and dismount lines are. Walk through the swim exit and take some mental notes on where your bike is and how to find it fast.
Alicia is currently leading the Race to the Toyota Cup Lifetime Triathlon Series. Aliciakaye.blogspot.com.