On Test: SRAM S80 Wheelset
Heading out the door? Read this article on the new Outside+ app available now on iOS devices for members! Download the app.
When SRAM entered the wheel market, you could hear the collective "aw, it's a re-badged FlashPoint." Not so, editor Jay Prasuhn finds after testing the super-strong, super-valued S80 wheelset.
By Jay Prasuhn
It always guts me when I log onto Internet chat rooms and "The Question" comes up. It invariably does, and it goes something like this:
Triguy81: Should I get this ultra-bling, ceramic bearing'd wheelset or this carbon race wheel on an alloy clincher? Oh by the way, I'm on a ramen budget, I don't know (or care to learn) how to change a tubular and I'm an average race finisher.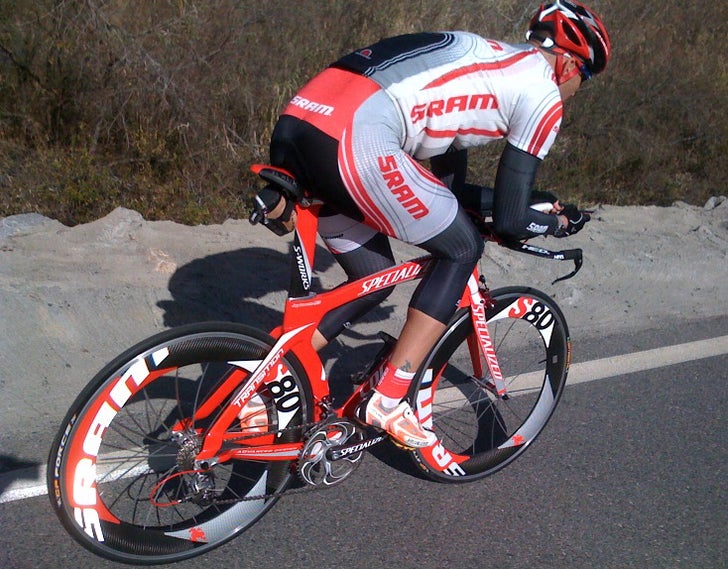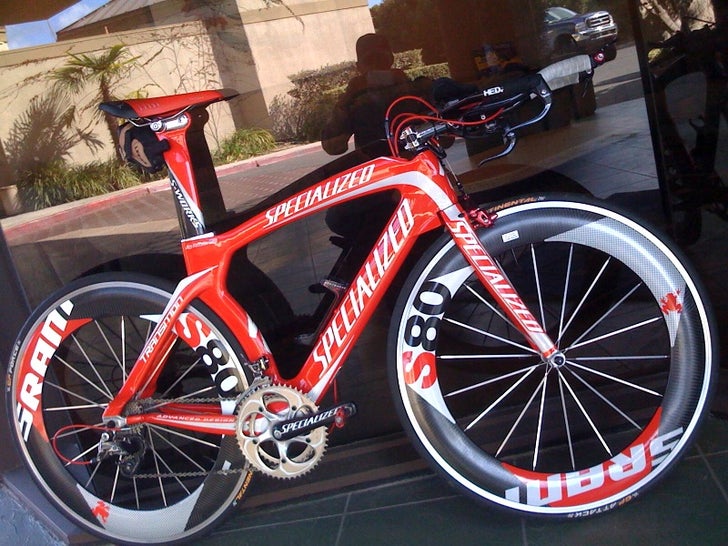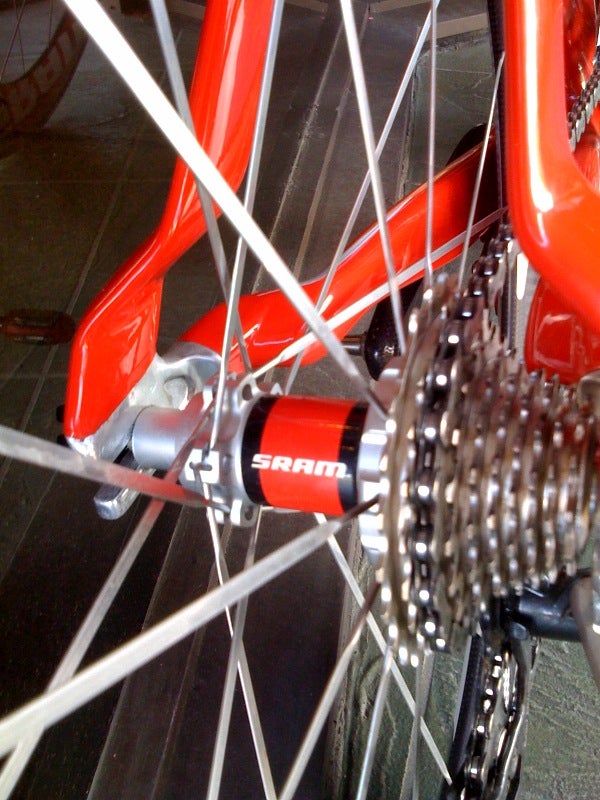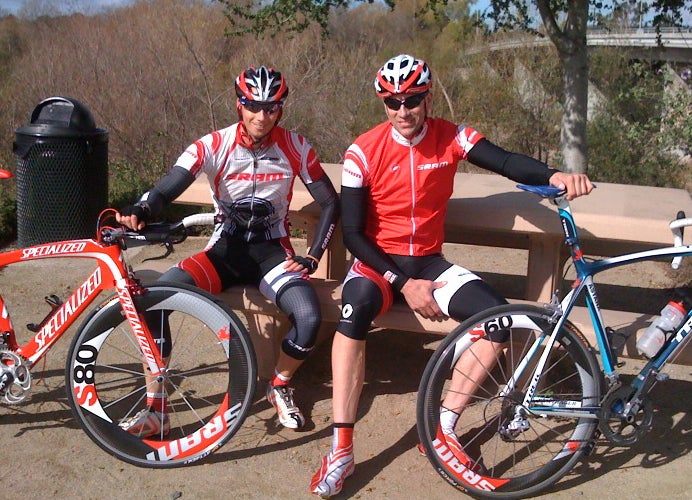 The answer is obvious. But not to some folks.
SuperFastSuperRich: Oh, get the tubulars, no question. Your Crr will be so much lower, clinchers are heavier, cornering is silkier, and you are guaranteed to go 4.58watts better on the tubulars. And they're only $3,200, so that's actually not too bad, you only have to sell one of your kids.
Really? Would you really tell your brother to invest all his money in baseball cards? Because that's what you're doing when you steer someone like that. You're saying "Throw as much good money after bad as you possibly can." Of course, it's not his or her own money, so why should they care about what they advise?
This is why chatrooms are ticking time bombs. Everyone has a voice, which is great. Unfortunately, it's often misinformed, and by virtue, the wrong one.
Me? I'm the king of practicality. I've worked at Burger King (yeah, it was my first job—so what?) and know and appreciate the value of a dollar. I see the product for what it is, me for what I am, and make a decision based on those two things. Which is why if I'm choosing between the two and have a budget, I am taking the SRAM wheels.
Which works out great, because, as luck would have it, the folks at SRAM have sorted me on a set of S80s to test for the last few months of training and racing. And they'll beat your $2,500 wheelset up, empty its pockets and leave it in a heap on the roadside.
For the uninitiated, SRAM began making wheels not coincidentally about the time the big Chicago-based company acquired another Midwest entity: Speedway Indiana's Zipp Speed Weaponry. It didn't take long for the merger to start reaping dividends, thus allowing SRAM to join Shimano and Campagnolo as a component group that presents a "complete" groupset, wheelset included.
I know what you're thinking: well, all SRAM did was apply SRAM stickers to wheels that are effectively FlashPoint wheels. (Again, for the uninitiated, FlashPoint is Zipp's price point, Asian part sourced carbon race clincher). Yes, both rims are the same; a structural carbon fiber aero section bonded onto alloy rims, which are absent the dimples. And both FlashPoint and SRAM wheels have the same tunnel-designed and patent-protected rim shape that has made it a world-beater. And both keep the cost of the wheelsets low by using Japanese-made hubs and bearings.
But the SRAM S80s will allow you to keep your sanity; some may find the high volume freewheel buzz of a set of FlashPoints cool. I preferred the quieter hum that the pawls in the SRAM hubs emit. For sanity on a long ride, the SRAM wheels were more calming on descents.
So if the aerodynamics are not questionable (since the SRAM wheels are lent the proprietary rim shape that Zipp has deemed one of the most optimized for variable wind angles), then what is? What makes these wheels so, well… inexpensive?
Note I didn't say cheap. That would imply an inferior product, and this is far, far from that. In my opinion, the S80 is a faster wheel that many wheels twice its price in my stable. The way cost is kept low is the use of Asian hub parts, with assembly taking place in Asia as well. While American craftsmanship is great, this ain't bad either.
They're set on alloy clincher rims, which means the ease of use is just like on your training wheels; just change (or patch) the tube and go. So for those who are daunted by the whole tubular gluing conundrum and fears of how to change it if a puncture occurs, this puts that athlete at peace; they can carry their good 'ol tube, tire levers and a pump, and they're good to go.
Before I get into the testing, I want to first tell you about how badly I treated the S80 wheels. Which isn't to mean I rode them badly, I just rode them hard—all the time. In the last year I've put a ton of miles on a set of FlashPoint wheels, taking them to Switzerland and riding the Alps on a daily basis. And riding on an alloy rim gave me daily peace-of-mind. When a carbon clincher test I underwent in Europe last year resulted in a near catastrophic failure, I was very, very relieved to be going back to the safety of good 'ol alloy rims. Because there's nothing as unnerving as doing an alpine descent when you don't feel 100 percent about the hoops underneath you.
SRAM marketing manager Michael Zellmann came to San Diego to join me on my maiden voyage on the S80, SRAM's deepest wheelset with a rim depth of 82mm. (SRAM has two others, the S60 with a 60mm rim section, and the climbers delight the S40, with a 38mm cross section).
Our test ride in North County San Diego was a fairly flat one, and it showcased where such a deep rim shines. The strength I experienced when riding FlashPoints were exhibited to an ever greater degree in the SRAM wheels; given the wheel's deep rim section, the spokes were shorter and the wheel got mad stiff. In the aerobars, the bike just flies, the wheels flexing not an iota. Little climbs were super stiff. As I rode, I had to remind myself that these were, in effect, Zipp 808 clinchers s, without the Zipp-ness about it. Ever dreamed of having a Zipp 808? Well, you can now have it, on clinchers, at about half the price, with the S80. It may not have the same ride characteristics as a Zipp, but it delivers juuuust about the same aerodynamics characteristics. And if you can discern the difference between a dimpled and non-dimpled wheel with the same rim profile, then you're a better man than me.
With Zellmann back to his Chicago base since our cruise, the wheels have been pretty taxed, strapped to my Specialized Transition for more day-in, day-out abuse. I considered it a great racer/trainer, capable of double duty, so I rode it as such; out on rainy days. Windy days. Crappy roads. Climbs. Descents. Threw them into my bike box and took them, like the FlashPoints, on the road.
And they stood up to everything I threw at it. I weigh in at 160 pounds and did my worst to the S80s, and I had to true them exactly zero times. The carbon skin is one of the toughest in aero race wheels, and the rim failsafe. But the hubs, which I thought would be the weak link in the wheel's armor, were absolutely bombproof. I have trued these wheels exactly zero times since getting them. Conversely, I managed to pull a spoke on the very first ride on a pair of stock OE wheels from a big bike brand. And I'm only 160 pounds!
If there is a downside to the S80, it would be the weight; SRAM has it at a claimed 951 for the front wheel and 1126 grams for the rear, which ain't featherweight. So it makes wheel and athlete selection for this one wheelset fairly specific; I'd say big boys who like to ride fast on the flats will eat the S80 up. I enjoyed it on anything from flats to rollers. But on a sustained climb (for those in the San Diego area, think Champagne at Lawrence Welk on Old 395) I'd want for less wheel, or less weight. Women doing hilly courses like Wildflower? This ain't the wheelset for you, the weight being a fair bit of a penalty. Fortunately, SRAM has two other (read: lighter) wheels in the quiver: the S60 (a 60mm rim section that is the effective cost-saving foil to Zipp's popular 404 wheelset) and the S40 (again, the cost-cutting match to Zipp's 303).
All told, the S80s is a true value at $1400 (especially when you consider that Zipp clinchers retail at about $2,300). They're strong enough for training and certainly fast enough for racing—if you're strong enough to match the wheel. And if weight is an issue, step it down to the S60s or S40s. You won't find many carbon clinchers on alloy rims that are as stiff as the S80, and they certainly won't be as bombproof.