Lance Armstrong's Speed Concept Dissected
Armstrong's technical advisor gives the intimate details of his Trek Speed Concept.
Heading out the door? Read this article on the new Outside+ app available now on iOS devices for members! Download the app.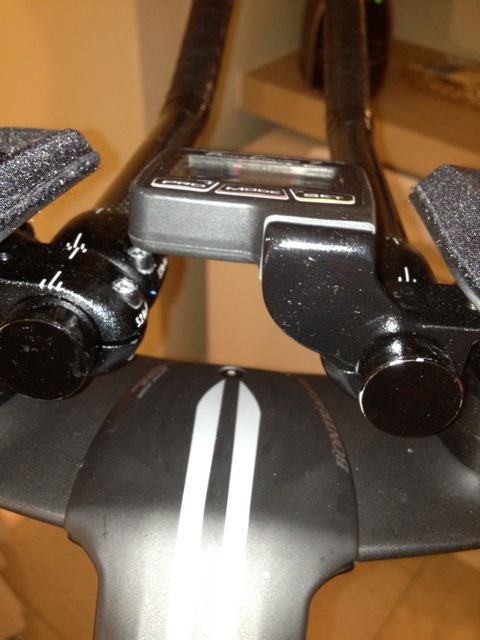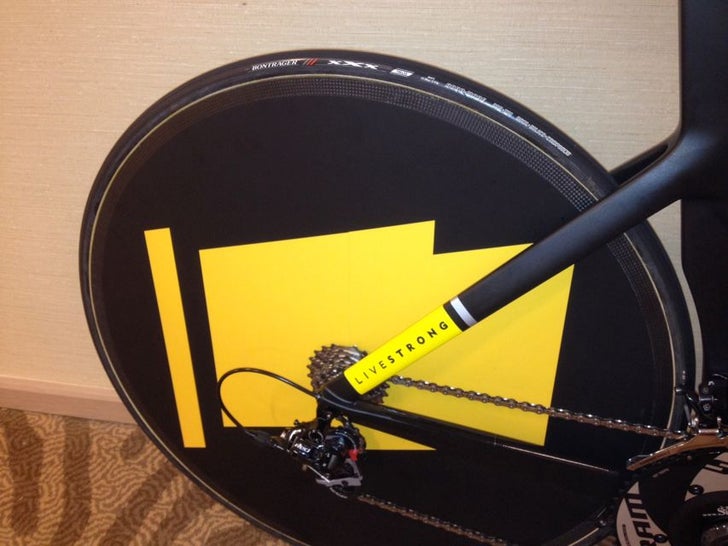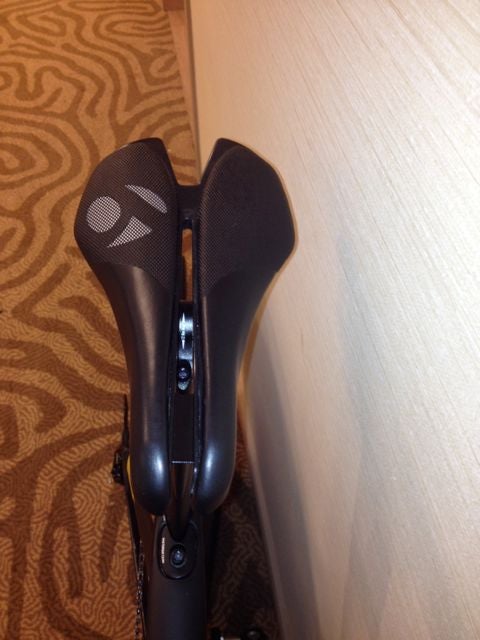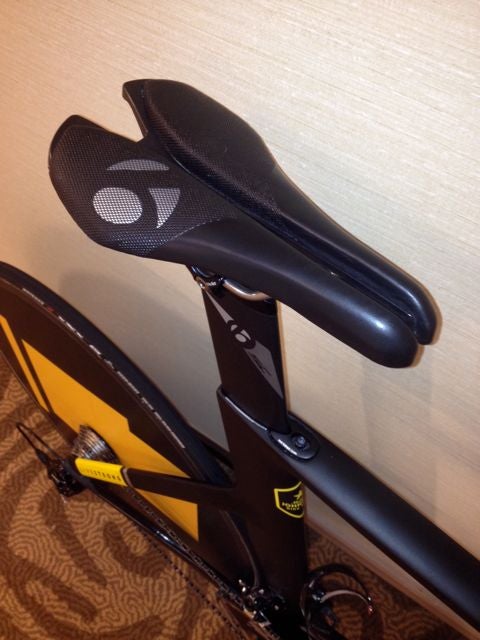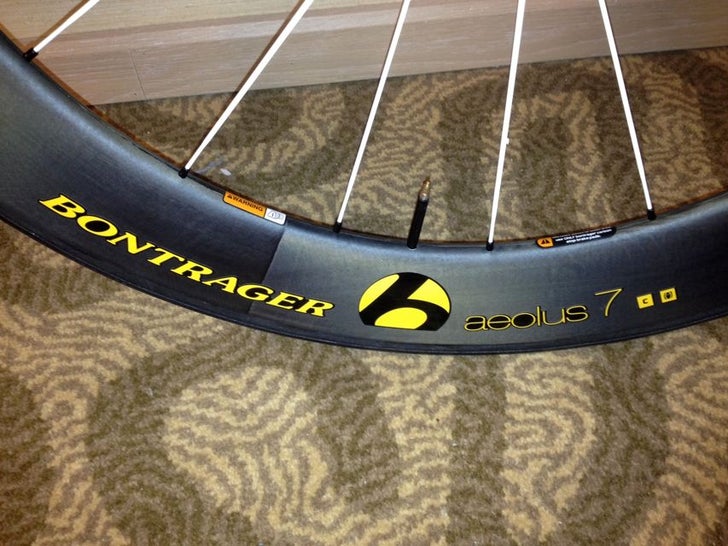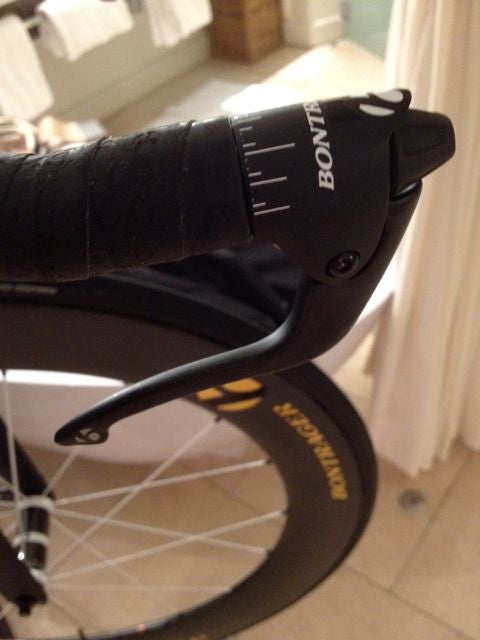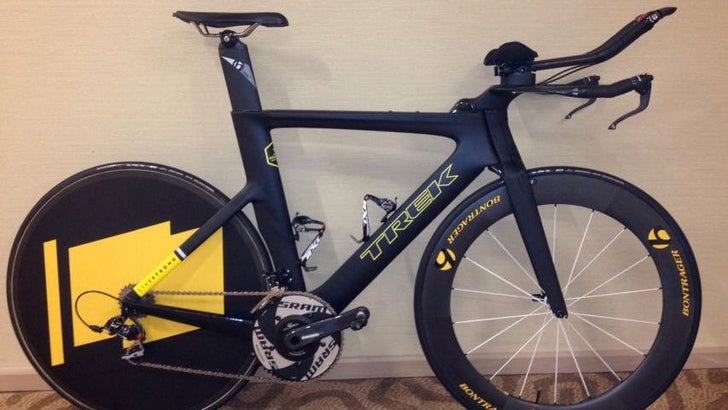 Armstrong's technical advisor Matt Shriver gives the intimate details of his Trek Speed Concept.
Lance Armstrong will be racing a Trek, of course, in his first road triathlon since 1990, and his Speed Concept 9-series frame has a few unique adaptions to meet the needs of the former cycling champion. Armstrong's technical advisor and Trek team liaison Matt Shriver is in Panama to make sure everything runs smoothly this weekend, and he gave Triathlete.com an inside look at Armstrong's bike.
Armstrong completely overhauled his road time trial position for triathlon. The UCI, cycling's governing body, restricts fore-aft saddle position, which is one of the biggest differences between many road TT positions and triathlon positions. Despite spending decades in a UCI-legal setup, Armstrong decided to move has saddle forward—"much more forward," says Shriver—now that he is free of those regulations.
Since Armstrong now has to run after getting off the bike, he wants a position that is "still a little bit aero but more comfortable" than his time trial position, recounts Shriver. Armstrong and his longtime consultant Steve Hed of Hed Cycling worked closely to find that balance. The pair made the dramatic adjustments to his fit on the road before going to the wind tunnel.
"We had him on a medium Speed Concept on the road and that was the correct size to get him within the UCI guidelines, but being able to have a fit outside the UCI rules, it made sense to go with a bike that's a little larger. We bumped him up to a [size] large for stability and for fit [reasons]," Shriver says. "He wanted to have his hands a little higher" so they used one of the more conservative proprietary Speed Concept stem pieces. He is riding the 45mm x 100mm option, which brought his aerobars up and substantially reduced the drop from his saddle to aerobars compared to his road setup. Armstrong's aerobar extensions are tilted upward as well. "He's adapted to a triathlete fit, for sure," says Shriver. "He still has really good power and is still pretty aero but a lot more comfortable." After initially setting up his position with Hed, Armstrong went to the wind tunnel and Shiver says they "did tweak a few things to make him a little more aero but still keep that comfort."
Although Armstrong often time trialed on Hed3 wheels while racing on the road, he is now using a Bontrager Aeolus D3 7 front wheel, the second deepest iteration of Bontrager's new wheel line. Armstrong opted for this wheel rather than the 9, which has an additional 2cm of rim depth, because "even though the 9 is slightly faster, it's difficult to handle a wheel of that depth in winds that exceed 9mph, so if you have high winds you're fighting it," explains Shriver. The Texan is fully committed to Trek and its family of brands, but its wheel label Bontrager doesn't make a disc, so Armstrong rides the Lightweight Disc painted to match his Speed Concept. Shriver says they selected this specific wheel because "it's stiffer, it's as aero as [the other discs] and it's the lightest." Both wheels are wrapped with Bontrager's Race XXX Lite Tubular tires.
Armstrong is riding a prototype Bontrager triathlon saddle called the Hilo. Shriver says it has a "nice wide channel running down the center and a soft wide nose. It's not quite as extreme as the Adamo. This is in between a road saddle and the Adamo." The Hilo has a carbon shell, titanium rails and a synthetic cover. Armstrong has Speedplay pedals, presumably Zeros, mounted to his Speed Concept.
He has a standard SRM power meter with SRAM aero chainrings, but Dave Bolch, one of Armstrong's mechanics, TIG welded the SRM Power Control mount to one of the aerobar pad brackets. It positions the computer "right between his extensions just above his stem," says Shriver.
Despite using a triathlon bike in a distinctly triathlon-specific position, Armstrong elects to go with an "old school" hydration setup instead of using a bottle between the arms or behind the saddle. "He's running a regular round bottle on the seat tube and one on the downtube. He wants to be able to drink as much as he can. We have a lot of bottles and different setups we run with our athletes, but you get a bottle on your handlebars with that extra weight up high on a technical course and the bike doesn't handle as well. We're going to lose a little bit of aerodynamics by playing it safe to keep him fueled and have a bike that just handles awesome," says Shriver.
The original SRAM Red drivetrain is on Armstrong's Speed Concept instead of the new group that was unveiled last week. Shiver says they are waiting for new chainrings before swapping Armstrong over to the new components. He is also using unlabeled Zipp VukaR2C shift levers, which are built upon internals created by SRAM, and Bontrager RXXXL Aero brake levers.