Is the Wahoo Kickr Climb Worth the $600 Price Tag?
Wahoo finds another way to make indoor trainer workouts more realistic with the Kickr Climb, but this upgrade comes at a steep price.
Heading out the door? Read this article on the new Outside+ app available now on iOS devices for members! Download the app.
Wahoo's indoor riding tools have expanded well beyond the trainer. With its Kickr Climb, Wahoo has added yet another touch of realism to riding indoors, simulating road undulations by moving the bicycle's front end up and down. While this is not a vital addition to your indoor training setup, it sure is a fun one.
The Kickr Climb takes your front wheel out of the equation by attaching your fork to the motorized unit. This raises the front end of your bicycle up (to a 20 percent grade) and down (as low as a 10 percent) as you ride. It's paired with your smart trainer so it moves in conjunction with a virtual environment like Zwift. Alternatively, you can control the Climb manually using a handlebar-mounted remote.
It is a pretty nifty addition to Wahoo's "ecosystem." The sensation of moving up and down as you climb and descend a virtual road adds some dimension and entertainment to the sometimes tedious task of riding indoors. The differences in gradient feel quite subtle until you hit a really steep climb. That's when the Kickr Climb shines the most. It helps you maintain a more stable, natural climbing position without putting undue stress on your arms, neck, and shoulders.
The up and down motion is nice, but the Climb also allows for lateral movement, which turned out to be an unexpected benefit. Since your wheel isn't locked into a wheel block, the handlebars can move along with your pedal stroke. The motion isn't dramatic, but it's enough to make the front end of your bike feel more natural both in and out of the saddle.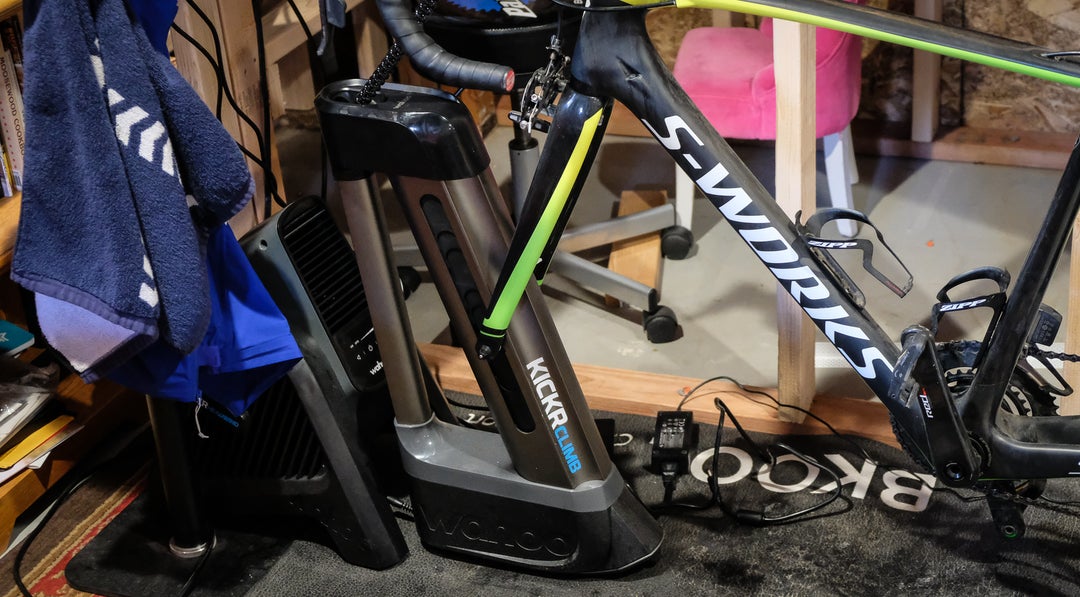 The Kickr Climb goes a long way toward keeping us entertained during the long winter months, but it is not without drawbacks—most notably the price. The Kickr Climb offers a significant advantage to those who spend hours upon hours in the basement during the winter, but you'll pay mightily for the privilege. At $600, this may not be the best investment for the casual indoor rider. But if you don't mind paying top-dollar for the best setup, the Kickr Climb should certainly be part of that equation.
Also, note that the Kickr Climb must be used with a Wahoo trainer that has an axle designed specifically to accommodate the Kickr Climb's movement. Using the Kickr Climb with a non-Wahoo trainer risks damaging your bike's dropouts. In fact, we couldn't get the Kickr Climb to pair with other trainers at all. (We did test the Kickr Climb with several other brands, and they all worked fine when we used the Climb's manual settings. But this isn't a gamble you want to make with your bike.)
If you're on a tight budget, your money might be better spent on a Zwift subscription or a mini shopping spree in anticipation of warmer days of riding outside. But it's becoming clear that indoor riding is practical for people who don't always have the option of riding outside. If you're a parent in a cold climate, you know this struggle well. The Kickr Climb makes those indoor sessions more fun and realistic-feeling, so if you've got the coin, go ahead and plunk it down. But if your trainer sessions are infrequent, skip this one. After all, a wheel block only costs about $20, and if you have an old phone book, that's free.
$600, Rei.com