If You Don't Get A Pre-Fit, Your Next Bike Purchase Could Be A Huge Mistake
Today's bikes are more complicated than ever, and not every brand has a model that will fit you perfectly with minimal modifications. Skip the stress and get a pre-fit.
Heading out the door? Read this article on the new Outside+ app available now on iOS devices for members! Download the app.
We're about 200 years beyond Karl von Drais' first bicycle, and what a glorious time to be a cyclist! Today's bikes are efficient, sexy, versatile, and super fun to ride – that is, when they fit you well! When a bike doesn't fit, it's uncomfortable, less powerful, less efficient, and you won't approach your bike with the passion and glee that the brilliant device deserves. If you are committed to your current bike, have a bike fitter do a fit now to make it the best it can be. However, if you are going to buy a bike in the future, have a prescriptive fit (also known as a pre-fit) done before you acquire the bike – in fact, have a pre-fit done before you even get your heart set on a make, model, or color. This "fit first" approach will allow your next bike to become an extension of your body and not something that needs to be shoehorned to feel good.
RELATED: The Best Triathlon Bikes
What makes a lower-case "fitter" an upper-case "Fit professional?"
Your pre-fit professional must have all three of these elements: First, they need to be educated in the type of riding/racing that is in your future. A road race position is different from a mountain bike position, which is different from a non-draft triathlon position. Fit schools that specialize in the triathlon position include the Guru Cycling Academy, Fit Institute Slowtwitch, and Retül. Each of those schools have a list of the graduates on their sites to cross reference with fitters in your area.
Second, the bike fitter must be experienced in the type of fit you need; like any practice, frequency builds skill. Ask your prospective fitter how many fits – like the one you need – they do in a month, and kindly ask them to send some pictures or videos of recent customers like you.
Finally, your fitter must own and use a dynamic fit bike. There are only five brands that make fit bikes: Exit, Purely Custom, Guru DFU, Muve, and Shimano. Ask your fitter what fit bike they own; it must be one of those to be a dynamic fit bike. Why? Because there are proper tools for proper jobs. When you need to move a couch, you ask the friend with the Ford F150, not the one who drives a Fiesta. When you need a haircut, you see a barber with shears not a landscaper with pruners. When you need prescriptive fit for a new bike purchase, you find a committed professional with a dynamic fit bike—not just a bike on a trainer.
RELATED: The Five Keys to Finding the Right Bike Fitter for You
I didn't need "prescriptive fit" for my bike before. Why now?
Way back when, older bikes were easy to manipulate in a fit situation, as they have cables that run outside the bike. Those older bikes can accept a stem from anybody: Profile Design, Ritchey, Enve, 3T, Easton, etc. Those stems can be as short as 70mm to as long as 140mm—they can point way down at -23 degrees, way up at + 30 degrees, or anything in between. There are dozens of possible combinations to get your fit perfect. And the best part? A fitter can change a stem in under two minutes for around $60.
Prescriptive fitting is more important now than ever for one main reason: New bikes have very expensive, very limited, and very complicated cockpits (stem and handlebar).  New bikes, "super" bikes, come with hydraulic disc brakes. And the fluid-filled hoses that operate those brakes run inside the handlebar, stem, and frame so they are hidden from the wind. To move those around is a pretty laborious task. Furthermore, the cockpit on super bikes is often proprietary; typically, a one-piece handlebar/stem combo and the manufacturer only made a couple or few versions of their design. The worst part is that a new cockpit might cost $1,500 and could take a good mechanic several hours (and more than a few bucks) to remove and replace.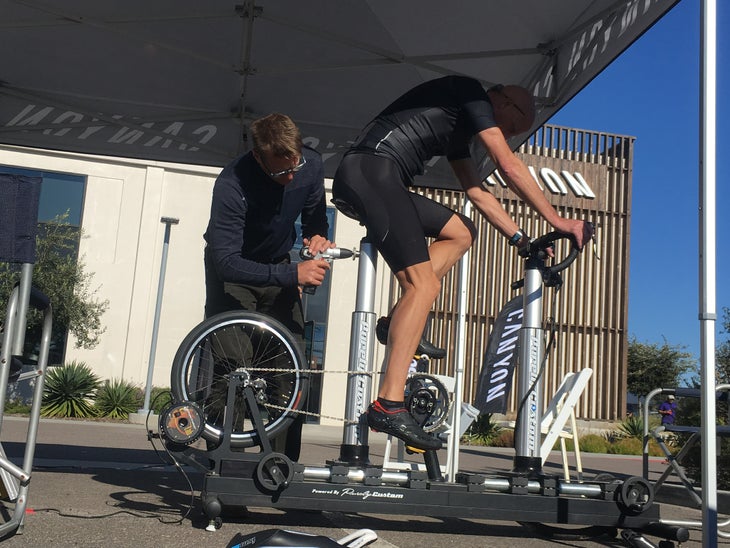 RELATED: The Origins, Evolution, and Future of the Tri Bike
What does the bike pre-fit process and result look like?
A pre-fit is a process where you suit up in some cycling shorts or your favorite skinsuit and ride while the fitter makes changes on these special fit bikes while you ride. One of the magical aspects of a dynamic fit bike is that the fitter can move the saddle up, down, fore, and aft – and the handlebars up, down, fore, and aft – all while you are pedaling under load, even at or above race pace. The fitter's assessment of how you move on the bike, combined with your feedback from each adjustment, result in your optimal position. When the fit is finished, you will own two sets of critical numbers. The first set is your Pad Y and Pad X (could be called Pad Stack and Pad Reach – but is absolutely not Stack and Reach, those are frame geometry numbers). The Pad Y and Pad X will identify and specify several bikes right for you. That prescription must include the make, model, size, and front-end configuration.
The result will look something like: "Your Pad Y is 610mm and Pad X is 450mm. One option is a Canyon Speedmax SLX size medium, with the short stem, low spacer, and medium extension. Another option is a Quintana Roo PRSix in size 50 with the 110 stem, bracket set rearward, armrest hole middle, stem clamp centered, and 20mm of aerobar pedestal."
These details will allow you to acquire the perfect bike, not acquire an ok bike with tons of adjustments. The second set of numbers are all your fit coordinates. They might include saddle height, saddle tilt, setback, pad width, aerobar tilt, extension length, arm pad elevation, and many more details that were perfected during the fit. In an ironic twist to this whole process, your bike fit is finished before you've even purchased the bike.
There are additional benefits too. Many professional fitters have adjustable cranks on their dynamic fit bikes so that you can feel the difference between 165mm, 160mm, and 155mm cranks during your fit. Many have quick-release saddle changers connecting the saddle to the bike so that you can feel half a dozen saddles under you in less than two minutes. Aerobar extensions can be switched out so you can feel the difference between high, moderate, and low hand positions. The ability to adjust, move, and tweak things down to a millimeter or a single degree can happen within this process with ease and when finished you'll know exactly where every element of your new bike will be set.
RELATED: What Size Tri Bike Should I Get?
Ian Murray is the Head Coach of the LA Tri Club's Performance Program, a USAT Level III Coach, and a Bike Fit Instructor for both Dan Empfield's F.I.S.T school and the Guru Academy.