First Ride Review: Elite Direto X Smart Trainer
We look at the latest option in the sub-$1,000 smart trainer category.
Heading out the door? Read this article on the new Outside+ app available now on iOS devices for members! Download the app.
With Zwift becoming ever more popular, the market for smart trainers continues to get more competitive, and the $899 Elite Direto X is a good example of the current interactive technology. With built-in power and cadence measurement, the Direto X adjusts resistance automatically to a virtual course's undulations or the prescribed power of a workout. After a few spins, the Elite Direto X seems to be a good option at a competitive price.
Basics: Smart trainer with ANT+/Bluetooth connectivity; claimed +/-1.5% accuracy
Pros: Good power measurement; sub-$1,000 price
Cons: Bolt-on legs aren't super easy to fold for storage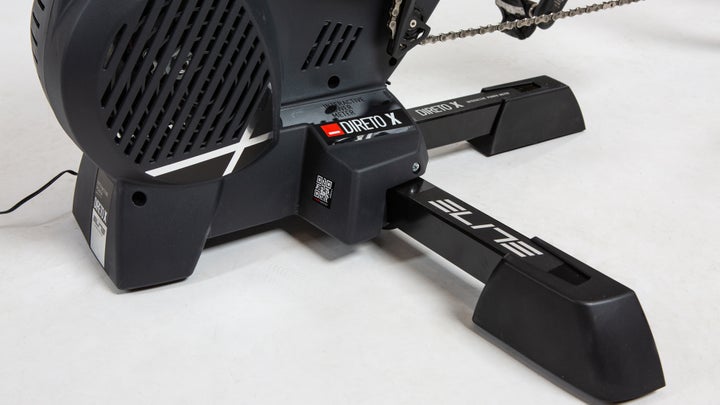 Elite Direto X versus the competition
The main players in the smart trainer market are Wahoo, Tacx (now owned by Garmin), Saris, and Elite. I've long-term tested about 15 models, and done quick spins on many more.
As you may know, there are two main types of smart trainers: Wheel-on models look like a traditional trainer, while direct-drive models require you to remove your rear wheel and mount your bike on the thing. The upsides to direct-drive trainers are more accurate power measurement and better stability, while the primary downside is cost.
The Star Wars-esque Tacx Neo 2 with its multicolored LEDs is sweet, and the Wahoo Kickr is hugely popular, but at $1,399 and $1,199 respectively, they ain't cheap. Getting a direct-drive trainer under $1,000 is the competitive hot spot, with the Kickr Core ($899), the Tacx Flux 2 ($899) and the Saris H3 ($999) all vying for your dollars.
A few quick checks in the VeloNews warehouse show the Elite Direto X to be right in the mix in terms of accurate power measurement (less than 1.5% variance to Garmin Vector 3), noise (68dB at 200w), overall ride feel (a 9.3lb flywheel), and ease of use.
Elite Direto X power measurement
Power-meter testing is a funny thing. I've been training with, racing with and arguing with power meters for 20 years now, and testing them as a job for the last few seasons. Like governing, there is no perfect way to do it, so democracy is the best thing we have; I use as many meters as possible concurrently and look for trends.
For this First Ride Review, I used a set of Garmin Vector 3 pedals that I have found to generally agree with SRM, Quarq, Shimano, and Stages meters, as well as the Tacx Neo and the Wahoo Kickr. For this test I also used a one-sided Stages meter on the Canyon Grail we had in the office, but since I'm rehabbing from a left-side injury, that meter read low. (I crashed myself fooling around with a GoPro and broke my pelvis. Doh!)
The Direto X and Vector 3 meters tracked along nicely, with only single-digit maximum variances at any given time. The dark green line above is the Direto X power, and the fainter green is the Vector 3. At a glance, it's hard to even spot where the two diverge.
The Elite Direto X recorded an average cadence of 92 to the Vector 3's 93. Certainly good enough to train with, right?
To measure power, the Direto X uses what Elite calls an optical torque system, which measures torsion on the trainer axis with an optical sensor. Many power meters —  including the old PowerTap — use strain gauges to measure torsion or deflection. The formula is straightforward, as torque times rpm equals power. Similarly, PowerTap hubs use strain gauges to measure torsion. The benefit to the optical torque system, Elite claims, is that it is not susceptible to temperature changes. Strain-gauge-based systems need to be calibrated for temperature, either as a hard reset or in real-time during use.
But what happens if the system gets dirty? Or can it get dirty? I've had issues with the optical sensor on the original Wahoo Kickr, which I could often fix by disassembling, cleaning and reassembling. The Direto X system is better enclosed, though, so it will likely keep contamination out better. I'll continue testing the Elite Direto X and will report back with my luck on that front.
The unit can replicate virtual slopes of up to 18% (ouch) and can handle up to 2,100 watts of output (good luck hitting that on a trainer, or outdoors, for that matter).
Construction and digital connections
Initial set-up on the Direto X is a minor hassle. Out of the box, the three legs have to be screwed in with big Allen bolts and two dials. The outer legs can pivot open and closed for storage, but you have to lean the heavy trainer over to get to the dials that release the legs to pivot. That function seems better for a twice-a-season move than before and after each workout. That said, the sub-$1,000 pricepoint for competitors usually means a fixed frame with fixed legs. So Elite has a, ahem, small leg up here.
The digital connection, on the other hand, is a breeze. Broadcasting on ANT+ and Bluetooth, the Direto X's signals are quickly found by laptops, head units, and phones. In initial testing, I experienced zero drops.
Physically, the Elite Direto X has a small amount of lateral flex in system. I actually appreciate the bike being able to pivot the tiniest bit at the axle; it makes it feel a bit more like outdoor pedaling. As you can adjust footpads for height, the overall system is rock solid and won't wobble, even when you're thrashing around out of the saddle.
Like most smart trainers, you can set it up for quick-release and thru-axle bikes. The Direto X also has ample clearance on the drivetrain side for long derailleur cages (and ease of getting the bike off and on) and plenty of room on the non-drivetrain side for turning the wheel's lever. Neither are a guarantee on smart trainers!
Elite Direto X early verdict
After doing a ride, a workout and a race on Zwift, I'm pretty happy overall with the Elite Direto X in terms of feel, noise, and power measurement. I'll report back later this winter after doing more comparative testing with more power meters and other smart trainers.