Disc Brake Bikes for Triathletes: We Compare 2 Affordable(ish) Options
We tested two mid-level steeds under $10k.
Heading out the door? Read this article on the new Outside+ app available now on iOS devices for members! Download the app.
Disc brakes are becoming standard equipment on high-end superbikes. Here we face off two disc brake bikes for triathletes that come in at a slightly more affordable price tag.
Disc Brake Bike for Triathletes: Felt IA2 Disc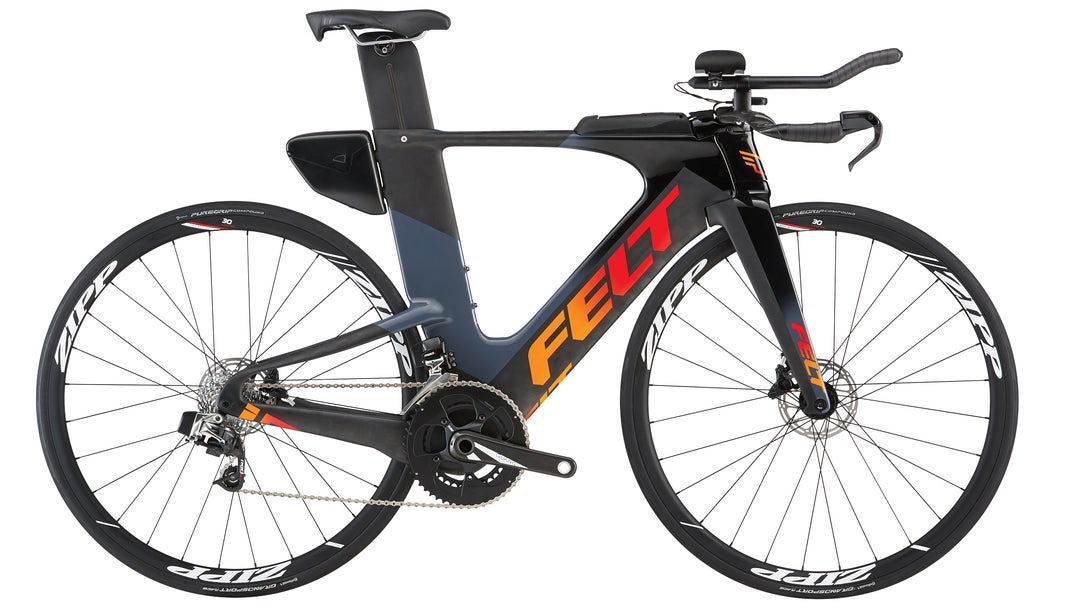 What: Boasting the same shape as the bike Daniela Ryf rode to her fourth Ironman World Championship last year, the IA2 Disc is a tight, super-aerodynamic setup with all of the bells and whistles you'd expect to find on an "entry-level" superbike. Using a complex integrated front end, a deep downtube, and built-in, included nutrition storage, this is a bike designed 100 percent for triathletes.
Pros: An excellent build with SRAM Red eTap, carbon base bars and cranks, and easy (well, easier) to work on hydraulic disc brakes, this bike needs very few upgrades to be race ready. A plusher-than-most road feel puts this on the smoother end of tri bikes in this price range, and the tight cockpit per size is definitely optimized for triathletes.
Cons: As soft as the IA2 Disc's ride is, it still feels a little rougher on the high-frequency road stuff than the Super- Slice. Oddly enough, acceleration over small hills is quite a bit less responsive and far less lively than the Cannondale. Also, don't be fooled by the included Zipp wheelset—these are aluminum training rims, and you'll likely want to upgrade the wheelset later down the line.
Disc Brake Bike for Triathletes: Cannondale Superslice Ultegra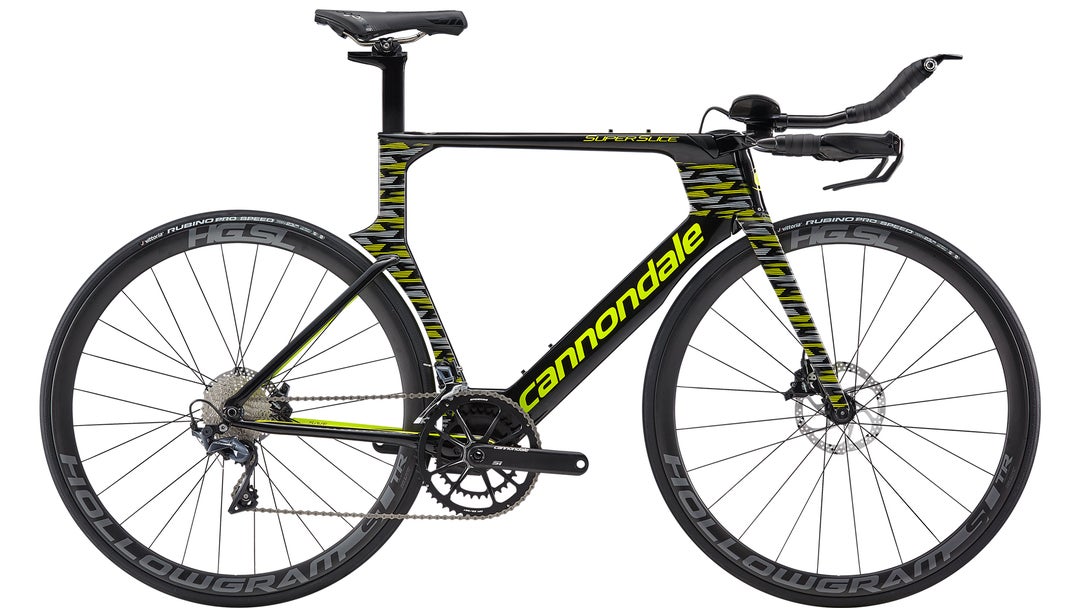 What: Cannondale's update to its Slice line of tri bikes has a lot of superbike features, paired with some conventional ones. The front end uses a basebar that fits onto a proprietarily shaped stem and a front cowling to protect cables from the wind and elongate the already long head tube. In the back, Cannondale eschews a huge foil (likely to keep things UCI legal) in favor of a thin seat tube and seat stays. The result is an exceptionally plush—almost suspension-style—ride.
Pros: The ride quality of this frame is by far the biggest selling point. A well-balanced front and rear end do an incredible job of absorbing both high-frequency road chatter (little bumps) and low-frequency road chatter (big bumps). This is a tough feat. And while the acceleration when standing isn't ultra stiff, it's very well-tuned and lively. Cornering and straight-line riding is predictable and worry-free, but the SuperSlice ironically won't exactly slice through tight turns.
Cons: The sticker. While the ride itself is near-perfect for 90 percent of all triathletes, the build on this bike is pretty underwhelming for the price. At nearly $7k, you get carbon bars and wheels, but only mechanical Ultegra. Not a big deal if mechanical is your cup of tea over ride quality,
but definitely something to take note of.
Winner!
Almost a draw, but the Cannondale squeaks out for ride quality and predictability.