Critique My Fit: Saddle Sores And More
Our first edition of "Critique My Fit" digs into one member's issues: saddle sores, shoulder angles, and the common (but uncomfortable) pains of riding inside.
Heading out the door? Read this article on the new Outside+ app available now on iOS devices for members! Download the app.
Each month, we'll be choosing one of our members to get a free virtual fit from expert bike fitter, Jon Blyer, owner of Brooklyn-based ACME Bicycles, a Retul Certified Master Bike Fitter, and teacher at the Guru Academy in Bethel, CT.
Using the member's email fit feedback and three video angles, Blyer gives his recommendations below, along with suggestions that can apply to other readers' situations with similar problems.
Dear Jon,
I'm a 57-year-old female. I'm 5-foot-10-inches and have a 29-inch inseam. I've been enjoying triathlons since 1990, and my favorite distance is sprint. My target race for 2021 is the Ironman World Championship. 
The bike you'll see me on was built based on my old bike metrics, so I've never had a real fit on this bike, a 2020 S-Works Shiv disc, size medium with Speedplay Zero pedals. Both saddle and handlebars came with the bike—a Specialized Sitero Pro saddle and Specialized Shiv Aerobar, adjustable stack. The build metrics were off another TT bike, where my saddle was a big, cushiony Profile Design saddle. I think it was the Vertex. The new saddle is unlike any I have ridden before, with it's wider nose, but continues to provide random saddle sores, despite having more than 6,000 miles of use. I used chamois cream (Chamois Butt'r) all summer, but the saddle sores still happen.
– Leslie S.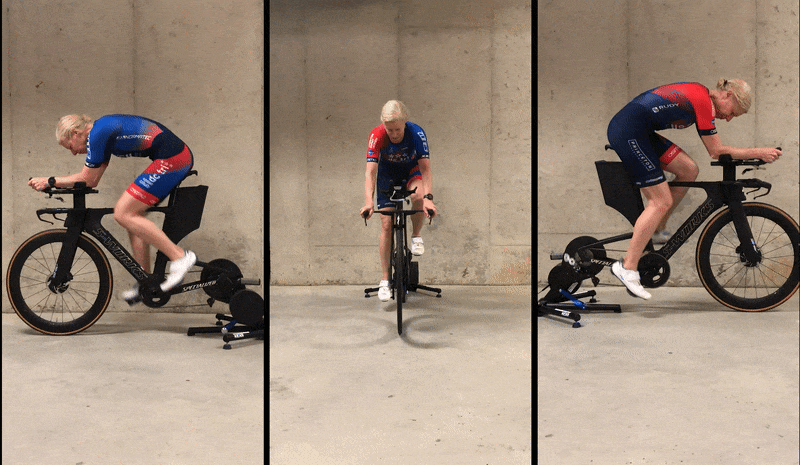 Hi Leslie,
Thanks for the background information and the videos. Sorry to hear about your saddle sores and discomfort. I took a look at the video and images you sent in, and I really like the forward tilt to your pelvis and the neutral posture of your low back. Your aerobars seem to be set up relatively high, leaving you with a nice open hip angle, but you may be giving up some speed to the wind. My goal when working with athletes is always to solve discomforts or injuries before going after potential time savings, so let's try and get to the bottom of your discomforts first.
I've got seven points for you to consider:
"Saddle Sores" is a widely used term and is not exactly medical in specificity. Cyclists generally refer to either chafed, rubbed raw, areas of skin or to infected cyst-like pimples or boils in their crotch when they refer to "Saddle Sores." Neither condition is particularly pleasant. With either ailment, finding the right saddle and placing that saddle in the right position are of equal importance. If the saddle is too high or too low, you will sit with an excess of pressure and your pelvis will rock more than it should and this is a recipe for discomfort.
From a fit perspective, while your saddle looks like it might be a touch high based on the extension in your knee and ankles, the distance between your hips and your elbows is definitely too far, which is causing your shoulder angle to be too obtuse. In an ideal world, your upper arm is nearly perpendicular to your torso which allows your upper arm to support your upper body weight without much muscular effort because your skeleton acts as a column. With your shoulder angle as obtuse as it is, it's nearly impossible for your upper body to support its weight skeletally so you are likely sitting with a lot of muscular tension in your arms and shoulders or sitting with too much weight distributed to the saddle, which could add to the saddle discomfort.
Correcting the obtuse shoulder angle issue will come from bringing your hips forward or your elbows back, or some combination of both, but it may not be as simple as just sliding the saddle forward on the saddle rails, or sliding your butt forward on the saddle, since there are many variables to consider. As the saddle or your hips come forward, more weight will become distributed to the front wheel, and you'll take on a bit of a 'more aggressive' aero position. The angle between your thighs and torso will open up, which is a good thing, but you may also find the position a bit less stable or comfortable to ride. If you elect to leave your hips where they are and to just bring the arm pads back towards you, you will in all likelihood solve a lot of your upper body (and possibly your saddle) discomforts, but you may not be sitting in the most aerodynamically efficient position.
Bike fit measurements are very much tied to the actual equipment on the bike—that is to say that your seat position might be 700mm with 30mm of setback from the bottom bracket with one saddle but may need to be 710mm with 20mm of setback with a different one, dependent on where you actually sit on the actual saddle, saddle length, amount of saddle cushion, etc. Since you switched saddles from your old bike to your new one, and that your old saddle is quite different than your new one, your hips are very likely in a much different spot on your new bike than they were on your old one, even if the saddle is in "the same" spot. In review of your video, it seems that you are sitting a little bit far back and your seat may be slightly high as well.
Saddle preference is highly individual and unfortunately, there is no guaranteed approach to select the ideal saddle for you. While the Sitero from Specialized is a nice saddle for some, it may not be ideal for you. The Sitero is triangular in shape and the width varies greatly from the front of the saddle to the rear—the intention of that shape is that a rider will "self-select," based on comfort, where to sit on the saddle. Riders with a wider pubic ramus may need to sit further back than a rider with a narrow pubic ramus.

 

Some find the taper angle of this saddle to be excessive or that the saddle nose is too wide, which can lead to inner thigh chafing. If you have a local bike shop or fit professional, you may want to reach out to them to see what they offer in terms of saddle demos. In our studio, we test saddles extensively during our fit process and have good success in helping riders choose the best product for their needs. When inquiring, be sure to ask what saddles they have available for testing. At a minimum, they should list four to five different saddles from ISM.
Riding an indoor trainer is always going to be less comfortable than riding outdoors, so be sure to keep your expectations realistic. Riding a trainer is far less dynamic than riding outside, so you wind up sitting in the same spot, doing the same thing, for hours on end. One solution to this problem is looking at a trainer or platform with movement. Kurt Kinetic has the Rock and Roll—with plenty of side-to-side movement—Wahoo's newest version of the KICKR (review here) has bushings that create some light tilting, and Saris' big MP1 Nfinity platform (review here) has side to side and sliding fore/aft movement. Also, while every triathlete should spend as much time as possible training in the aero position indoors, give yourself a break every few minutes and take a few standing pedal strokes to let blood move around and to stretch out a bit.
Lastly, while Chamois Butt'r is one of the more popular chamois creams out there, there are better products in my opinion. Many other products, like those from Mad Alchemy, include ingredients that are antifungal and antibacterial which are definitely helpful in keeping your skin healthy (click here for more favorites).