Craig Alexander's New Specialized Shiv
Craig Alexander has overhauled his bike setup and his camp shared specific wind tunnel findings that work best for him.
Heading out the door? Read this article on the new Outside+ app available now on iOS devices for members! Download the app.
Alexander has overhauled his bike setup and his camp shared specific wind tunnel findings that work best for him.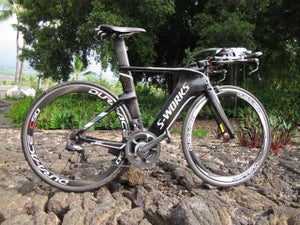 Craig Alexander's much publicized bike situation is finally over. He's riding a Specialized Shiv. Details about the bike can be found here, and the four-time world champion has made this specific Shiv his own by spec'ing it to his preferences. He has made some dramatic changes from last year when he was unable to bridge to the eventually-winning break that contained Macca and Andreas Raelert.
The hydration accessories mounted to Crowie's frame are one of the most dramatic changes from 2010 to 2011. Last year, he had an aero drink bottle between his aerobar extensions, one round bottle on the downtube and a two-bottle behind-the-saddle hydration system. Those are all gone. Alexander will now rely on the Fuelselage bladder system integrated into the Shiv, a single horizontal bottle cage between his aerobar extensions mounted to an XLab Torpedo and a single XLab Gorilla cage tucked right under his saddle. He has a Salt Stick electrolyte tablet dispenser stick mounted to the inside of his right aerobar extension. He is still experimenting with the Fuelselage to find his preferred configuration for the hose and refilling technique.
PHOTOS: Craig Alexander's Specialized Shiv
His fit has also changed slightly. Crowie's performance consultant Mat Steinmetz moved his saddle forward almost a centimeter and switched him to shorter crank arms, 167.5mm in length from 172.5mm. Steinmetz recommended these changes to allow Alexander to ride with an additional 7mm of saddle to aerobar drop while still slightly opening his hip angle because of the changes to his saddle position and crank arm length. Steinmetz also pulled his elbows slightly narrower.
Although Crowie has worn an aerohelmet for other races in the past, he has always opted for a vented road helmet in Kona. Alexander derived confidence from the perceived cooling benefits and he didn't see a reason to change until last year when he lost the race during the bike. This year, he is riding an unbranded Giro Advantage 2 aerohelmet with a stunning custom paint job done by Road ID, the helmet that tested fastest on Alexander in the wind tunnel. The helmet highlights his four world championship victories, the names of his wife and children, his two hometowns and the flag of his native Australia. Against common belief, while they were testing performance in the wind tunnel, Alexander was actually slightly faster with the tail end of his helmet detached from his back and when looking straight down at his power meter data. Steinmetz says Alexander is the first athlete he has witness with the tail of his helmet off his back.
RELATED – Breakfast With Bob: Craig Alexander
He is still riding Shimano Dura-Ace Di2 components, carbon body Dura-Ace pedals and a PRO Missile EVO aerobar with slightly upturned aerobar extensions. The wires controlling the derailleurs route into the frame behind the stem and down through the frame before popping out at the front and rear derailleurs. He is using a SRM power meter that is built into a Shimano Dura-Ace crank turning on Enduro ceramic bearings. He will mount his Garmin head unit to the integrated stem that is part of his Missile EVO aerobar. He is still riding a Fizik Arione Tri 2 saddle.
All that remains to be seen is whether Alexander will stand atop the Kona podium for the third time after making these changes to his bike.
Written by Aaron Hersh. Photos by Aaron Hersh. Follow him @triathletetech.