Heading out the door? Read this article on the new Outside+ app available now on iOS devices for members! Download the app.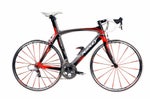 Designed as an aero race-rig for roadies, the Ridley Noah is also a solid "tweener" choice for triathletes. The Belgian-built frame will set you back $3,000.
Somewhere between a road bike and a tri bike you'll find so-called "tweener" frames, and on the very aero end of the tweener spectrum, you'll find the Ridley Noah. The Noah's more slippery cousin, the Ridley Dean, is designed specifically for a TT, but the Noah is the more versatile member of the Ridley family.
The Noah was designed for one reason: To help Cadel Evans win "Le Tour" in 2009. You're not Cadel Evans and you're not trying to win the Tour, but that doesn't mean you can't find some use for the Noah. As it turns out, Evans and his Lotto squad are no longer rolling on Ridley, so this bike's main focus has shifted to helping Robbie McEwen and his Katusha squad win as many sprints as possible.
As a training bike, it will get the job done, but if you're buying a road frame for training only, you should probably look at some less expensive options. The Noah was designed in the wind tunnel, and as such, it's made to race. The frame's fork and seatstays borrow Oval Concepts R-Flow technology, which forces air through these spots instead of around them (when it comes to bikes, "through" is always faster than "around"). The blend of tunnel-tested aerodynamics and road-bike geometry make it a great option for the more punishing and technical courses on the tri circuit. If you have dreams of competing at Alcatraz, Monaco, Alpe d'Huez or Silverman, you may want to start dreaming of this bike too.
Before I get into the finer details of the ride, I want to point out one thing I noticed before I started pedaling: This bike is a great way to make your friends jealous. Our test rig was outfitted with Edge Composites 68mm Carbon Tubulars and a Campagnolo Super Record 11-speed group. I can't blame the rest of my training group for throwing out comments like:
"Dude, if you die, can I have your bike?" and "I hate you," and "You're too slow for that bike. Let me have it." I let their comments slide and we got rolling. I was immediately surprised by two things:
The cut-to-fit seat mast enhanced the responsiveness of the frame a bit, even though I was a bit concerned about it before hand. Similar to the Blue Triad, the saddle is mounted on a cap that fits over the seatmast. It's definitely not as aesthetically pleasing as the integrated system used by LOOK, but it doesn't give up much in terms of functionality.
Second, the Noah doesn't ride like a "beefy" road bike, even though the tubes are shaped to enhance aerodynamics, instead of to shed grams. Even with the tri bike-like tubes and deep-section wheelset, the Noah weighs 16.7 pounds (size small with Shimano Dura Ace pedals) and accelerates like a featherweight.
Other than that, the Noah performed almost as good as it looks and certainly feels more like a road bike than a tri bike once you get going. The seattube angle isn't too steep (73.5 degrees on the small), and, coupled with the 977mm wheelbase, the Noah inspires confidence on sweeping descents and hairpin turns.
The Noah performed well on steep climbs, but it's not at the top of the class when it comes to pure climbing ability. If you're just looking for a mountain goat, stick with a feathery Ti frame from Litespeed or a nimble carbon ride like the Scott Addict LTD. That said, the Noah's burly BB and stays provide solid power transfer when you're pushing it uphill.
All in all, it's one of the most versatile frames we've ever tested. If you don't want to splurge on a top end road and tri bike, the Noah's two-in-one package gives you almost the best of both worlds.
Oh, one last note: The Noah's Web site has quite possibly the most badass URL in the industry. Check it out at Thefastestbikeintheworld.com.