Are Non-Double Diamond Shaped Bikes Actually Faster?
Why an increasing number of bike makers are literally breaking the mold.
Heading out the door? Read this article on the new Outside+ app available now on iOS devices for members! Download the app.
The 1990s were an exciting time in bike design. New composite materials, like carbon fiber, permitted creative non-traditional designs, such as the beam bike and other non-double diamond (NDD) shapes.
The beam design eliminated the seat tube and seatstays, and traded them for a cantilevered top tube, a massive down-tube, and chainstays. Fewer tubes and surfaces allowed air to pass with less disturbance, which, on paper, made beams more aerodynamic. The beam design also acted as a shock absorber, improving rider comfort. These frames were a (relative) hit—at the 1995 Ironman World Championships, 16 percent of the bikes raced were NDD design (compared to 3 percent in 2017). Market pressures and a change in official international cycling rules ended production of these bikes back in the '90s, but in the last few years these radical designs have started to make a comeback. With a few of these new models coming in under $4,500, NDD bikes are no longer strictly luxury class.
But is this unconventional design faster? Yes and no. Last year, several industry experts conducted a crowdfunded, independent, and unbiased wind tunnel test to determine the differences in aerodynamic performance between the top modern tri bikes. Study results showed a maximum drag difference of 200 grams (at 30 mph) between the bikes tested. This equates to about 8 watts of difference at 20 mph. While not insignificant, these differences won't necessarily bring you from the back of the pack to the podium. Interestingly, the "fastest" and the "slowest" of the bikes tested were both NDD designs.
Brian Stover of Accelerate3 Coaching and AeroCamp is a tri veteran, a coach, and an aerodynamic consultant who participated in the testing. He still cautions against getting too wrapped up in bells, whistles, and numbers. "When my athletes are shopping for a new bike we talk buying a bike that matches their fit coordinates and riding style. Then we talk aerodynamics." In other words, data doesn't always give the complete picture. Fit, ride quality, and real-world use—like storage and hydration systems—are still important factors.
Andy Ording, former owner of Zipp and one of the developers of Zipp's still-sought-after beam bikes—the 2001 and 3001—weighed in on how he thought today's top bikes stack up. "In a tunnel it is hard to say if the beam bikes have a significant advantage seeing as the double diamonds have all gone to fairing storage compartments for just about everything," he says. "This provides a convenient body surface and shape expansion, creating fairings that must make a significant improvement in aero performance. Personally, I still imagine that a pure beam bike with a disk wheel would have to perform better in most situations as it allows turbulent air to exhaust so efficiently." The independent wind tunnel test results seem to reflect Ording's hypothesis, showing the Cervelo P5x, a beam bike, is slightly faster than the rest (see graphic below).
Of course, it's not always all about the numbers. As Stover says, fit and riding style also matter. If you can't hold your aero position because the bike's ride is too uncomfortable, then even the "fastest" bike is no use: Additional aches and pains won't help your ride or upcoming run time. While the results are close on drag numbers, Ording makes a good point that NDD frames' benefit may lay in storing all of the stuff triathletes inevitably need to carry on-course. No triathlete races in a vacuum. If anything, the new class of NDD designs allows us to go fast (or faster) with a balanced ride and our extras hidden from the wind.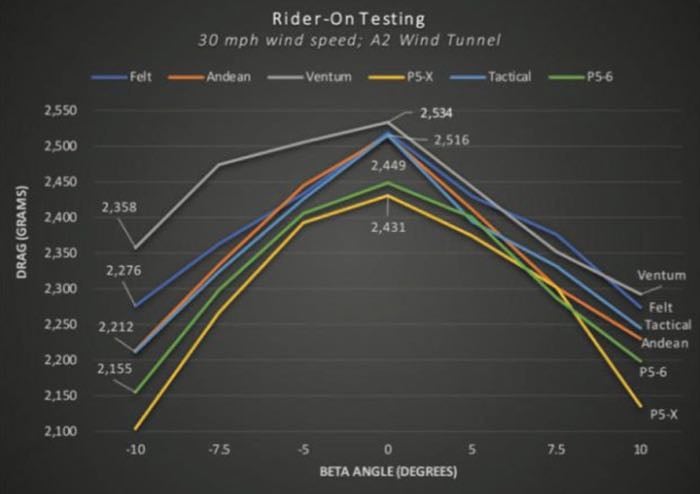 RELATED: What Do You Get When You Cross a Lambo with a Cervélo P5X?