4 Top Smart Trainers for Your Next Sweat Session
The days are getting shorter. Weather is deteriorating. And cyclists have more choices than ever when it comes to indoor smart trainers.
Heading out the door? Read this article on the new Outside+ app available now on iOS devices for members! Download the app.
Welcome to the pain cave. The sweat station. The Sisyphus ride. We're riding indoors more and more on these shorter, colder days when the sun sets before we leave the office.
Which means we're trying to get at the heart of what makes a good smart trainer. The good ones make those indoor sessions more bearable and—gasp!—even fun. The best ones are stable, quiet, and packed with everything you need to integrate with virtual riding environments like Zwift.
Those top trainers have it all dialed, from power accuracy and output to physical stability and portability. Smart trainers are most often paired to virtual riding environments like Zwift, so realism is key: The idea is to make it feel as though you're riding real roads, with real grades, and real resistance.
Velonews.com's Dan Cavallari shares some of the keys to finding the right smart trainer.
Accuracy
This is generally expressed as +/- X%. This number matters most if you don't have a power meter but you do know your FTP (Functional Threshold Power) and common wattage numbers out on the road. You'll want these numbers to match, or come close to it if you're relying on the trainer's built-in power meter to structure your workouts.
Power output
This is expressed as a maximum wattage output. This is basically the big number of how much resistance you'll get in various scenarios. Most smart trainers today already offer more resistance than you'll be able to push, but if you're a big-time sprinter, you'll want to pay attention to this number.
Climbing grade
This is expressed as a grade percentage. It's essentially representative of the steepest climb the trainer can simulate. Keep in mind that this won't change the position of the trainer itself; it simply changes the resistance. (Wahoo's Kickr Climb is an accessory you can add to your training setup to simulate grades by raising or lowering the front end of your bike.)
Stability
This will depend largely on the physical construction and the way the trainer legs are positioned. The trainer shouldn't rock side to side, unless it's an actual function of the trainer (like Kurt Kinetic's Rock and Roll, which aims to simulate real-world bike movement). Top-of-the-line smart trainers generally include foldable legs that swing outward. Adjustable feet are integrated into those legs to level off the trainer and keep it from rocking. Consider the ease of use here, because if you move your trainer frequently, you may also need to readjust the feet frequently.
Portability
If you're moving your trainer station frequently, or taking it over to a buddy's house to do a group workout, you'll want to consider how heavy it is, how easy it is to handle and move, and how much space it takes up both when it's in use and when it's folded away and stowed behind the couch.
Other considerations
What else does the trainer offer? Compatibility with peripheral accessories (like Wahoo's Kickr Climb and Headwind), ANT+ FE-C (Fitness Equipment Control) capabilities that allow you to pair with just about any virtual platform, included apps and training programs, included accessories like wheel blocks, durable construction; these add-ons won't make or break your training experience, but they certainly can enhance it.
We tested four of the newest and hottest trainers on the market to discover each one's true personality. Here's what we found out.
(IMPORTANT NOTE: While we used non-Wahoo trainers with the Wahoo Kickr Climb, Wahoo warns against doing so because your bicycle's dropouts can get damaged from the movement. We did not notice any damage to our bike, even after repeated sessions on non-Wahoo trainers, but you may not want to risk it with your expensive bike.)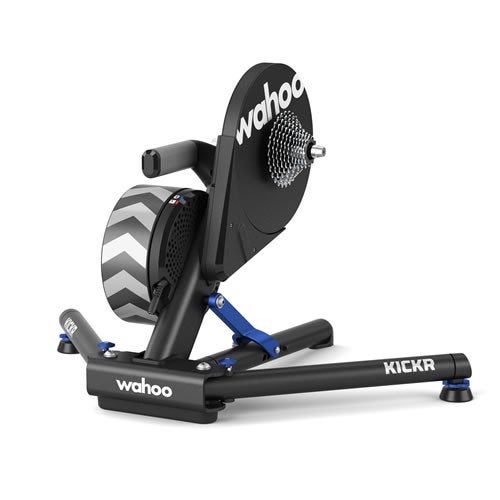 Wahoo Kickr
$1,200
47 pounds (advertised)
It's the easiest to set up, the easiest to handle, the easiest to connect, and the most fun to ride. The Kickr is undisputedly the best smart trainer on the market.
The newest version of the Kickr got even better from the last. It's definitely the quietest smart trainer we've used, for starters. That's ideal for those of us with kiddos at home who go to bed early. And it's the most compact smart trainer we've tried, so tucking it behind the couch when you're not using it is actually a feasible option. The well-positioned handle makes it easy to carry this 47-pound unit, too. It's built like a tank, and while it's not exactly a sleek looker, it's unobtrusive enough to tuck in the corner when you're not using it. The updated version features a rotating axle system so you can use the unit with the Kickr Climb. There's also improved clearance for disc brakes.
Read the full review at Velonews.com.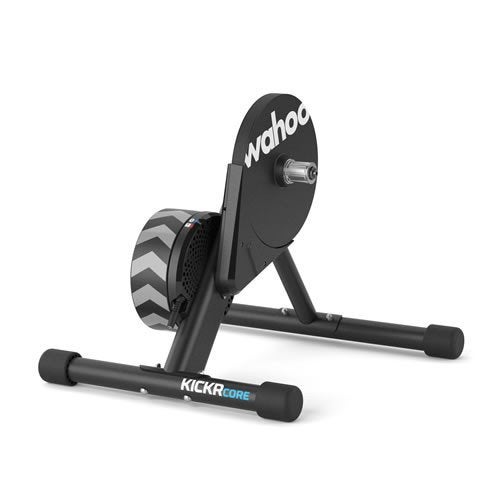 Wahoo Kickr Core
$900
40 pounds (advertised)
It may not be as eye-catching as its more expensive sibling, but the Kickr Core still offers many of the features that make the Kickr the best on the market. You'll have to add your own cassette (which is included on the Kickr); the cadence sensor isn't included either; and the adjustable arms are gone in favor of a more traditional sandwich board design.
It's not quite as powerful as the Kickr. Instead of a 16-pound flywheel, the Kickr Core has a 12-pound flywheel. The Core can simulate a grade up to 16% (the Kickr can simulate up to 20%), and the maximum power output is 1,800 watts (The Kickr's max power output is 2,200 watts). While those numbers seem a bit watered down, they're still well within the range of what many cyclists will max out at anyway, and it actually meets or exceeds the specs of trainers that cost several hundred dollars more. And you'll still get the same +/-2% accuracy as the Kickr. It's thru-axle compatible to accommodate the most modern bikes.
Read the full review at Velonews.com.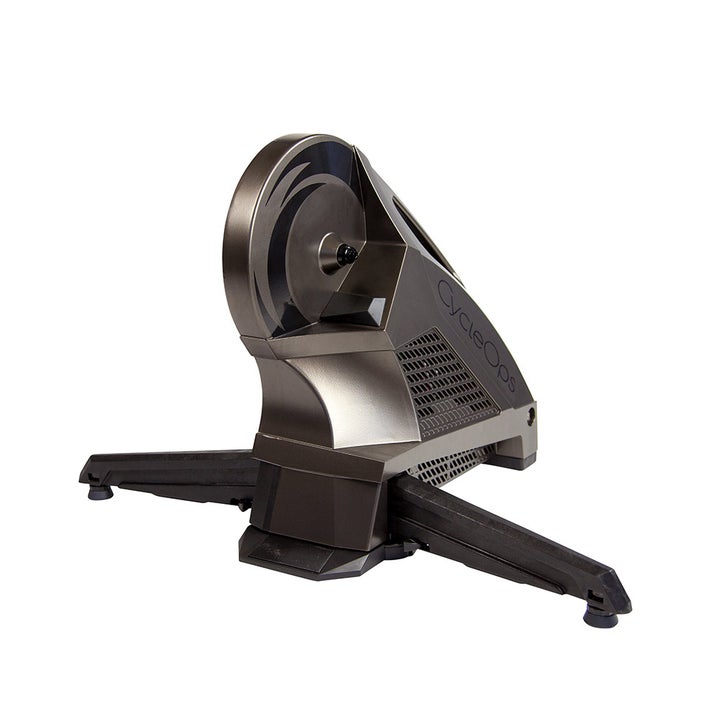 CycleOps H2
$1,200
$1,400 with Zwift membership included
47 pounds (advertised)

When you're going up against Jordan, you better be able to dunk. That's basically what CycleOps was facing when designing the new H2 smart trainer: Deliver a ride that's as good, if not better, than the Wahoo Kickr. The two trainers are similar in size, though the H2 is definitely bulkier. Both trainers weigh about the same. On paper, they're very similar. In practice, the H2 positions itself as a serious contender to dethrone the Kickr as the best on the market.
It's not quite there, but it's darn close.
Spec for spec, the H2 is fairly similar to the Kickr: It simulates up to a 20% grade, which matches the Kickr; it offers 2,000 watts of resistance at 20mph, while the Kickr offers 2,200 watts; and it is accurate to +/-2%, the same as the Kickr. The H2 has a heavier flywheel (20 pounds) than the Kickr's 16-pound unit.
Read the full reviewat Velonews.com.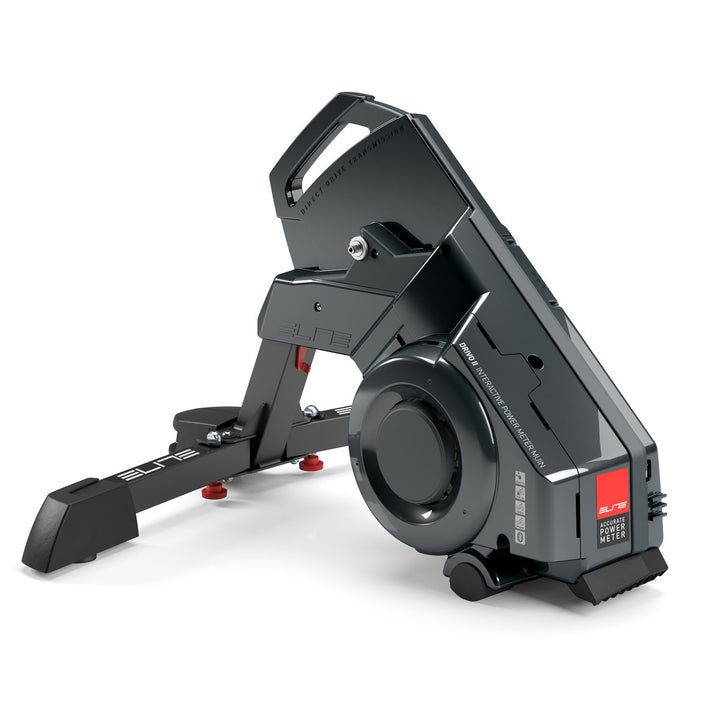 Elite Drivo II
$1,200
40 pounds (advertised)
Meet the Italian Beast. The Drivo II packs a punch with its features, including a claimed accuracy of +/-0.5%. A 13-pound flywheel does the heavy lifting, and wide, swing-out legs with adjustable feet are on stability duty. Want to climb all the way up to 24%? The Drivo is one of the only trainers with that capability. And you can push it all the way to its 2,300-watt maximum power output — or at least you can try. It's thru-axle compatible, and ANT+ FE-C capable, so it works with just about all of your favorite programs. This is a heavy hitter.
Let's start with power. Does that +/-0.5% accuracy matter? That depends on your indoor training setup. If you're using a power meter on your bike, it's best to simply pair your power meter to your virtual training program like Zwift, since that's what you use outside anyway. That way your power numbers should be consistent and you should know what numbers to expect on-screen.